10 Favorite Awning Stripes for Slipcovers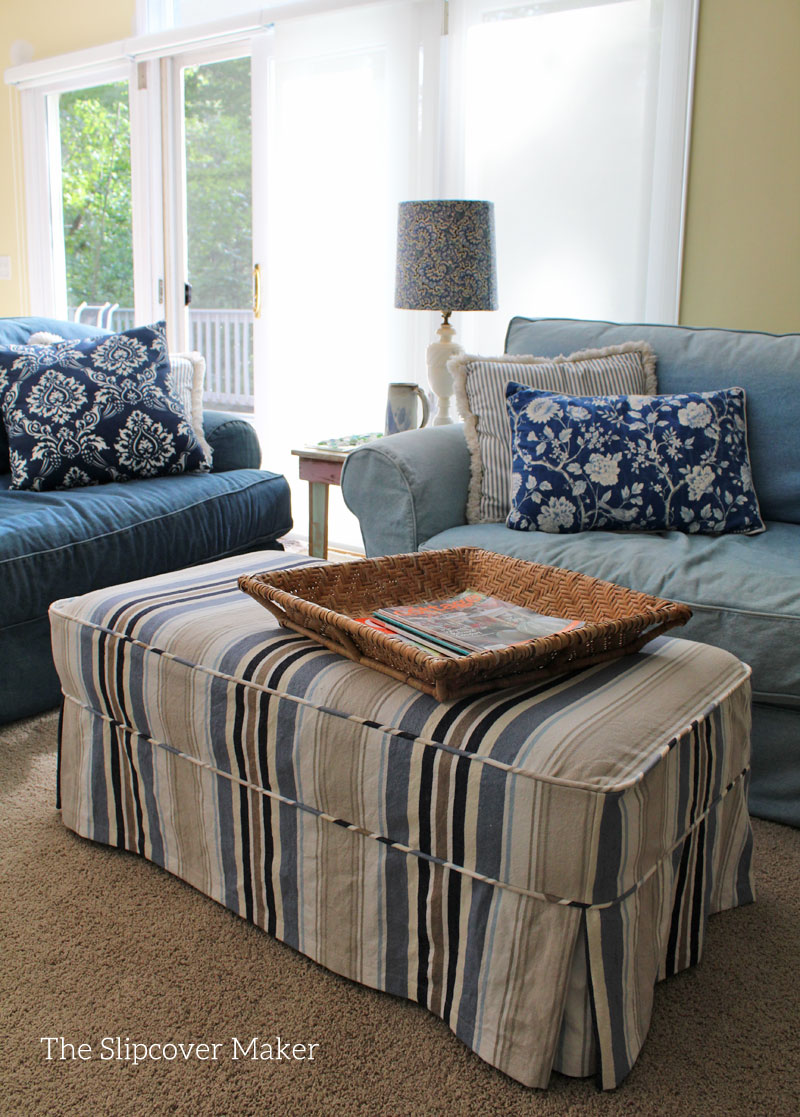 Large scale woven stripes are some of my favorites for slipcovers. I'm especially drawn to classic awning patterns in colors inspired by ocean, sand and sky.
The look is casual, cottage-y and celebrates summer.
In an effort to beat the heat today I thought I'd dive into my cool blue stripe archives and share my list of personal faves along with how a few of them look made up in washable covers. These fabrics are for indoor use only.
Enjoy and stay cool everybody!
1. I gave Annette's ottoman slipcover, above, a makeover in Bridgewater Lake by Roth & Tompkins. This awning stripe is woven in a nubby canvas construction and is one I could live with year round. You can't beat the versatile palette of blues and neutrals.
2. Want a pop of color mixed in with your blues? Check out Adventure Island  by P/Kaufmann. It's a heavy weight ribbed cotton canvas with a shot of bright yellow and aqua woven through. So summery!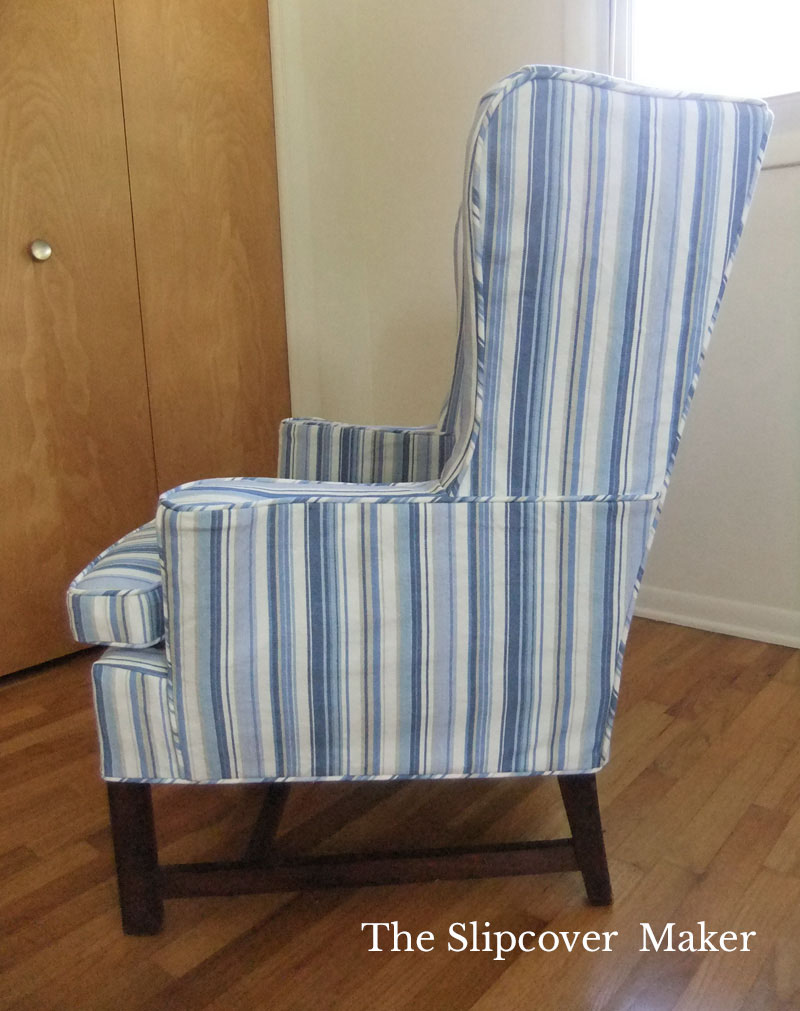 3. Barb's wing back slipcover, above, is made with Victoria Lagoon by Roth & Tompkins. This 100% cotton canvas is washable, substantial and soft. Unlike most evenly spaced awning patterns this woven stripe is designed with an eye catching one-way directional layout.
4. Victoria is also offered in color Sandstone, a sophisticated mix of blues, grey, brown and white.
5. You don't always need a multi-stripe pattern to get an awning vibe. I like this simple wide  stripe pattern by Covington. It's called Riley woven in Dark Denim and Blueberry on a medium weight plain weave that has the look of chambray.
6. I slipcovered this armchair duo for my customer Lisa. It's the same canvas awning stripe I used for Annette's ottoman but in color Spa. The watery aqua colors look beachy, perfect for Lisa's summer home on Lake Michigan.  Bridewater Spa by Roth & Tompkins.
7. Speaking of aqua, check out South Beach Stripe color Mariner by Covington. This awning pattern is a medium weight woven cotton in a high contrast palette of teal, aqua, navy and white.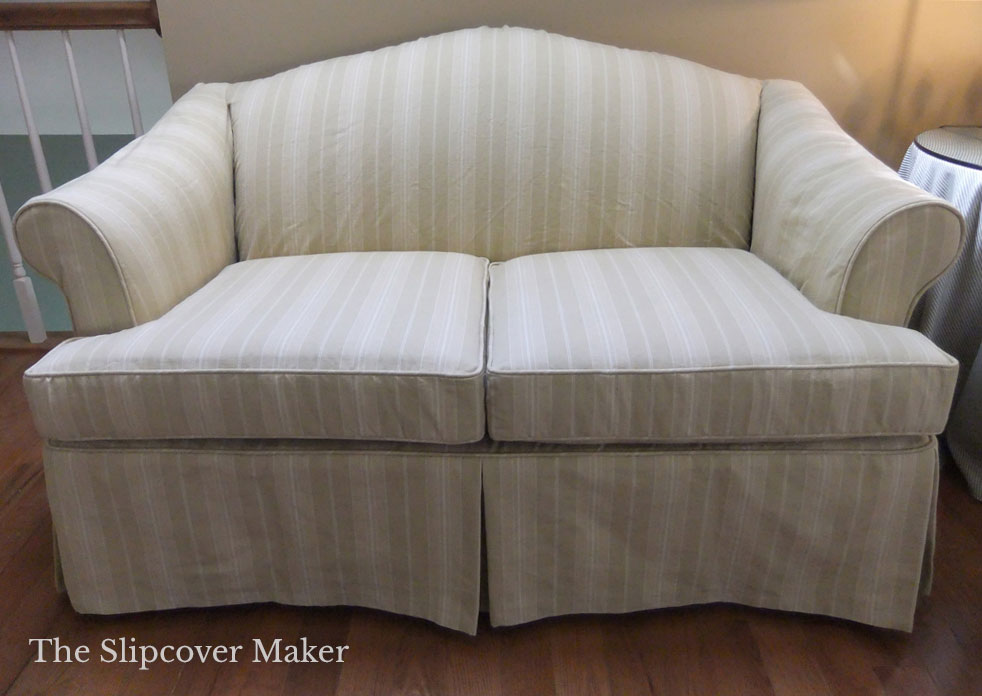 The cotton khaki and white slipcover shown here gave my customer's outdated cabbage rose love seat a more contemporary look. Sorry, no resource for this fabric.
It's a good example of how a light neutral awning stripe (sand, oatmeal, tan or wheat woven with white) is cooling and easy like blue. It works well when you want a bit more surface interest than a solid natural fabric but not as busy as a multi-color pattern. Below are a few options:
8. Riley color Burnished Bronze by Covington, Description same as fabric no. 5.
9.  South Beach color Sand by Covington.   Description same as fabric no. 7.
10. Charlie Stripe color Beach. This extra wide stripe is woven from 55% linen/45% cotton with slubs and nubs that give it a rustic look. Test to make sure it's washable.
Want more stripe inspiration? Visit my Striped Slipcovers page on Pinterest.