DIY Slipcover Makeover for Lazy Boy Sofa
Learn how-to transform an outdated secondhand sofa with a contemporary slipcover and new cushion inserts for under $1,000 — sofa price included! Get inspired with these money saving tips.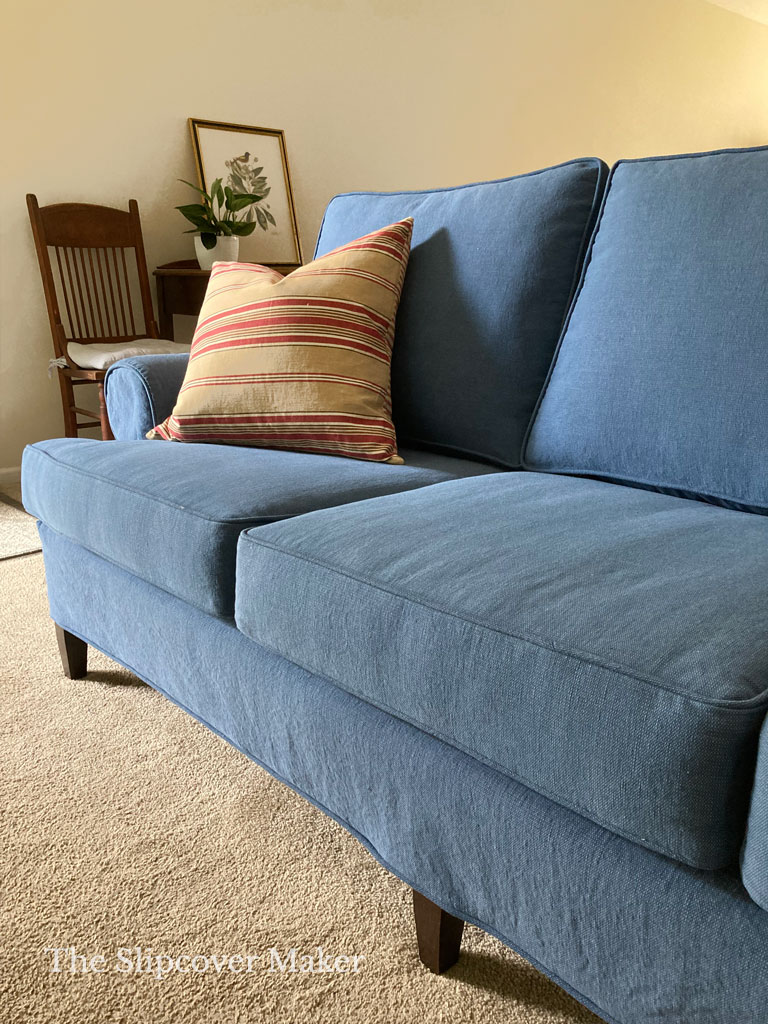 Have you shopped for a new sofa lately? It sure is challenging to find one that's well-made, affordable, and in stock. And, fits your space!
I've been searching for awhile with no luck. I finally decided to buy a secondhand sofa and give it a super slipcover makeover.
In this post, I share my DIY process, tips and costs for turning my outdated sofa into a contemporary brand look-a-like.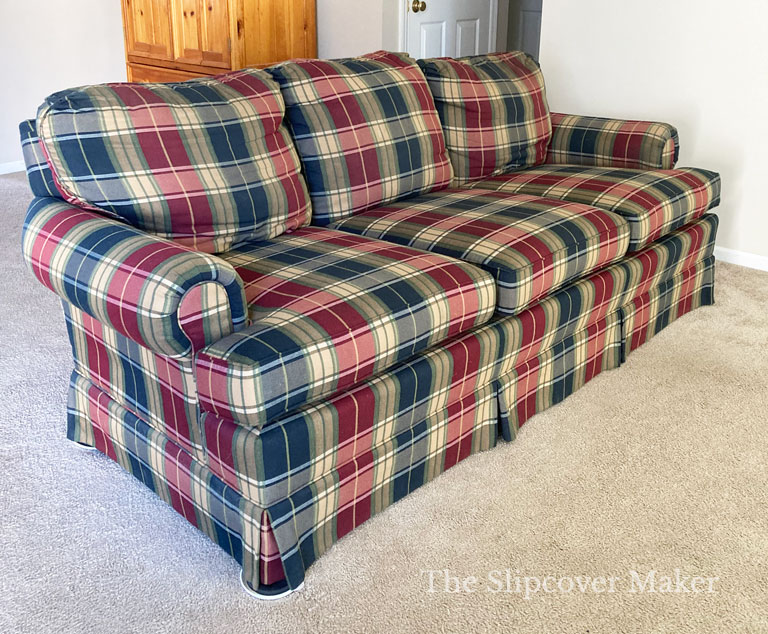 The Sofa
I found this 20 year old Clayton Marcus / Lazy Boy sofa at my local Habitat ReStore.
Why in the world would I buy such a dusty, old, outdated piece? Because it's better quality than the new sofas I looked at in my price range!
The frame is solid wood and sturdy. The springs are still tight and offer good support. It has good bones and classic style. These are the features to look for when purchasing a secondhand sofa.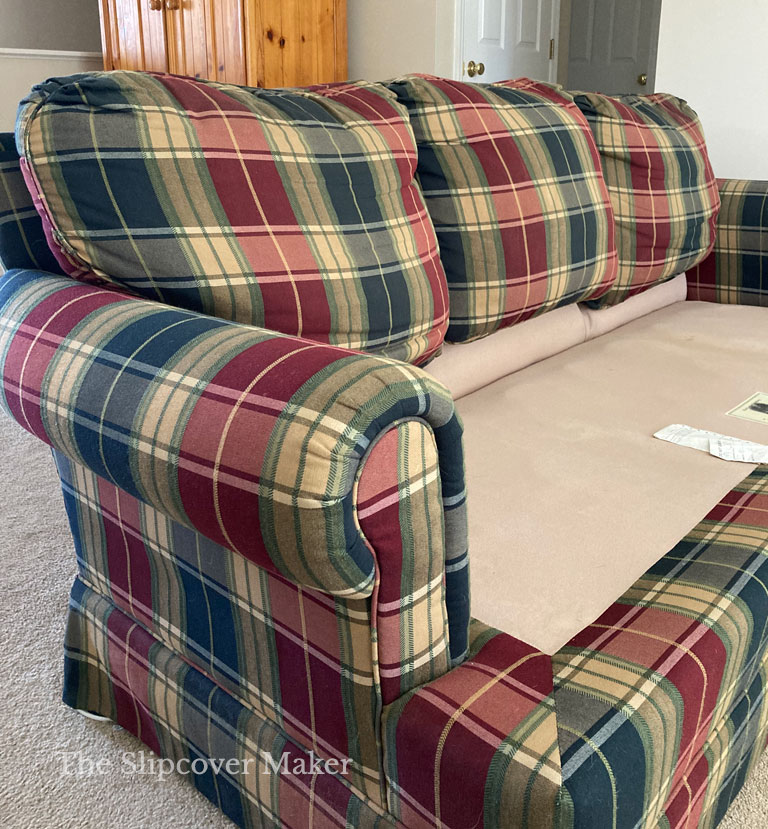 Design Plan
It's a good idea to come up with a design plan before buying fabric, inserts, trim, etc. for your project. Here's my design plan for this makeover:
Remove the attached back cushions
Remove the skirt
Vacuum the entire sofa — maybe twice!
Make boxed back cushions and stuff with new poly cluster fiber fill
Order new custom foam inserts for the seat cushions
Purchase heavy weight fabric with good coverage under $12/yard
Create a contemporary slipcover style with upholstery-like fit
Back Cushions
The original attached back cushions were compressed, dirty (inside and out) and sagging. They had to go!
I never slipcover over attached back cushions if they can be removed. These came off easy. Learn how to cut them off without ruining your sofa.
Removing attached back cushions means you have to replace them with loose cushions, which includes new insert casings, new fiberfill and new outer covers.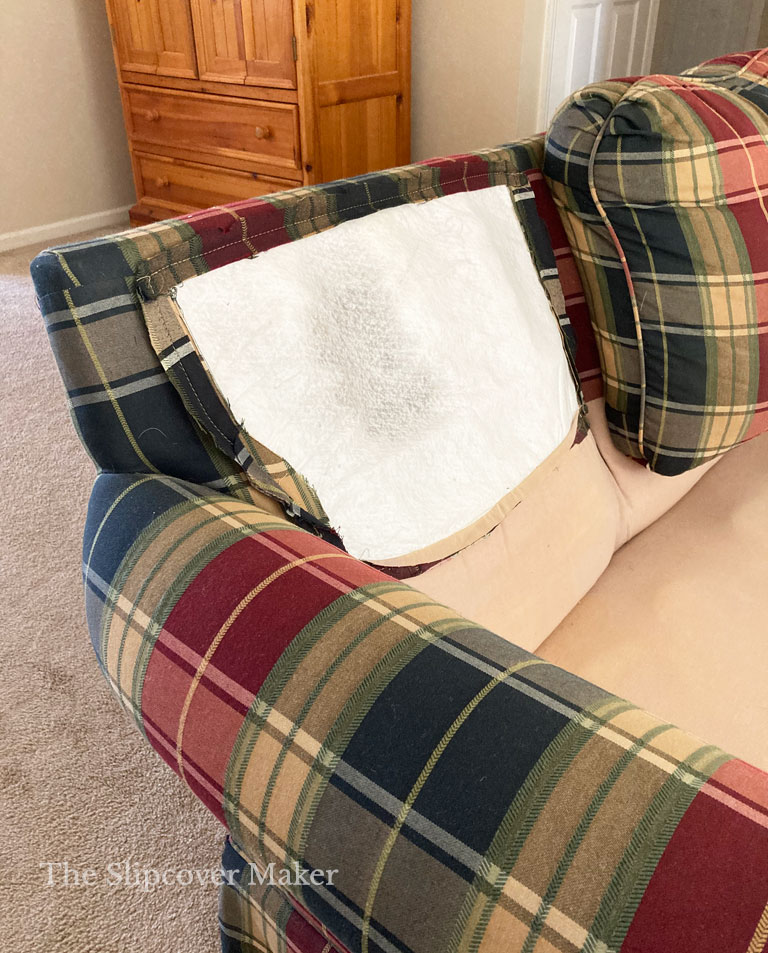 Above is what it looks like behind the back cushion after removing it. No gapping hole!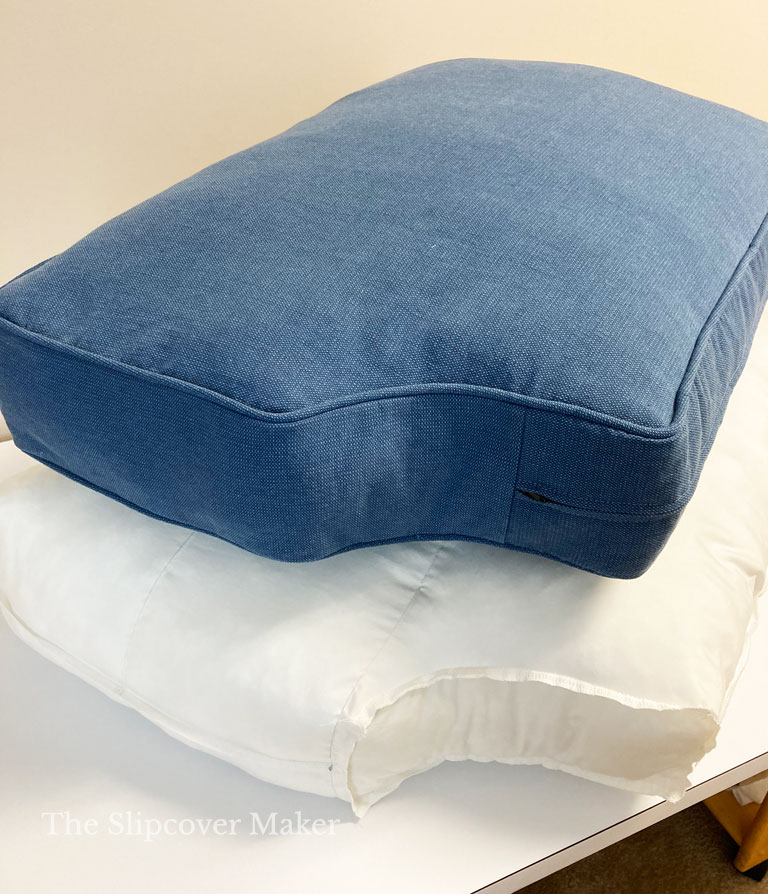 You can have back cushion inserts custom-made and filled with poly fill or a down/feather mix. No foam needed. Explore Foamorder.com or work with your local upholsterer.
Or, you can make them yourself. It's not difficult and you will save $$$ money. However, it does require a little bit of extra work.
The good thing is you don't have to start from scratch. Here's what I did:
Took apart original casings to use as patterns.
Cut the casings from a cotton percale sheet I had on hand.
Changed the Turkish pleat outer cover to a boxed style for a more updated look. I took apart the original covers and used them as pattern guides for overall shape and size.
TIP: take photos of the casing's inside baffles just incase you need a construction reference when it's time to assemble the new ones.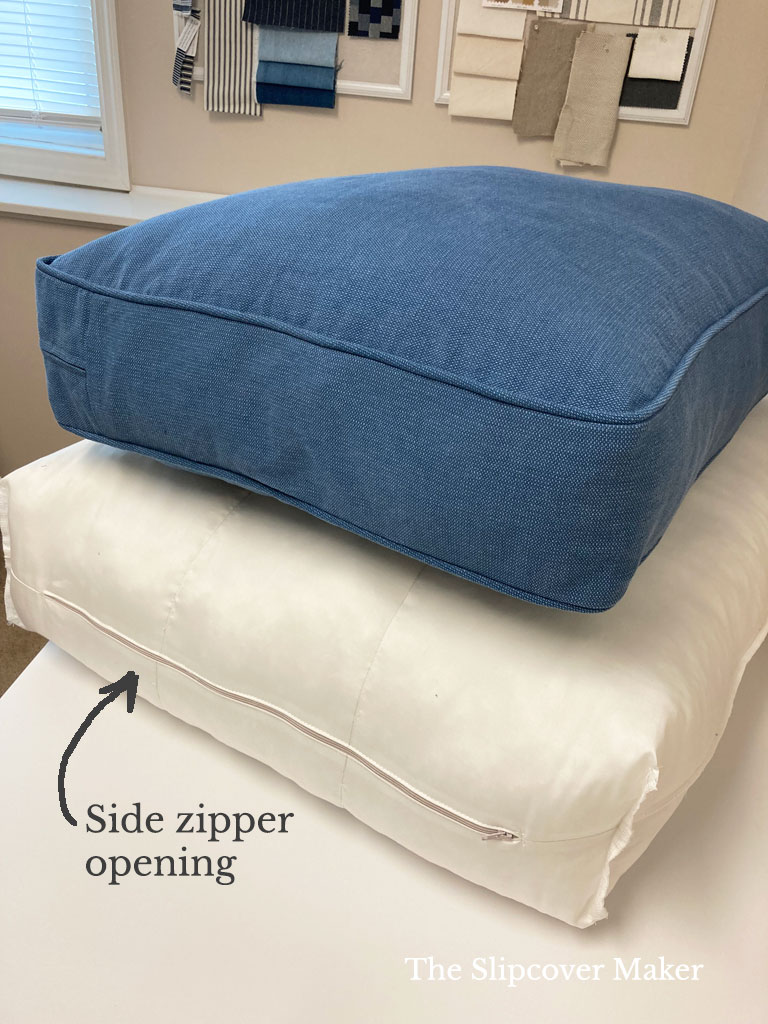 It's important to cut insert casings larger than the cushion covers. Mine are 2 inches taller and 2 inches wider. I filled them with poly cluster fiberfill. Here's how I fill a back cushion.
TIP: Don't pack in the fill too tight. When you've added your desired amount of fill the insert should feel fluffy, slightly dense and pliable. If your insert won't fit back into your cushion cover you've over stuffed it and will need to remove the excess.
I always put a zipper in on one side of the casing cover. That way I can easily access the fill when I want to adjust the amount without having to rip out stitches and resew the seam by hand each time.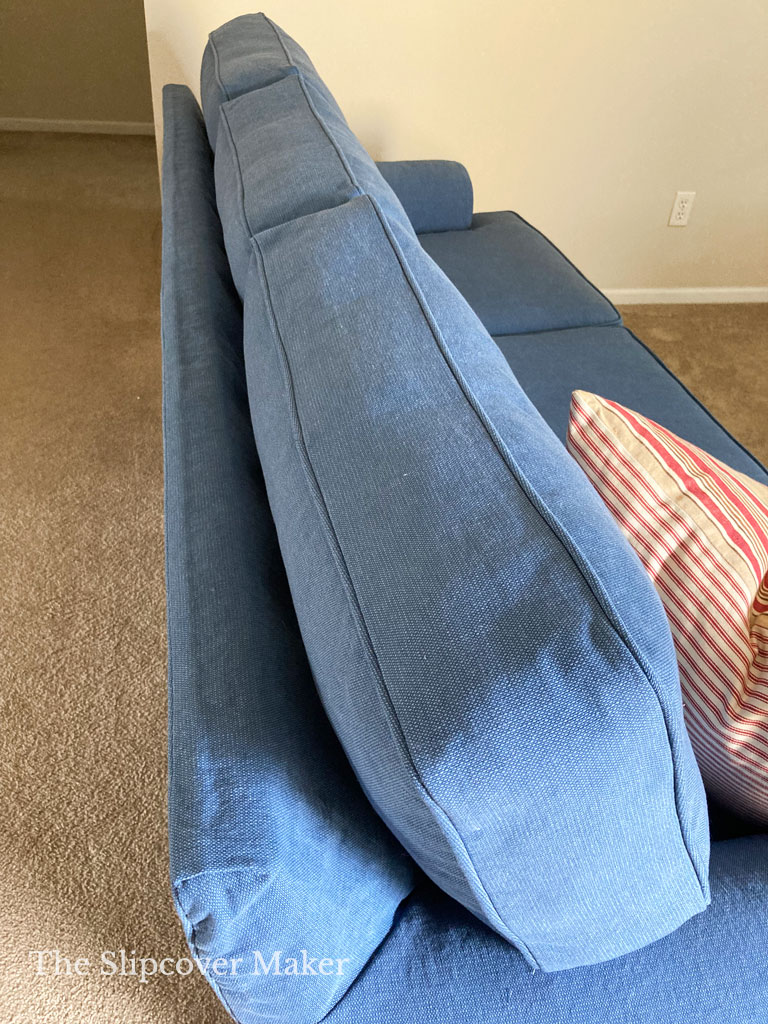 The boxing on my new back cushion covers is 5 inches wide. That's an average width for most sofas and in this case, it matches the seat boxing.
I used approximately 6 pounds of poly cluster fill in each cushion, which created a plump look and supportive feel. Your cushions might require more or less depending on the size of the cushion cover and the level of support you want.
The Slipcover
After removing the back cushions and skirt, I pin fit the sofa using the right side out method I teach here.
I created an upholstery-like fit. The outer arm seams needed shaping (curved) to control the fullness at the back and eliminate tucks. I was going for a smooth, clean look.
Fabric: heavyweight 12 oz cotton canvas found at my local fabric store on clearance.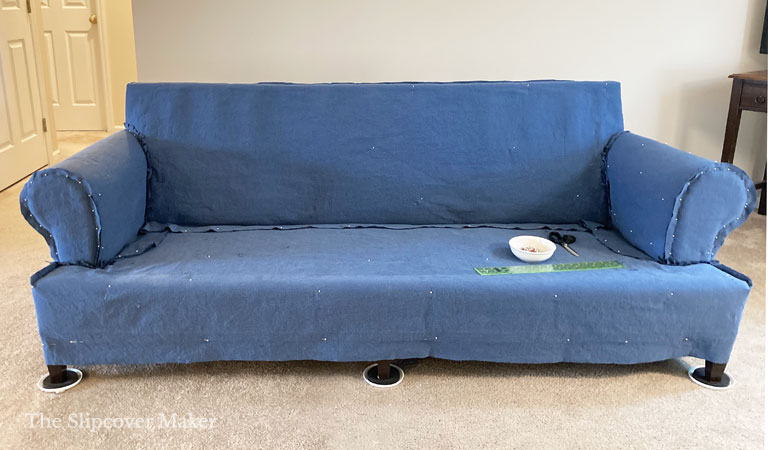 If you look at the front arm on the original upholstery you will see a step down design. Instead of replicating it, I created a flat panel front arm. It's easier to pin and looks more modern.
I trimmed the seams and hem with welt cord. The hem stays put with Velcro. Here's how.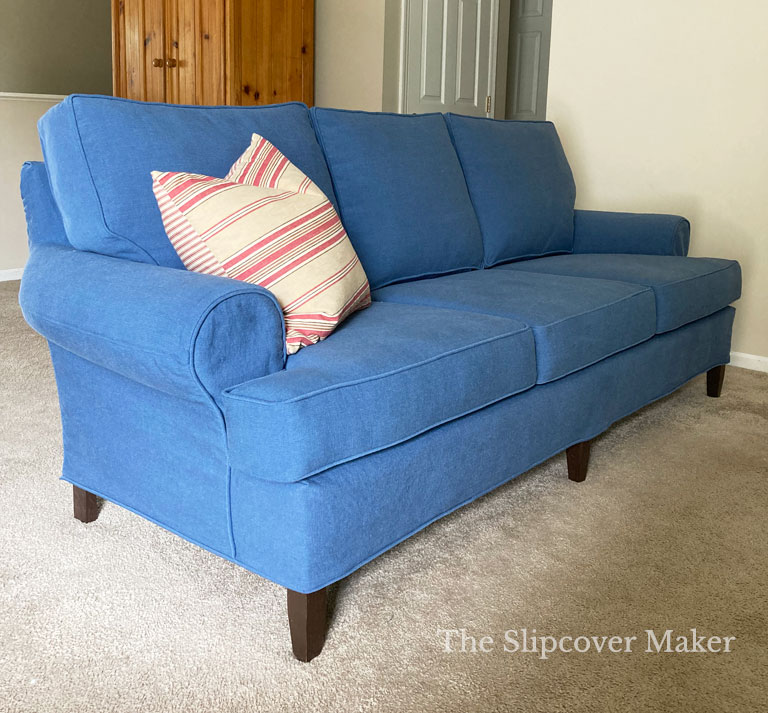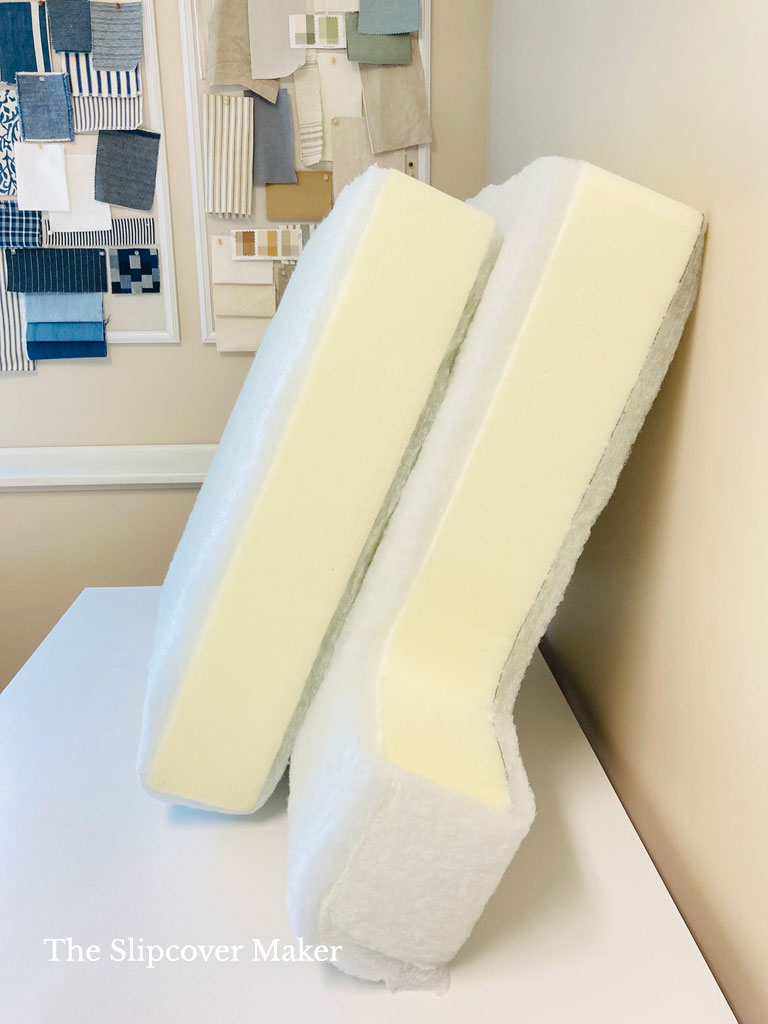 Seat Cushions
It was no surprise the original foam inserts in the seat cushions had lost their support.
At first glance they didn't look compressed at all. But when I sat down, the cushions flattened easily. The springs under the cushions were still in good shape. I made sure of that before I bought the sofa. It was only the old foam that was super squishy.
I replaced all three inserts with Everflex foam V44 Firm from FoamOrder.com. They cut my inserts to size and wrapped them with poly batting. I added a second layer of batting myself for a little extra crown.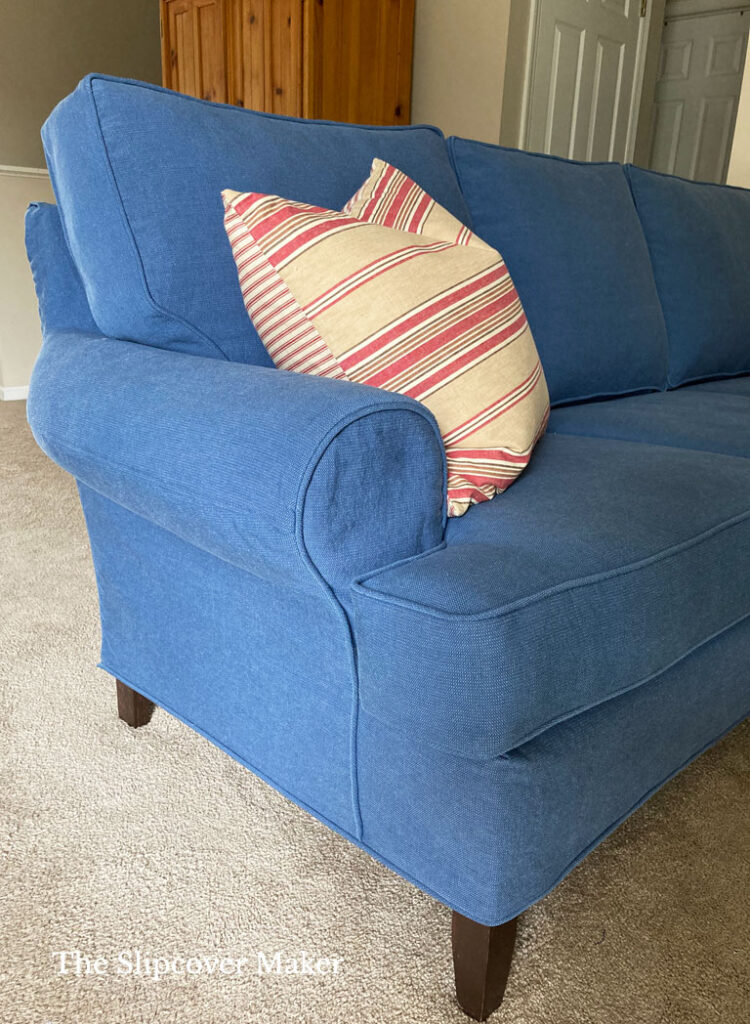 Cost
So, how much did I spend on my DIY makeover?
$65 sofa
$125 sofa delivery fee
$385 for 3 foam inserts for seat cushions
$40 extra poly batting wrap and spray adhesive for foam inserts
$90 poly cluster fill for 3 back cushions
$0 casing fabric for back inserts
$275 fabric 20 yards, zippers, welt cord, and Velcro
$0 slipcover labor
TOTAL $980
The biggest savings in a project like this will come from making the slipcover yourself and choosing a fabric priced under $12/yard. You'll save even more money if you start with a sofa you already have.
What ever you do, don't skimp on the cushion foam inserts. Buy the best quality — its worth it!