My favorite machines, tools and supplies I use to make slipcovers.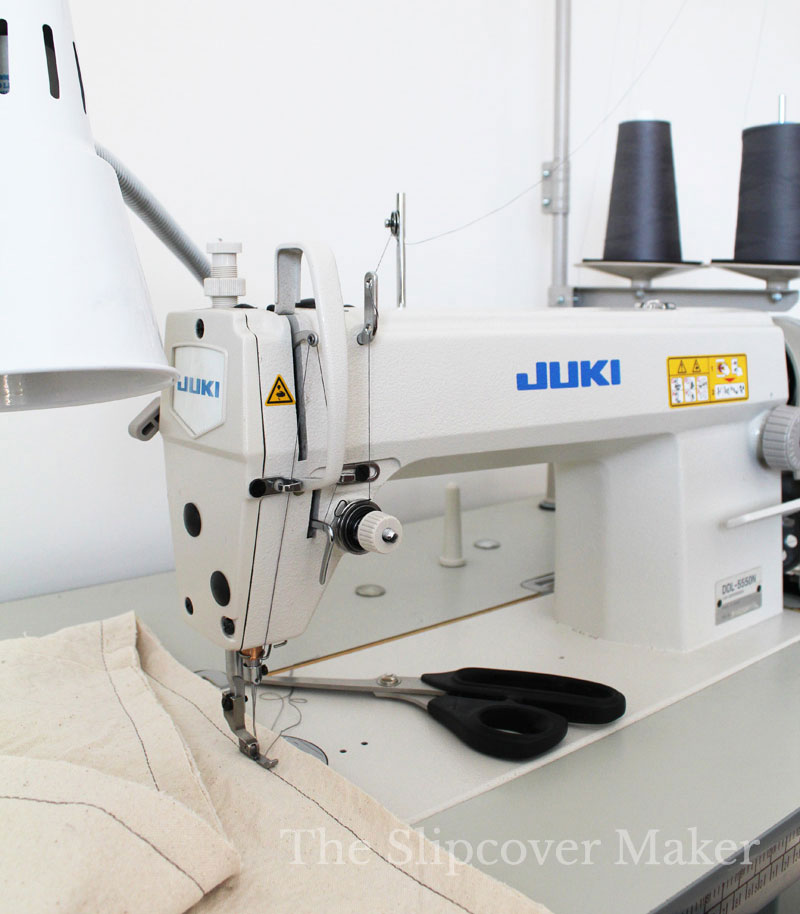 Juki DDL-5550N Single Needle, Straight Stitch Machine
This is the machine I use to sew all of my slipcovers. It's a workhorse! Fast, reliable and powerful. Easily sews through multiple layers of light to heavy weight denim, canvas, linen and so many other types of home decor fabrics.
No computerized parts, no bells and whistles. Just forward and backward straight stitch with 5 stitch lengths.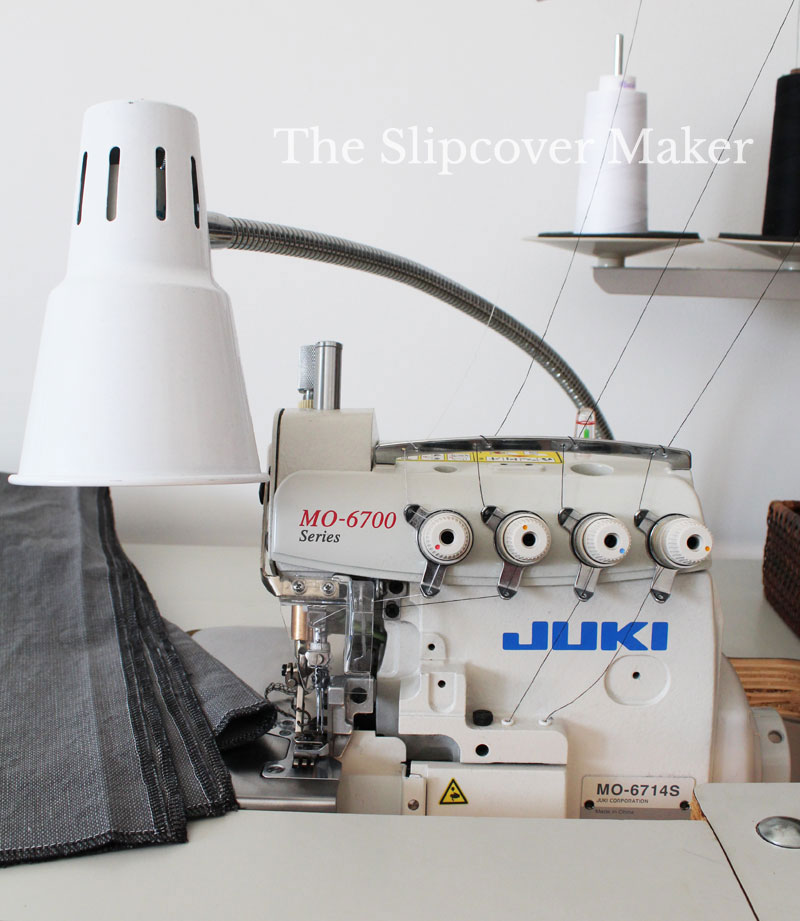 Juki Industrial Serger MO-6714S or MO-6714DA
I was ecstatic when I finally replaced my home serger with a Juki industrial. This 2-needle, 4-thread serger with mock saftey stitch produces a professional seam finish every time….and it will save you time because it's so fast!
It's surprisingly easy to use. I love how clean and precise it trims and overlocks seam edges in one smooth process. Perfect for preventing washable slipcovers from raveling.
Handles light to heavy weight fabrics, single layer and multiple layers with ease.
I bought both of my machines from Goldblatt Sewing Machines SewingGold.com in Chicago. Comes with a table (unassembled), servo motor with adjustable speed settings, a variety of accessories and a very helpful set-up DVD.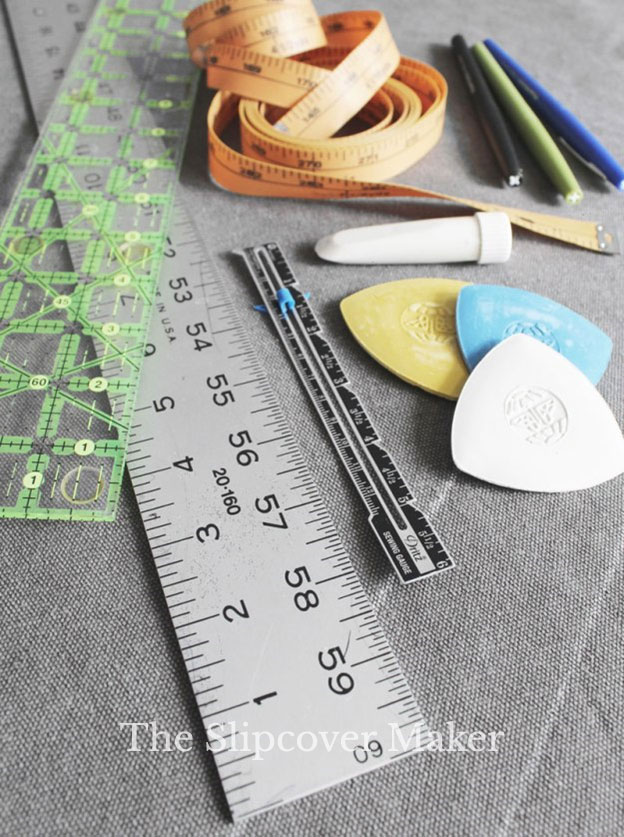 Dritz Flip It Tape Measure, ¾ by 144 inch
The best flexible tape for measuring furniture! Super long. Measures 144″ on one side. Flip it over and continue measuring up to 288″. Yardage increments are marked on the tape for easy reference.
This ruler is the perfect width for making my welt cord bias strips with 3/4″ seam allowance. The 60″ length makes it fast and easy to chalk cut lines on fabric.
If you prefer making welt bias strips with 1/2″ seam allowance this is the ruler is for you.
I keep several of these little rulers in my workroom. They come in handy for making small marks on seams and measuring turned hem allowance.
Omnigrip 2.5″ x 18″ Non-Slip, See-Through Ruler
This is my go-to ruler for measuring and marking the slipcover skirt height as I pin fit and when I draft slipcover patterns.
Clover Chaco Liner Chalk White and Clover Chaco Liner Chalk Refill White
My favorite marking tool. It wheels on a fine line of chalk, which is easy to brush off. I use it to mark up a slipcover as I pin fit, draw cut lines for bias strips, label slipcover pieces, etc.
I use this hard milled chalk to mark slipcover hems as I pin fit. I also use it with my 60″ metal ruler to mark bias strip cut lines. 10 triangle shape pieces in a pack, 4 colors. The tapered edges draw a smooth, fine line without chalk dust.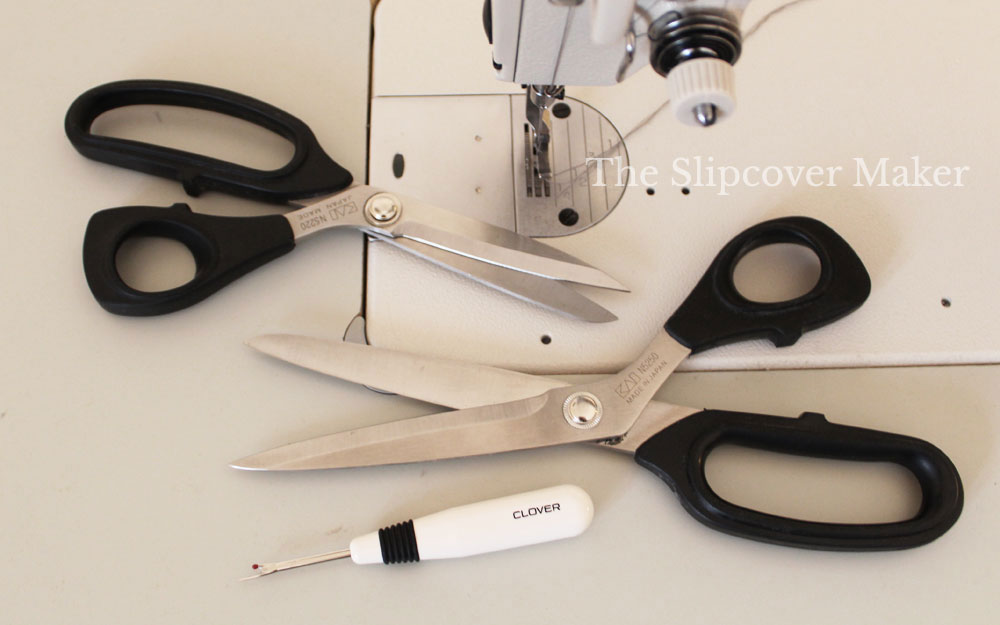 Kai 8.5″ Ergonomic Scissors 5220
I've been using Kai scissors for many years. I especially like the 8″ length for cutting as I pin fit. The overall weight and non-slip, ergonomic handles makes this scissor very comfortable. The blades are sharper than other scissors I've used especially the points. The quality is excellent.
Kai 10″ Ergonomic Scissors 5250
These 10″ long scissors let me take big cuts. I use them mostly for cutting long lengths like welt bias strips, skirt panels and when I have to cut up rolls of fabric for pre-shrink.
Clover White Ergonomic Seam Ripper
Ripping out a few stitches or an entire seam is part of any sewing project, slipcovers included. This ripper is super sharp. The fine point makes it easy to get under the tightest stitch.
Chickadee D2 by Eastman Electric Fabric Cutter
This heavy duty electric cutter is on my wish list. I've seen it in action and let me tell you it's impressive. Cuts through 2 layers of heavy weight slipcover fabric easily and very quickly. If you're cutting dozens of yards of bias strips every week like me, this is the answer to reducing repetitive stress on your hand and as well as speeding up welt cord production.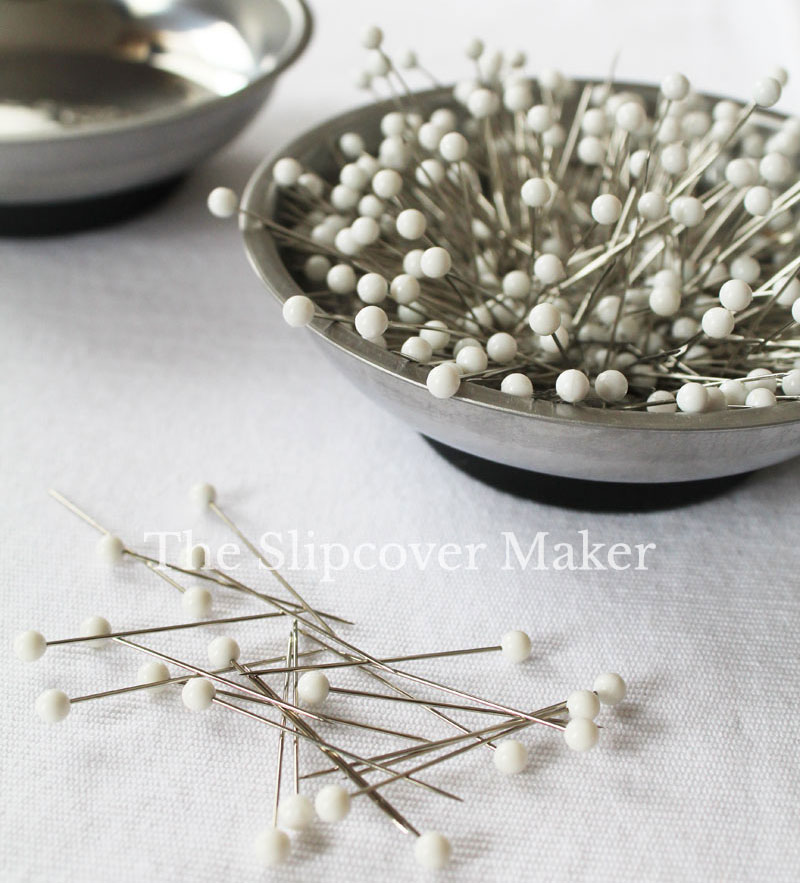 A sharp, extra-long 1.5" steel shaft pin that works great for pin fitting slipcovers. 250 count.
These little clips are brilliant! I use these them in place of pins for certain tasks like keeping stripes in place while I sew to ensure a perfect match.
I use this pin holder on my worktable and take it with me when I pin fit. Magnetic on top only. Pins won't stick to the sides or bottom.
********
This page includes affiliate links. When you click on the link and make a purchase I earn a teeny-tiny commission, which helps me keep this website going. No extra charge to you.
********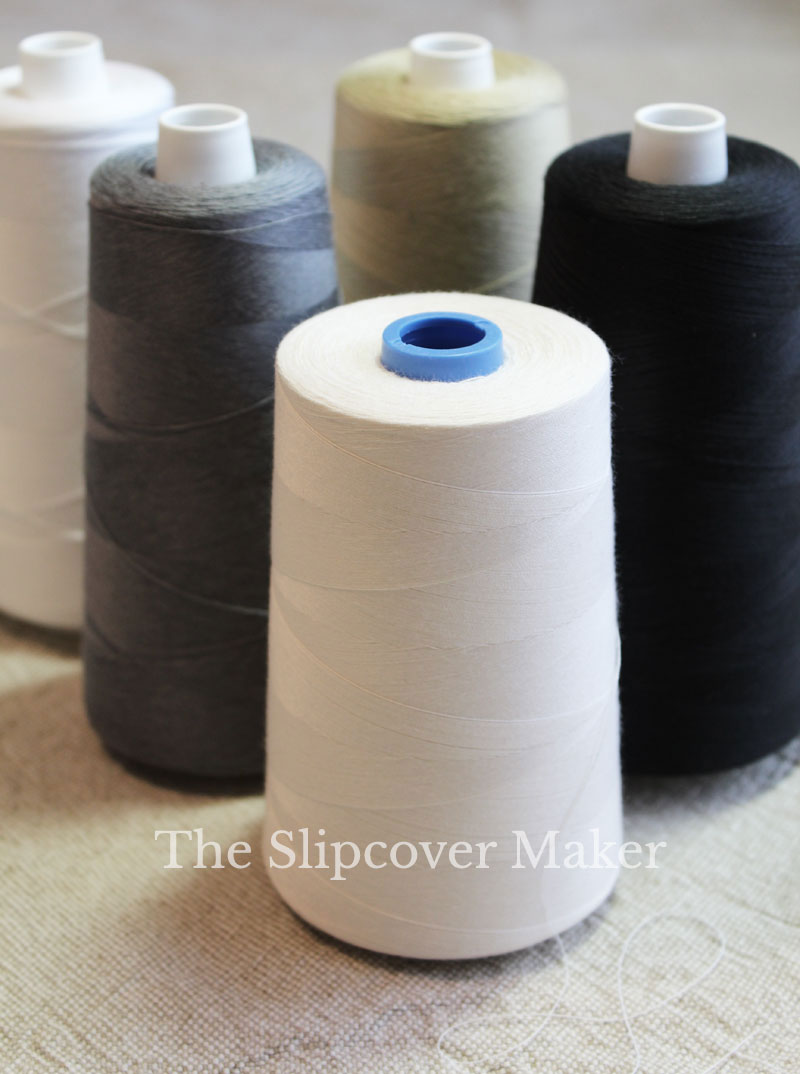 T-40 Wawak Perform-X, 6,000 Yard Cone size T-40 poly wrapped poly core is a strong thread for industrial straight stitch machines. I use it to sew all of my slipcovers no matter the fabric. I keep basic colors on hand: white, antique cream, khaki, dark grey, black and dark navy.
T-27 Maxi-Lock, 3,000 Yard Cone size T-27 spun polyester thread is the one I use on my 2-needle, 4-thread industrial serger. This is a strong, quality thread that works great for overlocking seams on all types of slipcover fabrics.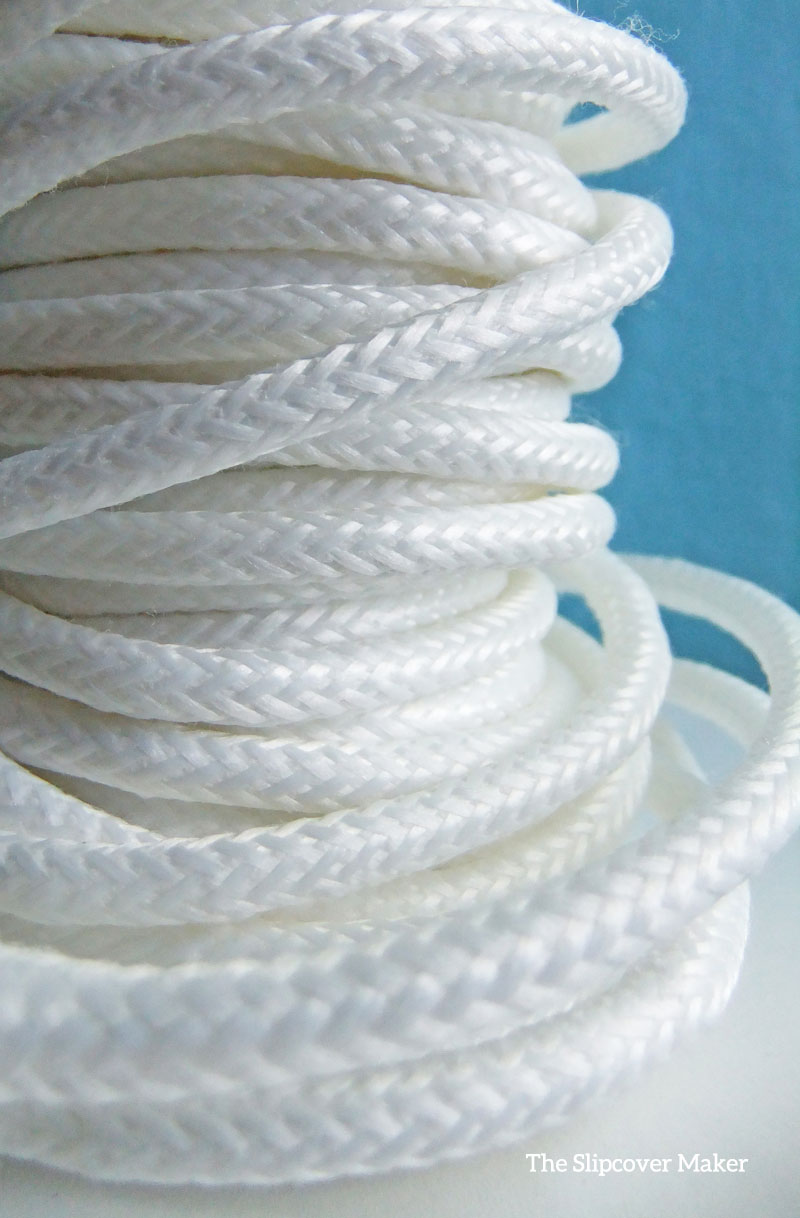 R-TEX Medium Welt Cord #WC10 size 5/32, 500 yards
This is a wholesale resource for medium-firm welt cord. It has a poly tissue-like core and wrapped with a poly braided cover. It's firm enough to keep its shape yet soft enough to bend around curves smoothly.
Doesn't shrink or pucker when slipcover is washed under normal conditions. The 5/32 size is standard for slipcovers. A smaller size 4/32 is also available.
Below is a retail resource for DIY slipcover makers. Same cord as described above. Buy exactly the amount you need for your project.
Welt Cord, Medium Firm, size 5/32 — 50 FT
Welt Cord, Medium Firm, size 5/32 — 100 FT
ZIPPERS
Wholesale resource for size 4.5 nylon coil zipper tape in 215 yard rolls and matching slides. This is what I use for sofa and armchair cushion covers. Strong and flexible. I keep 4 colors on hand: White, Tan, Black and Grey.
Individual Zippers, Nylon Coil, Size #3
Retail source for nylon coil, closed-end zippers. I keep 2 lengths of size #3 on hand in colors white, natural, tan, black and grey: 30" long for side entry on the slipcover body and 24" long for throw pillows. I cut them shorter when needed.