Heavy weight cotton denim is a durable twill weave fabric. It washes and wears very well making it a good choice for slipcovers that get a lot of use.
Below are the denims I use. Click on the links provided to purchase.
12 oz. Natural Cotton Bull Denim
12 oz. White Cotton Bull Denim
You get a lot of bang for your buck when you slipcover with this 12 oz. cotton bull denim in natural and white. These neutral denims are versatile, durable and washable. They give any piece an instant update. The look is casual and relaxed.
Great for slipcovers that get normal daily use and up to 4 washes per year. Coverage is excellent over most upholstery colors. Low wrinkle. Be sure to preshrink your yardage for best results. See how these fabrics look in a slipcover: Cynthia's Chair and Barb's sofa and Peggy's sofa and chair.
12 oz. Cotton Bull Denim — Lots of Colors!
Cotton bull denim in color! This is the same quality as the 12 oz. natural and white I feature above. It's washable, too! Be sure to order swatches to review actual color. Like the natural and white denim this fabric needs to be preshrunk before making your slipcover. Low wrinkle when you follow my preshrink instructions.
11 oz. Brushed Cotton Bull Denim — Ivory, White, Navy, and Graphite
This medium weight denim is a favorite of customers who love a very soft hand-feel. It has a sanded finish, which gives the fabric a subtle brushed surface. The darker colors Navy and Graphite take on a slight distressed look after washed, giving it a vintage worn appearance.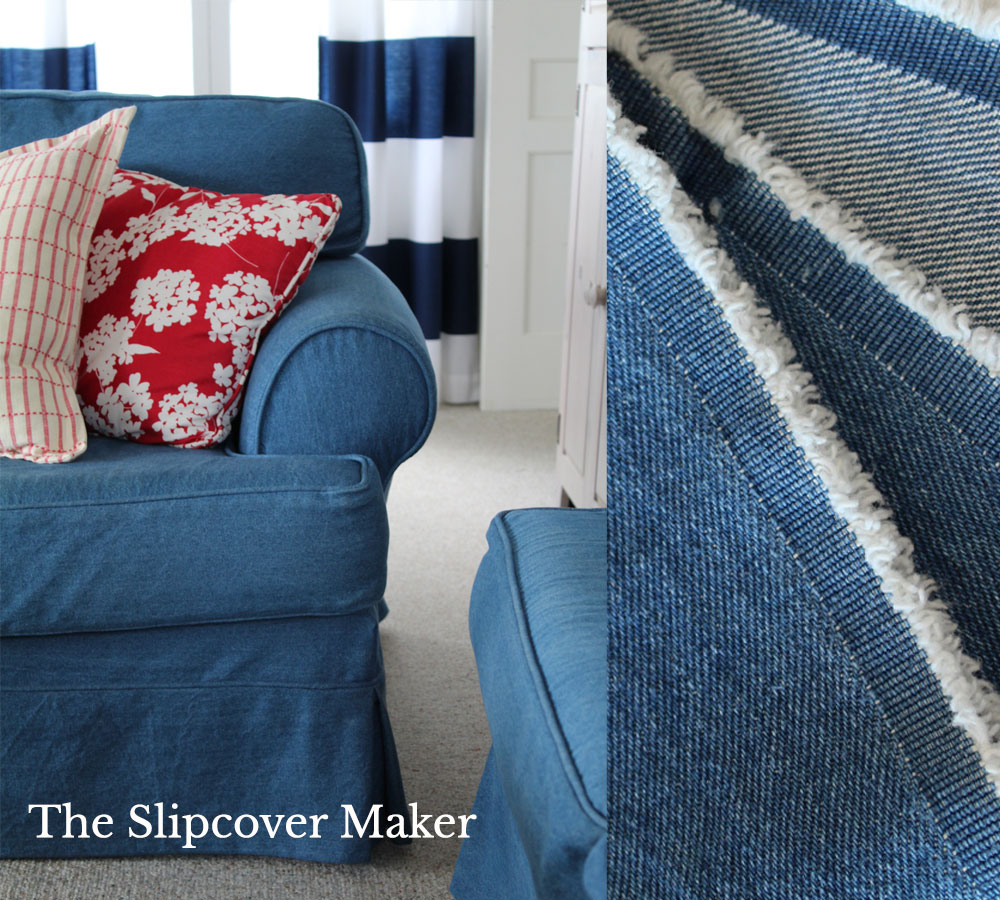 Washed Indigo Blue Upholstery Denim
This indigo denim is a classic. It's a 10 to 11 oz. medium weight with a soft drape. NOTE: it's no longer the 14 oz. heavyweight described by the retailer. Works well for washable slipcovers that get moderate use under normal wear. The indigo blue color is yarn-dyed (not dyed solid), which gives the fabric an authentic blue jean look. Machine washable. Be sure to pre-shrink your yardage. Slipcovers in indigo denim: Ellen's love seat and Kathy's chair.
********
This page includes affiliate links. When you click on a link and make a purchase I earn a small commission, which helps me keep this website going. No extra charge to you.