My favorite pillow forms and loose fill for resreshing back cushions are made from natural materials such as organic cotton, wool and down-feather blends. They are breathable, long wearing and very comfortable. Here are my favorites along with a few synthetic alternatives I like.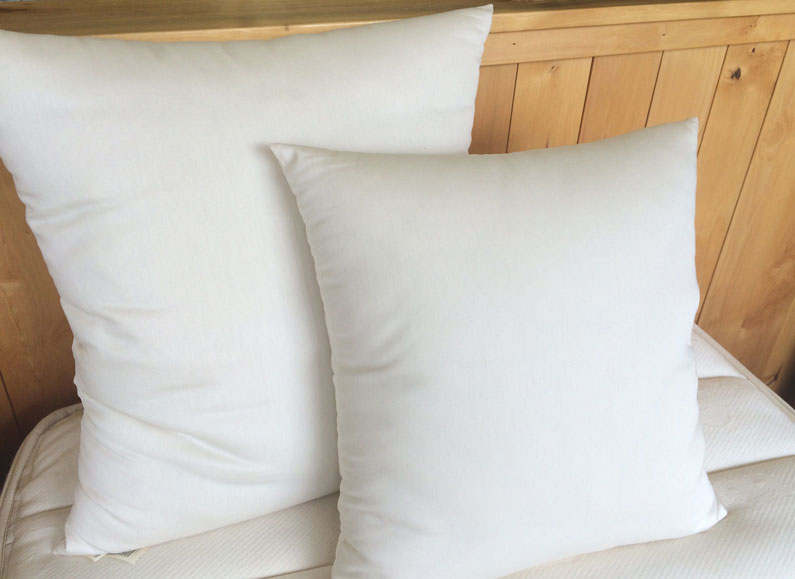 Wool Filled Throw Pillow Insert made by Holy Lamb Organics. Premium eco wool batting layered in an organic cotton sateen case. Two sizes: 18 x 18 and 22 x 22. I love the dense, still feeling of these wool pillows. They have a gentle spring to them — not bouncy at all. The firmness is just right to support your back.
Down Throw Pillow Inserts from FoamOrder. These down/feather inserts are plump, squisable and will give your custom pillows a high-end look. Choose from a soft 25 down/75 feather blend or the more economical 5 down/95 feather blend. The insert cover is made from 200 thread count fabric to help feathers stay inside.
Duck Feather Throw Pillow Inserts from Ikea. These natural inserts are filled with duck feathers only, which means they have less loft and less memory than a down/feather blend. However, for the price they make a good down-like pillow insert for home decorating on a budget.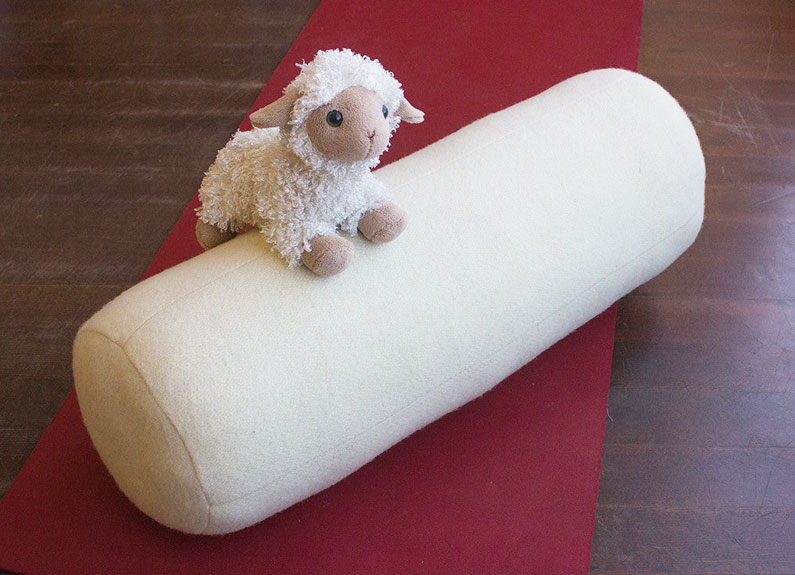 Wool Bolster Pillow Insert made by Holy Lamb Organics. 29 " x 9″ All natural wool batting wrapped in a soft eco wool cover. This comfortable insert is ideal for creating a custom bolster pillow for your sofa.
Wool Pouf made by Holy Lamb Organics . 19″ x 19″ x 19″ Cover this natural wool cushion insert with your favorite home decor fabric to make a custom pouf. The cube is covered in with thick wool moisture barrier fabric and stuffed firm with wool batting.
Wool Filled Cushions made by Holy Lamb Organics. Use these thick wool pads as seat cushion inserts for dining chairs, benches, window seats and even floor cushions. Filled to feel firm and comfortable.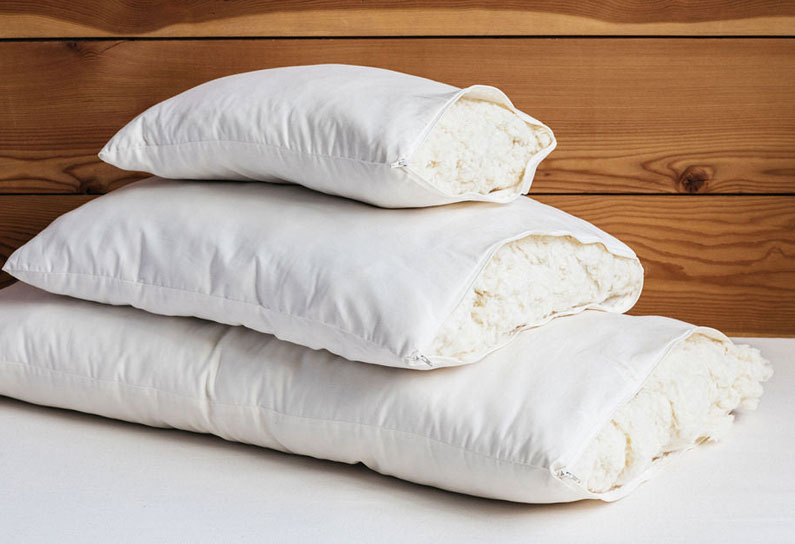 Wooly Down Filled Bed Pillows made by Holy Lamb Organics. Stuff your decorative shams with these down alternative inserts. Little springy clusters of wool (called Wooly Bolus) fill the zippered organic cotton sateen case. The squisable support feels similar to a down-feather pillow. This is my favorite pillow for sleeping and for decorative throw pillow inserts for the bed.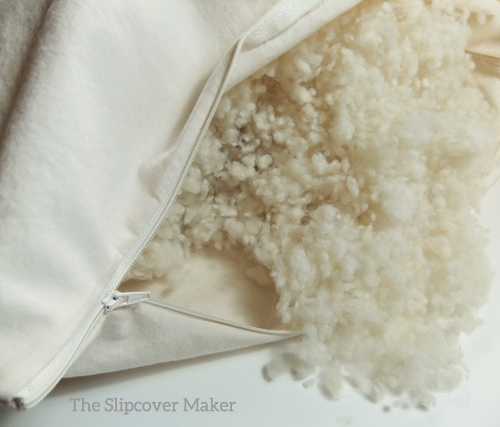 Wooly Bolus Loose Fill Make your own throw pillow inserts with this this loose, organic pillow stuffing made from felted wool clusters called Wooly Bolus, which are soft and springy. Stuff a zippered case and customize the amount of fill. Refresh it or replace it whenever you want. Your pillows will have a similar look to a down/feather pillow and can be easily fluffed and shaped.
Polyester cluster fill is another good loose fill option. It's soft and springy, perfect for stuffing throw pillows and back cushion inserts. Use it alone or blend it with either Wooly Bolus cluster fill or with a down-feather mix.
Seat Cushion Inserts
Custom Foam Cushion Replacements from Foam Order. This a great resource for having new foam inserts made for your sofa and armchair seat cushions. Choose from different foam qualities, firmness, and foam type including traditional polyurethane and natural latex.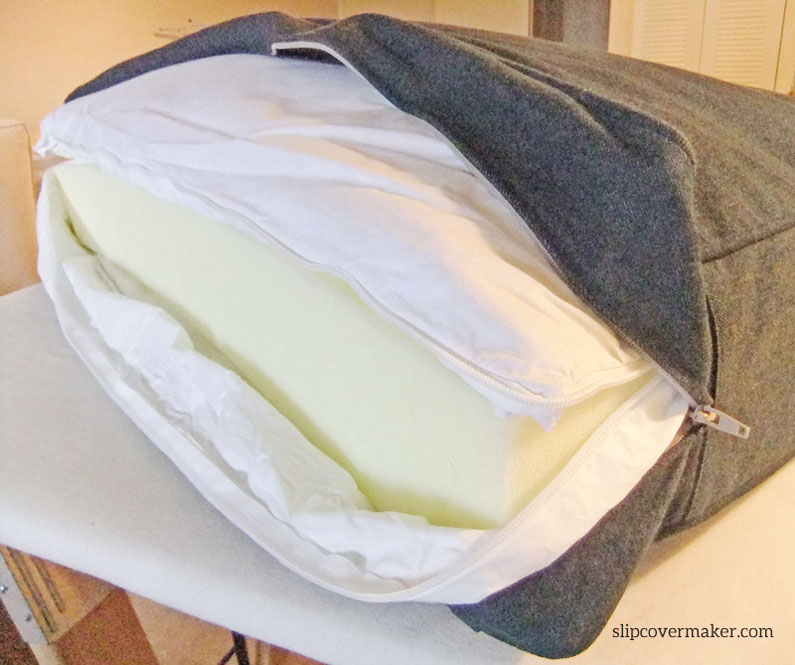 Down and Poly Cushion Envelopes from Foam Order. Down/feather filled or poly cluster fiber filled envelopes add a luxurious look and extra plushness to seat cushions. This resource is where you can have cushion envelopes expertly made to fit your foam inserts. You can also purchase custom envelopes from Ronco with a trade account.
*************