Tightly woven and washed hemp in canvas and twill makes beautiful slipcovers. The look is similar to linen but I find it has more character and wears better.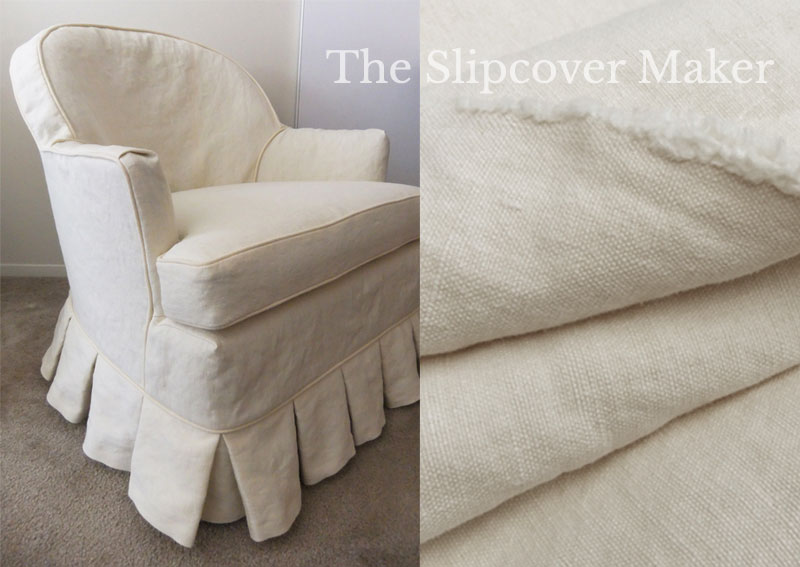 Hemp Canvas, 11 oz. color Natural
This is a strong, tightly woven canvas in 100% hemp with the look and feel of slubby linen. I love its rustic beauty and undyed creamy white color. After washed, this fabric takes on a wonderful floppy drape and allover softly crumpled appearance, no hard wrinkles like cotton canvas. Very good coverage over light to medium colors. Shrinkage: 3 to 4″ on a one yard length and 2 to 3″ on the width.
This hemp fabric is perfect in every way for a washable, long wearing slipcover. Woven tightly with fine yarns, which creates a flat surface and supple drape. It's less grainy than the heavier, rustic hemp fabrics. I LOVE the natural taupe color — it's just the right shade of oatmeal. Shrinkage: 3 to 4″ on a one yard length and 2 to 3″ on the width.
A denim-like fabric in 100% hemp that feels supple, floppy and soft like washed linen. Gorgeous!! The twill weave and slubby texture gives this fabric so much character. You will love the undyed creamy white color. Good coverage, however, high contrast upholstery fabric might show through. Shrinkage: 3 to 4″ on a one yard length and 2 to 3″ on the width.
Hemp Canvas 15 oz. color Taupe
This very heavy weight hemp canvas is a classic — rustic, grainy, and weighty.
This fabric is ideal for very simple slipcover styles like a small boxy chair and ottoman, a big floor pillow, seat cushion covers and pillows –styles that have very few seams. It's also great for upholstery.
I don't recommend this hemp canvas for tailored chair and sofa slipcovers with lots of seam details, welt cord and a skirt. That's because it is very thick and it has an unusual amount of give / stretch in both the straight grain and across the width. If you are not experienced in working with this type of fabric I would opt for a lighter weight canvas.
I like the floppy, supple drape of this hemp after it's washed. The hand-feel is similar to furnishing weight linen — it's coarse but not scratchy.
I'm certain this cloth will wear well for a very long time and get softer and more beautiful. It's thicker than the other hemp fabrics listed above so buy a yard, preshrink it and do a sew test on your home machine to make sure you can sew easily through two to three layers. High shrinkage: 6″ on a one yard length and up to 3″ on the width.