Rustic Hemp Blend Canvas for Slipcovers
This hemp blend canvas is a beautiful, rustic alternative to 100% cotton canvas. It's ideal for making natural farmhouse-style slipcovers for armchairs, sofas, pillows, and poufs.
I'm a big fan of quality hemp fabrics for slipcovers so when I found this unusual canvas blend of hemp, cotton, and recycled polyester I had to take a closer look.
I did a wash and stitch test on two different weights — an 11 oz medium weight and a 19.7 oz super heavyweight — and I have to say I'm very impressed with the look, performance, and affordable price.
If you admire the natural, rustic beauty of hemp home decor, you're going to love this canvas. I'm excited to share my review with you!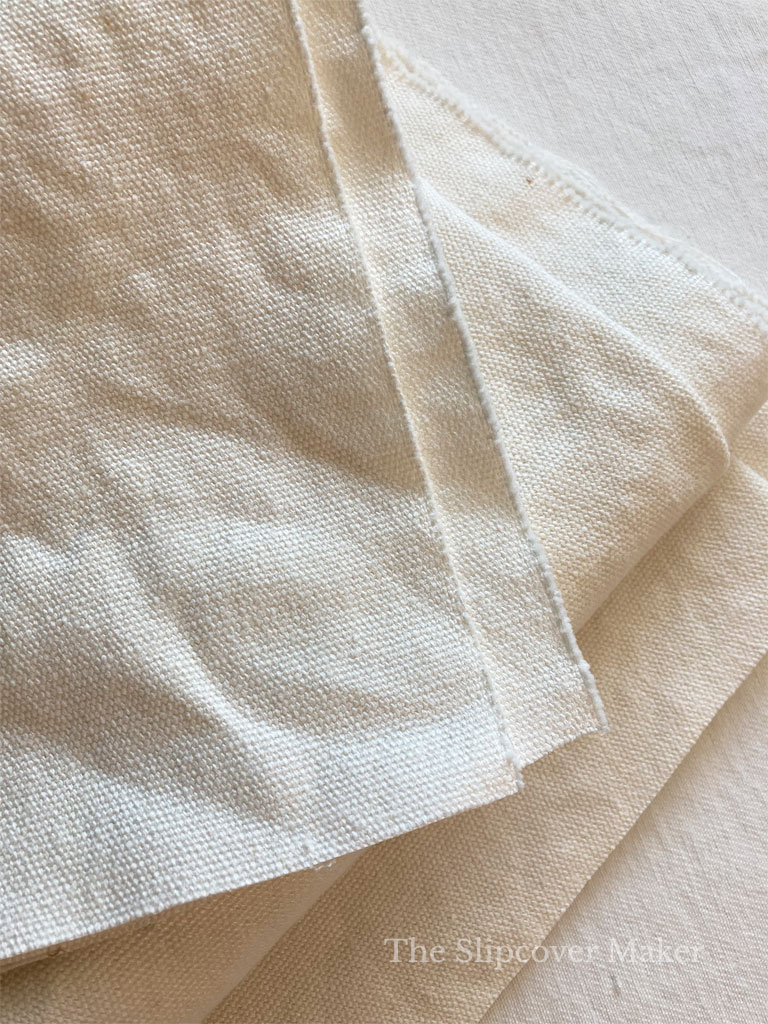 Medium Weight 11 oz.
Let's start with the 11 oz. (shown above). This hemp blend canvas is made with 45% hemp, 40% cotton, and 15% recycled polyester and features a lot of character.
I was surprised by the beefy weight. For a medium weight, it provides pretty good coverage and durability. I would definitely use it as an alternative to 8 to 10 oz. cotton canvas or cotton-linen.
Like 100% cotton canvas, it has a cotton-y hand that feels crisp at first and softens with wear and wash.
This unique hemp blend has a homespun look yet it's tightly woven. I love the pronounced canvas weave and the random slubs and nubs that give this cloth a beautiful grainy texture.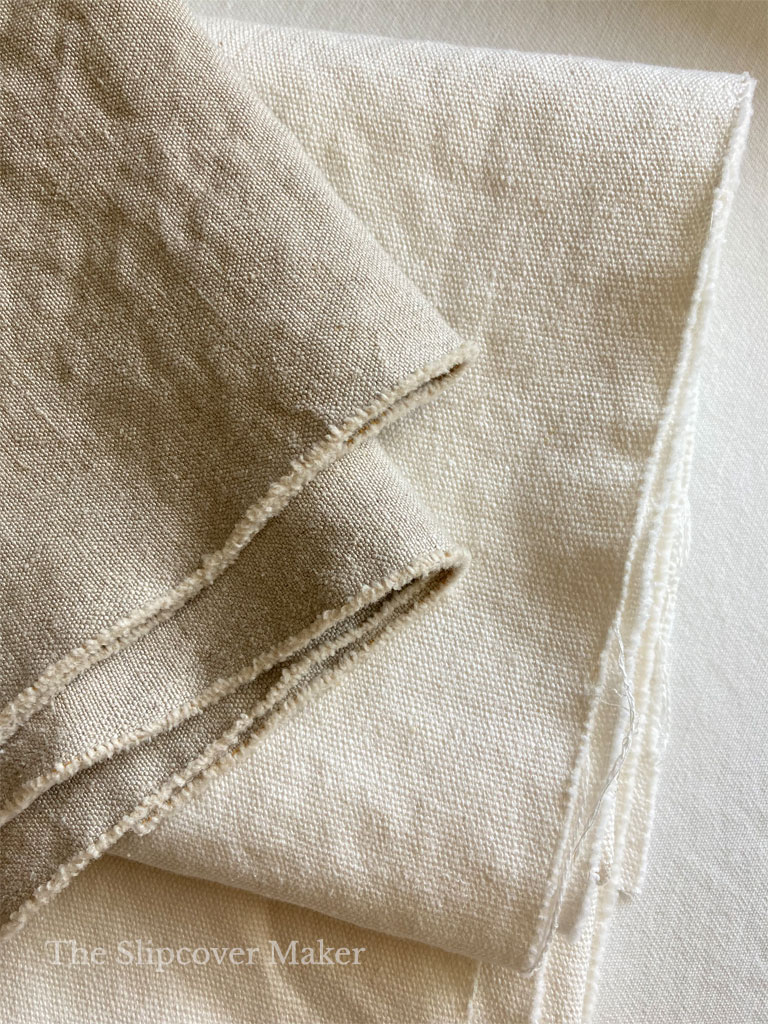 In terms of color, you can't beat the perfect creamy shade of natural. Not too white and not too yellowish. It's so versatile and looks terrific with other hemp fabrics like my favorite undyed taupe canvas shown above.
What about the small amount of recycled polyester content? It's there to add strength and soften the wrinkle a bit. Nice.
I recommend the 11 oz. hemp-cotton-poly canvas for armchair and sofa slipcovers that get normal daily use and a few washings per year.
Ok, now let's move on to the 19.7 oz. heavyweight.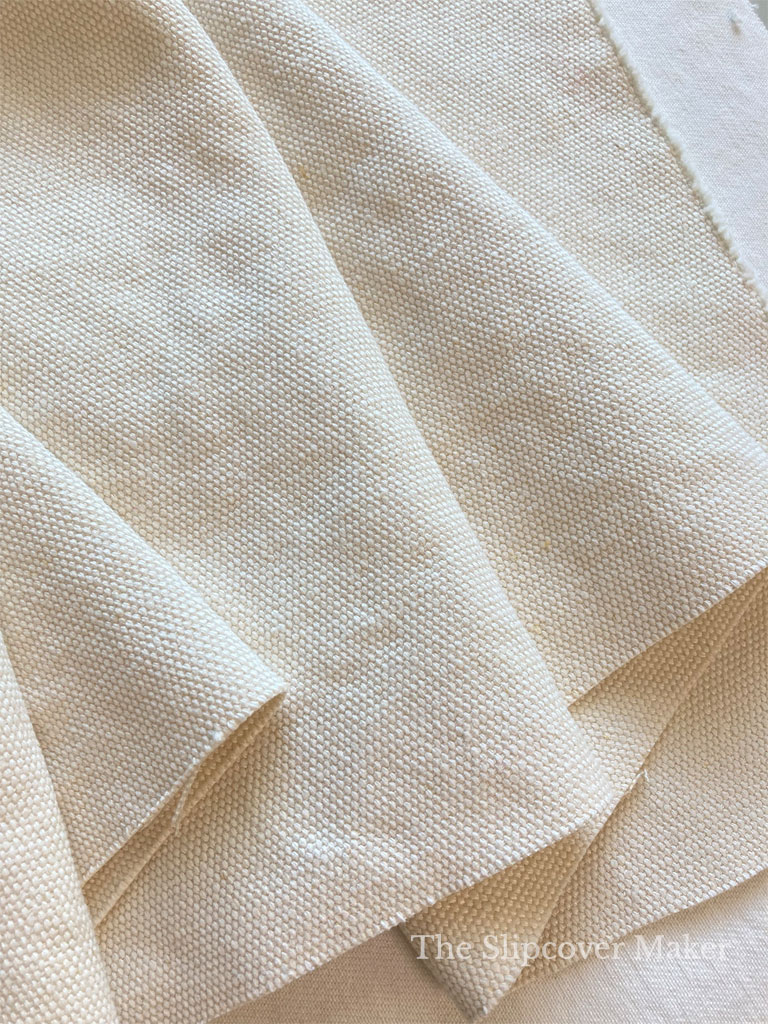 Thick, Super heavyweight 19.7 oz
NOTE: This 19.7 oz weight is much too heavy and thick for most slipcovers even if you are using an industrial sewing machine. Any fabric weight above 14 ounces is usually too heavy.
When I purchased the hemp blend canvas in 11 oz. I noticed this super-heavy version. I was curious about how the two weights compared so I ordered a yard to test. Both are made from the same fiber blend.
First off, this super heavyweight is stunning! See photos above and below.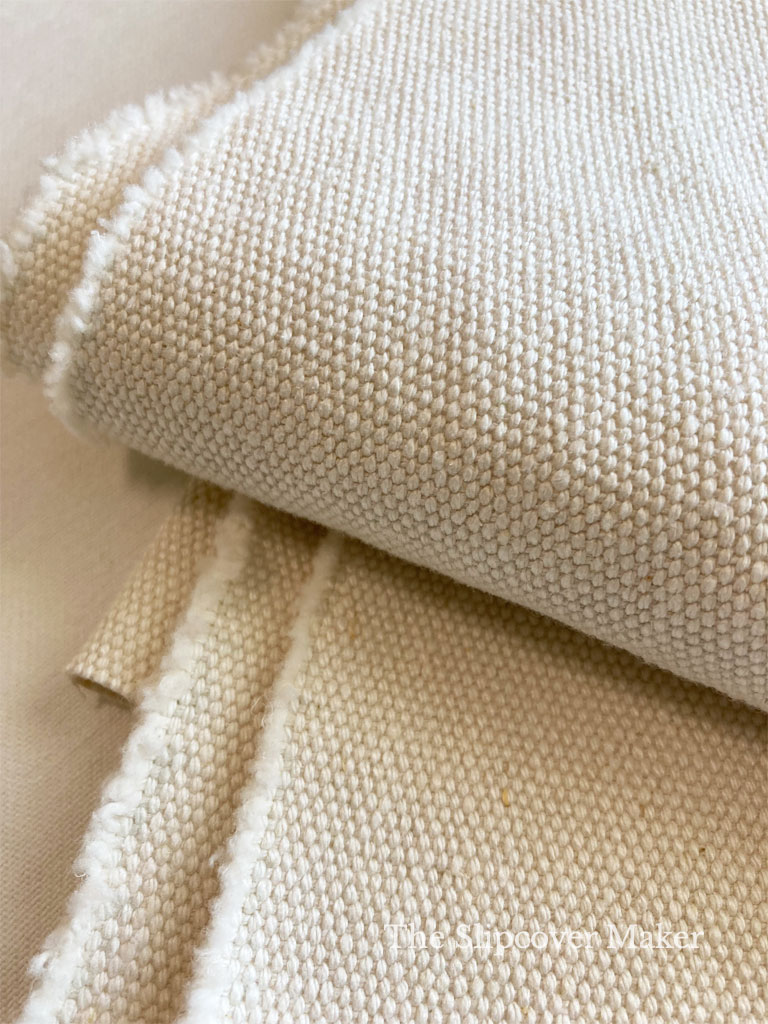 It has all of the same characteristics and is woven in the same canvas weave as the 11 oz but with much thicker yarns.
It's densely woven and strong yet it has a lovely suppleness which is surprising for such a thick hemp fabric. For a rustic natural canvas, it sure looks high-end and feels very substantial.
I think this super thick 19.7 oz works best for upholstery projects.
You could also use it for VERY SIMPLE covers that have few seams and no welt cord such as poufs, throw pillows, floor pillows, and maybe even box cushion covers without welt cord. However, you will need to use an industrial sewing machine.
I'm thinking of making a bathroom mat with my one-yard piece!
Both weights have a right side and a wrong side. Shrinkage was minimal during the preshrink: 1″ on a one-yard length and 2″ on the width.
If you give either of these fabrics a try, let me know what you make.
Thanks for following along! — Karen