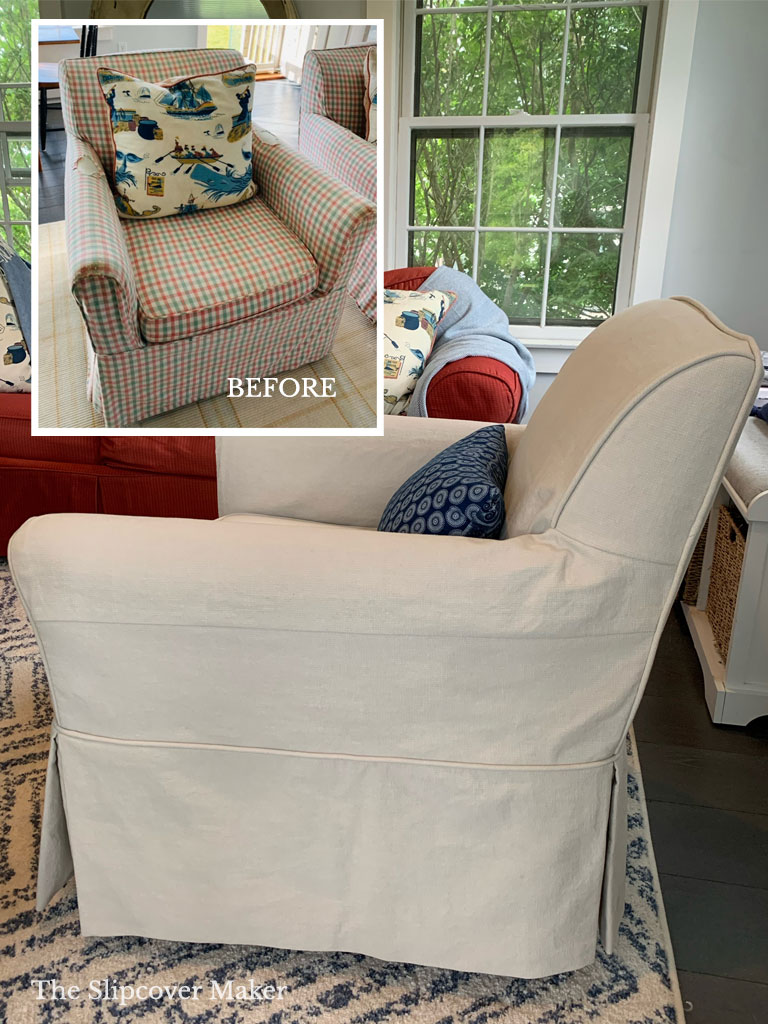 What is a slipcover copy?
It's a new slipcover I make by replicating your old one. I take apart your cover and use it as a pattern. Your original slipcover will no longer be usable.
See examples of slipcover copies here and read my customer's reviews.
Not all slipcovers can be copied. Here are the types of slipcovers I cannot replicate:
Poorly fitting slipcovers due to extreme shrinkage and large tears.
Slipcovers made from fabric that gives or stretches such as linen, matelasse, loose weaves and damask.
Slipcovers made from plush fabrics including terry cloth, velvet and chenille.
How will your new slipcover look & fit?
Your new slipcover will fit as well as your old one if similar weight fabric is used.
If I can make minor adjustments to improve the fit I will call them out.
Seams are stitched smoothly, reinforced where needed and seam allowances are serged to prevent raveling.
Zippers, cushion boxing and welt cord are professionally set.
Skirts are lined if needed.
How does the order process work?
STEP 1: Tell me about your project. Email me a brief description of your furniture and the type of fabric you'd like to use for your new slipcover.
STEP 2: Get a price estimate and yardage amount. Once I understand the details of your project, I will cost out your slipcover and advise how much fabric to buy.
STEP 3: Select a fabric. Choose from my select group of solid color cotton denim, canvas, linen and hemp listed on my recommended fabrics list. Solid fabrics only. No prints, stripes or checks.
STEP 4: I write up the order. After we finalize all details for your project, I will write up your slipcover order and email it to you for review.
STEP 5: Purchase your fabric. Fabric is purchased by you from the retailer and sent to my workroom. Upon receipt of your yardage, I will schedule a start date for your project.
STEP 6: I make your new slipcover. I will have you send your old slipcover and a 50% down payment one week before your project start date. I have a two week turnaround time for most projects.
What is the price?
Below are my base labor prices. Fabric not included. Actual price depends on the furniture design, size, number/type of cushions and skirt style.
Ottoman                               $195
Parsons Chair                       $275
Armchair $400 – $500
Loveseat $525 – $650
Sofa $650 – $900
Add $50 per loose back cushion to base price.
Throw Pillow Covers $30 – $60
Arm Covers $20/pair
ADDITIONAL COSTS:
Fabric Inspection and Pre-Shrink: $4/yard
Shipping & Handling: I ship within the U.S. only. I calculate shipping price upon completion of project based on weight and your zip code. I ship via UPS Ground.
Michigan sales tax will be added to my local jobs.
Is a slipcover copy right for you?
You have to be ready to let go of your old slipcover and be OK with the new slipcover fitting like your old one or slightly different with minor improvements.
A slipcover copy is a custom made product and cannot be returned for a refund.
Ready to have your old slipcover copied? Email me with details about your project.