5 Best Things About Starting a Slipcover Business
Discover what creating a custom slipcover business can do to change your future and boost your happiness. I share the five best things about designing and sewing slipcovers as a career.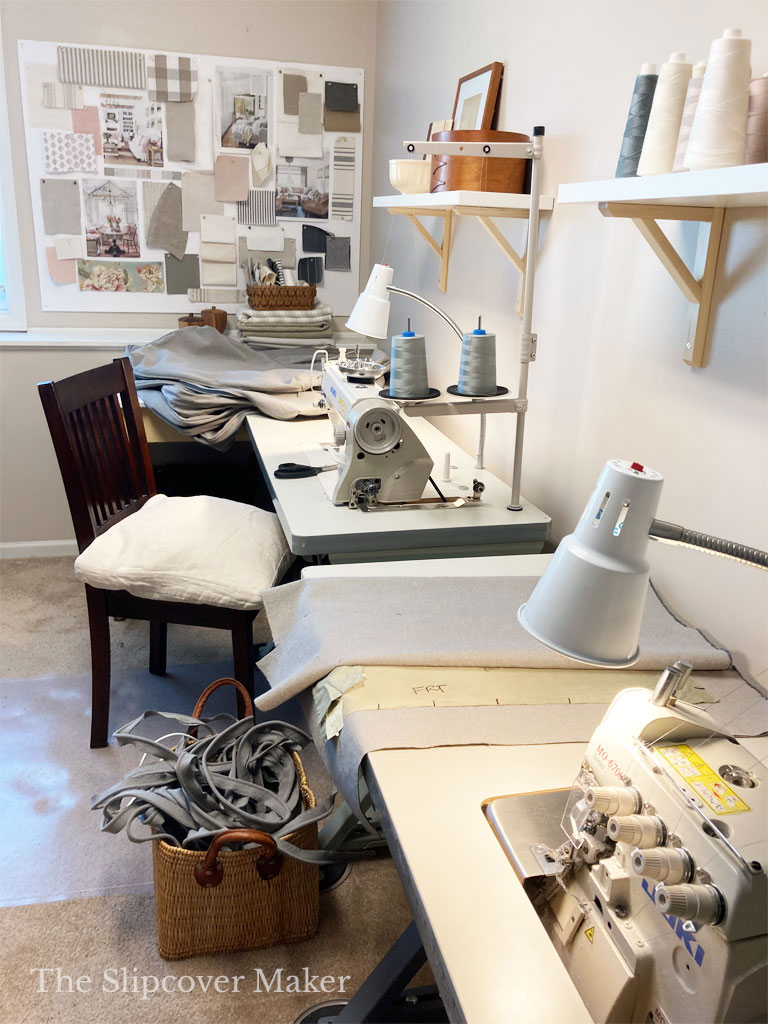 Fall is my favorite season. As soon as September arrives, I start percolating about what changes I want to make in my business and personal life. This time of year always inspires new ideas.
Fall is also The Slipcover Maker's anniversary. I'm celebrating 12 years in business this October!
Before starting my business I had worked 28 years in the fashion industry as a product designer and developer. Sound exciting? It was at first but soon it became a pressure cooker. Eventually, the long hours and hustle were not sustainable. My work just wasn't fulfilling.
I was ready for a change and eager to try an entirely new way of making a living from my design and sewing skills. I'm so happy I took the plunge and set up my slipcover service when I did. I love being my own boss and working from home!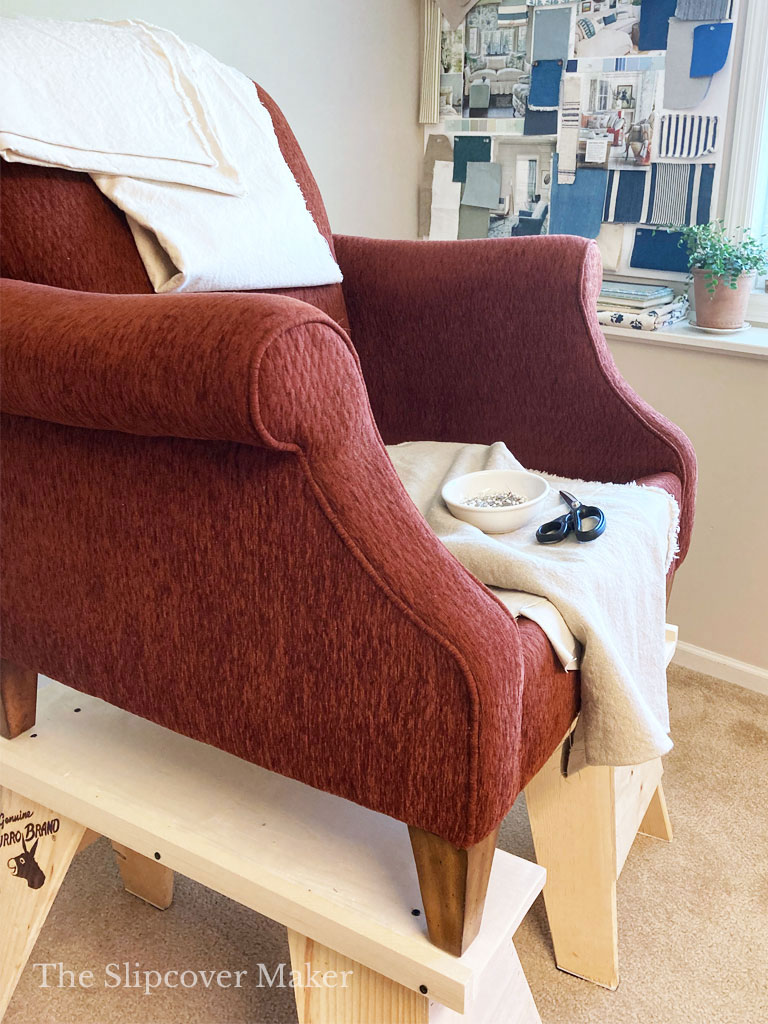 How about you? Have you been wanting to make a career change? Something that better suits your lifestyle and speaks to your creative talents?
If you wonder if designing and making custom slipcovers could be a fulfilling work path for you, start exploring with today's post!
There are so many positive things that make custom slipcover work a very satisfying career. Here are my top five: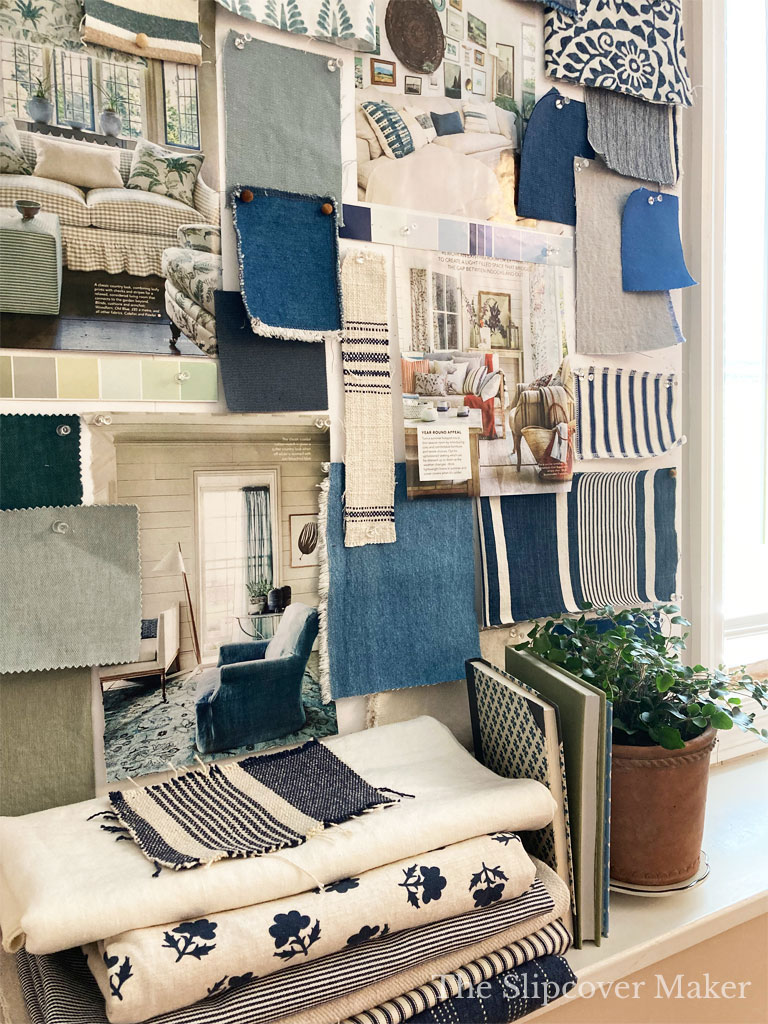 1. Purposeful work.
Every day you get to create something of beauty that is purposeful and brings your customers a great deal of joy.
You not only offer a valuable creative service, but you are also a much-appreciated problem solver.
Think about it, the covers you create keep old furniture in service instead of going to the landfill. That's one for the planet! You also save your customer the headache of hiring a mover to haul off her old sofa.
And, guiding your customer in selecting the best fabrics and colors for her project not only results in transforming her furniture but also saves her time and costly mistakes.
Your slipcover work is meaningful to the people you serve. More than you might think!
2. A sense of pride.
A job well done is such a great feeling. There is nothing like installing the beautiful covers you make in your customer's home and watching her jump and down with joy. It never gets old.
As you hone your craft and grow your business intentionally, you will see your hard work recognized and appreciated by your slipcover customers and peers
It's up to you — not an employer — to decide what you'd like to accomplish. Maybe you want to improve your pin fit technique or set up a web site or get better at pricing your work. The sky is the limit!
It's exciting to build on your talent and see where it can take you. Take small steps and it will pay off big time. You will be so proud of yourself.
3. Always learning.
There are all kinds of exciting and interesting things to learn as you set up and grow your slipcover business: pin fit methods, sewing techniques, fabric and color selection, marketing, buying trims, costing out a job, and much more. You will never get bored!
As your own boss, you have the freedom to learn at your own pace and choose how you want to learn.
And, you don't have to learn all on your own! There are many resources to guide you in your slipcover business journey — from courses, and professional networks to trade groups.
You don't have to be an expert when you first start a slipcover workroom. You can start with the skills you have right now.
What's most important is that you stay open to being curious, experimenting, and always learning.
4. Have a life.
Design your slipcover business to suit your lifestyle, schedule, strengths, interests, and location. This means you can have a life! Not just a career that overwhelms your life.
Flexibility and freedom are available to you as a home-based slipcover maker. Use them wisely to create a work/life balance that is best for you. Build in time for family. Take the time to rest and refresh. Get out to play and soak up inspiration. It's all possible!
I love the flexibility that slipcover-making offers. During my first two years in business, I made custom covers only 2 to 3 days a week while transitioning out of my previous career and providing elder care to my dad.
As my commitments changed, I was able to take on more slipcover jobs and eventually grow my business to full-time. That would have been impossible to do when I was working a 60+ hour week corporate job!
Making slipcovers part-time is also a great option for stay-at-home moms who need to flex their schedules based on their kid's needs. The same goes for adults who are part-time students or have elder care duties.
5. Make a good living.
Doing purposeful work and feeling proud of it, learning new things, and having a life outside of work. All of these things foster a happy life and are so important for thriving as a professional slipcover maker.
So is making a good living from your sewing skills and design talent. Yes, it's possible! Whether you want to make just enough to contribute to your family's expenses or need to earn a full-time income to support yourself.
Starting a slipcover business is NOT a get-rich-quick gig. It will take persistence, practice, and hard work to successfully grow your home-based workroom. Find your niche, hone your craft, and get serious about learning the business. It will pay off!
I think you will find the experience of doing creative work you love and making a living on your own terms will be very rewarding. It doesn't get better than that!
Want to learn more?
I hope this post inspires new ideas for those of you who are ready to make a work/life change!
If you want to dig deeper and learn how-to start and grow a slipcover workroom step-by-step, check out The Slipcover Maker's Business Guidebook. I wrote it to help you thrive at what you do best.
Thanks so much for following! — Karen