Cotton Linen Canvas for Slipcovers
This slipcover canvas provides the sturdiness of cotton and the beautiful slubby texture of linen. It's washable and long-wearing. And, it's half the price of 100% linen! Read why this natural home decor fabric is a favorite for custom covers.
I found a cotton linen canvas that is ideal for washable, everyday slipcovers! Hooray!!
This fabric find has been a long time coming. I've tested several cotton linen blends over the years but never landed on one that checked all of the boxes.
Well, this one does! I can finally recommend a cotton linen cloth in two colors, natural and white, that not only looks lovely but also performs great.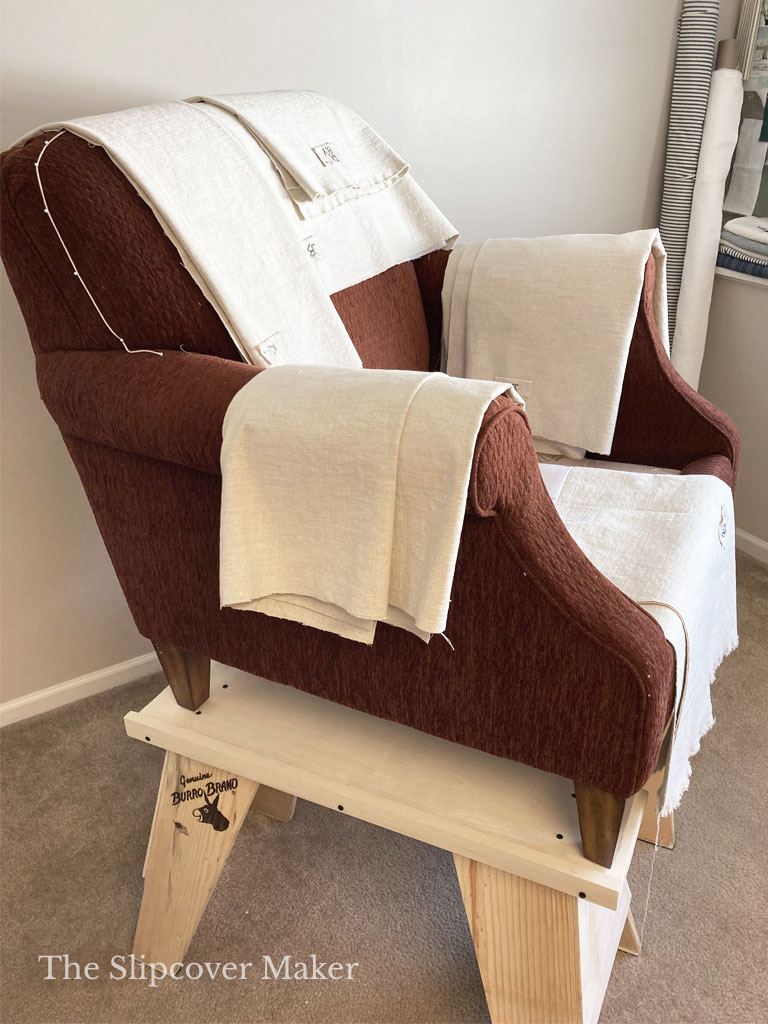 Beefy yet Supple
I recently worked with this canvas to make a custom slipcover for my big, cozy club chair. It turned out fantastic!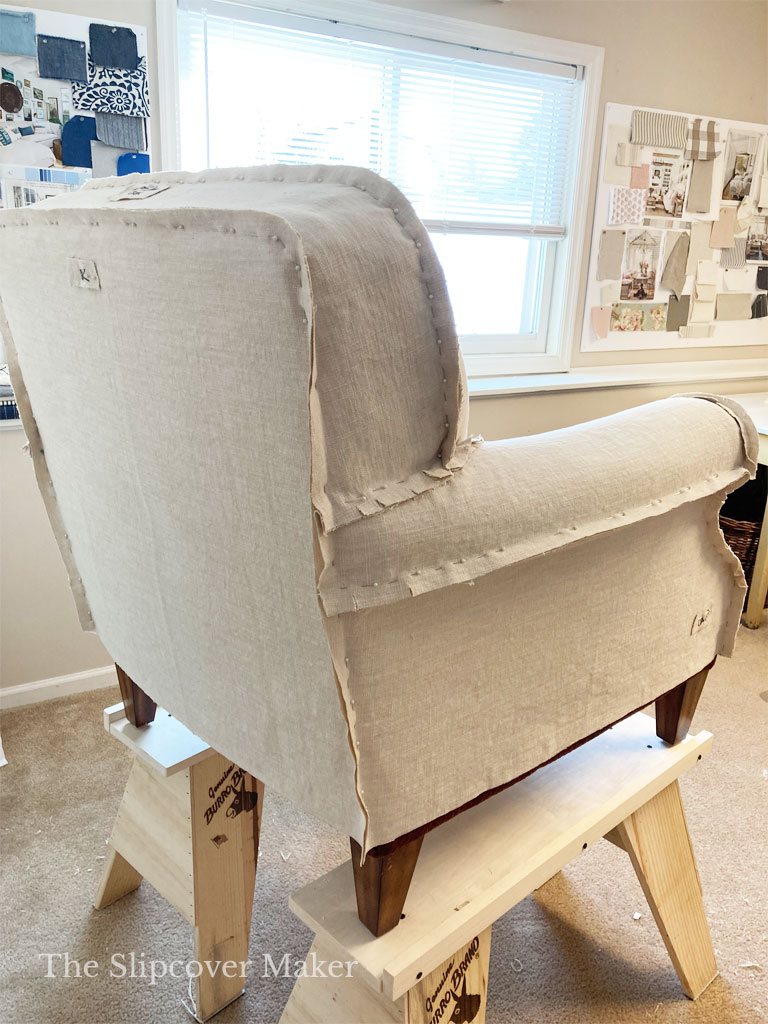 As I was working on the pin fitting, I noticed the canvas was more substantial than I initially thought. I think you will be pleasantly surprised that the 11 oz weight is beefy yet supple. A nice combination for a heavyweight canvas.
The natural color easily covered my chair's dark burgundy upholstery. It even draped smoothly over the short pile. No clinging.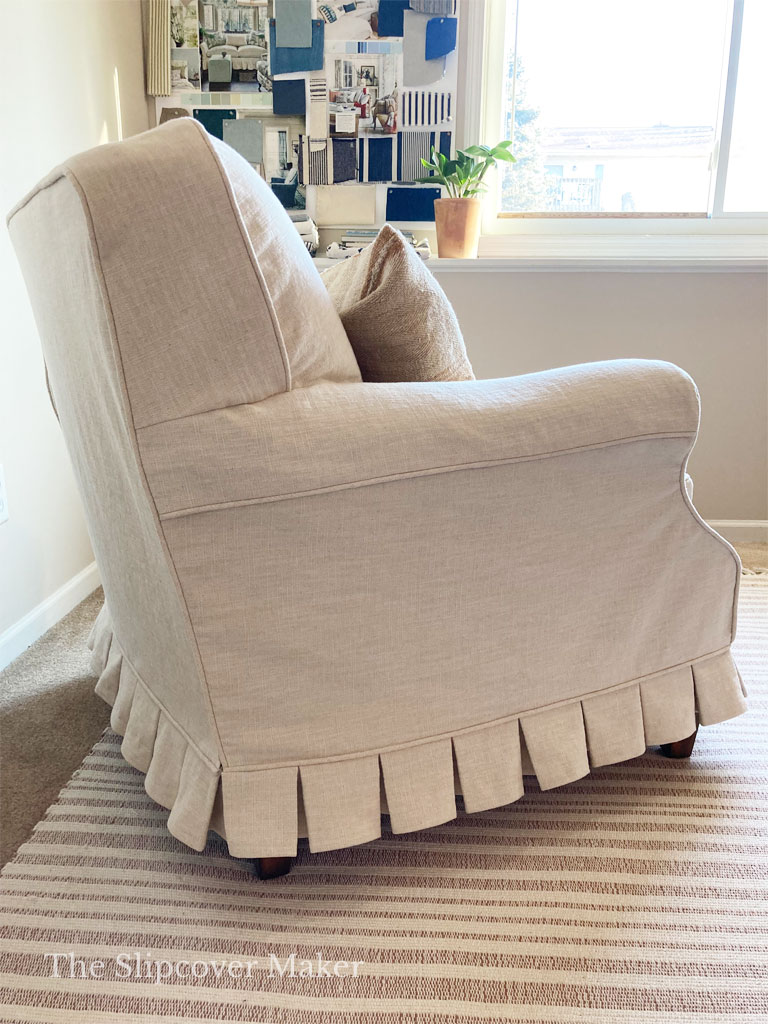 The look of linen
The characteristics I love most about this 85% cotton/15% linen canvas are the slubby texture and the floppy drape. They give the fabric a relaxed look and feel similar to 100% linen.
That doesn't mean it's limp. This tightly woven, cotton-rich canvas with thick and thin yarns is sturdy without feeling stiff or crunchy like a 100% cotton utility canvas.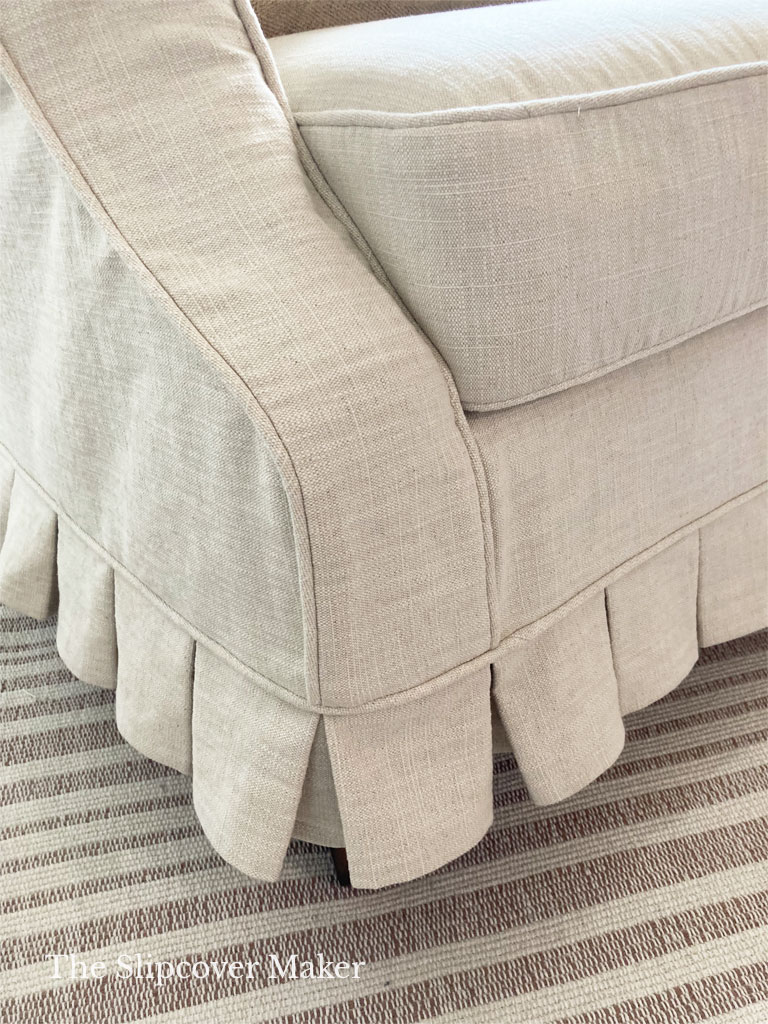 versatile neutral colors
Capturing the true hues of this canvas in photos was tricky! On your screen, both the natural and white might appear more yellow or pink, or grey than the actual color.
For now, I will do my best to describe them. If you'd like to see the actual colors, click over to the Cotton Linen Canvas page to order a swatch pack.
The NATURAL cotton linen canvas is undyed. It's woven with cotton and linen yarns that vary in shades of cream, natural and flecks of flax. It's not super pale nor is it dark. I see slight undertones of grey that give the natural color an aged appearance. The color reminds me of worn vintage linen.
The WHITE cotton linen canvas is bleached to achieve a solid color. NOTE: because this is a bleached fabric, the color may vary from dye lot to dye lot, ranging from bright white to slightly creamy white.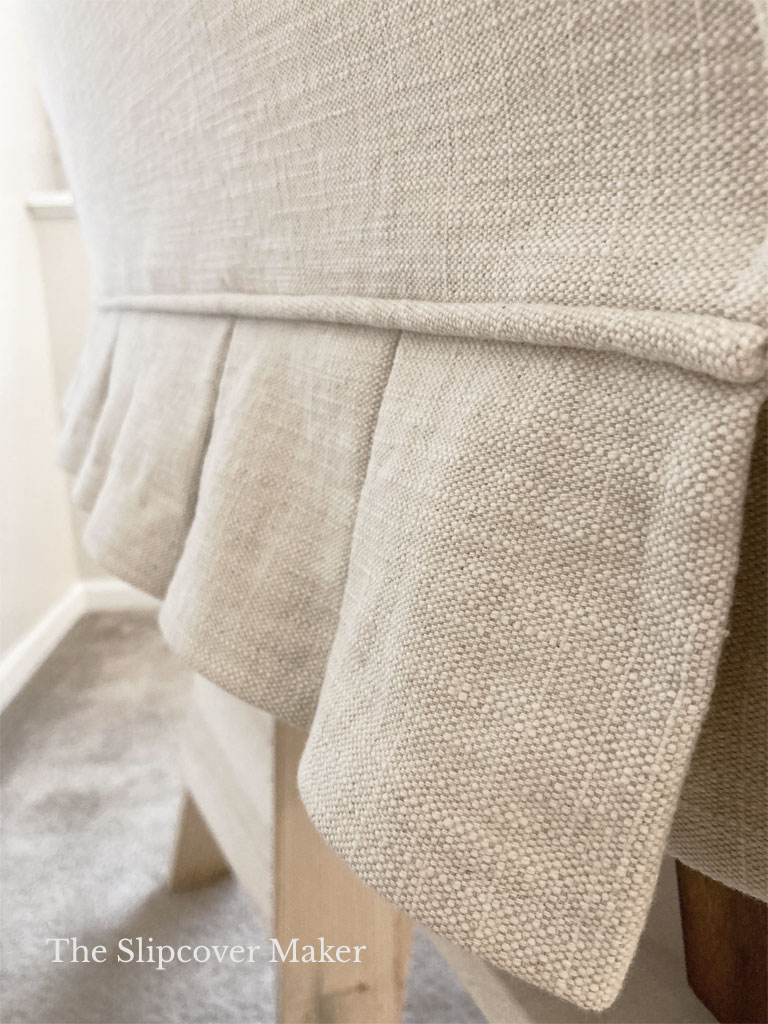 I hope my review is helpful as you plan your next slipcover project. Click here to get the specs, order swatches, and purchase yardage.
You also might glean a bit more about this cotton linen canvas from the FAQ I put together below:
Is there a right and wrong side?
No. The front and back of the fabric are identical.
Is the slub texture directional?
The slubby texture is not a pattern you have to match. But it is directional, even though it's subtle. I recommend cutting your slipcover pieces all in one direction on the fabric either up the roll or railroaded.
Does it Sew easily on a Home Sewing Machine?
Yes, especially if you are making a slipcover without welt cord. Welt adds extra fabric layers in the seams, which some home machines can't handle. Do a stitch test to determine how many layers your machine can handle with ease. Tip: omit the welt cord and finish you seams with topstitch.
How Durable is it?
The double rub test results for this cotton-linen canvas meet the 30,000+ commercial grade and upholstery standards and are deemed suitable for furniture that gets heavy use. The test measures the abrasion resistance and durability of a fabric. It's meant to mimic the wear & tear of everyday use. Keep in mind, a double rub test does not take into consideration the wear & tear of laundering your slipcover multiple times per year with harsh detergents as it is designed specifically upholstery end-use.
The bottom line: this cotton linen canvas will make a strong, long-wearing slipcover that will hold up to daily use (under normal conditions) and a few washings per year.
Is it stain proof? Will it fade?
This natural fiber fabric does not have any special finishes. It does not repel stains or resist fading.
Thanks for following! –Karen