Grey Fabrics for Washable Slipcovers
Grey slipcovers don't have to look dull and dreary. They can actually brighten a room when contrasted with a light color palette of white, cream, natural hemp and wicker tones.
From pale ash to rich charcoal, grey cotton denim, canvas, and linen fabrics have become a popular neutral for slipcovered furniture. Grey sofa and armchair covers look great in just about any type of home decor: farmhouse, coastal, cottage, cabin, transitional, and modern.
I lean towards the darker shades, especially in denim. They look fantastic after washed….that's when the magic happens. The grey color gets a bit ashy meaning it fades ever so slightly giving the denim (twill weave) a softly worn appearance.
My favorite grey cotton denim is Topsider, a 12 oz tightly woven cotton denim in colors Chrome and Gunmetal. I also love this dark grey denim from Big Duck.
If you like a soft brushed hand feel, you might like this 11 oz Charcoal Beefy Brushed Cotton Denim.
Thinking of going grey on your next slipcover? Below are a couple of examples I think will inspire.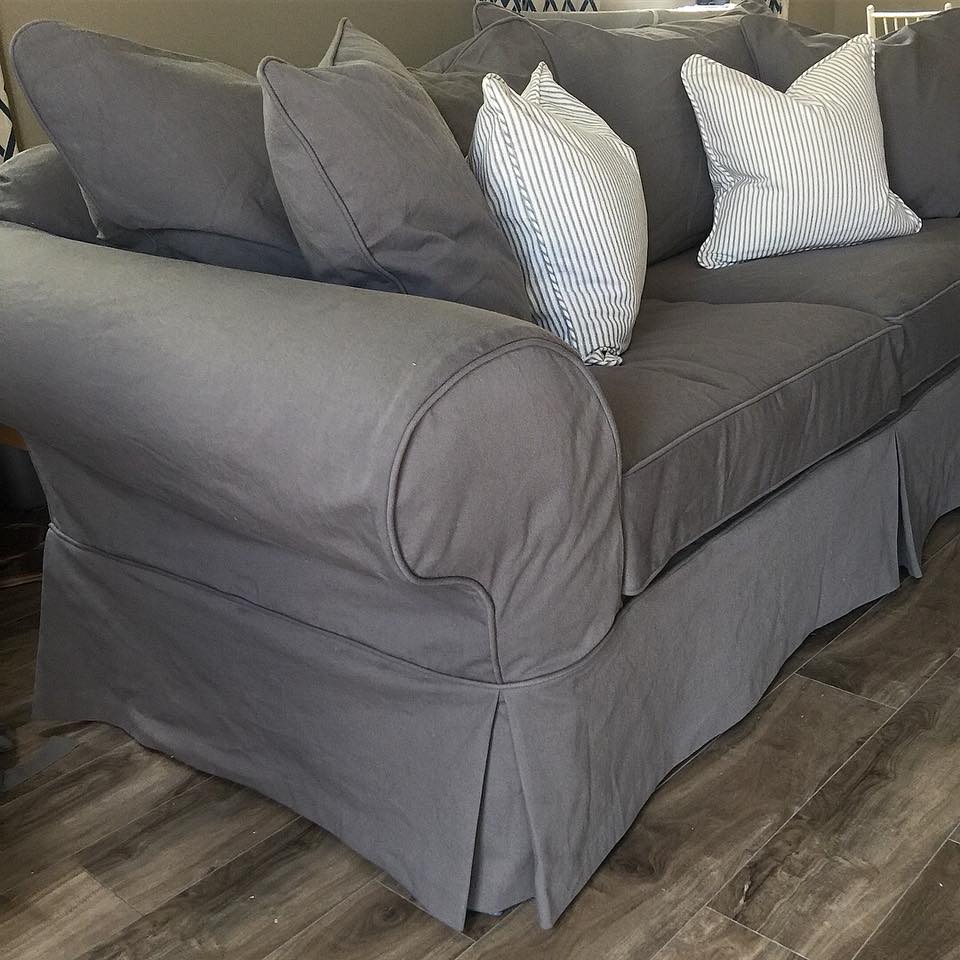 Shelley Anderson at Slipcovers by Shelley made this wonderful washed cotton denim slipcover (above) using one of the grey colors from Big Duck. The look is comfortable and casual.
Shannon at Home Made Lovely swapped out her difficult to clean white slipcover for this grey canvas Ikea cover (above). It's a pretty example of how a darker shade of grey can work as a versatile neutral in a monochromatic color palette.
Both denim and canvas are strong, versatile fabrics that make a good looking and durable slipcover. Consider the look you're going for, your budget and what kind of use your slipcover will get. Buy a yard of each denim and canvas in the grey colors you like, wash them and throw them over your furniture to see which one speaks to you.
*The Big Duck denims listed above are my affiliate links. When you purchase a swatch or yardage I earn a tiny commission, which helps in a small way with the cost of maintaining my website.