White Slipcover Fabrics & Care Tips for Summer
White, washable slipcovers are made for summertime living at the beach. They do a great job at protecting furniture from sandy feet, sunscreen and ice cream spills. Find out how to choose the best fabric and easy cleaning methods for white sofa and chair covers you'll enjoy all season long.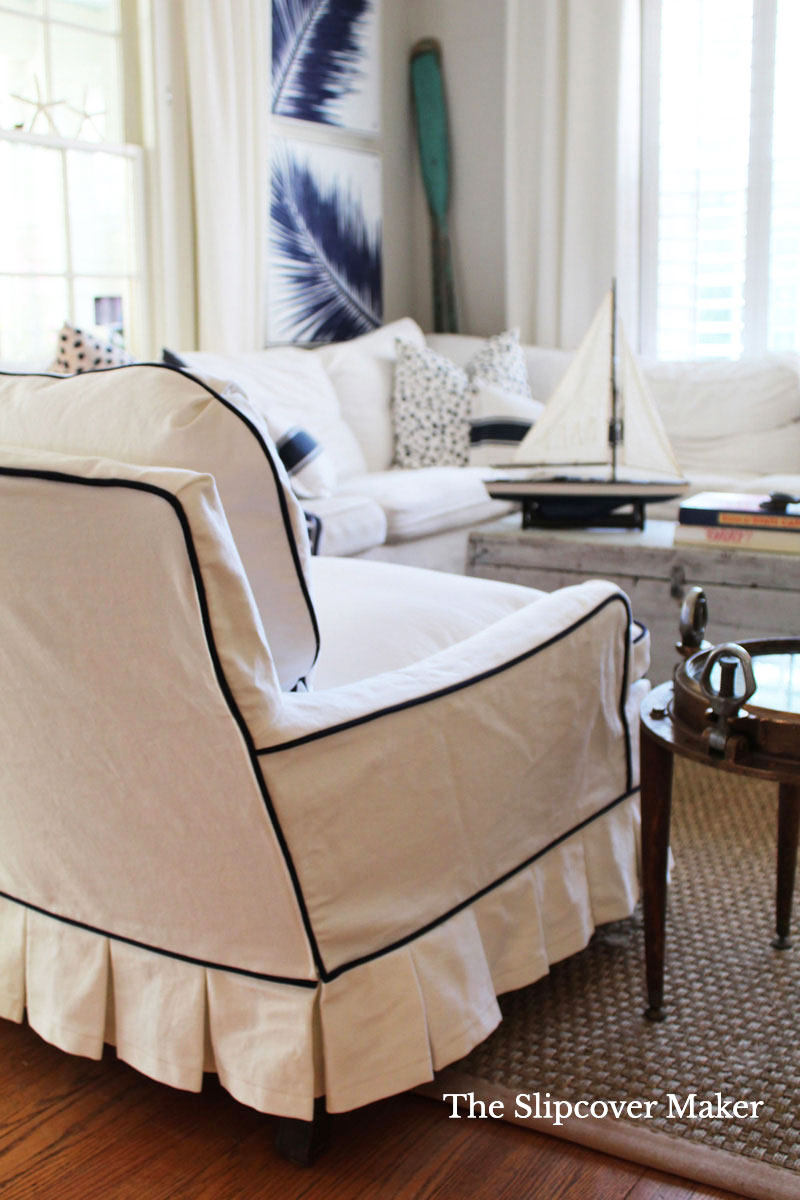 My friend Annette owns a lovely cottage on Lake Michigan complete with comfy, slipcovered furniture in washed indigo denim.
Every summer during our visits, we have the white slipcover conversation. Should she switch out her blue ones for white? Will white be a pain to keep clean? Is washable cotton a better option than a synthetic stain resistant performance fabric?
I have plenty of opinions but no definitive answers for her because at the end of the day choosing white covers is a personal decision.
Instead, I offer these four things to think about when trying to decide if white is right for your lifestyle and summer living space.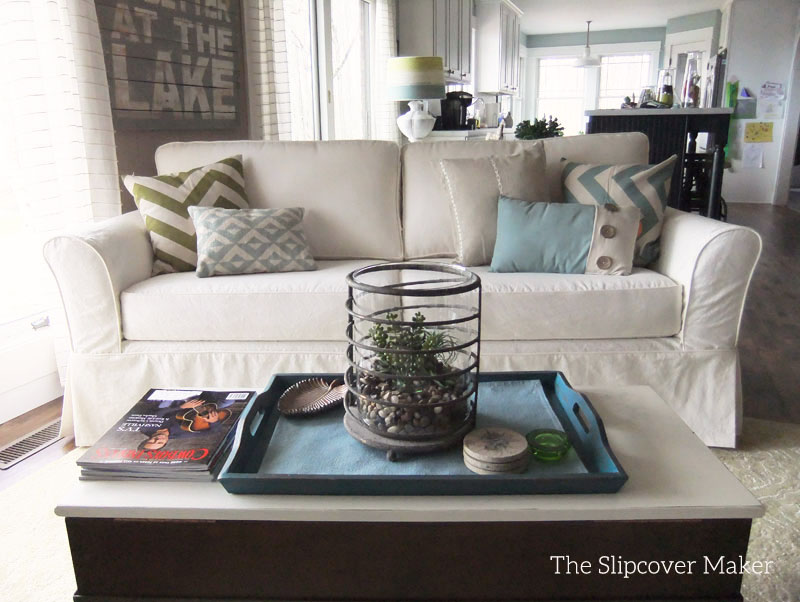 1. Chill Out
Living with white slipcovers requires a zen-like mindset.
You have to be completely comfortable with the fact that a white cover, no matter the fabric, will show dirt and stains more easily than a darker color.
You also have to be OK with giving your white slipcovers a little extra care on a regular basis to keep them looking fresh. You'll need a no-fuss cleaning routine and the right stain remover and laundry products on hand.
Casual, washable white slipcovers for lakeside living look beautiful but it's not realistic to expect they will stay pristine 24/7. Keep in mind a slipcover's job is to protect your upholstery. It's there to take on the dirt and spills.
2. Choose Easy-To-Clean Fabric
There are a couple of things you'll need to determine before choosing a washable white slipcover fabric:
How often do you plan on washing your covers?
What is your preferred cleaning method?
For example, if your white slipcovers get everyday use with high traffic, they will probably need to be washed once a month or at least every other month.
You will apply a stain removal product as spots occur depending on the type of spill or dirt. And, you'll have to use a whitening agent when it's time to machine wash your covers.

In this case, I recommend a washable, tightly woven 12 ounce fabric that can hold up to frequent wear and a monthly or bimonthly wash using bleach or a non-chlorine bleach whitener.
Here are my favorite white everyday slipcover fabrics:
If you like the idea of only spot cleaning your slipcover with a bleach solution and skipping machine wash all together, go with a synthetic performance fabric such as Crypton or Sunbrella fabrics.
Performance fabrics feel and wear differently than natural fiber fabrics. I suggest buying a yard to review hand-feel, coverage, drape and sewability. Read more about these types of fabrics here.
3. Double Up On Covers
Cushions and arms get soiled and stained much more easily than the slipcover body. They get thrown in the laundry more often.
Overtime, they take a beating from frequent wash and whitening.
One way to prolong the life of your slipcover is to make an extra set of cushion covers and arm covers.
It's handy to have extras for rotating on a regular basis. Or, to replace a cover right away when one has to be removed unexpectedly for cleaning.
4. Test Your Laundry Products
Come up with a care routine BEFORE your new white slipcovers get stained and soiled. Cleaning will be so much easier when you know what works ahead of time!
For instance, I use Tech Stain Remover and non-chlorine OxiClean White Revive along with my laundry detergent to clean my white covers. I'm not very hard on my cotton slipcovers so stain and soil removal is not a big deal.
Rachel, at Shades of Blue Interiors, has 4 kids and dog so she takes her slipcover care to the next level! She shares how she cleans white covers using her tried and true combination of laundry products and a care method that works great for pretreating stains and machine washing.
No matter which laundry products you choose, it's important to test them on a large scrap of your white fabric before you use them on your slipcovers.
Every fabric has it's own finish and might react differently to stain removers and whiteners.
What about using a fabric protection product?
Some of you have asked about treating a slipcover with a fabric protection product. To be honest, I've never sprayed any of my slipcovers with a protective coating.
I had one client who sprayed her indigo denim dining chair covers with Scotchgard. Unfortunately, they took on an orange tint after sitting in direct sunlight for a few days. Eeeks!
It was caused by a chemical reaction between the fabric finish and Scotchgard ingredients.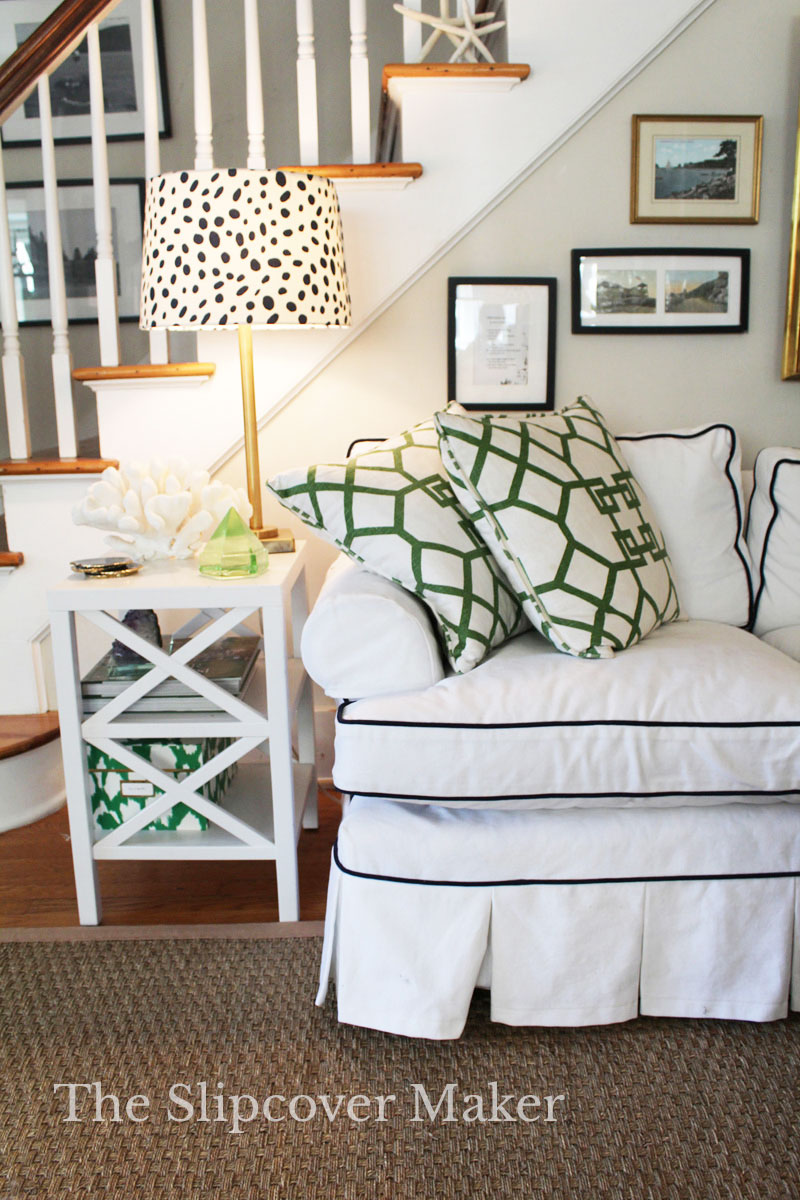 Since then I've done a some research on protective sprays that make fabric water repellent and stain resistant for a short while until it's gets washed off.
This is the one that seems to make the most sense:
Nano Tex-10 Fabric Protection is a spray on coating. It's marketed as "….eco-friendly, made with pure nanoparticles, and is water based. It works as a water repellent. It's stain-proof, invisible and odorless."
I have not used it. So, please test it on a one yard cut of your fabric. And, be sure to follow the product instructions for applying it correctly.
Like all fabric protective coatings, this one is NOT infallible. It's a temporary solution and will wash off when you launder your slipcover. Keep in mind "stain-proof" doesn't necessarily mean the coating will resist ALL stains.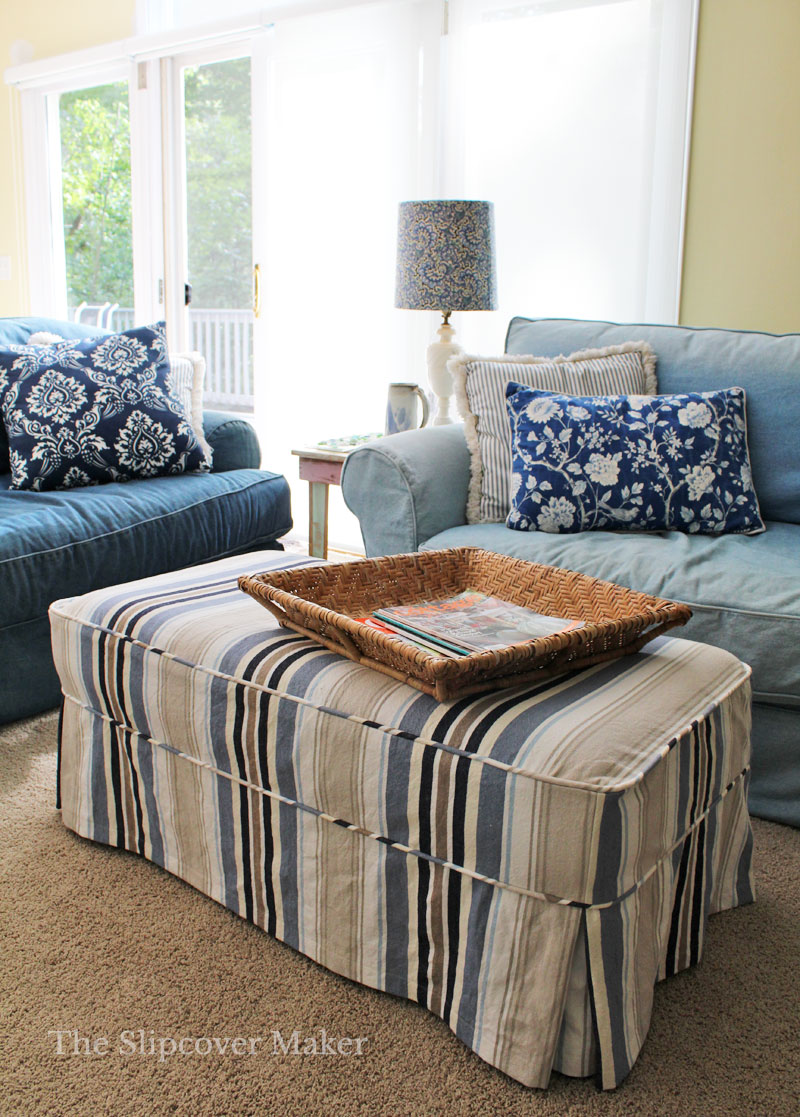 Now, getting back to Annette's washed denim slipcovers (above).
They have served her well over the years and like she says, they are very forgiving when it comes to hiding dirt and stains. She only has to wash them once a year!
That's probably why it's so hard for her to swap them out for white!
If you decide white slipcovers aren't for you right now, this durable indigo yarn-dyed denim might be perfect for your needs.
Enjoy your summer slipcovers! — Karen