10 Delightful Dining Chair Slipcover Ideas
Dress up your dining chairs with pretty custom covers that will welcome family and friends to the table. Whether you dine inside or alfresco, these lovely slipcover designs will spark ideas galore.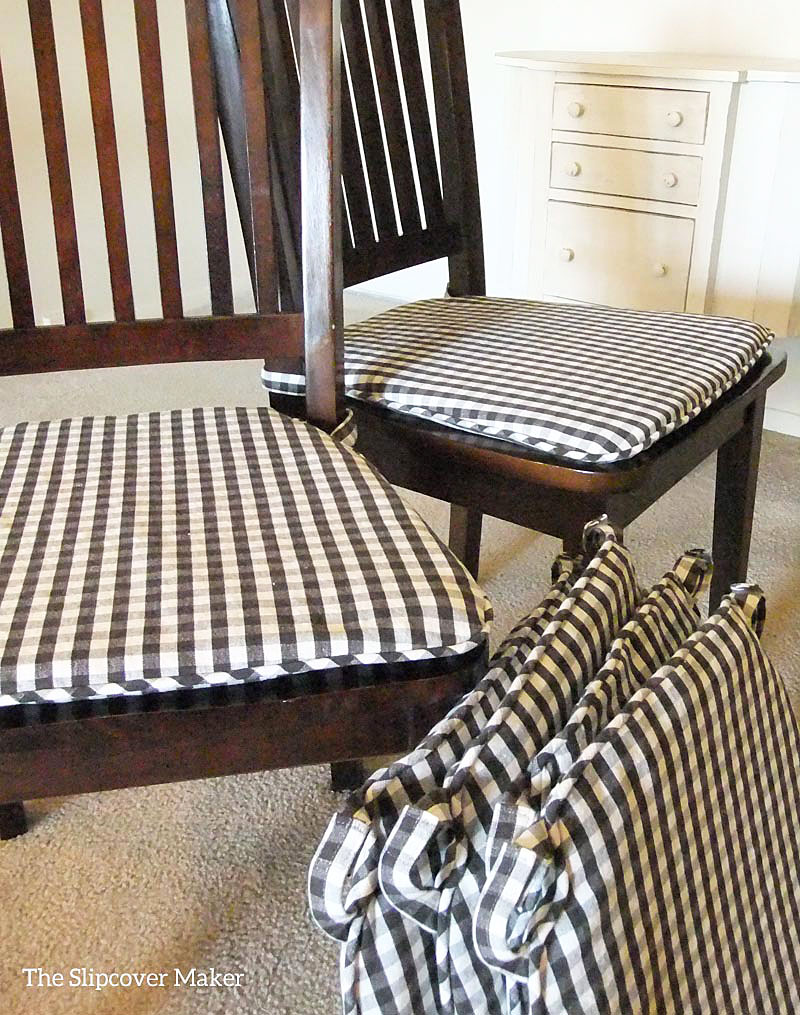 Gingham dining chair pads by The Slipcover Maker
I recently enjoyed dinner outside at a friend's home. It was pleasant fall evening, perfect for eating and relaxing on the patio.
My friend's dining set is a classic wrought iron design. No upholstery. Just comfy cushions on each chair.
As I was checking out her dining chairs I started thinking about slipcover possibilities. And that got me thinking about one of my own upcoming slipcover projects for dining chairs that I haven't even found yet.
I've been collecting slipcover design ideas for awhile. Once I find the right chairs I will know exactly which style and fabric to go with. Stay tuned for that project!
In the meantime, I thought you'd like to see some of the dining chair inspiration I found. Enjoy!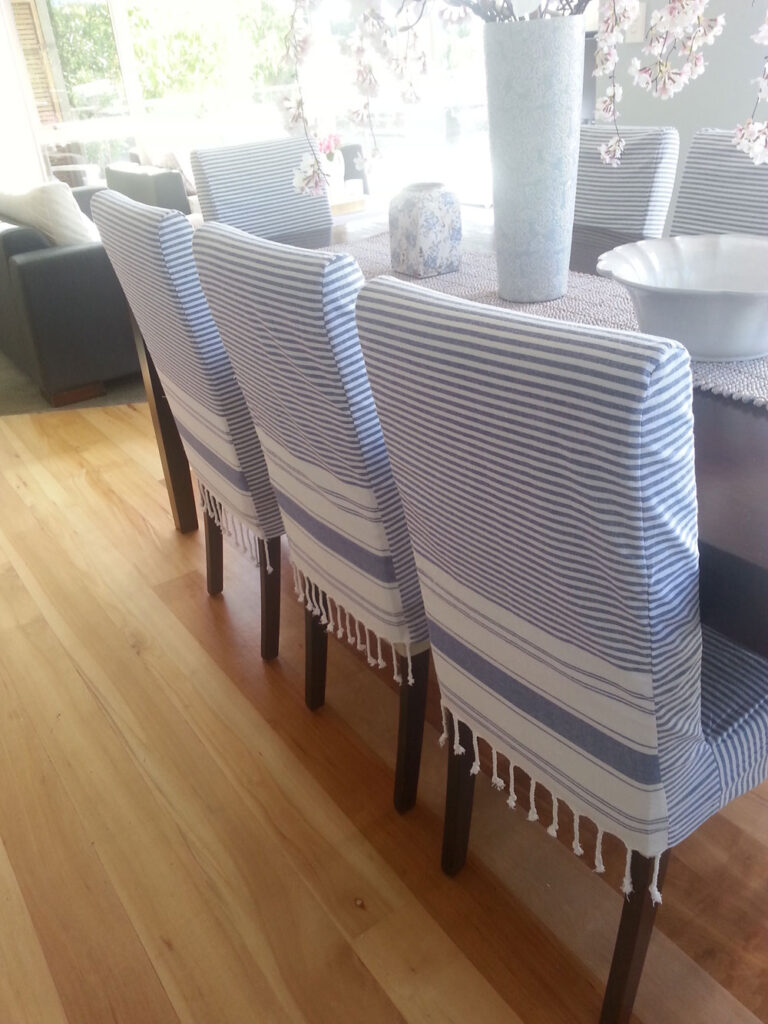 Source: Create Me Designs
1. Repurposed Blankets
Joanne slipcovered her Parsons chairs with cotton Turkish throw blankets. The horizontal stripe placement is so striking. I love that she made the large feature stripe and fringe the focal point on the back of each chair. Very creative!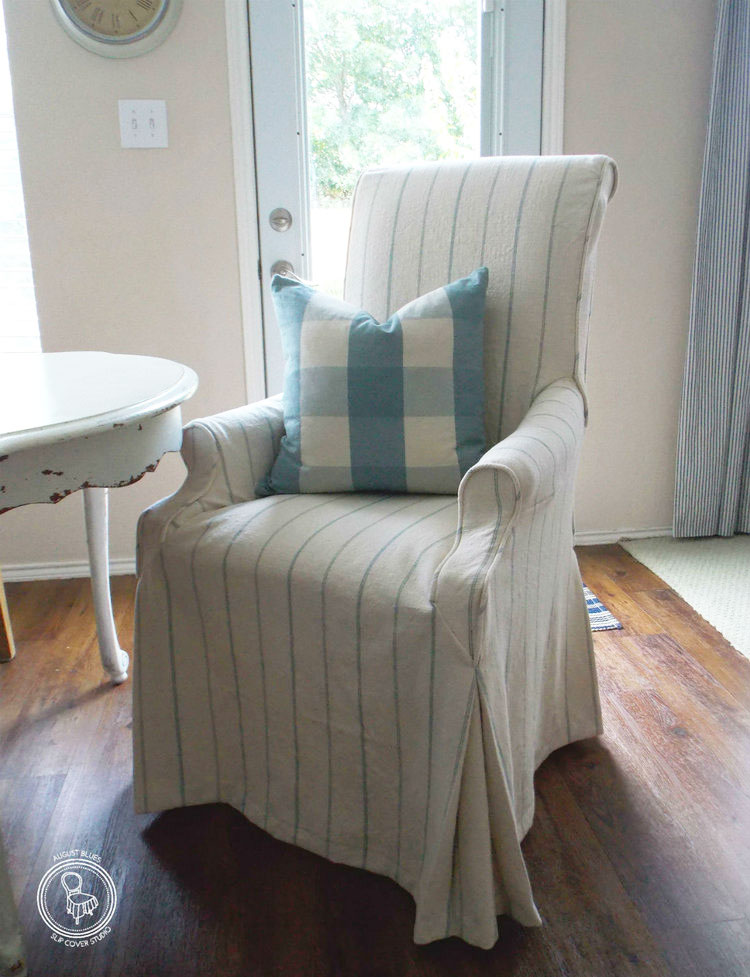 2. Graceful Waterfall Skirt
Slipcovered wingback dining chairs with a waterfall skirt. Yes, please!
This chair and it's twin anchor the ends of a large dining table. Sherrie used Fritz cotton-linen and designed the custom covers with a long, seamless skirt so there would be no break in the stripe pattern. Absolutely beautiful.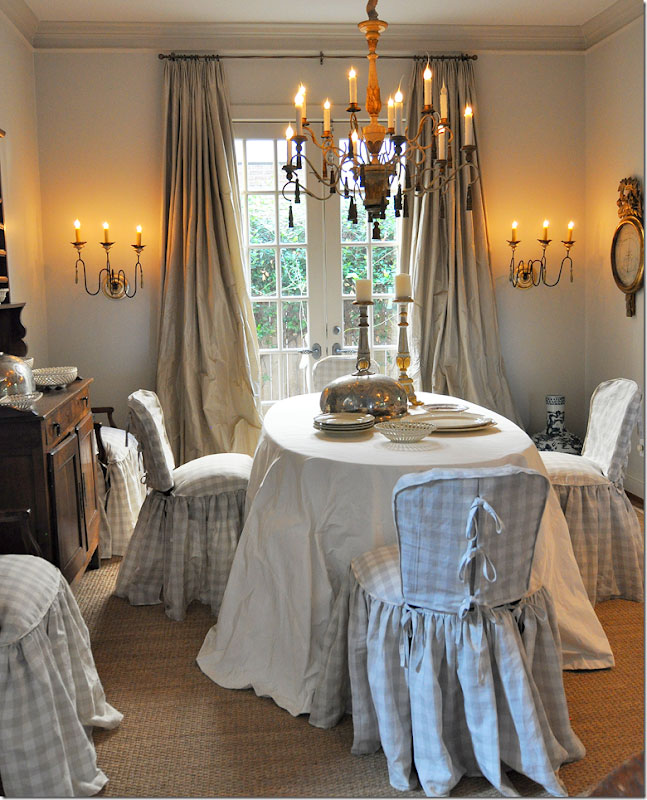 Cote de Texas via Pinterest
3. Two-Piece Tie On
There is so much wonderful design inspiration packed into these fancy little slipcovers!
This two-piece tie-on style is the easiest slipcover to make for exposed wood armless dining chairs with upholstered seats. You can design the look and fit as dramatic or as understated as you like.
Do you love the pale grey buffalo check?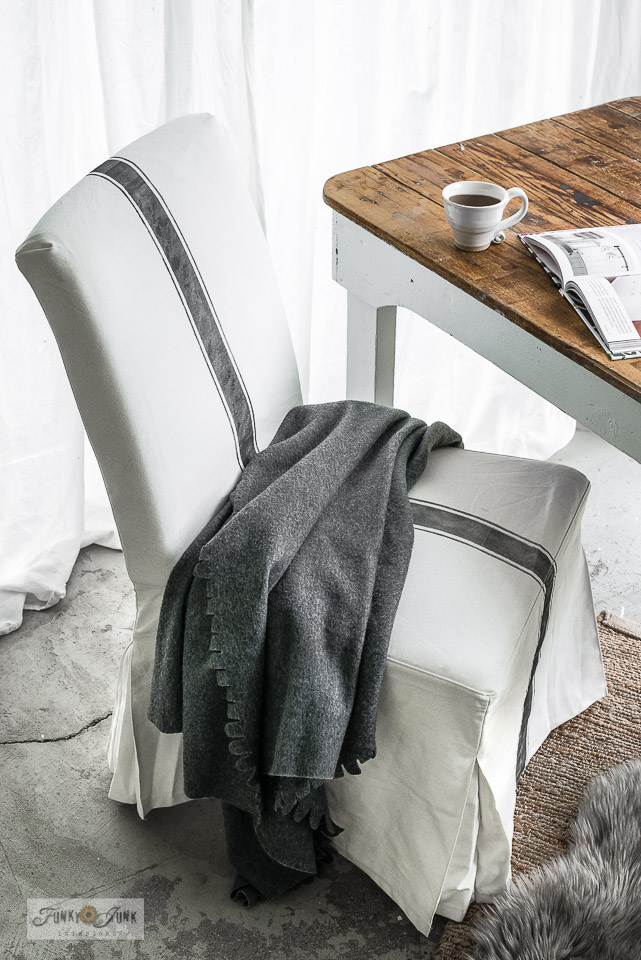 4. Stenciled Embellishment
Here's a crafty idea — Donna took a basic canvas Ikea slipcover and customized it with a stenciled stripe to mimic a farmhouse look.
The fun thing about stencils is there are oodles of designs to choose from. From French inspired motifs, to farmhouse & country designs to all kinds of charming letters and numbers.
Afraid to stencil the slipcover you just spent so much time making? Stencil on your fabric piece before pin fitting.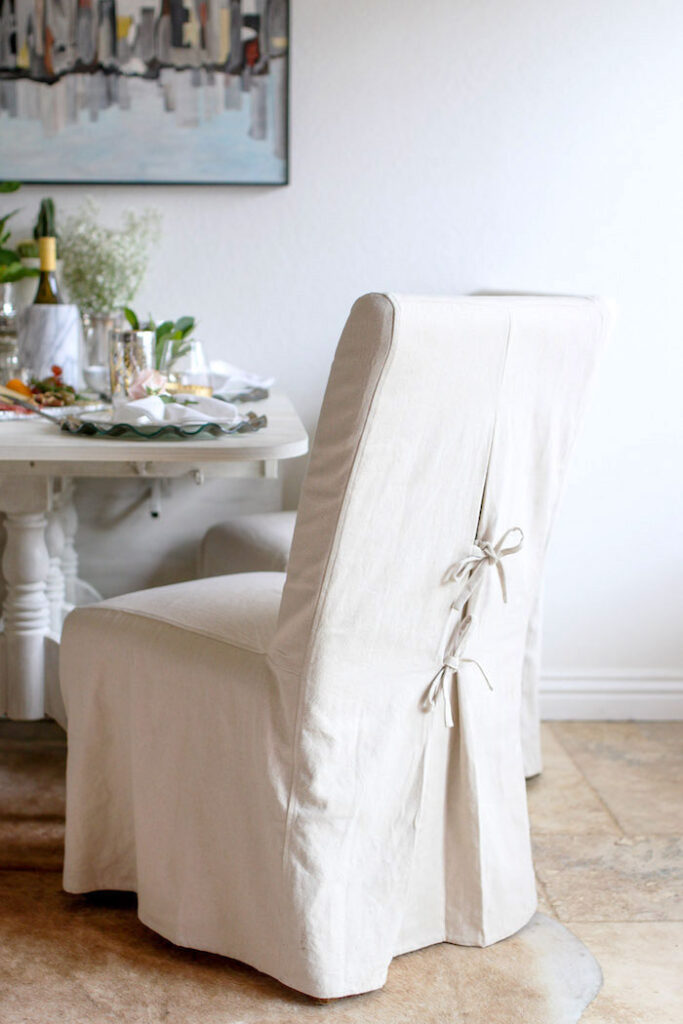 4. Pleat & Ties
A center back pleat and a couple of sweet little ties can dress up the most basic dining chair slipcover. This classic closure is one of my favorites for natural canvas and denim covers. It's a subtle detail yet noticeable without going over the top.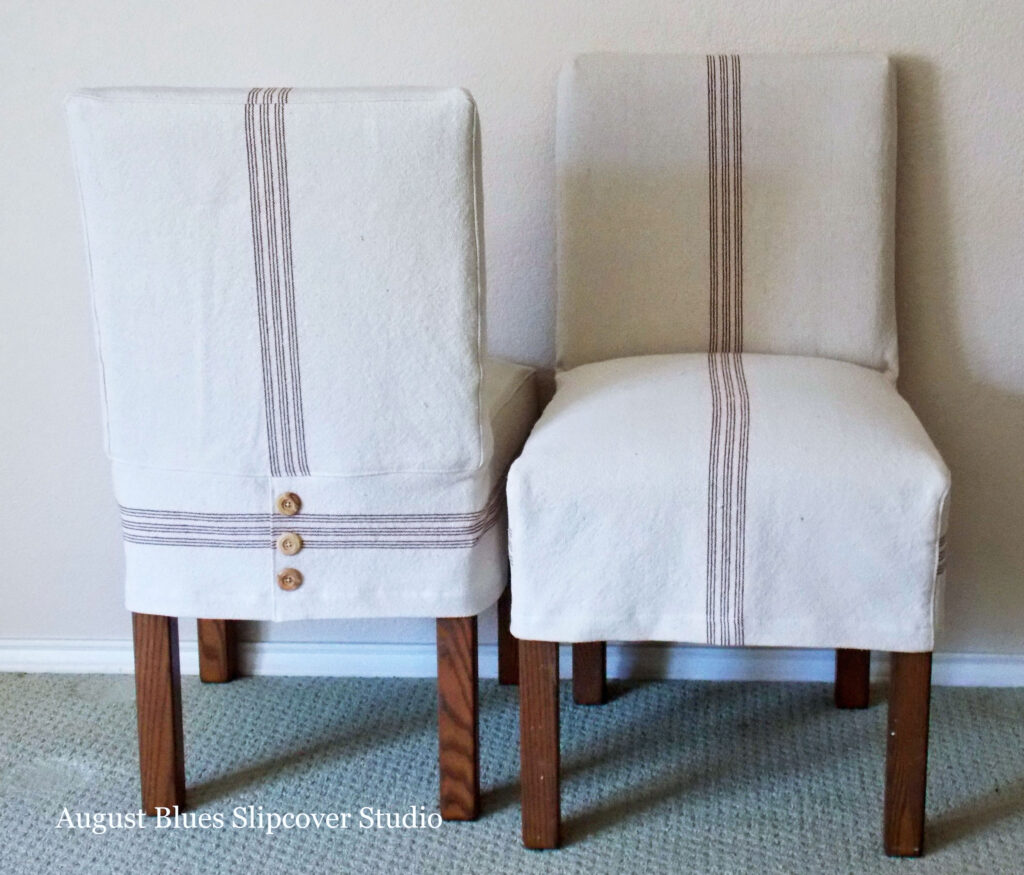 5. Play On Pattern
I really like how Sherri pin fit this woven grain sack stripe fabric. The wide repeat only allowed for a single stripe placement on any part of the slipcover.
So, she centered the stripe vertically on the inner back, seat and most of the outer back. And, turned the stripe horizontal on the smaller sections. Clean, simple and downright brilliant!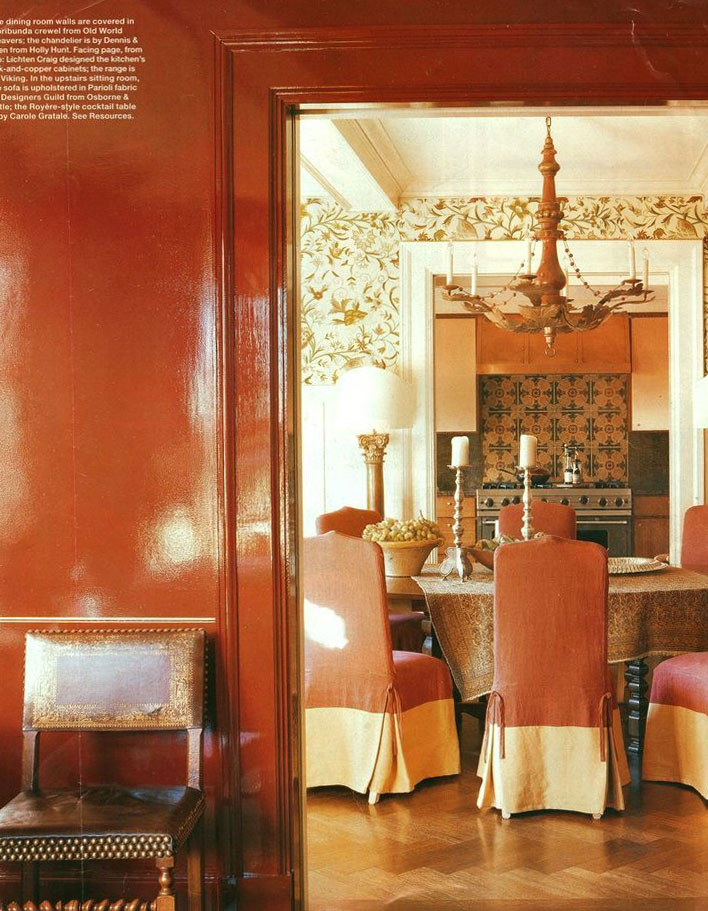 Ellen Hamilton
6. Color Blocks
Casual elegance is the best way to described these bicolor linen slipcovers.
I love how the two colors are blocked on the dining chair. The transition from orange to cream looks seamless, as if it's one piece of fabric. And, those pleats and knotted ties…..beautiful!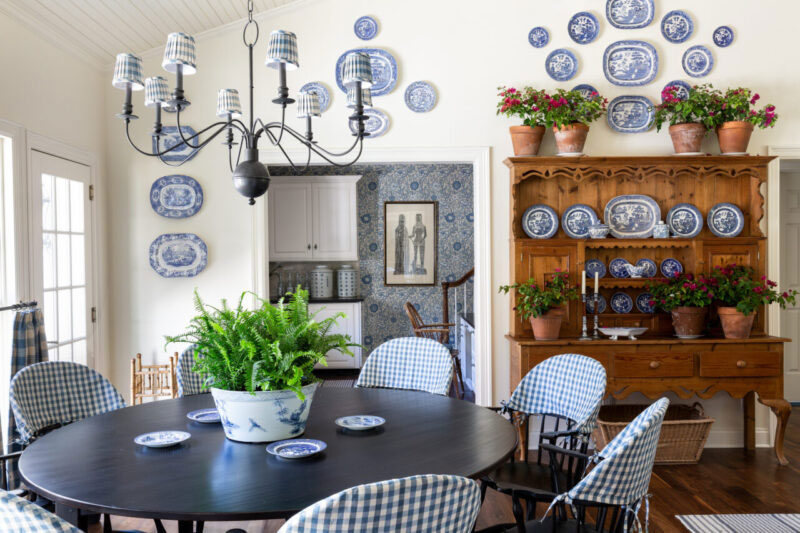 7. Chair Back Toppers
A topper is such a smart and super cute idea for wood dining chairs that are designed with back spindles, curved rails and/or slats such a Windsor and Shaker models.
Making toppers is faster and less costly than engineering entire slipcovers. They add a pop of color and texture to your dining area and can be swapped out frequently if you enjoy seasonal decorating. I'm all for that!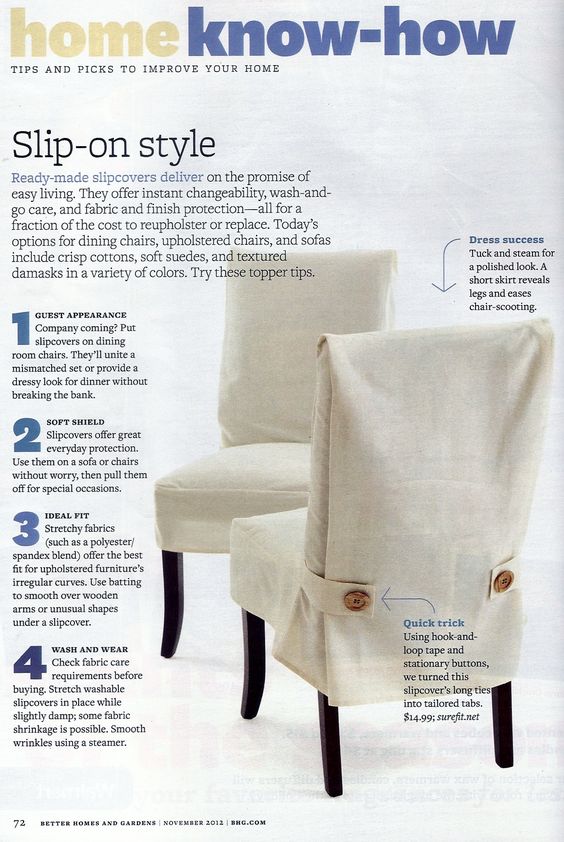 Better Homes & Garden Magazine
8. Tucks & Tabs
Fold, tuck and Velcro fabric in just the right places and you will have simple and chic looking dining chair slipcovers without a lot of effort.
I like the clean, modern look of this design. Works best when your dining room chair is upholstered.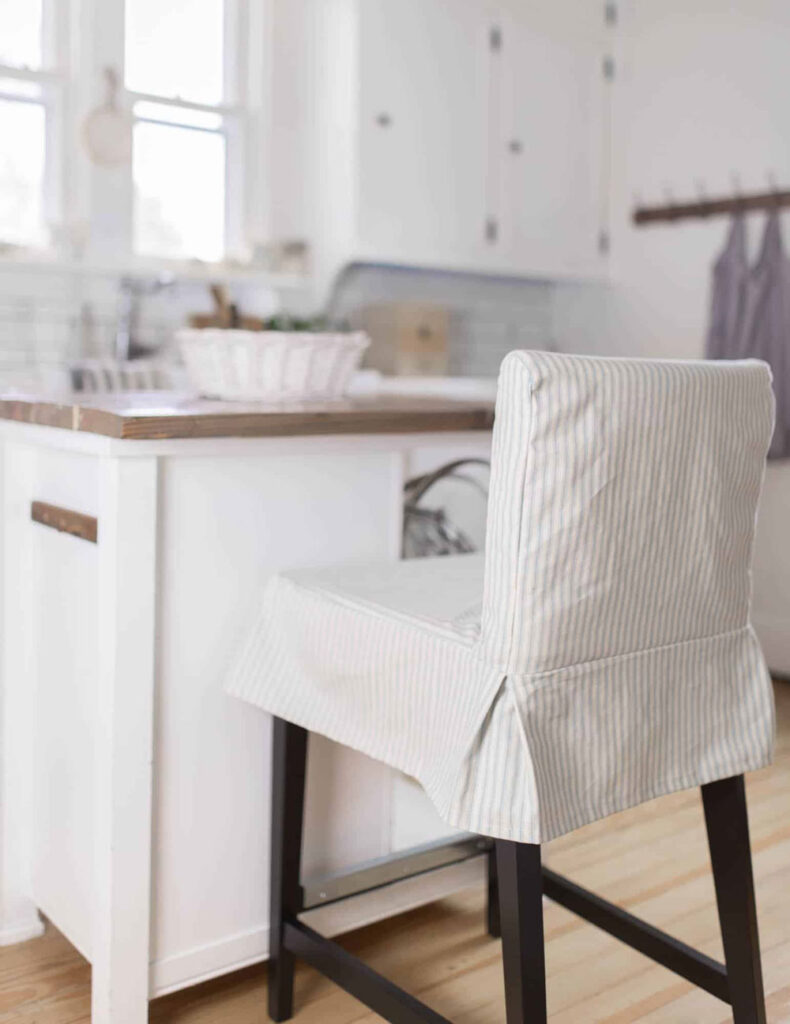 9. Short Skirt
This simple slipcover design is a must-have for an armless barstool with a back. Lisa used a classic ticking stripe fabric and added a short pleated skirt to soften the hard edges of the chair. I really like the relaxed tailored look.
Tip: add more depth to the corner pleats to keep them from popping wide open.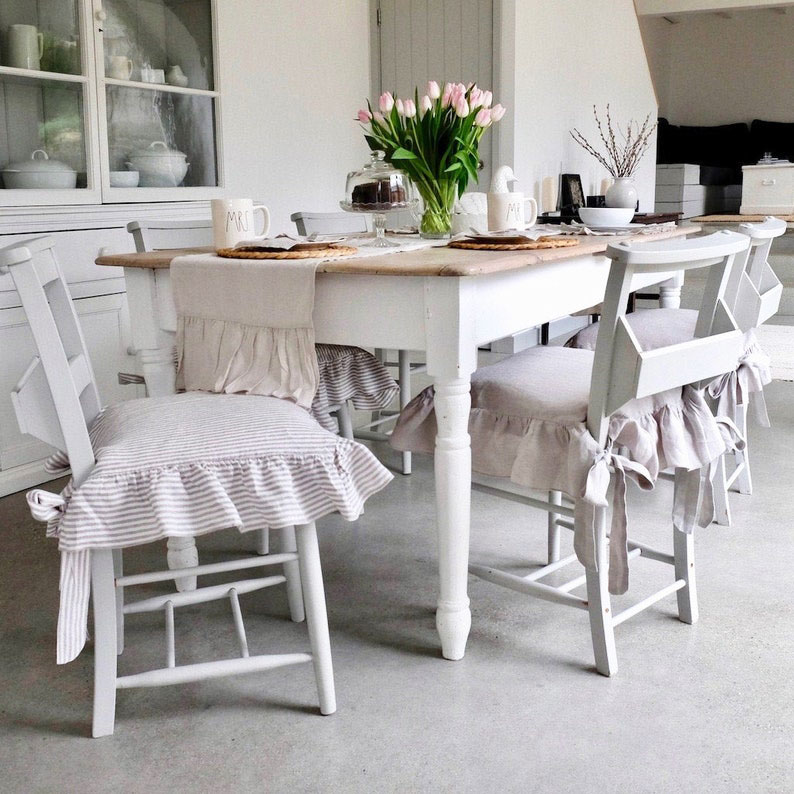 10. Tie-On Seat Covers
Shelley from The White Linen Farmhouse keeps her seat cover designs simple but always pretty.
I've never been a big fan of bows and ruffles but there is something about the relaxed cottage charm of these tie-on linen covers that make me feel oh-so happy.
That's a wrap! These 10 dining chair slipcover ideas are at the top of my favorites list. I hope they've inspired you to get creative with your next project. Let me know what you're working on for your kitchen and dining chairs.
All the best and thanks for reading! — Karen