Best Velvet Fabrics for Washable Slipcovers
In this post, I share 7 velvet home decor fabrics that work great for washable slipcovers. These soft, plush velvets will make any piece of upholstered furniture feel cozy and luxurious.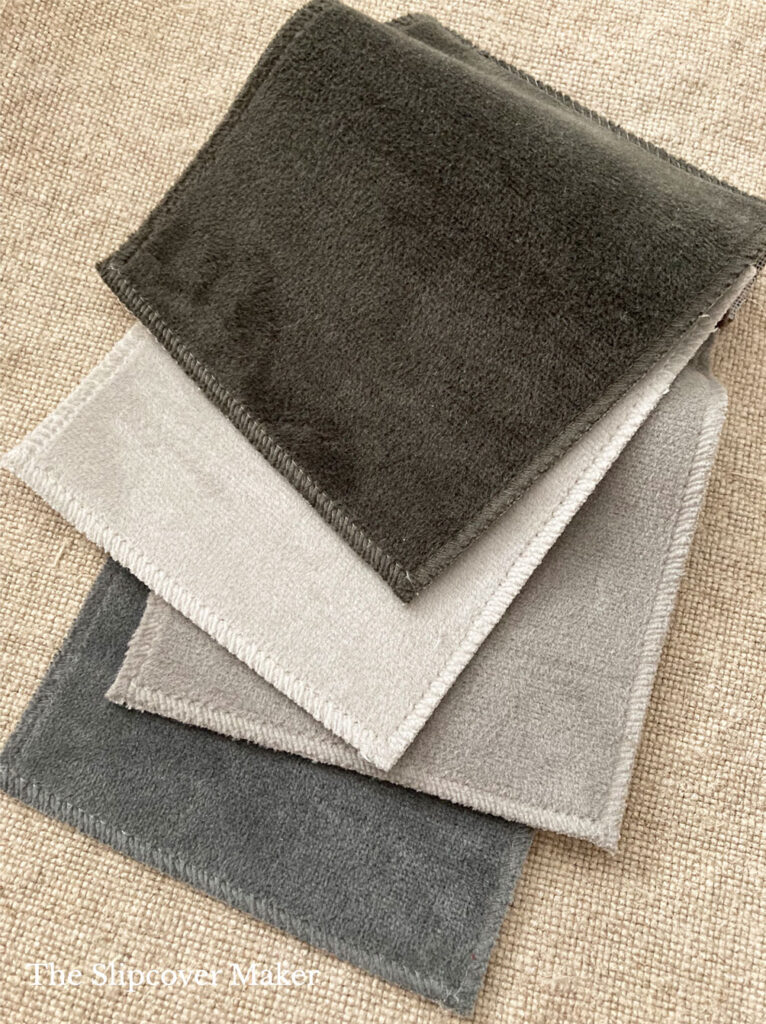 Fall is the season for velvet! Beautiful, plush velvety furnishings can be found everywhere.
I think this seasonal decorating trend must be inspiring many of you because I get a lot of requests for velvet fabric recommendations around this time of year.
I look for slipcover velvet on a regular basis. It's easy to find all kinds of gorgeous velvets made for upholstery and draperies. And, I find lots of fun novelty velvet fabrics for throw pillow covers.
Unfortunately, the fancy velvets like panne, embossed, crushed, ciselé and 2-way stretch won't work for washable slipcovers. They are either too light weight, stretchy or stiff and usually made with silk, acetate, mohair, rayon or a synthetic blend, all of which are dry clean only.
What we want for slipcovers is cotton or polyester plain velvet in 10 to 12 oz. weights that can be washed. And, stand up to at least moderate use.
During a recent search, I found some good ones! Here are the plain velvets I like best.
Cotton Velvet
I'm a natural fiber girl so it will be no surprise my favorite velvet is 100% cotton — front and back. I love the understated look with it's short pile, low luster and cottony hand-feel.
Every time I search for cotton velvet, I want so badly to find the same densely woven, heavy weight stuff I used in the '70s to make my own blazers. That velvet was the best!
Today, it's tough to find washable 100% cotton velvet fabric in a supple and durable 12 oz. weight.
Most cotton velvets are 8 or 10 oz. These light to medium weights will work for a washable slipcover that get moderate use as long both the pile on the front and the back side of the fabric are tightly woven.
Rachell Ashwell's Shabby Chic washable velvet is a good option. See the lavender slipcover above? You can buy that fabric by the yard in a variety of colors!
It's a 92% cotton / 8% polyester blend. From the look of it I think it's close to a 10 oz.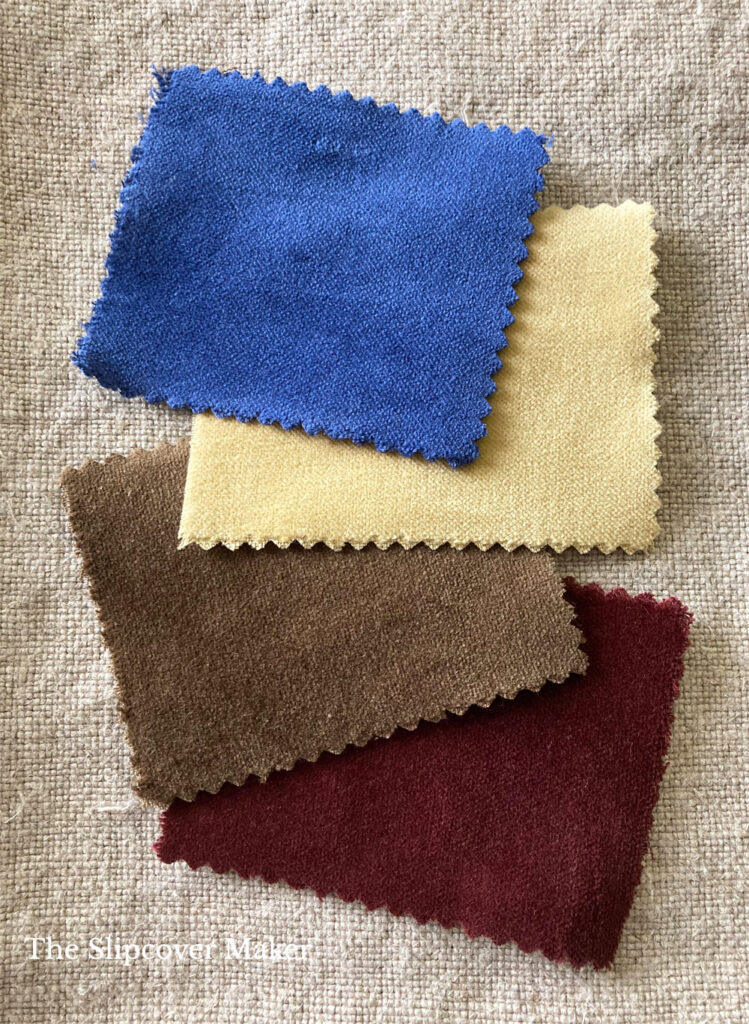 Another 10 oz. cotton option I found is this Medium Cotton Velvet.
I bought several swatches and did a warm wash and dry test. This fabric is labeled dry clean only but my wash tests revealed it can be laundered. The photo above shows swatches before wash. You can see the after washed swatches further down in this post.
Description:
100% cotton
10 oz. but feels more like an 8 oz.
Very soft and supple
No backing
Short pile
Low luster — but more than what you see in the photo. It's really pretty!
Pile runs up the roll
I would call this velvet a light to medium weight and recommend it for slipcovers that get occasional to moderate use and only 1 wash & dry per year.
I like that it takes on a slightly worn look after it's washed. Some of the colors faded slightly. And, like all velvets, this one will mar. All of these characteristics give it a vintage look, which I love.
You can find this velvet online at Sy Fabrics and Top Fabrics.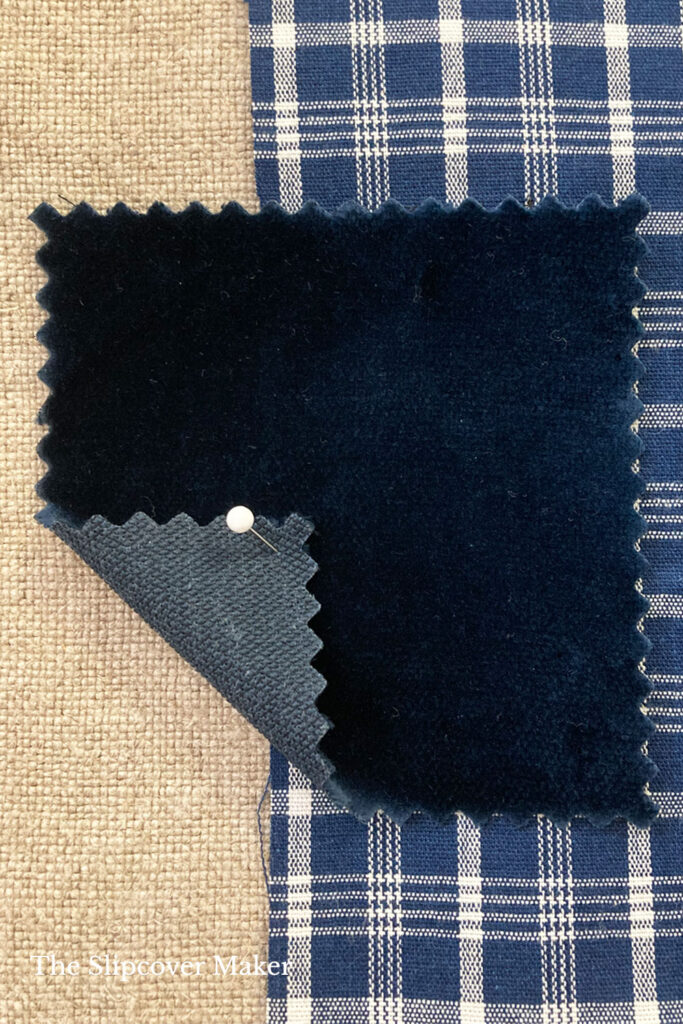 This 12 oz. cotton velvet called Como by JB Martin has been on my radar for a while. It's a beauty!
I put off testing it because it's a tried and true upholstery velvet and according to the manufacture, you can only use a damp cloth to wipe away or blot stains. I thought there is no way it will hold up to wash and dry.
Well, I finally did a wash and dry test on a large swatch and I have to say I like the results! No fading and the backing stayed in tack. The pile was as lush and smooth as the before wash.
JB Martin Como Velvet Description:
100% Cotton Pile, and 79% Cotton, 21% Polyester Backing
Flexible woven backing / coating
12 oz.
Thick and plush
Short, dense pile….yummy!
Super soft hand-feel
Moderate luster
Extremely durable at 100,000 double rubs
High-end appearance
Keep in mind, I only tested a swatch. If you are serious about using this velvet for a washable slipover, I recommend testing a 1 yard cut before you commit to yardage.
Also, this fabric has a flexible woven backing / coating. I don't know how the backing will wear long term when machine washed and dried regularly. It's important the backing stay in tack — it holds the pile in place.
I recommend this velvet for slipcovers that get moderate to everyday use and only 1 wash per year.
You can find this fabric here and at other online retailers.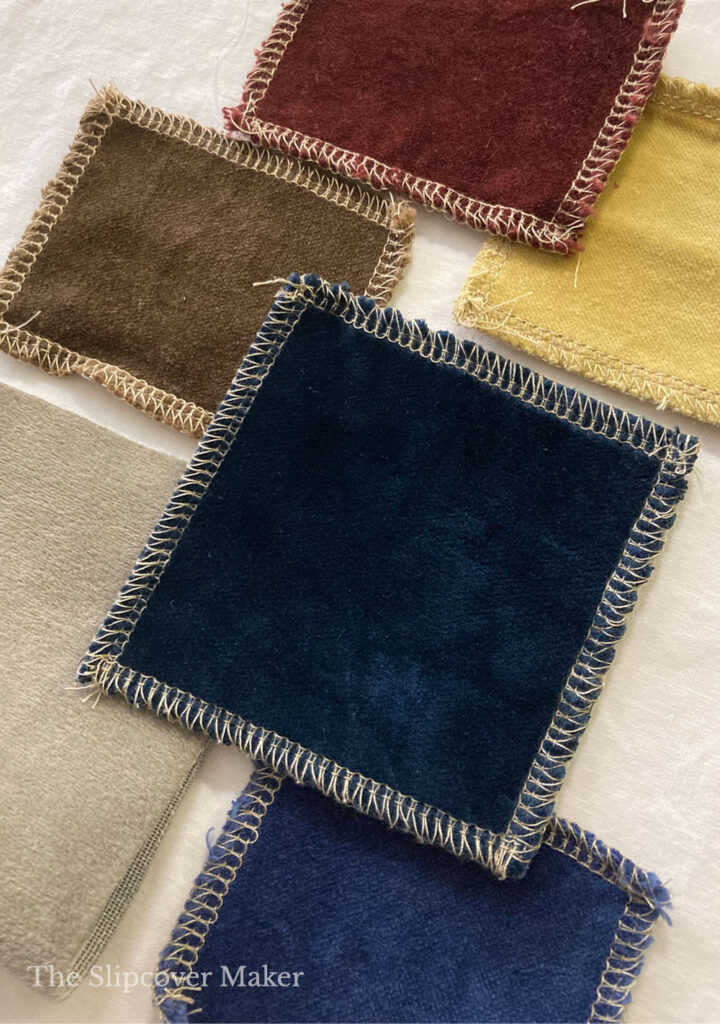 Above is a photo of the Medium Weight Cotton velvet and the JB Martin Como velvet after machine washed and dried on warm.
Polyester Velvet
Polyester velvet has become known as a more durable and easier to clean alternative to cotton velvet.
Plain velvet made from 100% polyester or a poly-cotton blend are viable options for washable slipcovers.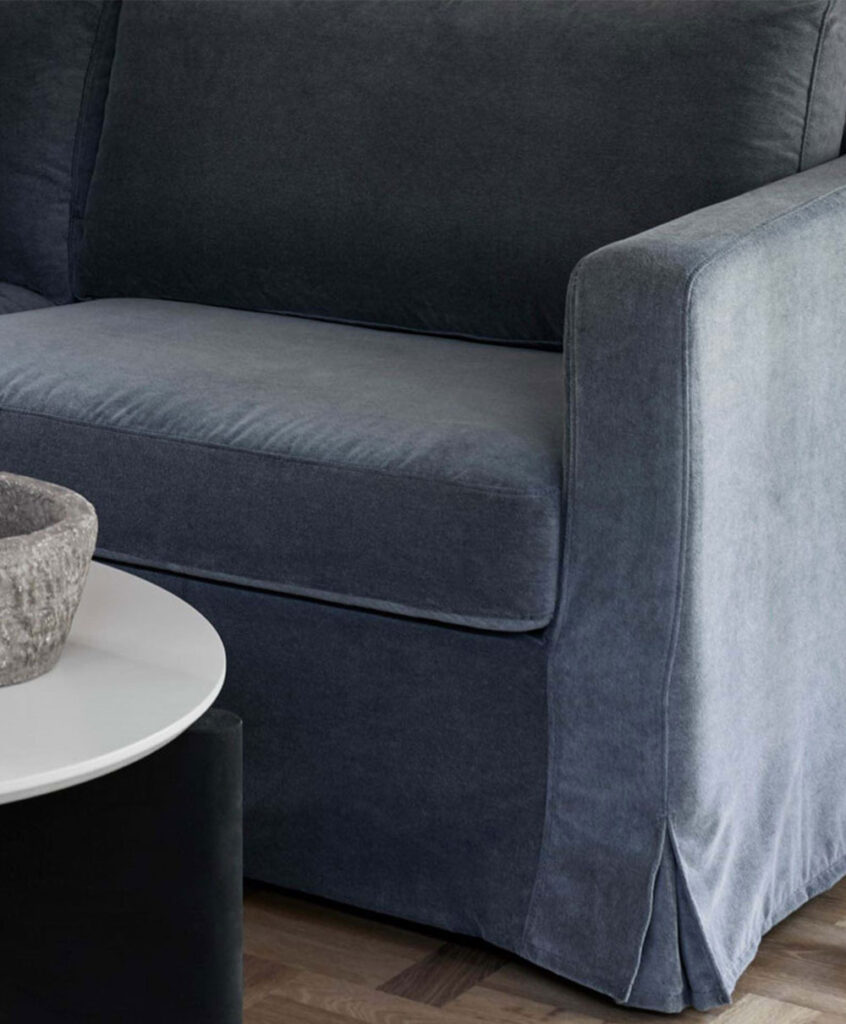 Bemz, maker of Ikea slipcover replacements, sells their Conscious poly-cotton blend velvet by the yard. See how it looks in the slipcover shown above.
I didn't get a chance to test it but I have to say I love the look and feel. It's yarn dyed (not piece dyed like other velvets), tightly woven and has a modern look due to the fine, almost suede like pile.
This velvet is machine washable but you will need to line dry your slipcover.
Conscious Poly-Cotton Velvet Description:
73% recycled polyester / 27% recycled cotton
Fine, short pile
Powdery matte finish
Soft, plush feel
More of a cotton look than poly
Oeko-Tex Standard 100 certified
Preshrunk — I would still preshrink it.
You can find this velvet at Bemz. Check out more slipcover images from their Conscious velvet collection.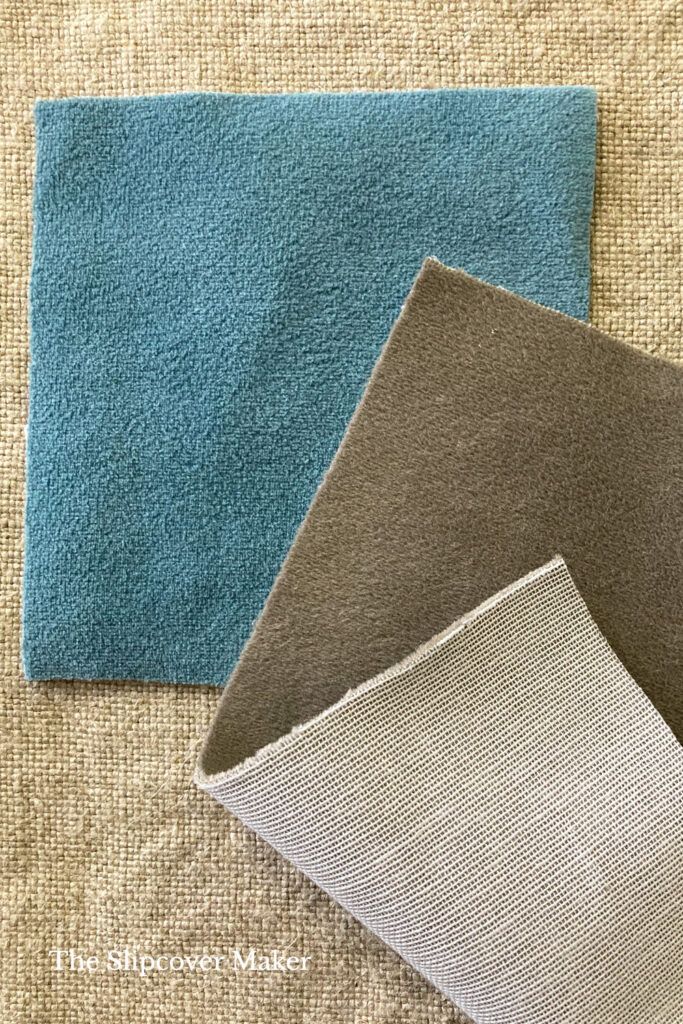 Bella Velvet by Morgan Fabrics is 100% polyester. This microfiber velvet is a good option when you want a plush fabric that is easy to sew and easy to clean.
And, it's the most affordable velvet out of the bunch.
Bella Velvet Description:
100% polyester microfiber
Soft, plush short pile
Low luster — it's more matte than cotton velvet
Flexible woven backing
Pile runs up the roll
No give or stretch
Low to no shrinkage
I recommend this velvet for slipcovers that get high traffic and a few washes per year.
Find Bella Velvet online here and here.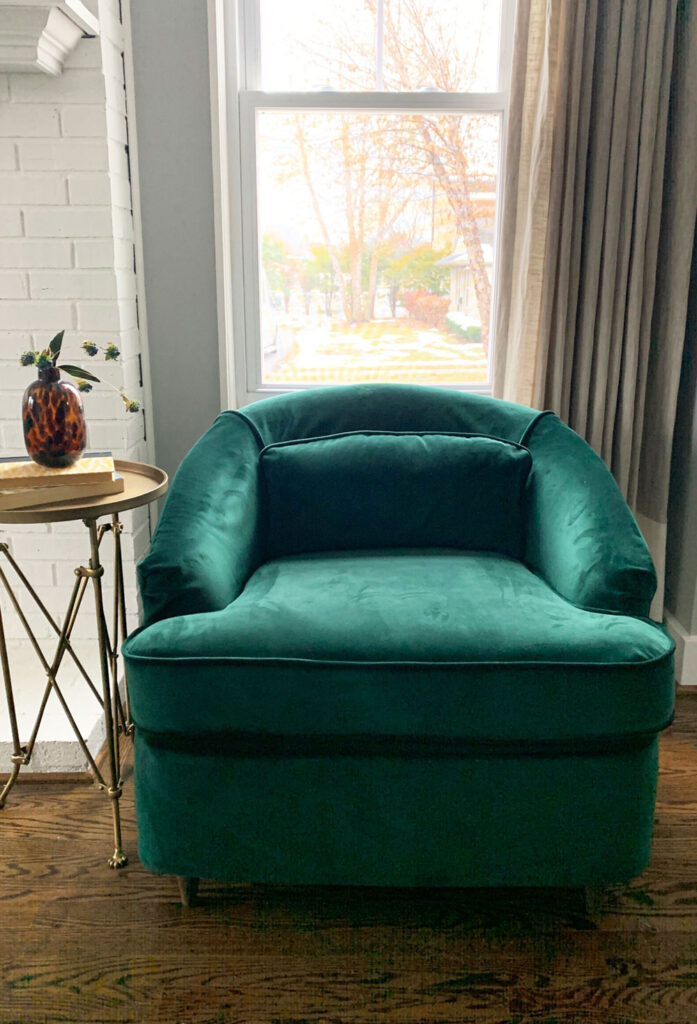 My friend Jill at Slipcovey, uses Dorell Royale washable polyester velvet for her client's custom covers and loves working with it.
It's a knit velvet that has a little stretch. Jill says it works great for slipcovers. She made the emerald cover above and the pink one below.
She also told me even though Royale is labeled spot clean only, she discovered this velvet can be machine washed with good results. I would line dry your slipcover or dry it briefly on a low temp.
Dorell Royale Velvet Description: —
100% polyester
Fleece padded backing
Extra plush pile
High luster
Pile runs up the roll
Washable — warm wash, line dry.
Find this velvet here.
Comfort-Works, maker of brand name slipcover replacements, sells their Claw Proof polyester velvet by the yard. The photo below gives you an idea of how it looks in a slipcover.
This pet and kid friendly velvet is 100% polyester and machine washable. But don't put your slipcover in the dryer. For best results you will need to line dry it.
Claw Proof Velvet Description:
100% polyester
10 oz.
High luster
Good for high traffic slipcovers
Check out this velvet in a variety of colors here.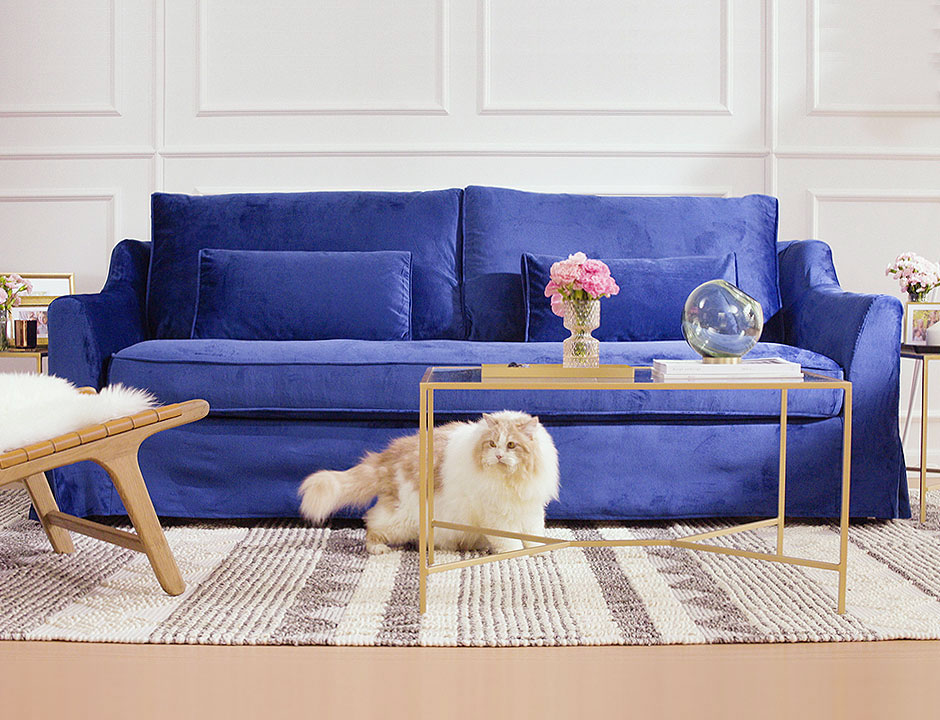 That wraps up my slipcover velvet recommendations. I will add more as I find and test new options.
Be sure to buy swatches, and 1 yard cuts if needed, to evaluate the velvet's coverage, washability and if it sews easily on your machine. Velvet by the yard is pricey. So, do your homework before committing to multiple yards.
Before I sign off, I want share this excellent resource:
Amy at Artisan Upholstery Studio shares here tips and tricks for working with velvet. This is a very helpful video for both upholsters and slipcover makers.
Place close attention to her advise for placing the pile/nap in the right direction. It's gold!
All the best and thanks for following! — Karen