Will Lining Your Slipcover Make It More Durable?
Learn what a lining can and can't do for your lightweight slipcover. I share when and why to line your chair and sofa covers to improve the look and function.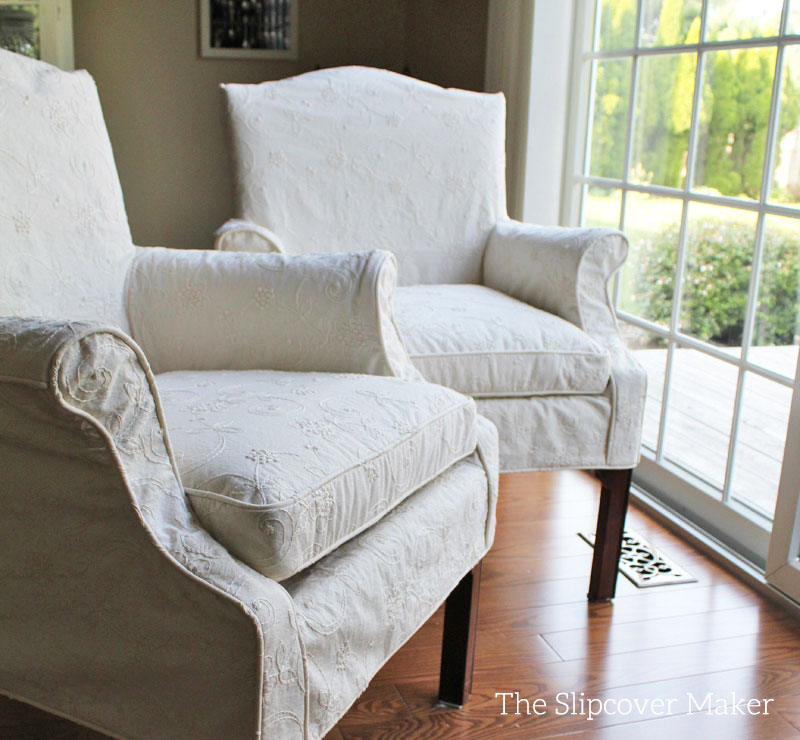 One of my readers sent me a few questions about slipcover lining. The type of questions that make you stop and think for a minute — I love those!
She asked:
Have you ever used a light-weight cotton decor fabric and applied an adhesive fabric backing to make the fabric more durable? If so, what fabric backing have you used?
Or, have you ever lined light-weight fabric with cotton duck?
You might be wondering the same thing if you're making your own lightweight slipcover. So, let's get into it!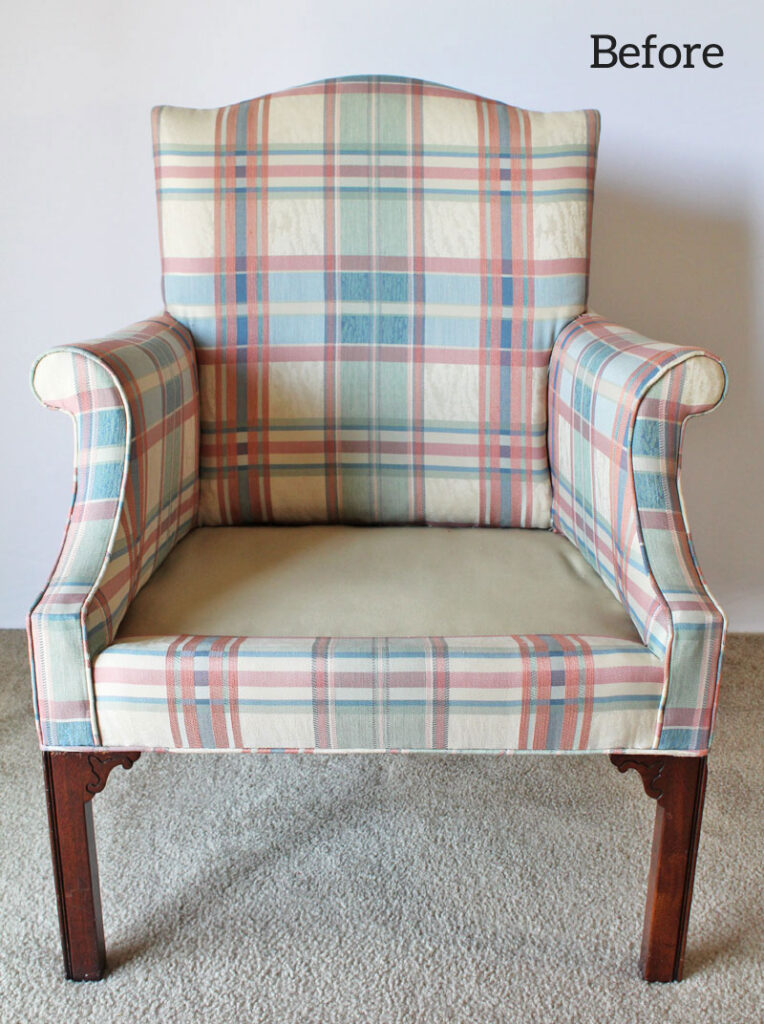 First, what is "lightweight" home decor fabric?
It can be as thin as quilter's cotton. Or, it can be a drapery weight cloth like Duponi silk, a sheer linen/rayon blend, or a polyester jacquard.
It can also be a print on a 7 oz. cotton canvas.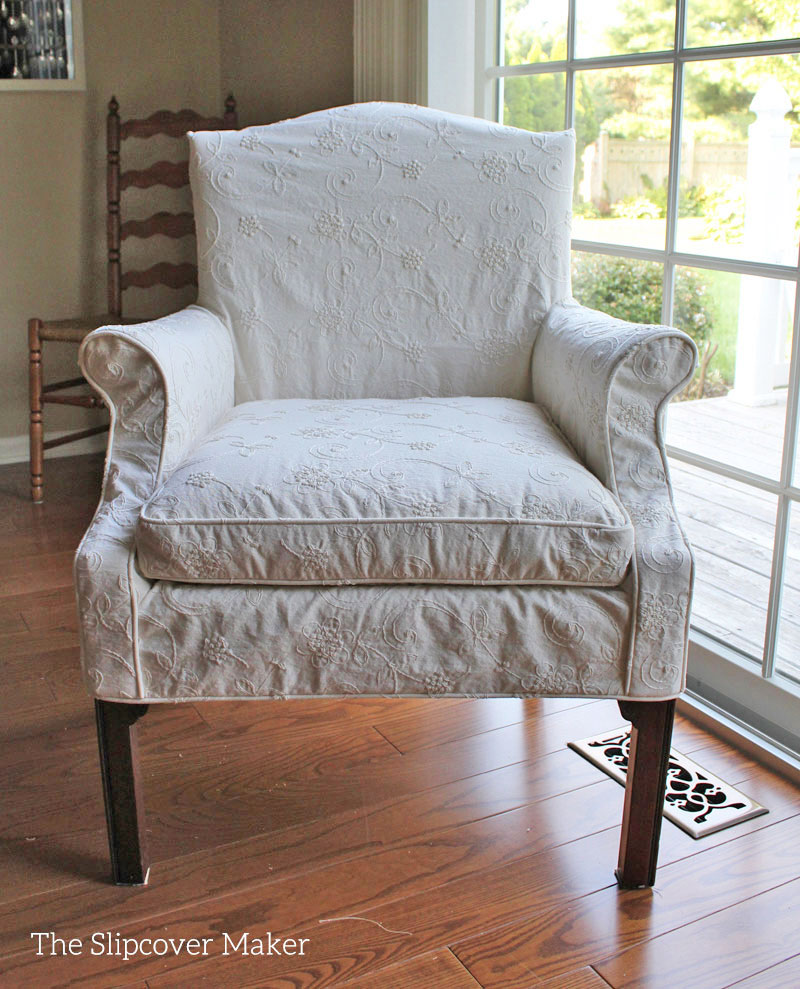 All of those types of lightweight decorating fabrics have a few things in common:
Flowy drape
Somewhat loose weave
Soft structure (body)
They work great for curtains, bedding and light upholstery. That's what they are designed for!
If you want to use them for a slipcover, go for it! But it's a good idea to add a lining to improve the coverage and body.
For example, the embroidered fabric I used for Judy's dining chair slipcovers shown above is a very light weight muslin in a pale shade of natural. I had to add a lining to prevent the plaid upholstery from showing through the slipcover. It worked great!
Another reason for lining a lightweight slipcover is to beef up the body. This helps the fabric hang smooth and straight.
That's what I did for Bill's brown silk sofa cover. Every section including the cushion covers are lined.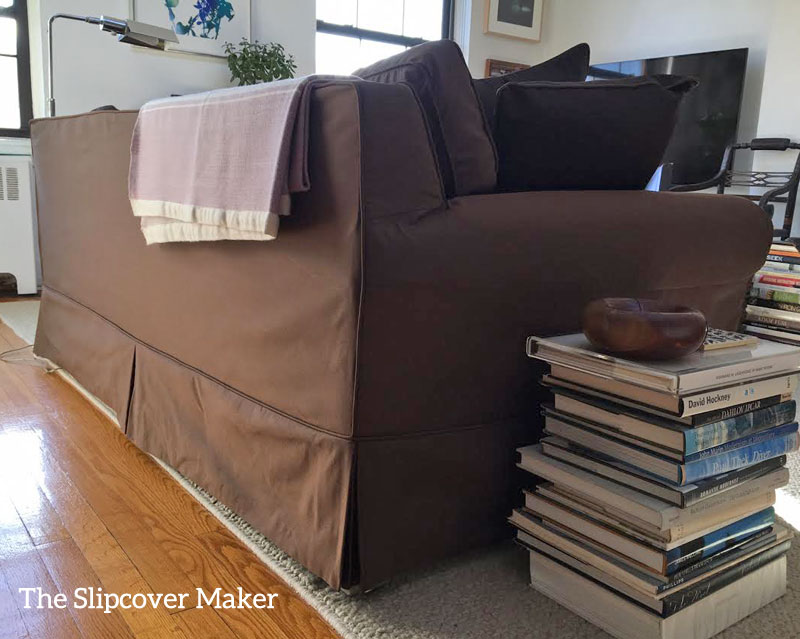 I made the striped slipcover (below) in a lightweight slippery fabric. Not easy to do!
To keep it from sliding around on the slick synthetic suede upholstery I had to add a lining.
I used a cotton broadcloth fabric for extra body. It also clung to the upholstery, which helped the cover stay in place.
Okay, so now you know that lining will add body to your lightweight slipcover and it will improve the coverage.
But will a sewn-in lining or a fused backing make your slipcover more durable?
You might think fusing a backing to a lightweight fabric would make the slipcover stronger and longer wearing.
Unfortunately, it doesn't
Fusing a backing to fabric helps add extra body. That means it stiffens the fabric and gives it a crisp, smooth hand-feel. It can also keep the fabric from stretching.
However, it won't increase the durability of your slipcover.
That's because the surface of the light weight fabric takes the brunt of daily wear (not the backing). So, if that fabric is not designed for your slipcover's end use (abrasion, washing, drying, etc.) then it will not perform well long term regardless if it has a backing.
Also, an adhesive backing will loosen and fall away from the slipcover fabric overtime from washing, drying and daily use.
What about lining your lightweight slipcover with a heavier weight fabric like cotton duck? Will that make the cover more durable?
Nope. A heavy lining won't make your slipcover fabric more durable for the same reasons I shared above. It will only make your slipcover feel more weighty.
In addition, a cotton duck liner in 7 oz. to 12 ounce most likely won't be compatible with your lightweight slipcover fabric. The two fabrics won't wear, stretch and shrink in the same way. Overtime, that will cause fit issues.
There is nothing wrong with using a lightweight home decor fabric for a slipcover. There are many applications that call for a light, soft or flowy fabric.
Just be sure to sew in a lining for better body and/or coverage if your project needs it. And, adjust your expectations about the durability — how it will wear and how long it will last.
As always, thanks so much for following! –Karen