10 Simple Ottoman Slipcover Ideas for DIY Decorators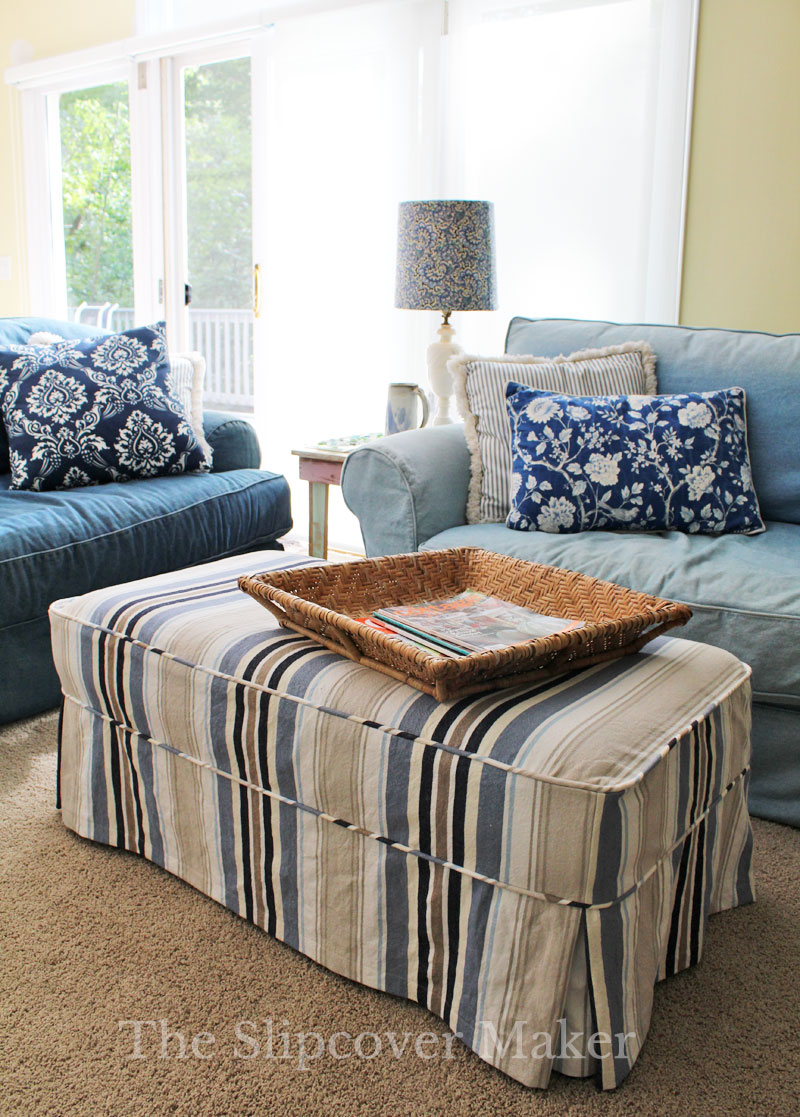 I have a fun post for you today. It's all about design inspiration for ottoman slipcovers.
I share 10 simple styles made by DIY decorators, homemakers and product makers. Each one captures a unique look and feel.
I'm certain these designs will spark a lot of ideas for your own ottoman project. You'll even find a few tutorials in the mix. Enjoy!
1. Round Velvet
Simple yet so pretty! This luscious cover is made with only two pieces of velvet — a round top and a rectangle body. Super easy. I love how Anita mixed a casual fit with a formal fabric and trim. She shares how to make this round ottoman design on her blog.
2. Oversized Ticking
No need to be precise in fitting a big rectangle ottoman when you're going for farmhouse-style. I like the slightly oversized fit of this design. Lauren kept it simple and relaxed with washed cotton ticking and minimal detail.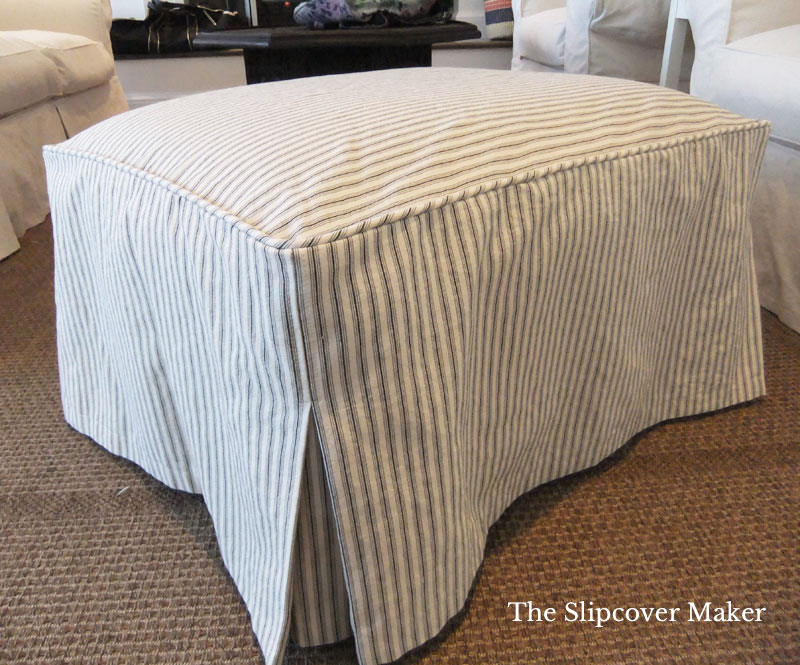 3. Loosely Tailored
The Slipcover Maker
Skip the boxing! I created this simplified version of a tailored slipcover by stitching the corner pleats down 4 inches from the top seam. No boxing panel needed. To create a good fitting top follow my tutorial here.
4. Rustic Ruffles
Rip, ravel and gather. What a clever way to use drop cloths! If you love ruffled home decor with a shabby chic twist you have to check out Olena's other designs at her Etsy shop. She is the queen of rustic ruffles!
5. Ruffled Cube
A cube ottoman invites endless slipcover design possibilities. Think of the square top and four side panels as your blank canvas, and then, go crazy! Choose a novelty fabric with lots of texture, or a really cool print, or fake fur, or RUFFLES! Rows and rows of ruffles. Good job, Jill!
6. Pom-Pom Topper
Ottoman toppers with giant pom-poms. Fabulous!! I love how Diane covered just the cushion part of her ottomans and left the rattan based exposed. I think it's the most simple design you can make. She shares her step-by-step instructions on her bog.
7. Simple Pleats
This tailored slipcover consists of a one-piece top and a skirt panel of knife pleats. That's it. Simple and sophisticated. Jen's choice of an understated fabric pattern marries nicely with her design.
8. Vintage Quilt
This sweet slipcover is artfully pieced with an old quilt remnant and linen scrap. Combining fabric scrap of different textures and patterns is a great idea for small ottomans because they don't require a lot of yardage. Sort through your stash of beloved leftovers and see what you can dream up. Marian shares her tutorial here.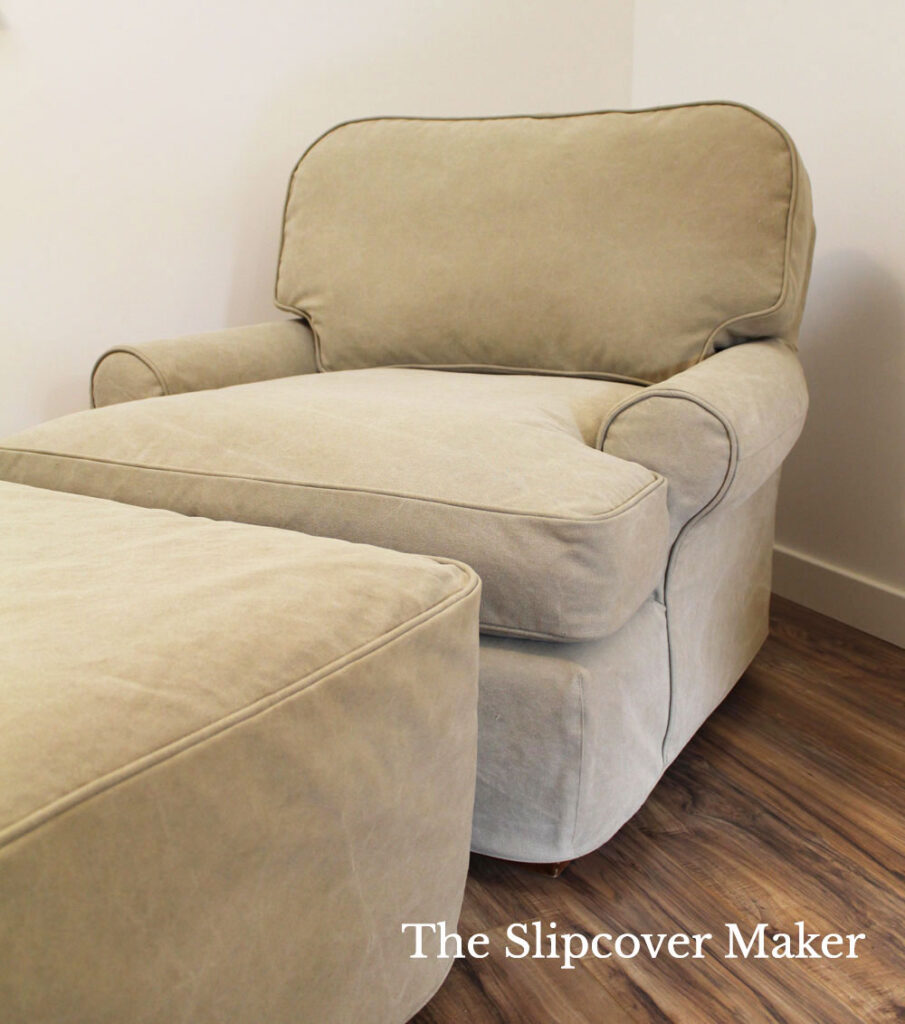 9. Box Style
The Slipcover Maker
Box-style slipcovers are my favorite for big, bulky pillow-top ottomans. Pin the fabric panels so they fit the shape but drape smoothly over the bulges. So easy to make.
10. Pouf-Like
This little footstool / ottoman is so charming. Take a close look and you will see the cover is gathered only at the bottom making it pouf-like. On her blog, Leslie shares what this piece looked like before and how she made this very cute slipcover.
So, now that you've taken a look at all of the ottoman designs, which one do you like best? I will tell you my favorite if you tell me yours. 🙂
Until next time, have a creative week and thanks for reading! — Karen