Designing a Budget-Friendly Slipcover for a Bargain Bergere Chair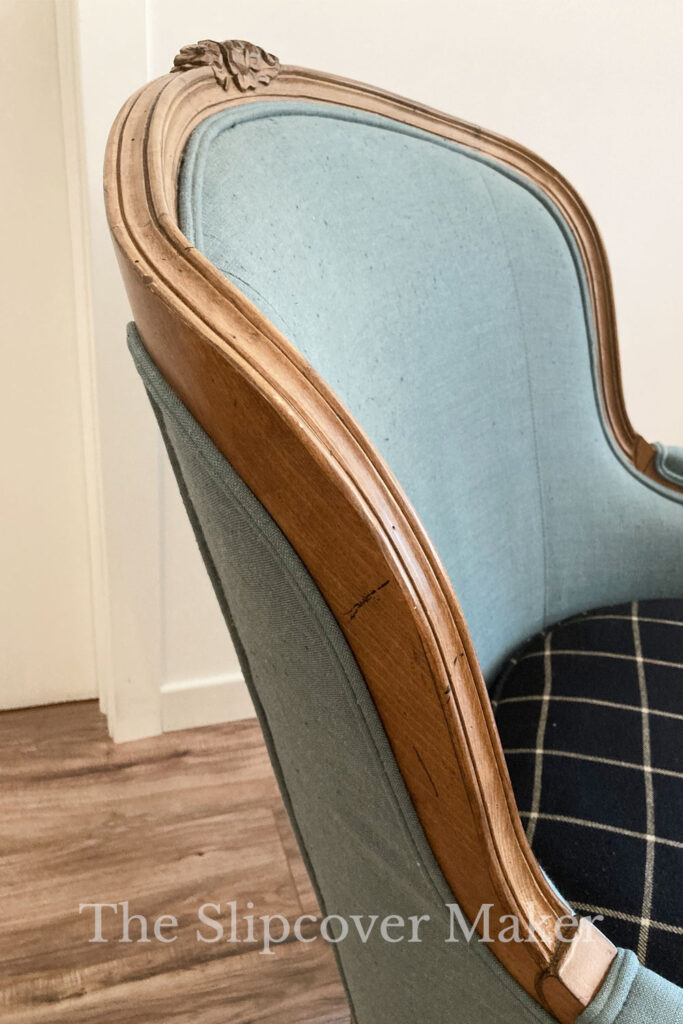 I got lucky. I found this Bergère French chair at my local ReStore and paid only $50!!
Now, my mind is whirling with slipcover design ideas. As with any slipcover project, there are a lot of decisions to make about fit, fabric, function and cost.
And, then there is the million dollar design question: should I cover the wood or expose it?
In today's post, I share the first steps in designing a budget-friendly slipcover for my bargain Bergère.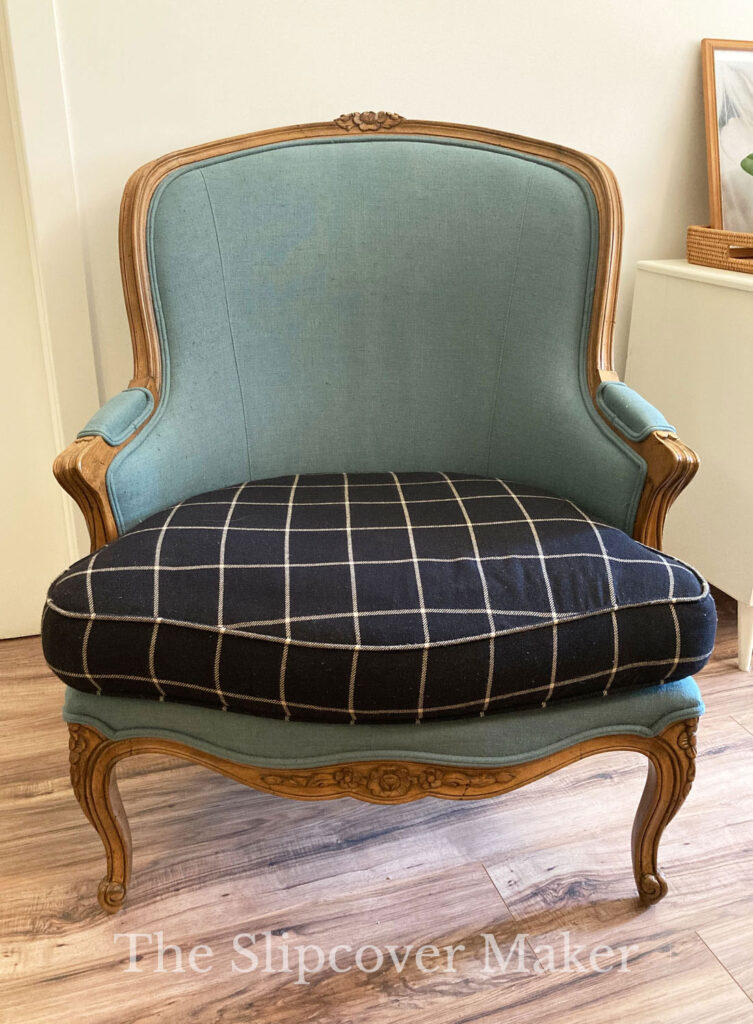 My secondhand treasure is a Bergère reproduction made by Century in North Carolina. The model name is Grande Duke, and I believe it was produced in 2010.
I can't get over how new it looks. There is barely any signs of wear. Springs are strong, cushion is super comfy, and the upholstery and wood are in excellent condition. No stains or odor. 
I especially appreciate the overall size. The deep, wide seat and broad, slightly curved inner back make this piece very comfortable for everyday use.
As you can see, there is a lot of exposed wood, which has all of the classic features of Bergère design — curved rails, padded arm rests and cabriole legs with carved floral elements.
These are the kind of details that make slipcovering fun yet much more challenging than making a custom cover for a classic rolled armchair.
The back is pretty gorgeous, don't you think? I'm not sure if I will cover the posts completely or create a slipcover design that allows them to peek through a bit.
OK, now that you know all about the chair, let's talk slipcover fabric.
I'm going for washable, casual, neutral and long wearing. My total fabric budget is $50.
My first choice is 12 oz. natural denim or #12 natural duck for the slipcover body and a woven ticking stripe in color indigo for the cushion cover. I have ticking yardage in my stash and I only need about five yards of denim. The price for this combo is within budget.
I'm also drooling over this undyed hemp canvas for the body and this Richloom Fritz cotton-blend stripe in color indigo.
However, as much as I LOVE these rustic, grainy fabrics, the $20 per yard price tag is a bit steep for my budget-friendly makeover. For now, this combination is inspiration for a second slipcover.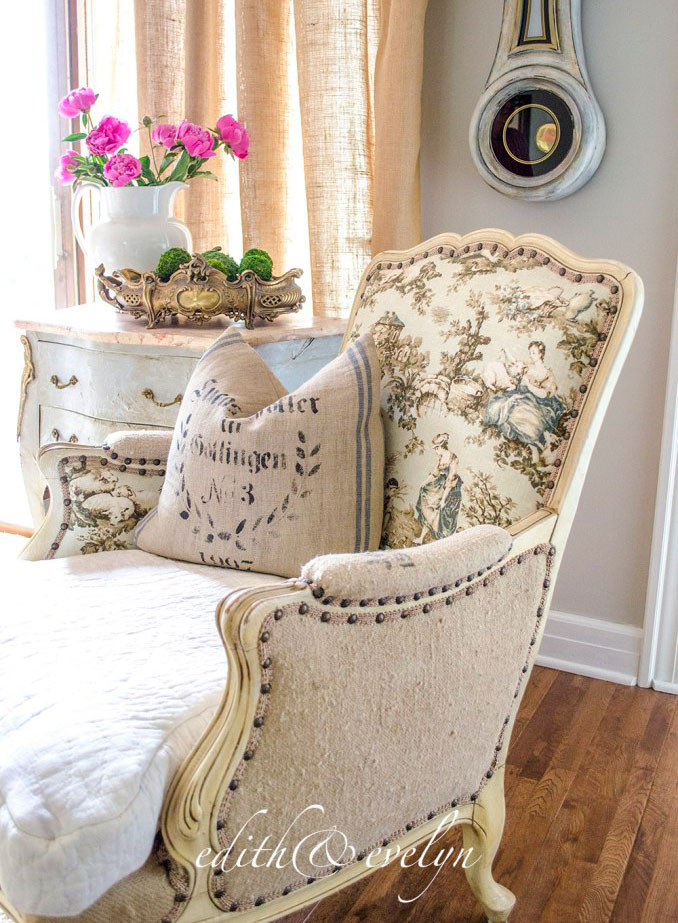 Edith & Evelyn's upholstered chair (above) got me thinking about combining three fabrics for my chair slipcover: hemp canvas on the outside, natural denim on the inside and ticking on the cushion.
A slipcover made from multiple fabrics that is not yardage intensive could be a super saver! Especially if you already have left over scrap from previous projects.
TIP: If you're making a washable slipcover with two or more fabrics for the body be sure to combine similar weights that have the same shrinkage rate.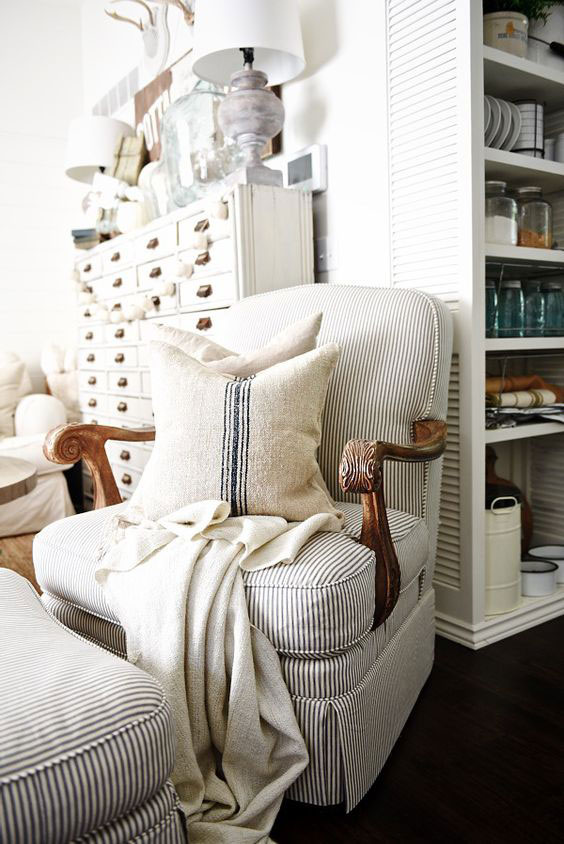 Another fabric idea — what about making the entire slipcover in ticking? I love the look of Liz Marie's ticking upholstered chair with exposed wood arms.
I made this ticking stripe slipcover for a wingback I used to have. It's one of the few patterns I never grow tired of. It goes with everything.
When I made this pair of ticking covers for Malorie's English rolled arm chairs I really wanted to keep them for myself!
Obviously, I have a thing for ticking. But for the barrel back design of my Grand Duke Bergère chair I'm not convinced it's the right fabric. Why? Because the curved inner back and outer back will require shaping seams placed at slight angles. The ticking stripe won't fall straight and parallel with those seams. Instead, the stripes will appear chevron-like.
TIP: Whenever you are in doubt about how a fabric pattern will appear on a certain area of your slipcover, create a small mock-up on your chair first before you start pin fitting.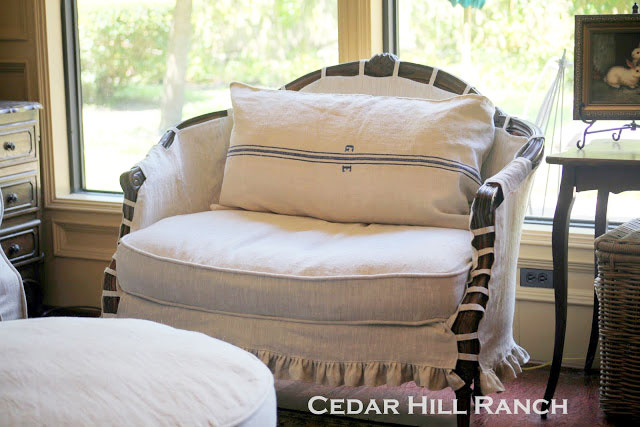 As I mull over fabric options, I'm thinking about my slipcover design plan. Do I want to cover all of the wood or just a few small sections? Or, expose as much wood as I can? What type of skirt do I want? And, do I want closures of any kind?
Two of the most popular slipcover designs for French-style furniture are created with straps or ties that expose certain areas of wood arms and rails.
Straps and ties are not just decorative. They have a job to do: connect the inner sections of the slipcover with outer sections. They hold the slipcover on the furniture but not necessarily securely in place.
Depending on how and where straps and ties are placed, the overall design can look clean and simple or very busy.
TIP: To make a slipcover that is truly budget-friendly, create a design that is simple and is easy to execute in fabric you can afford.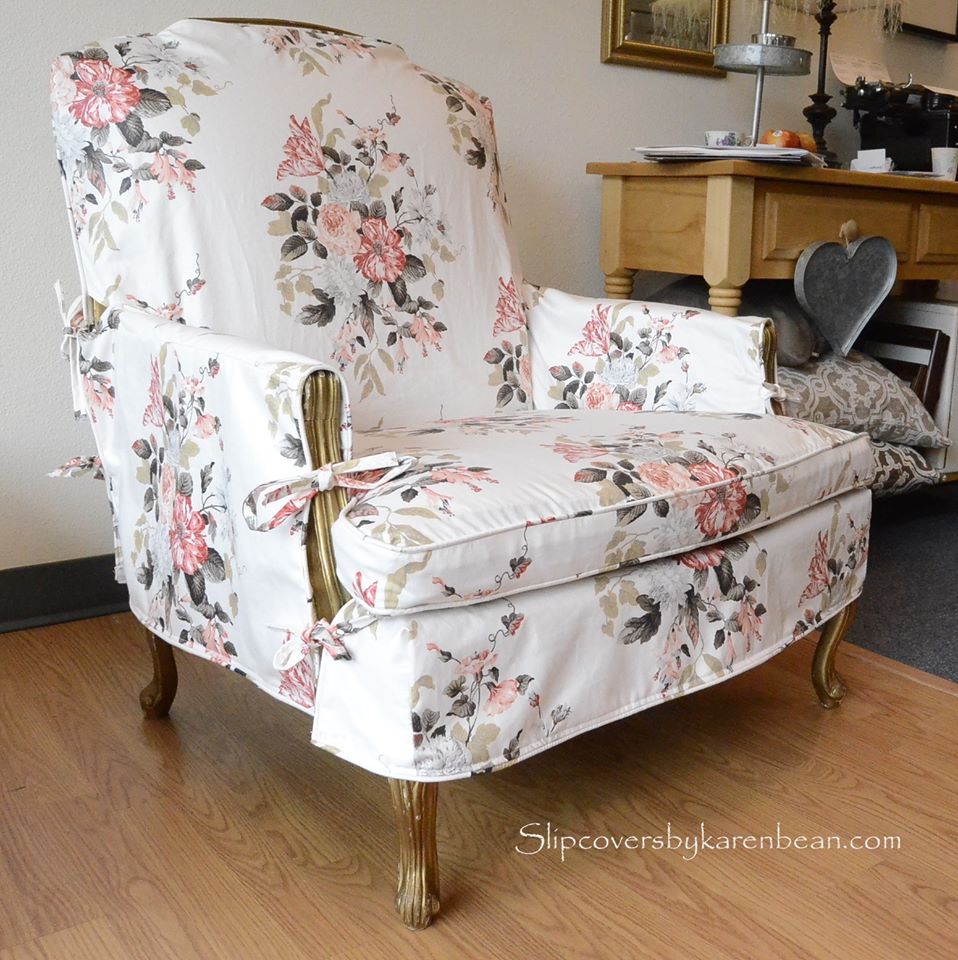 Right now I'm leaning towards covering the entire upper wood rail and arms with narrow boxing. I will be using my chair everyday and want the slipcover to stay in place as much as possible. Boxing offers better function than ties or straps.
I would also like to expose the carved floral detail at the top, the knob part of the front arms, part of the carved bottom rail, and the legs. I might add a couple of tie openings.
Anyway, that's my design plan so far. Once I get into the pin fitting I'm sure I will make tweaks here and there.
Be sure to read next week's post. I will give you a peek at my pin fit process for this project, and share the finished piece.
Thanks for following! — Karen