Custom-Fit Slipcover for Bergere Chair
Voila! A custom-fit slipcover for my bargain Bergère style armchair.
A couple of weeks ago I shared my slipcover design ideas for this French chair. In today's post, I give you a look at which one I chose, and how I tackled the pin fitting. Enjoy!
First, a look at the before. My secondhand chair is a 2010 reproduction of a Bergère design. The model is called Grande Duke and was produced by Century in North Carolina. I scooped it up from my local Habitat ReStore for only $50!
I love everything about it except for the Teal and Black upholstery colors. Slipcover to the rescue!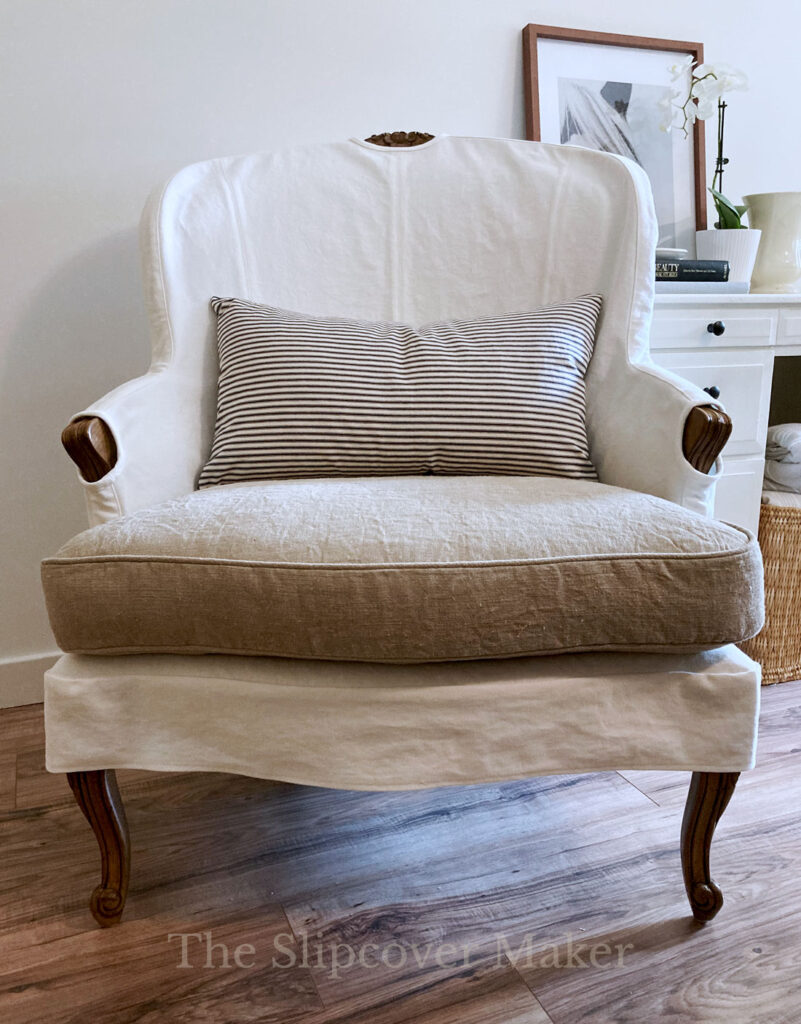 The slipcovers I make for myself are casual and neutral. It's a look that is easy to live with and works well with my decor. So, I decided to go with my original design idea: off-white denim for the body, undyed hemp for the seat cushion and navy ticking stripe for the pillow.
I already had these fabrics in my stash. Bonus!
Once I got started on the project I realized covering the exposed wood arms would be the easiest and quickest design to execute.
I'm sure I will make more than one slipcover for this chair so I will plan on showing off more exposed wood with the help of ties or straps next time.
Instead of using welt cord on the slipcover body, I finished the seams with edge stitch and trimmed the "peep holes" with self bias binding. Clean and simple.
This slipcover design required a zipper opening to get the slipcover on and off because the top of the chair is much wider than the bottom. However, a zipper inserted in one of the smooth, flat shaping seams would be visible and look bulky.
The solution? I ditched the zipper and added three inverted box pleats at the lower back — one at the bottom of each shaping seam. They pop open making the slipcover a bit more roomier when pulling it over the top of the chair.
Now for the pin fitting. I decided to create a 1/2 pattern using scrap fabric of similar weight to my slipcover fabric.
I opted to pin fit a pattern instead of pin fitting the entire chair with actual fabric because over time I will be making more than one slipcover. I find it's less work to pin fit a pattern once and use it over and over than to pin fit the chair from scratch every time I want to make another cover.
Below is an overview of my pin fit process for this project:
1. Pin Fit the Deck
I started by pin fitting the deck. This is the area that the seat cushion sits on.
2. Chalk a Center Seam Line
I marked a center line on the inner back with chalk. I used that mark as a guide for placing the center shaping seam.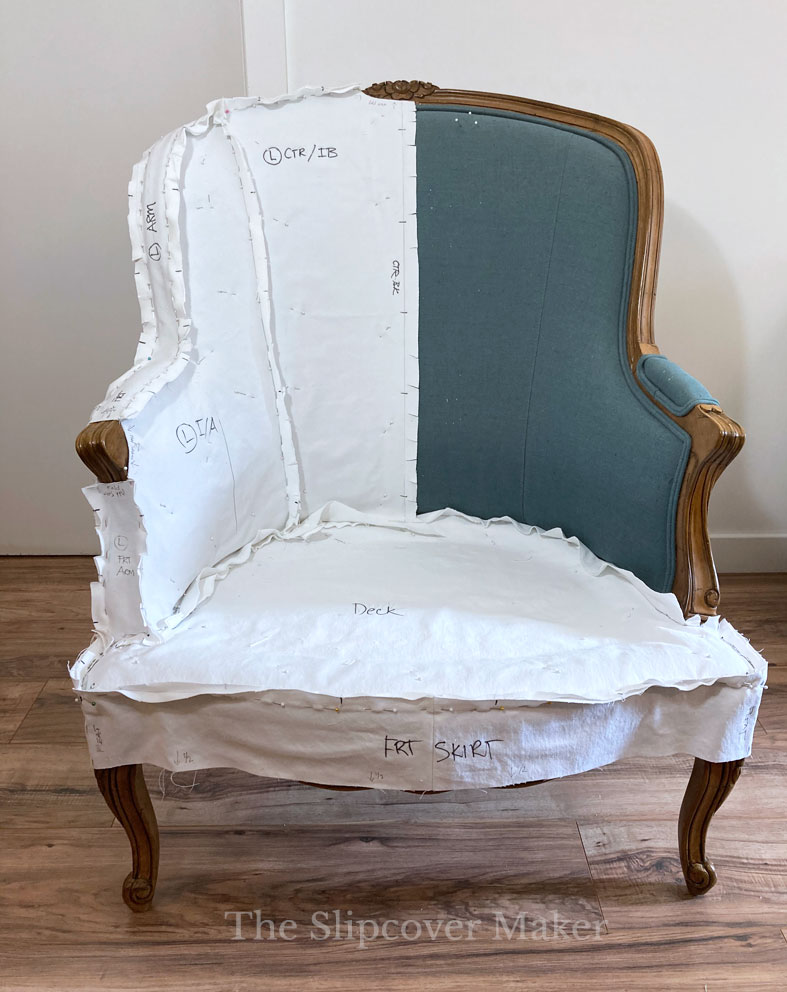 3. Pin the Inner Back & Inner Arms
There are two center inner back pieces and two inner arm pieces. But, since this is a 1/2 pattern, I only had to pin one of each.
4. Pin the Front Skirt
I created a panel skirt and pinned it to the deck following the curvy edge.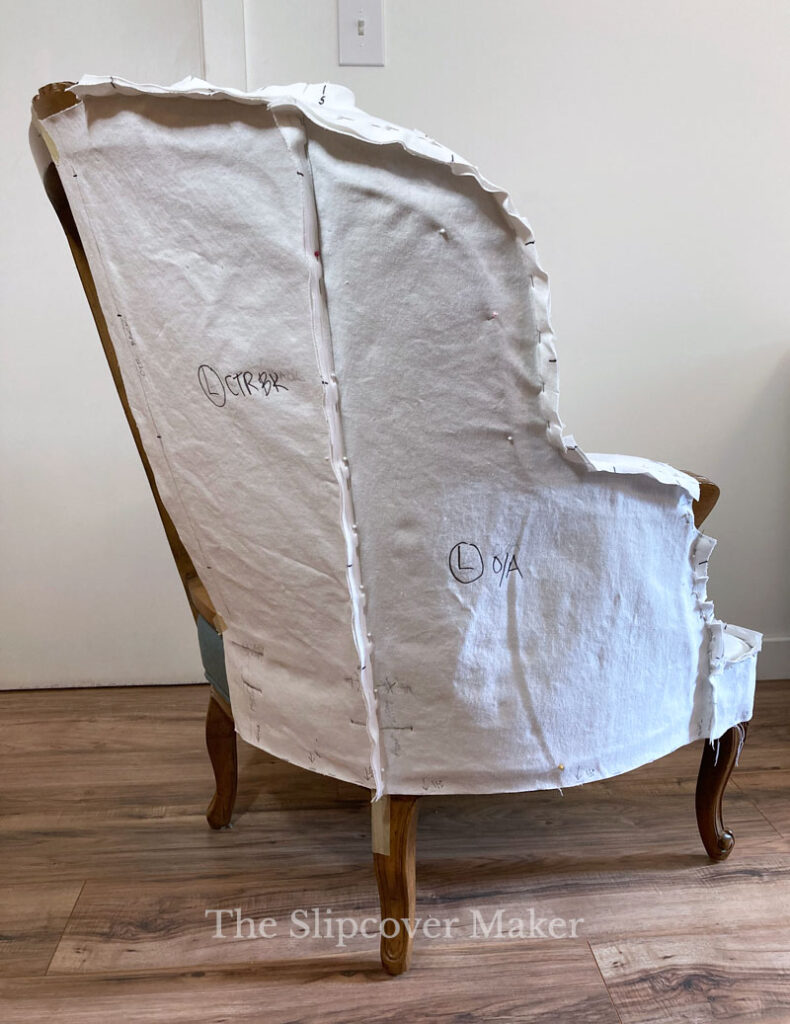 5. Pin the Side & Back
Before I could pin fit the arm panel, I had to pin the side and one-half of the back. This was a little tricky because I couldn't pin the fabric to the top wood rail.
After a few slips and slides, I used masking tape to secure fabric to the wood in a few places. From there, I pinned the pieces in place.
I also used masking tape to mark a straight center back line on the exposed wood frame. I followed that line as placement for my center back shaping seam.
6. Pin Arm Panel
When I got the inner and outer pieces pinned, I connected them with the arm panel. I created a two-piece shaped arm,
7. Trim, Notch, Mark & Label
Before I removed my pattern, I trimmed all seams to 3/4″ (my preferred seam allowance) and notched them.  I labeled each piece and marked the grain lines. Lastly, I marked the hem line. FYI – I added the hem allowance when I cut out the pattern.
I hope this project inspires you to create a slipcover for your own beloved Bergère.
If you are new to making a French chair slipcover, start by making a pattern to work out all of the fit details before you cut into your actual slipcover fabric. You will learn a ton!
Thanks for following! — Karen