5 Things to Know About New Foam Cushions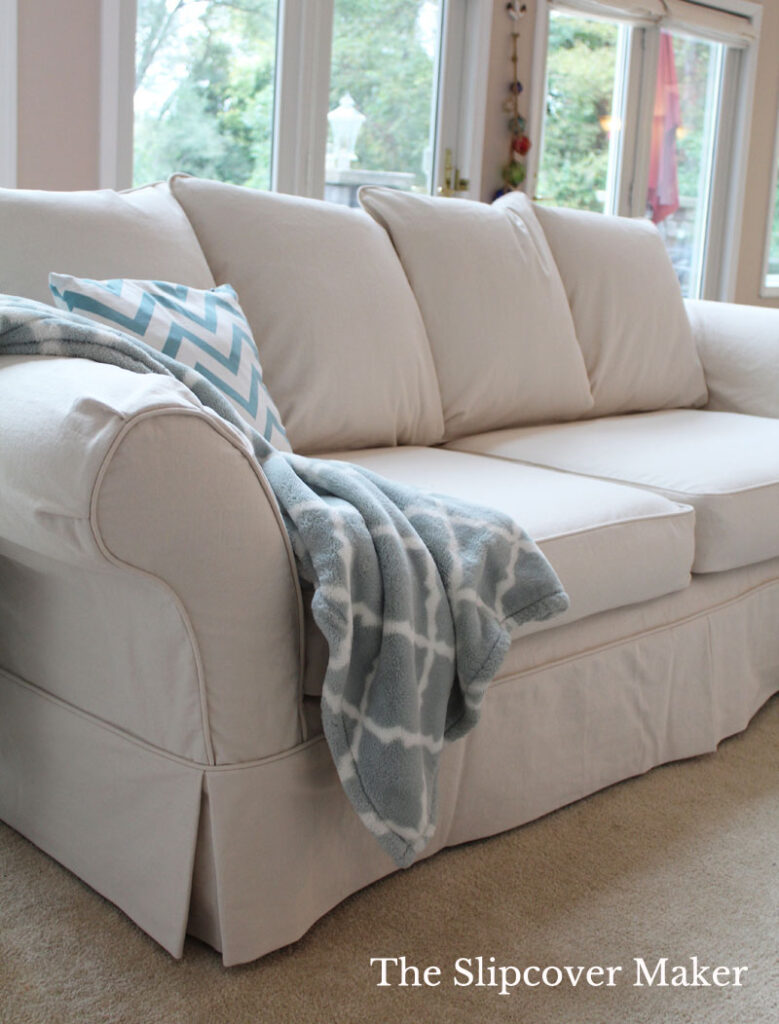 It's a good idea to replace worn out, compressed seat cushion inserts before you have a custom slipcover made for your chair or sofa. Why?
Because a slipcover won't hide cushion wear & tear. It follows the surface and shape of your furniture exactly as is. If your foam cushion dips or bulges in certain spots so will your slipcover.
Finding comfortable foam cushions cut and wrapped to the shape you need is often challenging for my local customers as there are few options here. I'm not a foam expert but after covering many new foam cushions over the years I learned there's more to it than simply choosing "high density foam". 
Here are 5 things to consider when choosing new foam inserts for seat cushions:
1. What type of foam do you want to use: conventional or natural latex?
Conventional foam is typically made from polyurethane treated with fire retardant chemicals. It's the most common foam used in furniture and cushions. It's offered in a variety of densities and firmness. The down side of conventional foam is it's known to out-gas toxins, which accumulates in our environment and bodies.
An alternative to conventional foam is natural latex. This is not memory foam. Natural latex foam cushions are made from the sap of rubber trees. The sap is processed into foam using minimal chemicals. Choose from Dunlop or Talalay latex in a variety of densities and firmness. It's considered a healthier alternative to polyurethane foam because it does not contain synthetic fillers or treated with chemical flame retardants. It's long lasting, too, but it is more expensive.
Carla at NaturalUpholstery.com has created a free Buying Guide to Natural Upholstery Materials. This is an excellent resource for learning more about natural latex foam for cushion inserts and alternatives to polyester batting wrap.
2. How do you want your cushions to feel?
It's important to try different foam densities and firmness to determine the right comfort and support. A firm, high density foam may sound great compared to your old, squishy cushions but "firm, high density" in one foam quality can feel hard-as-a-rock while in another it feels soft and springy.
I suggest contacting a knowledgeable cushion supplier that offers a variety of foams so you can compare. If you can't find a good resource in your area try Foam Order.
Also, keep in mind seat cushions are generally firmer than back cushions so shop for the appropriate foam quality for each. FYI — very few types of back cushions need foam. Just a good loose fill.
3. What type of cushion wrap do you want?
Foam cushion inserts need to be wrapped with a Dacron polyester batting or an alternative material such as down, wool or cotton. The wrap adds a crown to the cushion surface and makes the cushion easy to slip into a slipcover.
A wrap also adds to the comfort and overall look of the cushion.
If you want a flatter appearance and a denser feel go with a Dacron polyester wrap. It's a type of batting that comes in a variety of loft (puffiness and thickness) and densities.
TIP: I recommend purchasing Dacron batting from your local sewing store or upholsterer instead of online. Retailers who ship this type of batting shrink wrap it. As a result, the batting compresses quite a bit. It can take one week for the loft to regain it's original loft.
Batting that is shipped shrink wrapped can also take on hard creases, which are nearly impossible to steam out. Creases in batting will show through your cushion cover.
If you want more of a puffy look go with a down envelope. An envelope filled with 100% down or down/feather is custom sized to fit your cushion. It will give your cushions a loftier crown and a sink-in feel.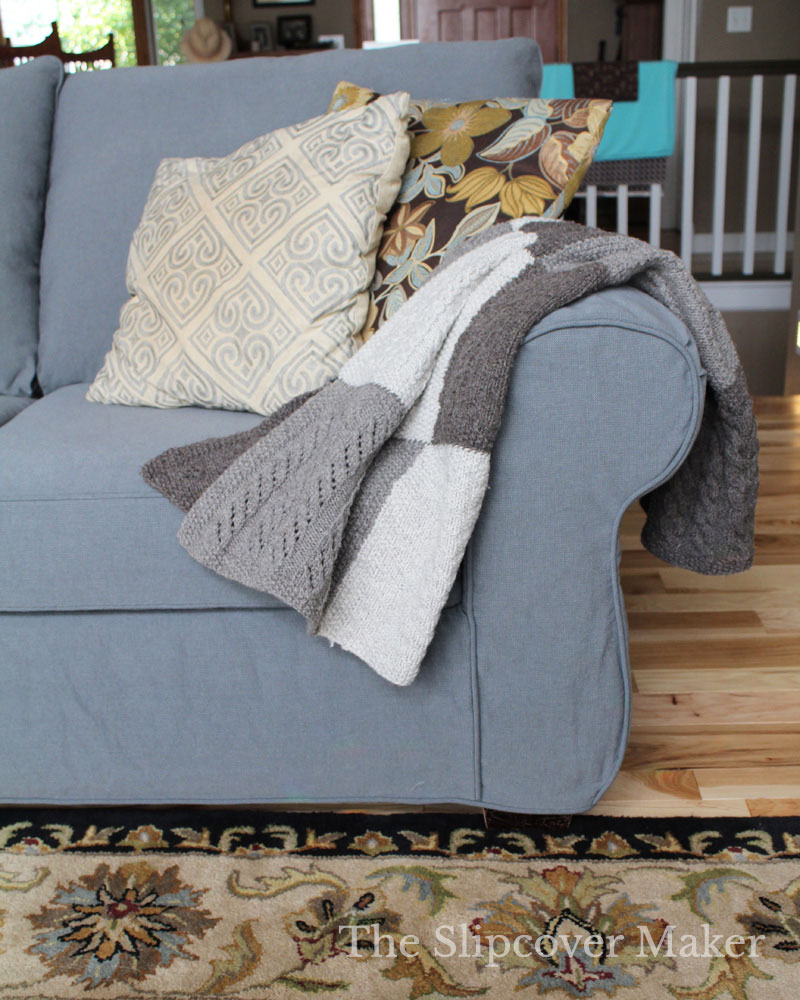 4. What is the size and shape of your cushions?
To ensure correctly sized foam inserts, take your old cushions in their original cover to your foam supplier. The new foam will be cut to fit the original slipcover taking into account the type of foam and wrap you choose. Be sure your supplier understands the look and comfort you want to achieve.
If you order foam inserts online follow the supplier's instructions for measuring your cushions and selecting a wrap.
Tip: look for a supplier that can make each cushion from a solid block of foam. I stay away from foam inserts that are pieced and glued together. Average size foam inserts that are pieced and glued break down much faster than a solid block of foam.
5. What will new foam cushions cost?
New cushion inserts will not only improve the comfort of your chair or sofa but also add longevity to your newly slipcovered furniture. It's a worthwhile investment if you're planning to use your loved & worn furniture for several more years.
In my area new conventional foam inserts cost approximately $65 to $150 depending on size and quality of materials. You can except to pay much more for natural latex foam inserts.