Got Pets? These 4 Protective Slipcover Fabrics Will Save Your Upholstery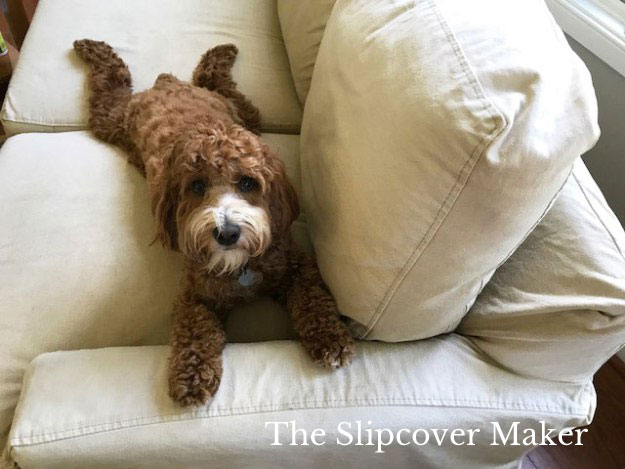 Hello pet owners! In today's post I'm answering your most frequently asked question: what is the best pet-proof fabric for slipcovers? Is there one that will repel pet hair and withstand cat scratching and dog drool?
Yes, there is one fabric that will do it all: Cordura Classic nylon canvas in 1000 denier. This super durable, stain and abrasion resistant cloth will completely protect your upholstery from cat claws and muddy paws. Oh, and pet hair brushes right off.
But fair warning, Cordura canvas is slippery, shiny and feels cold. Forget about comfort and beauty. It's primarily designed for heavy duty use like horse blankets, back packs, work boots and even seat covers for an old pick-up – yes, I've made one.
My guess is a slippery, shiny nylon slipcover is not the look and feel you're going for even with all of its protective bells and whistles. So, what's the alternative?
I recommend these 4 fabrics for protective slipcovers:
#12 weight Cotton Duck — densely woven with 2-plied yarns. Durable. A little more grainy appearance than Army Duck.
12 oz Cotton Canvas in white and colors.
14 oz Yarn Dyed Denim — heavy weight cotton denim with a two-tone color effect good at camouflaging pet hair and dirt. Wears and washes well like a good pair of blue jeans.
12 oz Thick Heavy Weight Cotton Canvas — workwear tough canvas factory seconds (designed for coveralls, jackets) that can withstand heavy use. Durable without being stiff.
Are these cotton canvas and denim fabrics pet-proof? No, not 100% but they are tightly woven, durable and washable — key features that make a slipcover protective and long lasting.
In addition to guarding your upholstery against pet wear and tear, you'll find these options make a good looking and comfy slipcover. Pet hair will likely stick to these fabrics. It's inevitable. And, of course, excessive cat scratching on any fabric will cause snagging and tearing over time.
Finally, you might be wondering why I didn't include any synthetic performance fabrics in my fab four list. I'm talking about the high-end decorator upholstery fabrics (for indoor or outdoor) that resist stains. That's because those type of fabrics (usually made from Olefin) are dry clean only and typically attract pet hair much more than unbrushed cotton denim and canvas.
Do you have pets and use slipcovers? What protective fabric do you like best?