Slipcover Style: Peaceful Living Room Ideas
Inspiration and tips for creating a tranquil space with relaxed slipcovers in soothing colors and comfy natural fiber fabrics.
Welcome to my new blog series, Slipcover Style. It's all about slipcover design — fabric finds, styling, decorating, before & afters, and plenty of resources to inspire creative ideas for your own slipcover projects.
I hope you enjoy this first post of the series!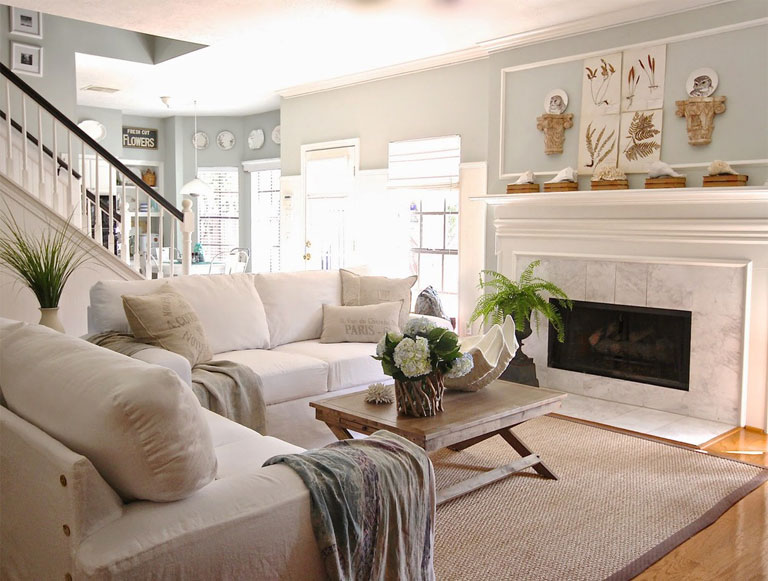 Soft brushed cotton, calm colors, and simple design is the perfect mix for creating slipcovers that soothe. Becki's living room is a lovely example.
I like the minimal detail on her covers — a few decorative buttons and edge stitched seams, that's it. Becki's slipcovered pieces not only set the stage for a peaceful living room but also serve as a quiet backdrop for her curated collections.
Get a similar fabric for your slipcover: 8 oz. Brushed Chino Twill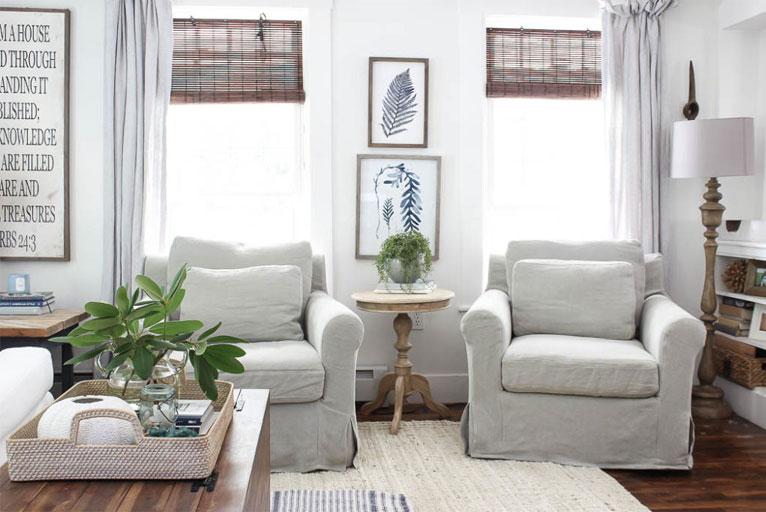 Bre over at the Rooms For Rent combined a pair of pale grey linen slipcovered chairs with her white canvas slipcovered sofa. The two very different fabrics in two neutral colors compliment each other and create a comfy, restful space.
I like how her natural wood pieces, baskets, bamboo blinds, and chunky woven rug add warmth and texture to the space. Such a pretty balance with the pale slipcovers.
Get a similar fabric for your slipcover: 12. oz Brazil Linen or 11 oz. Hemp Canvas
Melissa's pretty bench seat sofa is the Pottery Barn York, slipcovered in casual, washed white denim.
It's the focal piece of her living/family room and looks terrific with textured neutral pillows, worn leather ottoman, laid-back macrame accents, and the softly distressed rug. Now that's the way to create a tranquil space with loads of style!
Get a similar fabric for your slipcover: 12 oz. white cotton bull denim.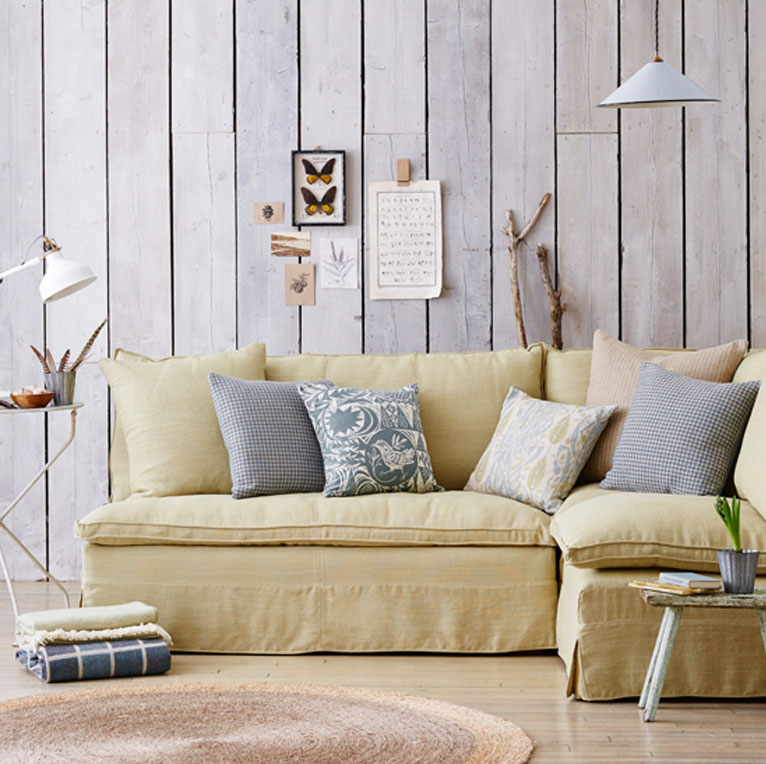 Not all slipcovers have to be white or natural to create a tranquil space. This soft yellow slipcovered sectional accented with chalky grey pillows has Zen written all over it.
I especially like how it looks in the minimally decorated room with whitewashed walls and nature-inspired accents. Feathers, botanical art, weathered wood, and greenery can add a wonderfully serene feel to any space.
Don't you love those cushy down wrapped seat cushions with narrow boxing?
Get a similar fabric for your slipcover: 9 oz. Organic Cotton Duck or 9 oz. Brushed Bull Denim Twill.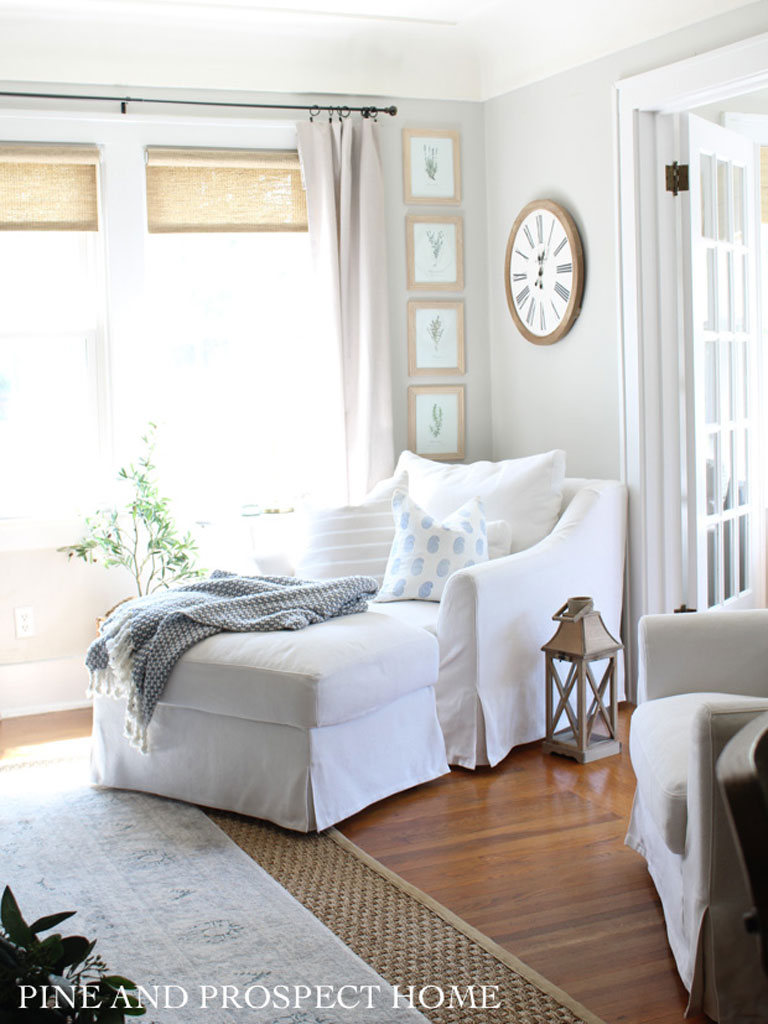 A sunny corner, a comfy chair, and a cozy throw blanket. If that's not a restful combo I don't know what is! Especially if the chair is slipcovered in a fabric and color that speaks to your idea of quiet and stillness.
For Andrea of Pine & Prospect Home, that's an Ikea Farlov chair — a graceful sloped arm design with a washable, textured cotton cover in white.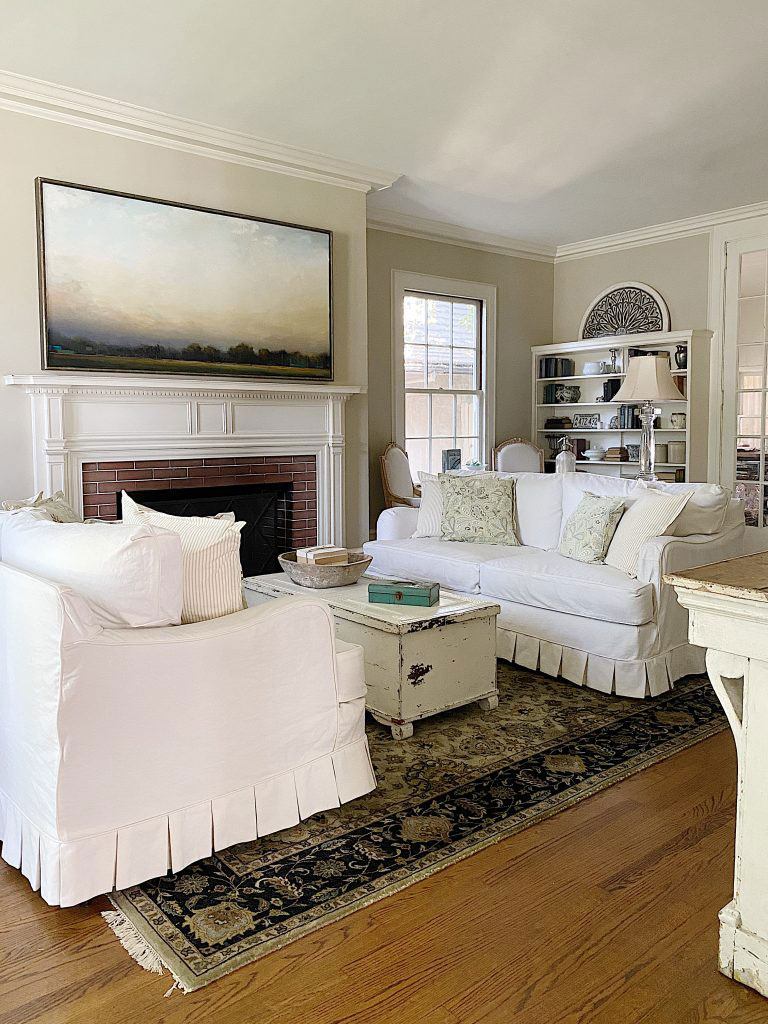 No matter if you live in a small contemporary apartment or a 100-year-old house with rooms galore like Leslie, it's easy to create a relaxed, peaceful feel with slipcovers.
The key is to unify your furniture with covers made with casual, natural fiber fabrics in a neutral color. That's what Leslie does throughout her home using basic, washable cotton denim and canvas. They make versatile, long-wearing slipcovers that are easy to wash.
Get a similar fabric for your slipcover: #12 weight Natural Cotton Canvas or 12 oz. Natural Cotton Bull Denim.