Straight Pins for Slipcover Making
Strong, sharp straight pins are a must-have for pin fitting a slipcover. I've tested a lot of sewing pins over the years and found one type that works best for pinning multiple layers of fabric together with a good hold.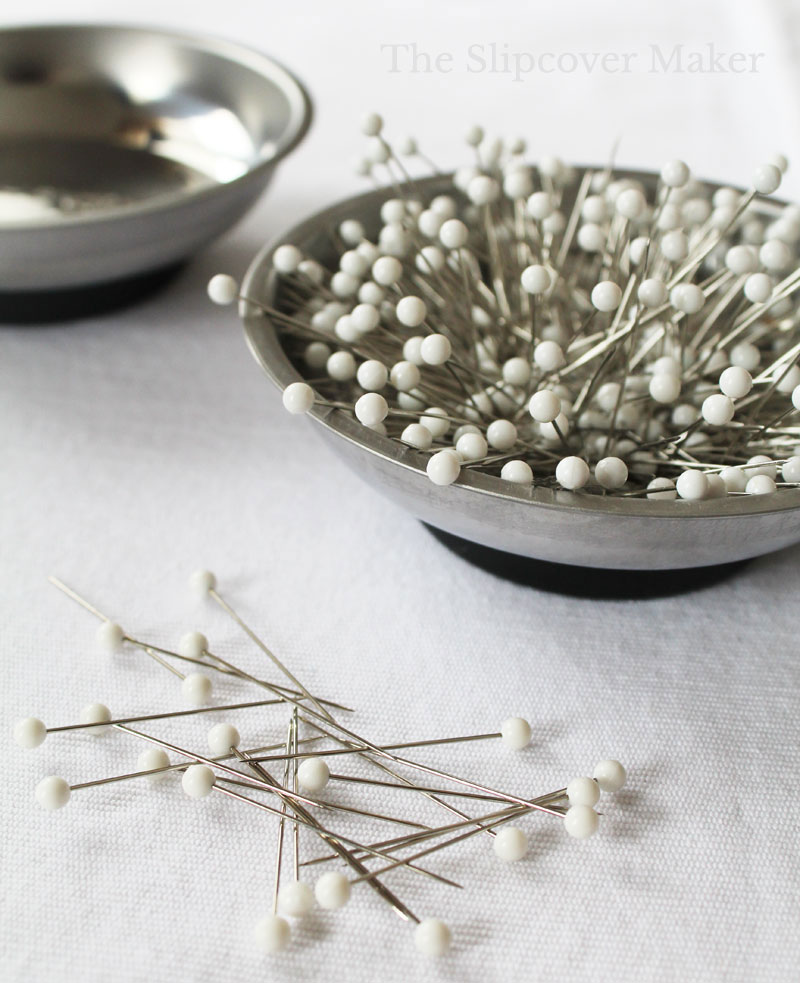 The right sewing tools make all the difference when making a slipcover. And, that includes straight pins.
When I first started making custom covers little did I know there were so many types of pins!
Each type of pin is designed for a specific use. Length, thickness, strength, tip and the type of head dictate the pin's purpose.
There are straight pins sized and shaped for quilters, dressmakers, crafters, bridal gown makers, and even for applique and sequin arts.
I remember using quilting straight pins for my first several pin fittings. Too much struggle! That type of pin is not a good match for slipcover making.
Quilting pins are too thin, too long, and bend too easily. Sharp? Oh, yes! But they are not made to pierce and hold multiple layers of denim or canvas.
A Good Pin for Slipcover Makers
Pinning a slipcover requires a strong, sharp straight pin that's not too long or too short and not too thin or too thick. Look for these features:
Type: Multi-use
Length: 1.5″
Size: 24
Tip: Sharp is a must — avoid ball points
Material: Nickel plated steel
Head: Ball style is best for gripping and pushing the pin
The pin should be sharp enough to easily insert through 2 to 4 layers of fabric.
You will be pinning not only straight seam lines but also around curves and hard-to-reach places. Therefore, it's important to use a strong pin that doesn't bend easily going in at different angles with a little pressure.
The two brands of straight pins I like most for pin fittings are Collins and Dritz (shown above). They both make a steel shaft straight pin in size 24 with a 1.5″ length and sharp point.
Straight Pin Holders
Slipcover making uses a lot of pins, which seem to end up scattered here, there and everywhere. The best way to contain them is with a pin holder.
I use a different types of pin holders depending on where I'm doing my pin fittings.
For example, I like using a magnetic holder if I'm traveling to a customer's home to pin fit.
That way the pins don't spill over in my travel kit, or go flying across my customer's living room floor if I happen to knock the holder off the sofa.
Blue Feather PinPal (shown above) does the job. This pin holder is compact in size yet holds a lot of pins. The magnet is only on top and is super strong.
I also use this magnetic stainless steel bowl to store pins on top of my industrial sewing machine. The weighted magnet bottom clings tightly to my metal machine. No spills. This holder stays out of the way and makes a good catch all for stray pins and clips.
My absolute favorite straight pin holder is my vintage ironstone bowl (above). I love the classic shape and the weighty feel. It's a beautiful alternative to plastic or metal.
I use this pin holder in my workroom. It's deep enough for all the pins I need for a pin fitting and other sewing projects.
I got my ironstone bowl at POSH, my favorite home & gift store in Chicago.
They often carry vintage restaurant ware like mine — bowls, cups, plates, etc. Right now they're featuring this cute Vintage Jackson China Cereal Bowl. Your next pin holder perhaps?