Best Blue Jean Denim for Slipcovers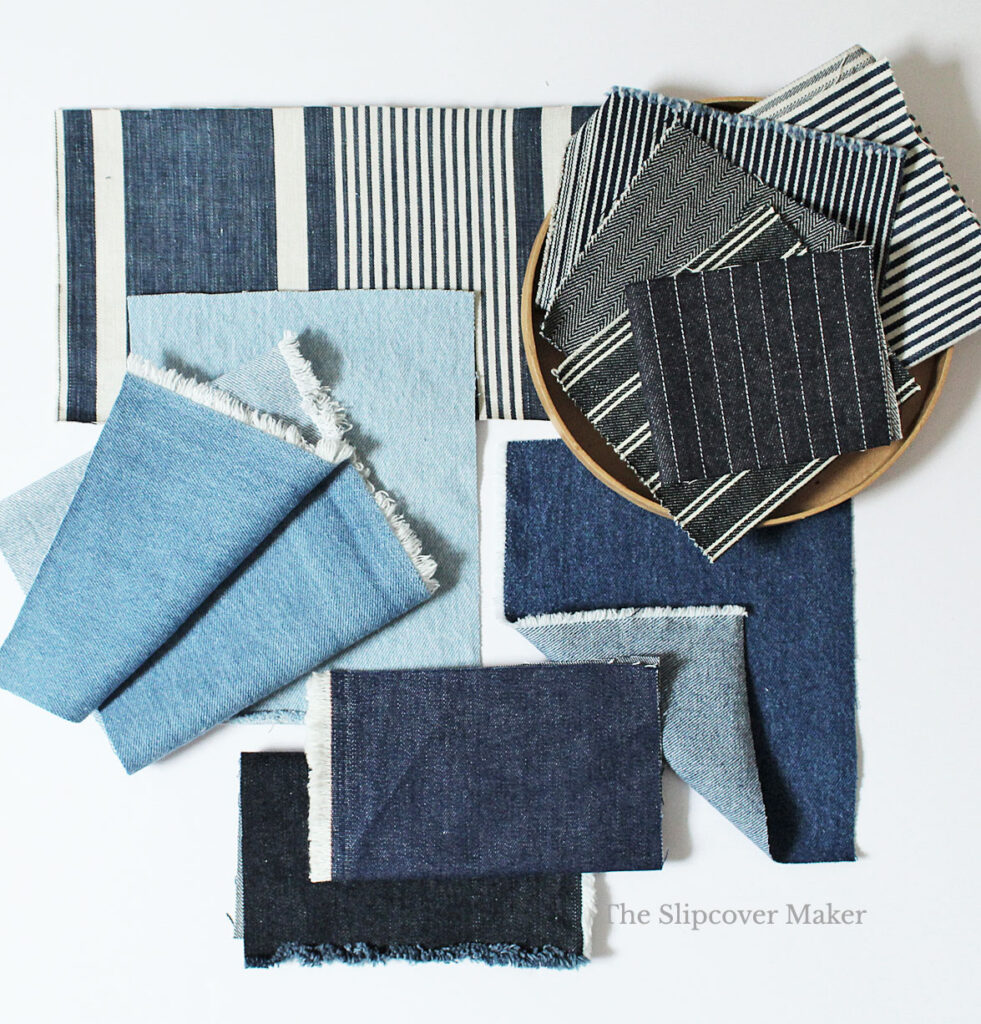 Cotton blue jean denim is ideal for washable slipcovers. This versatile and long wearing home decor fabric is designed for comfort.
I like using it to cover cozy armchairs and family-friendly sofas. It even works great for daybeds and dining chairs.
In this post I share some of my favorite blue jean denims along with tips for choosing the best one for your slipcover project.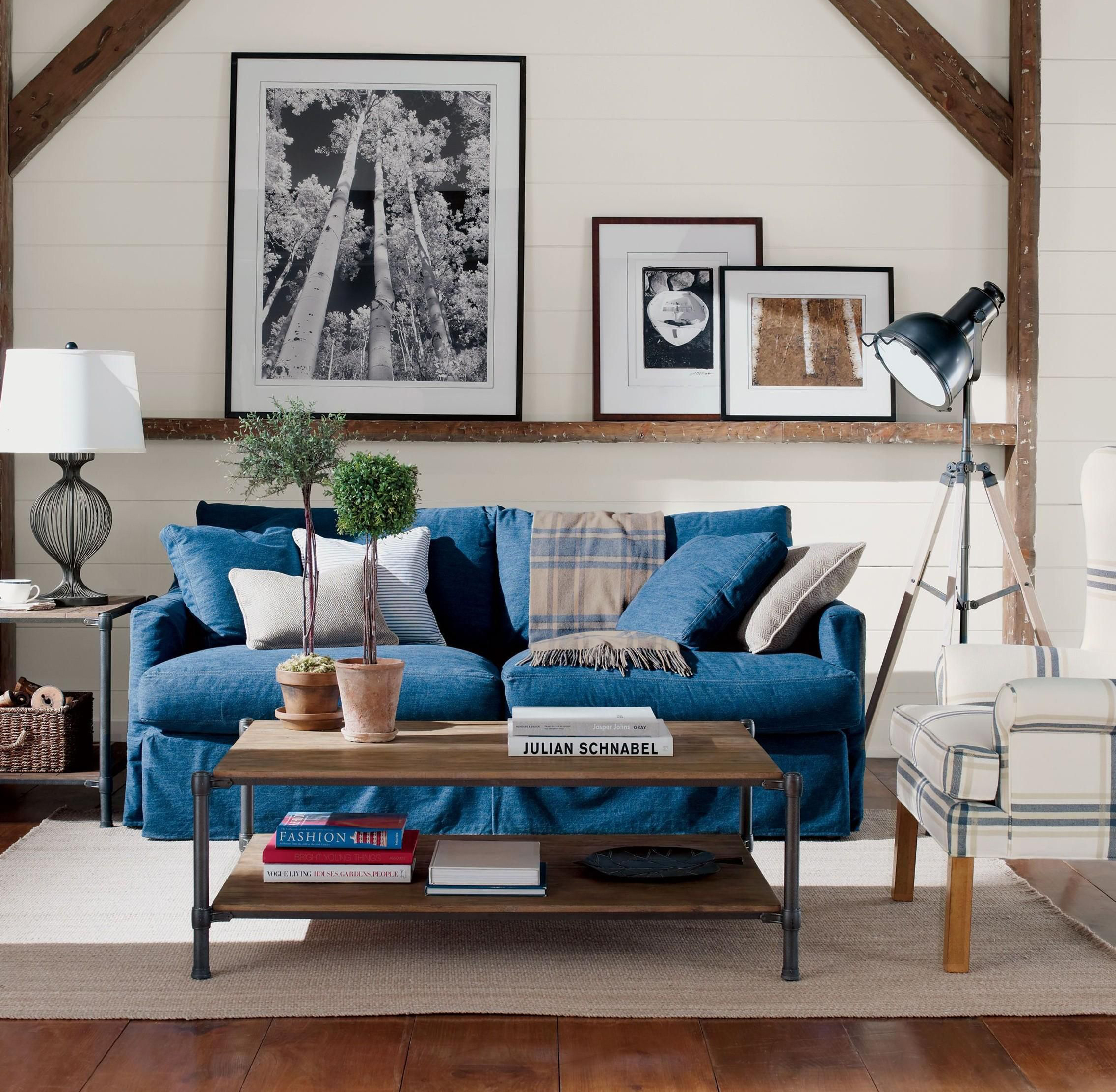 I think of blue jean denim as the queen of all slipcover denims. It has a ton of character, much more than bull denim, and it boasts a wider range of blues than any other fabric.
However, choosing the best one for your slipcover project takes a little bit of know how. Here are a few tips to get you started:
1. Stay Away From the Stretchy Stuff
When I talk about blue jean denim for slipcovers I'm referring to indigo yarn-dyed denim — a durable twill woven tightly with natural and dark blue yarns.
As you shop for options, look for 100% cotton and stay clear of the stretchy ones. You know, the kind that has built-in synthetic stretch and bags out after you've worn your jeans for only a few days. Drives ya crazy, right?
An all cotton blue jean denim is my number one favorite for washable slipcovers. It will pin fit easier and wear longer than a stretch denim.
2. Choose a Weight Based on Finish
The special wash finishes that give blue jean denim it's beautiful grainy character also can make the fabric feel lighter or heavier than the weight listed in the description.
For example, a 12 ounce denim that has been treated with bleach and a heavy wash finish will feel softer, more limp and lighter weight than a 12 ounce dark indigo denim that was treated with only a light wash resulting in a heavier, stiffer feel.
This makes it a bit tricky to know which weight will work best for your slipcover.
I use 12 ounce for most of my yarn-dyed denim slipcovers. But depending on the finish, I might end up choosing a 10 or 14 ounce for better results.
My best advise — choose blue jean denim weight based on color/finish first, and then check to make sure it offers good coverage and durability for the type of slipcover you're making.
Tip: If your sewing machine can't handle 12 ounce denim, go with a tightly woven 10 ounce medium weight.
Learn more about how to choose denim weight with this simple guide.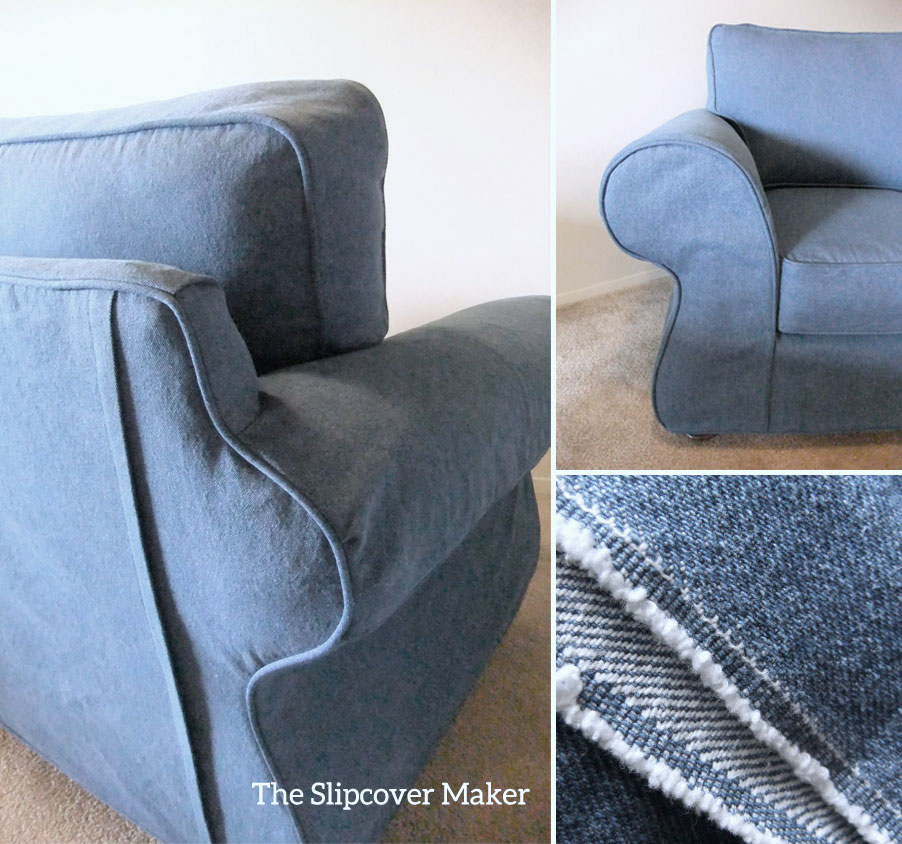 3. Test for Crocking
Cotton blue jean denim is finished using a variety of special washes: stonewash, acid wash, bleached, enzyme washed, tinted and vintage wash, and rinsed are some of the most popular ones.
As a result, you'll find indigo denim fabrics offered in a many shades of blues: bleached pale blues, classic medium blues, saturated dark navy and more. You have a lot to choose from!
I love the saturated inky shades like the medium dark blue above and the super dark indigo shown below. They make gorgeous slipcovers.
The downside is the darker the indigo blue the more likely the dye will bleed in the wash and crock when dry.
Bleeding in the wash doesn't really concern me. Like a pair of jeans, you'll wash your yardage and finished slipcover separate from light color items.
It's the crocking that's the stinker.
When a dry denim crocks, it transfers color to another fabric when the two rub together.
Imagine wearing white pants while lounging on a dark denim sofa and later discovering they picked up some of the indigo dye!
If you go with a medium to dark indigo yarn-dyed denim, be sure to do a crock test before making your slipcover.
Karen's crock test instructions:
Stitch a decent size swatch of denim to a larger piece of unwanted fabric.
Machine wash and dry on hot.
Rub the

dry

denim on white fabric. Rub vigorously for at least one minute.
Check the amount of dye that transferred.
If the dye residue is very noticeable, I recommend washing your denim yardage two times before starting your project.
That will minimize, or maybe even omit, the crocking later on when you use your slipcover.
Blue Jean Denim Resources for Slipcovers
I purchase 100% cotton indigo yarn-dyed denim for my slipcover projects from a variety of retailers.
It's always a hit or miss search, but hopefully the tips I shared above will help you find exactly what you're looking for.
Carr Textile via SellFabric.com –12 ounce indigo denim in a range of blues and even some yarn-dyed stripes.
The Slipcover Maker– this is my favorite 14 oz indigo yarn dyed denim. I offer it in two shades of blue. Read my review here.
Nick of Time Textiles — check out the ever changing assortment of indigo denims in a variety of blue colors and weights from this discount fabric retailer.
As always, buy swatches before you purchase your slipcover yardage.
And, if you get a chance, tell me which blue jean denims you love most.