Back Cushion Slipcover Designs + Sewing Tutorials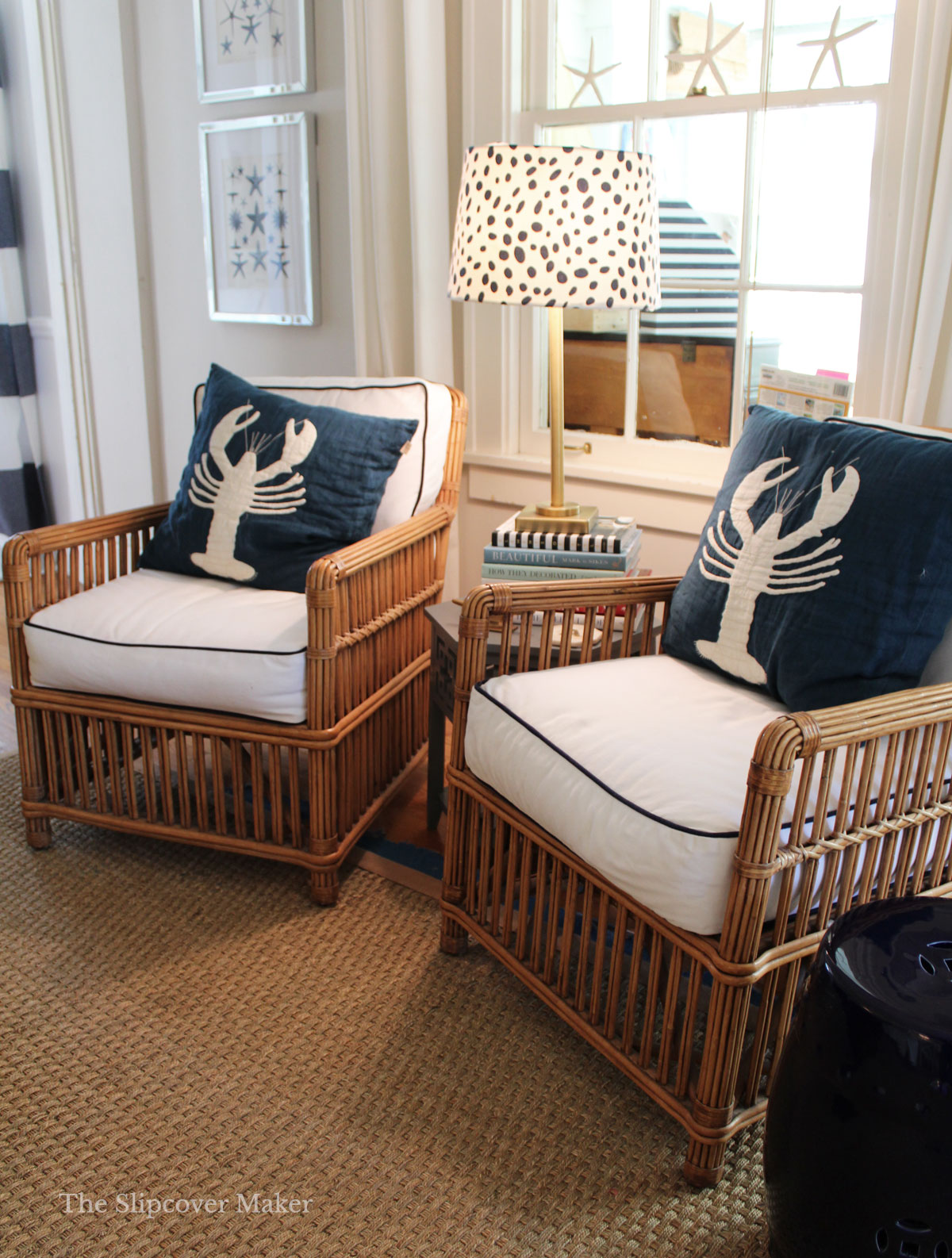 Do you want to make your own back cushion covers? Get familiar with the shape, construction and seam finish BEFORE you tackle your project. It will make your prep and production go so much smoother.
In this post, I break down the most common types of loose and attached back cushion designs. I also include links to a few sewing tutorials that will equip you with the basics. Enjoy!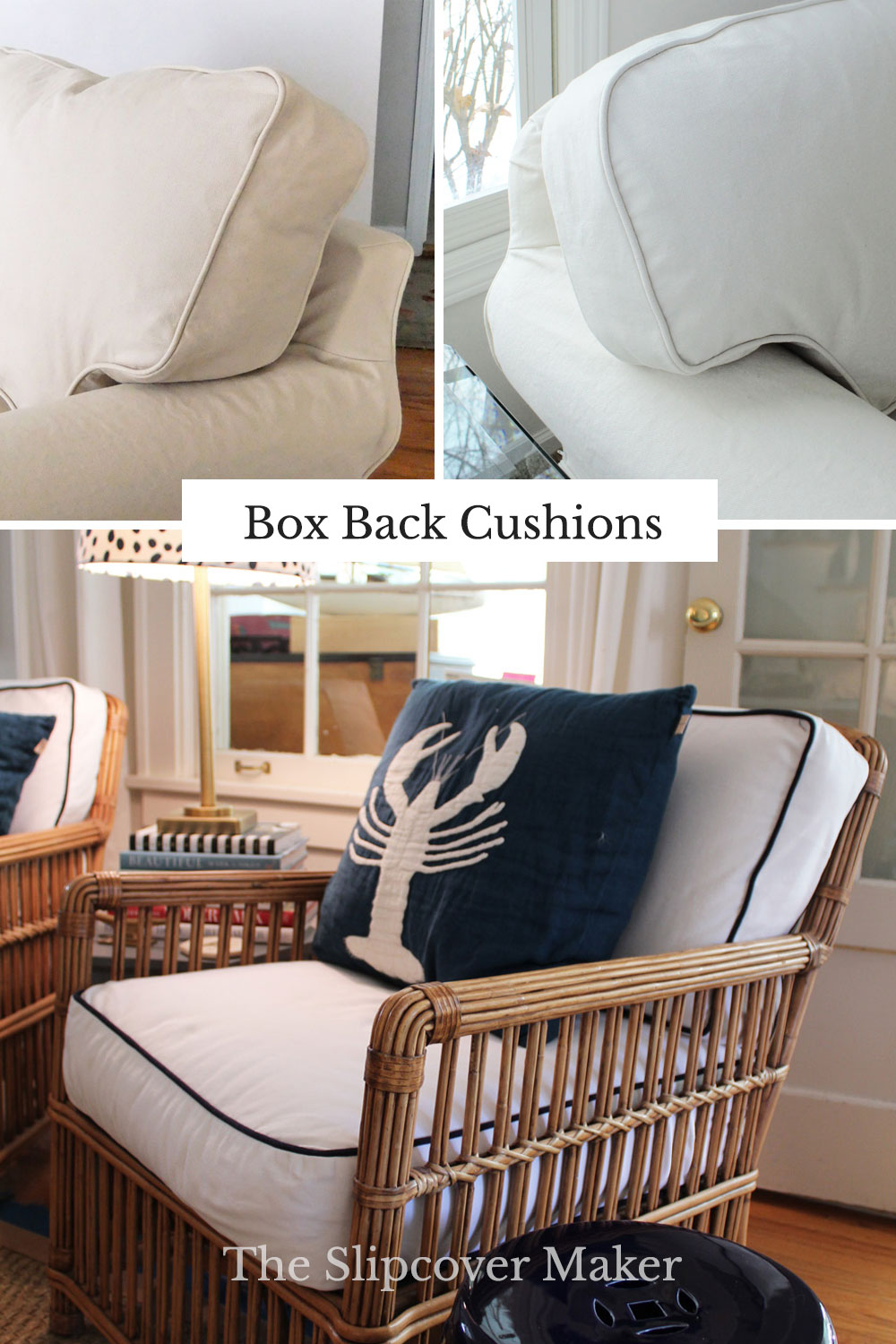 Box Back Cushions
A boxed back cushion is my favorite design. I love the versatility and range of shapes. They can be slipcovered to look tailored and crisp, or relaxed and soft depending on your choice of insert and fabric.
This style of cushion cover features a boxing panel that connects the front cover to the back, which provides depth and structure. The width can be narrow or wide. It's designed to suit the thickness of the cushion insert.
The most common box cushion designs are square, rectangle, T-shape and L-shape. Top corners can be squared, rounded or sloped to match the insert shape.
Any type of seam finish can be used on a box cover. Welt cord will give you the most definition. If you want a softer look omit the welt cord and go with topstitch or empty welt.
Sewing Tutorial: this Sailrite video shows how to use your original box cushion cover to make a new one.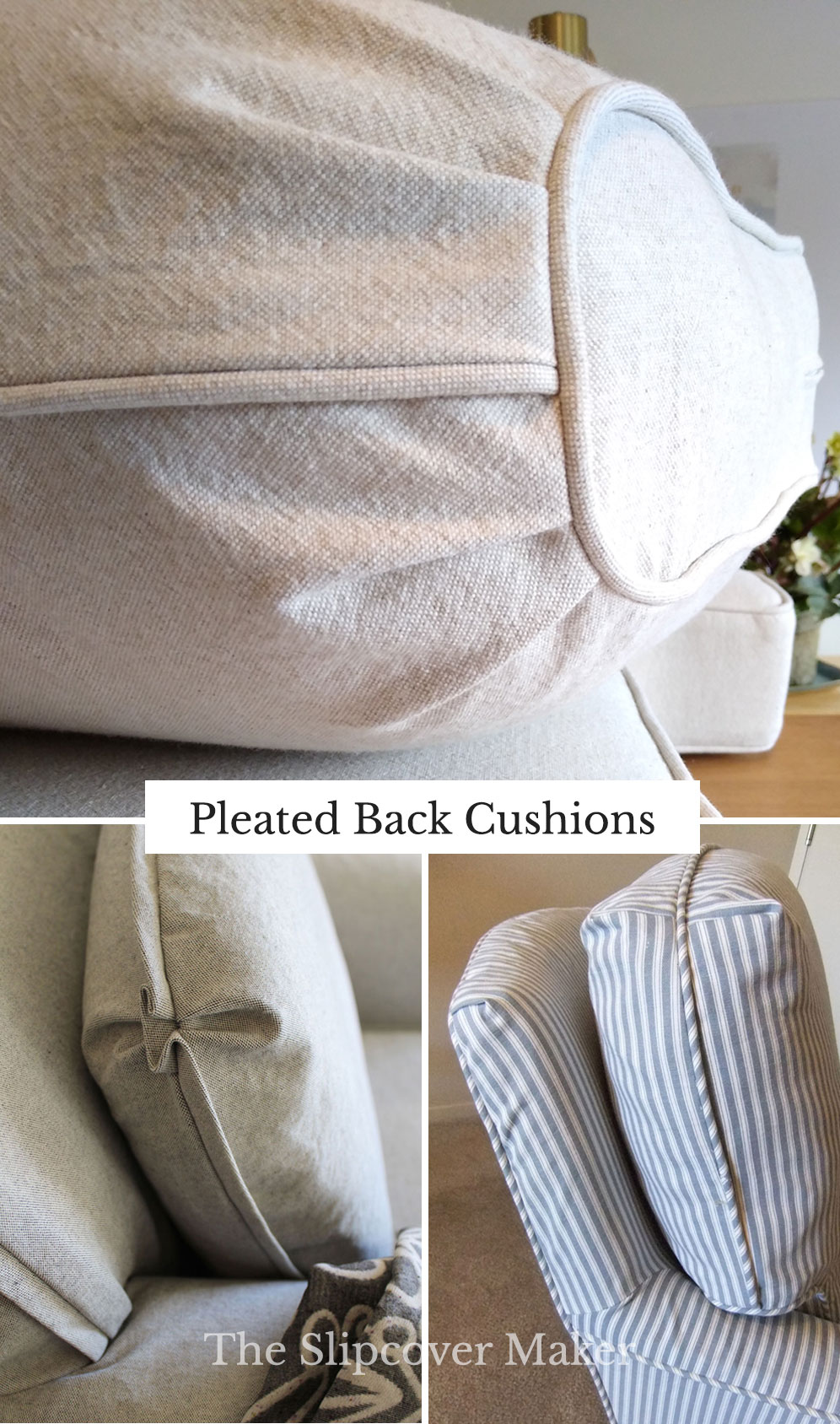 Pleated Back Cushions
A pleated back cushion cover relies on soft tucks or pleats to give it shape and style. It's a mock-box design that is less structured than a boxed cushion.
Small Turkish pleats are commonly used on this type of cushion. The construction is similar to an inverted box pleat, and they pop open a bit when stitched to the upper corners.
Another popular pleat style is the layover pleat (top photo). Two to three are placed in the upper corners with pleat folds facing in the same direction.
Pleated back cushion shapes can be square, rectangle, T-shape and L-shape. No matter the shape, the pleat detail is placed only at the top corners. The lower portion of the cover is usually designed in one of two ways to create depth and the zipper opening:
Partial boxing panel with zipper.

Mock-boxing with zipper opening and stitch boxed corners.
I like to add welt cord or empty welt for a professional finish.
Sewing Tutorial: In this video, Susan Woodcock demonstrates how to create a pleated corner on a throw pillow. You can use this same technique when making a back cushion cover. Keep in mind the suggested pleat measurement might have to be increased depending your cushion's size and insert thickness.
Knife Edge Back Cushions
When it comes to throw pillow covers, the ultimate knife edge design has crisp, smooth edges and sharp, squared corners. No seam detail. Invisible zipper. The look is clean and polished when light to medium weight fabrics are used.
However, for back cushion covers in a washable medium to heavyweight fabric, a knife edge design takes on a slightly different look:
Top corners when turned right side out appear a bit rounded due to the bulky seam allowance.

Bottom corners are boxed stitched with 3″ to 4″ depth. This is also referred as a gusset bottom.

No boxing panel.

No pleats.

Welt cord is often used but not necessary.
The shape of a knife edge back cushion is square, rectangle, or a modified rectangle. The overall look is more like a pillow than a cushion.
Sewing Tutorial: this video shows how to create stitched boxed corners. The folks at Sailrite demonstrate on a throw pillow but you can use the same method for your back cushion covers.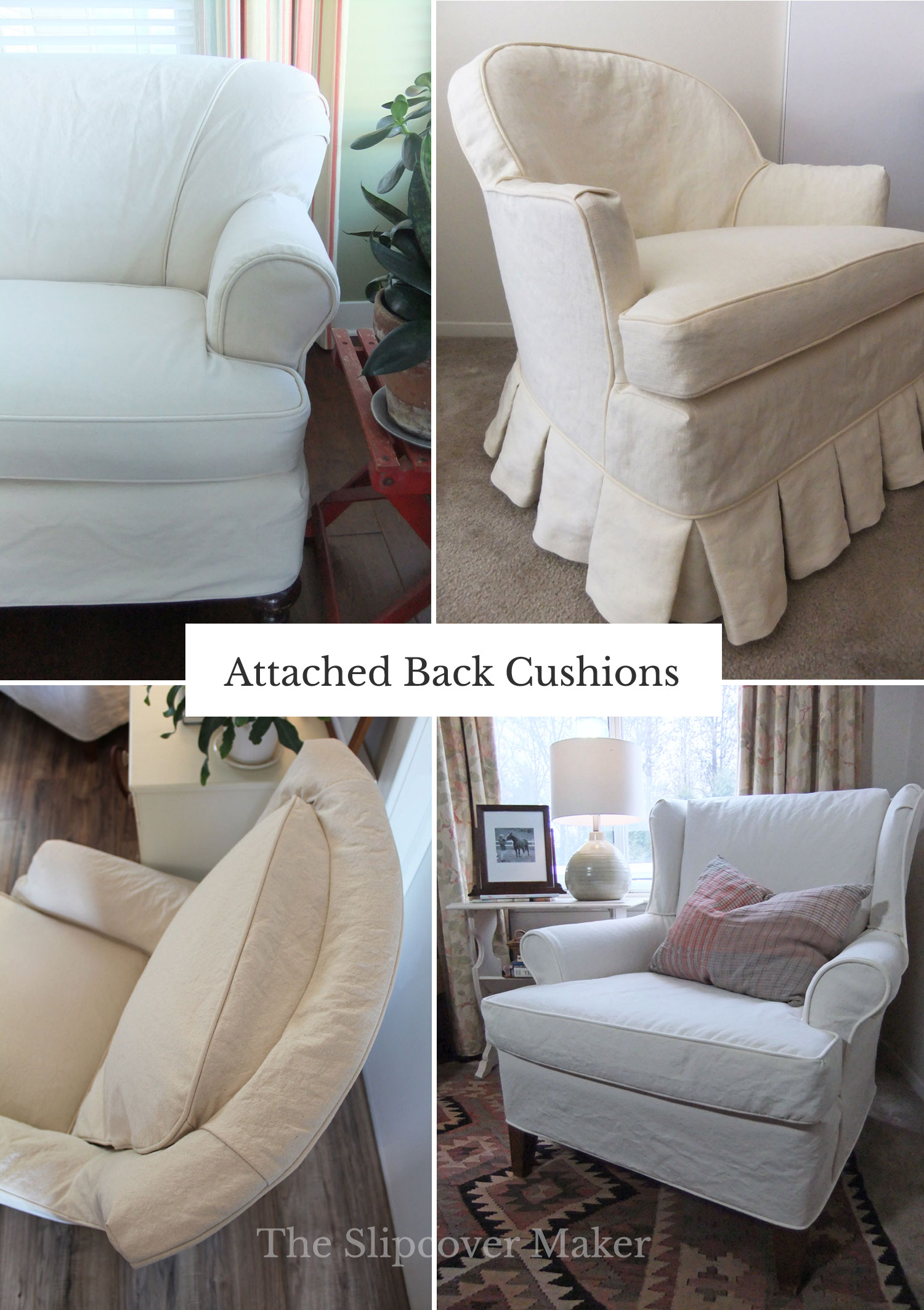 Attached Back Cushions
There are two categories of attached back cushions: loose-fill insert cushions that can easily be detached, and foam cushions that are built into the furniture frame and should not be detached unless you want a gapping hole in your sofa or chair!
A loose-fill attached cushion is easy to slipcover. Follow my instructions for detaching it and then use the original cover as a pattern.
A built-in attached cushion is much more challenging to cover. There are many different designs but just know not all of them are good candidates for a slipcover.
If yours is doable, you will need to use specific pin fit techniques for capturing the shape.
Here are just a few examples:
> Tight back pieces such as wingbacks (photo lower right corner) and club chairs. Tuck-ins and darts are key to creating a good fit.
> Concave and convex shaped cushions like this loveseat (photo upper left corner), this armchair (photo upper right corner) and this Sherrill sofa. Shaping seams and/or boxing work best.
> Unusually shaped back cushions that stand away from the inner back like this armchair (photo lower left corner). You might need to use boxing and/or tuck-ins, and/or shaping seams….or, any other technique that gets the job done.
Have fun making your new cushion covers! And, for those of you creating slipcovers for loose cushions, you might want to refresh the insert if they're looking tired. It's easy!
Thanks for following! Until next time,
Karen