My Tiny Slipcover Workroom + Tips for Flourishing in a Small Space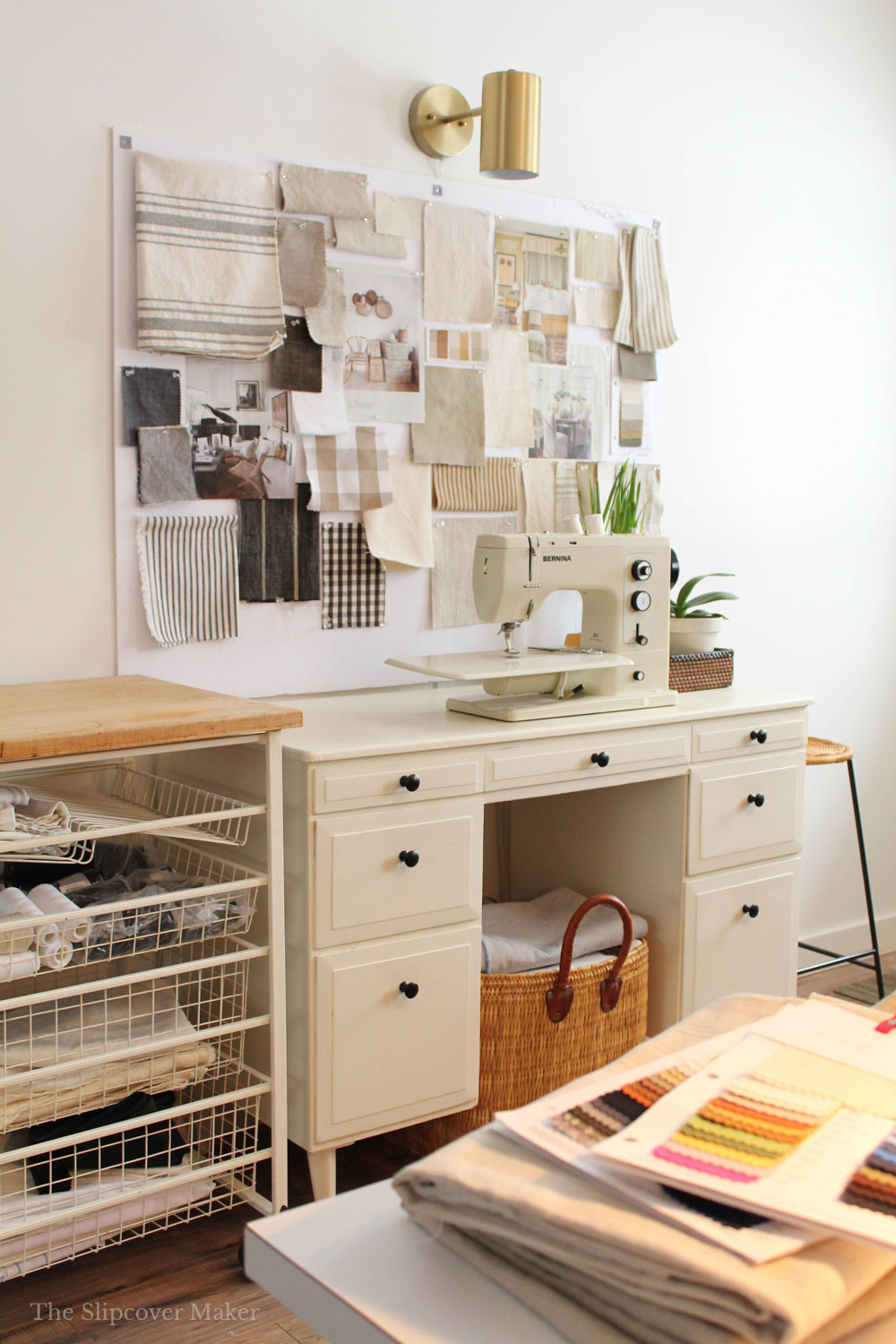 Cheers everyone, happy new year! It sure feels good to turn the page to 2021, doesn't it? I'm ready to reorganize, reinvent and renew!
If you're feeling the same way, today's post just might inspire a new beginning for you. Especially if you've been mulling over the idea of starting a slipcover business, or other sewing service from your home but don't think you have enough room.
Come take a tour of my little workroom and see for yourself how it's possible to flourish in such a small space.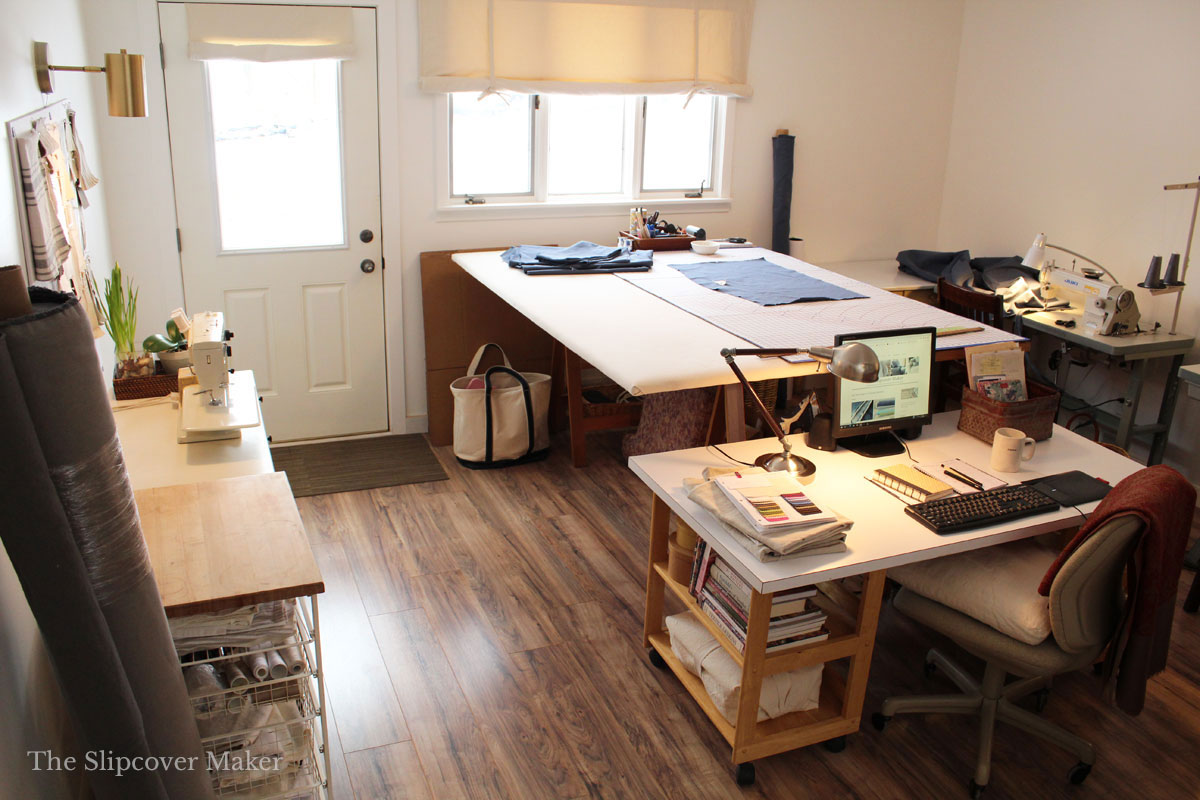 Size: I reside in a small live/work space. The area designated for my slipcover business is only 12 feet x 14 feet. My living area is even smaller, and there is no chance of expanding!
This compact footprint suites the type of services I offer, and my simple lifestyle. It allows me to keep my overhead costs low as my business continues to grow.
1.Design your business to fit your current space.
The slipcover business model I chose doesn't require a lot of square footage to flourish.
I'm able to produce a lot of slipcovers in my little workroom, and still have plenty of space to carry out related activities: marketing, administrative tasks, blogging, publishing ebooks, photographing my work, and everything else that comes with the job.
I can even do pin fittings here if I choose. Small chairs, ottomans, and cushions only. Larger pieces can be pinned at customers' homes.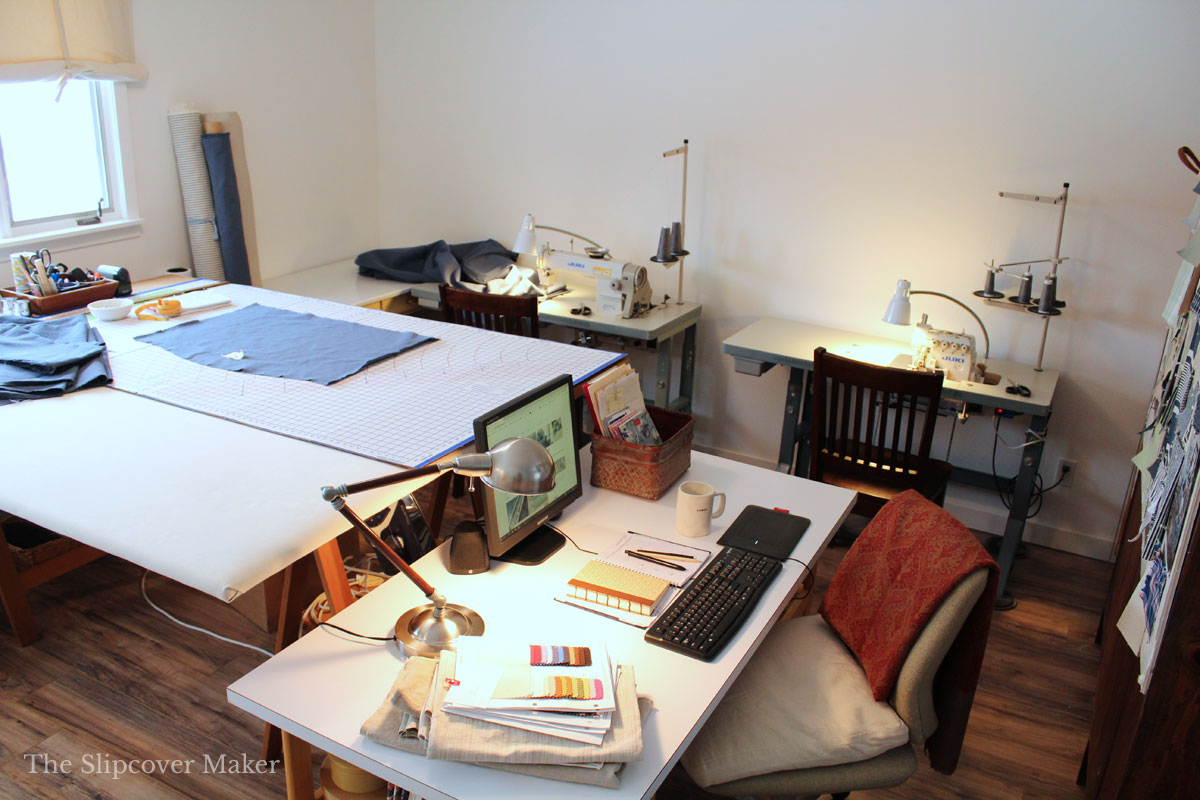 Layout: You really don't need a lot of furniture and equipment to run a slipcover business out of your home. But you do have to consider the size of each piece, and come up with a smart layout.
For the type of work I do, I only need these pieces.
A large cutting / pressing table, 60″ W x 80″ L x 37.5″ H

A computer desk, 60″ L x 30″ W 

A shelving unit and storage drawers 
I also use my portable Bernina home sewing machine. I set it up occasionally to sew button holes, and topstitch details. When I'm done, I store it out of the way. It's more of a mascot than a necessity. 🙂
2. Configure an efficient & flexible layout to maximize space.
I designed my layout in zones: pin fitting, cutting/pressing, sewing and computer work. Super efficient.
Each piece of furniture I use is sized for my small space, has dual purpose, and is easy to set-up, take down, and move around if I ever need to reconfigure my layout. Very flexible.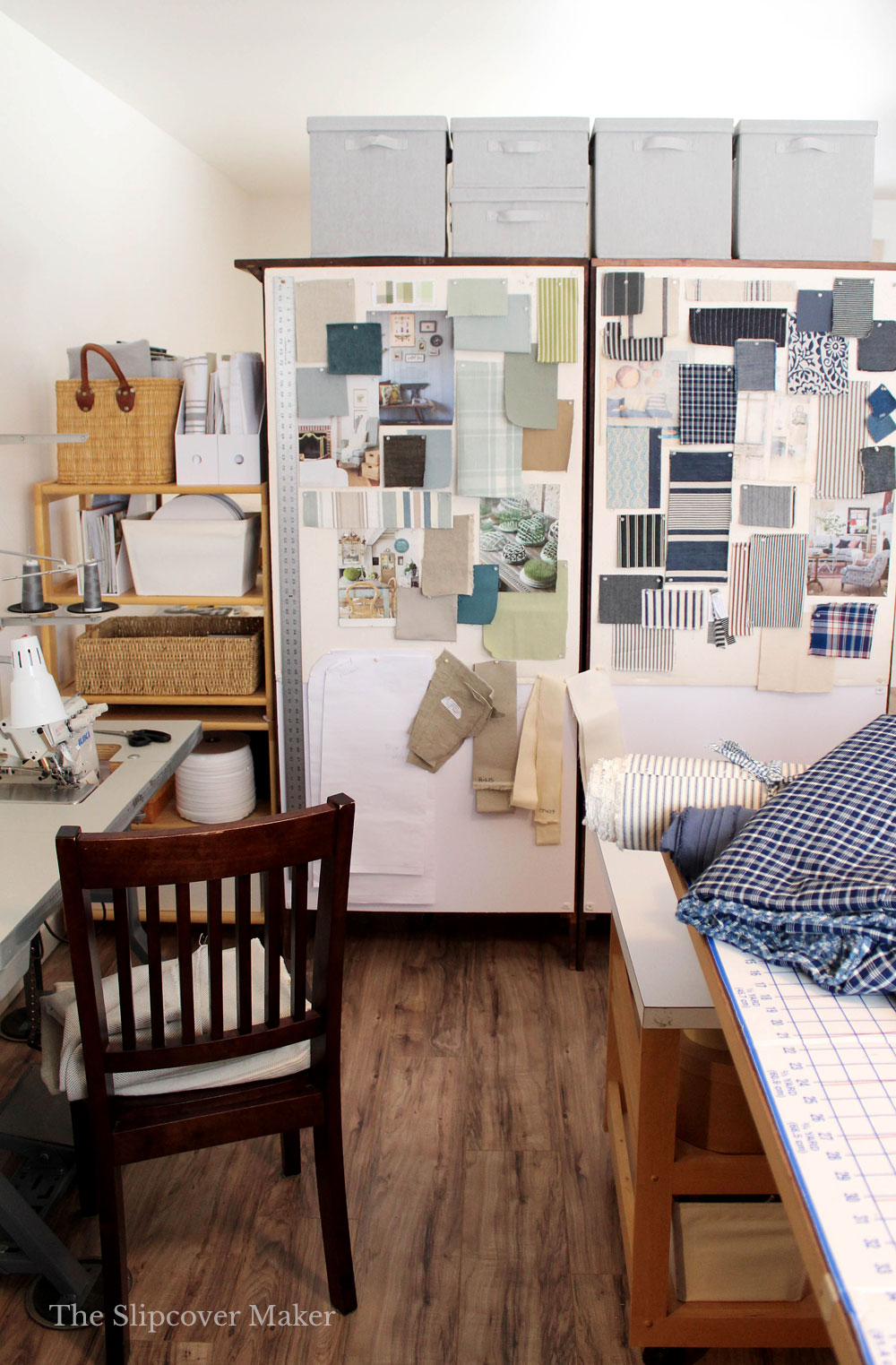 Storage: Thread, Velcro, zippers, welt cord, skirt lining, fabric, scissors, measuring tapes, pins, rulers, pencils, chalk, magazines and office essentials are just some of the tools, materials and supplies used in a slipcover workroom. It's a big list!
When space is limited it can be challenging to come up with practical storage solutions that are not underfoot.
3. Organize & store essentials around the peripheral of your space to keep your work area clutter free.
My workroom doesn't have any closets. That's why I chose furniture that has some kind of built in storage capability. Small items are easy to access and stay out of the way.
Now, I'm not saying my space stays spotless when I'm working on a project. It get's messy in here!
That's all the more reason to keep items stored in their places until needed. Tripping over boxes and piles of stuff scattered across the floor when you're trying to meet a deadline is not fun.
I also don't overstock supplies. I buy in quantity but only what will fit in my allocated storage.
For tall fabric rolls and big bags of fiber fill I set up a small, protective storage area in my garage. I bring in only what I need for the project I'm working on.
Well, I could go on and on. There are so many other ways your slipcover business can flourish in a small space.
For now, I hope these tips, and pics plant a few seeds for starting your own home based business workroom.
Don't let limited space hold you back from pursuing your creative endeavor. Take over a second bedroom, a corner of your basement, or even your dining room! I know, I know — easier said than done. But it is possible with thoughtful planning and determination. You can turn a tiny workroom into a thriving business.
Whether you're ready to launch, or still exploring, don't forget — I wrote an ebook for you, The Slipcover Maker's Business Guidebook.  I think you will find the step-by-step guidance very helpful. 
I wish you all a healthy and happy new year! — Karen