Tie Closeure Ideas for Slipcovers
Slipcover ties can be both decorative and functional. Use them as charming closures to help your furniture cover stay in place. Here are 6 inspiring tie designs + simple instructions for making your own.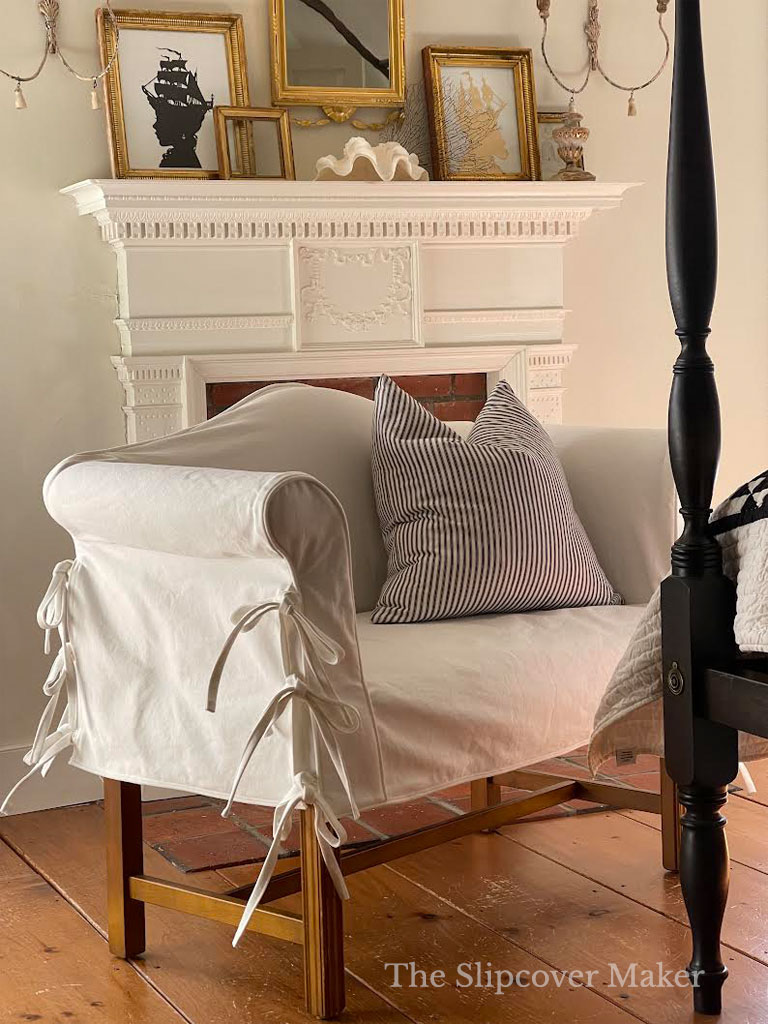 I recently finished a slipcover copy project in white denim for this lovely settee. Each corner has three tie closures and a wide flap underneath to hide the posts.
No corner seams or zipper openings. Just a simple tie-on design with lots of charm. It's so pretty especially in my customer's gorgeous bedroom!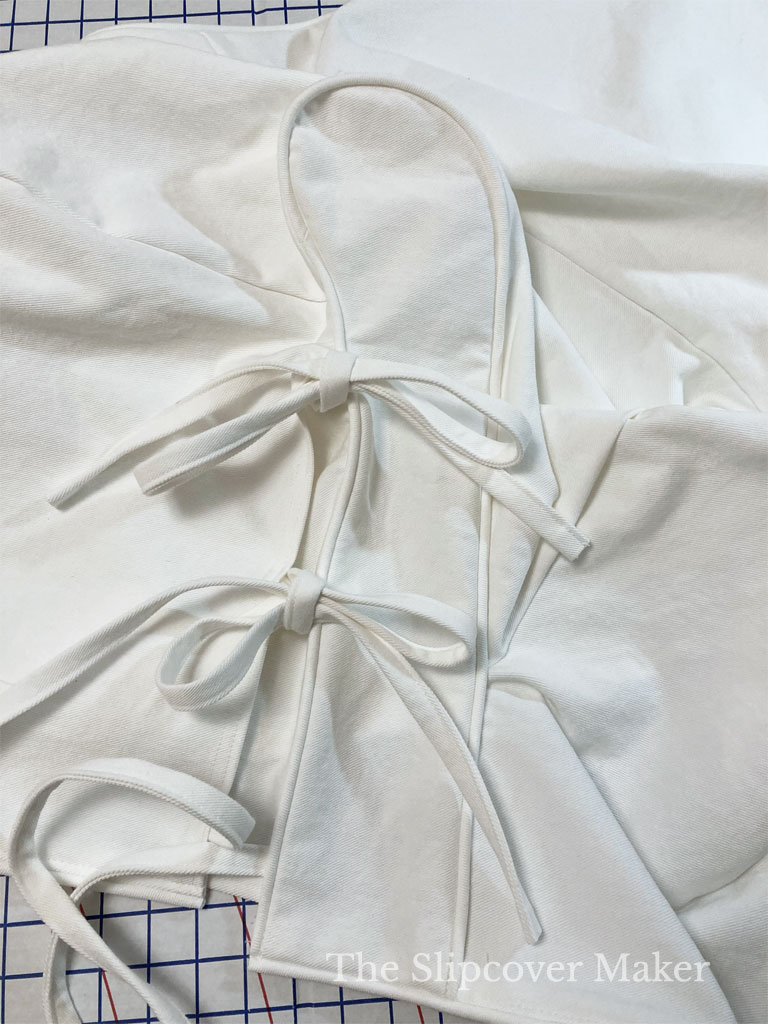 Here is a close-up of the ties. They measure 20 inches long x 5/8 inch wide. They are longer and slimmer than the orginal wide ties. I love how they create a floppy, graceful bow when tied.
Tie width and length are personal choices. However, it's a good idea to keep function and spacing in mind. As I work on a slipcover, I like to mock-up at least one tie and pin it to the furniture to see how it looks with the design and porportion.
Let's take a look at other tie designs. I've curated a group of ideas I think will inspire some creative options for your own slipcover project.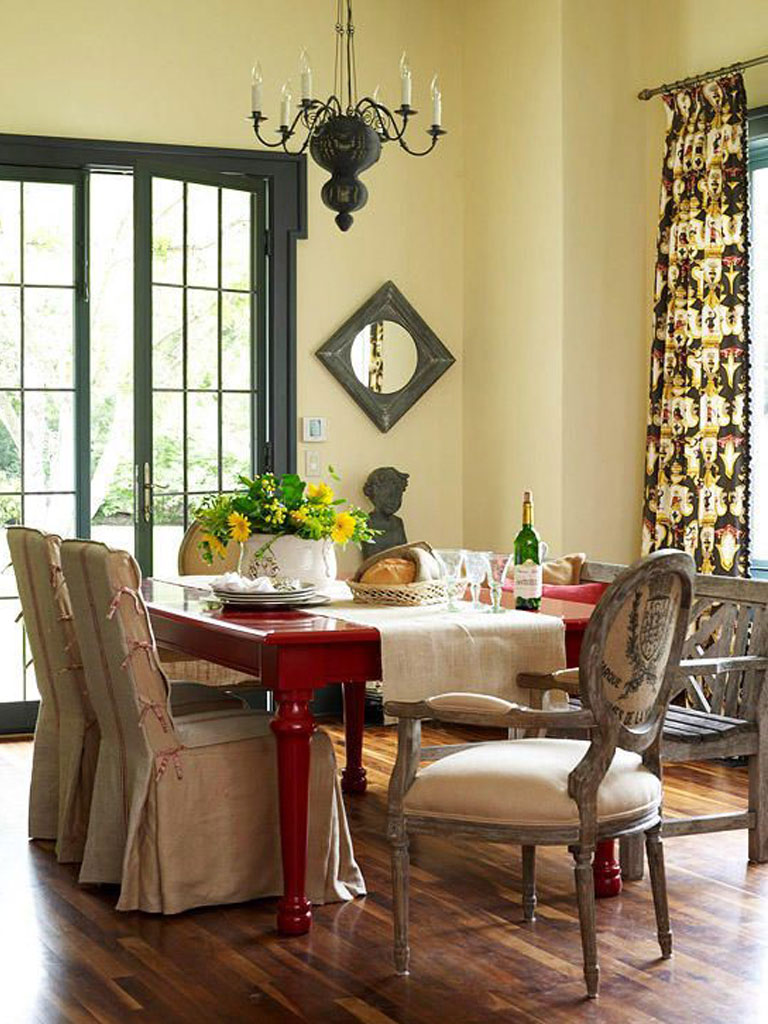 1. Short Knot Ties
The dining chairs above use short, slim knot ties. They are closely spaced along the narrow side panel. The tie size and placement suits the chair scale and design. See how the side panel is a flap? Such a cool idea!
2. Contrast Ties
Floppy ties close this simple slipcover with casual knots at the back corners. The soft, loose look and function work well with the slipcover's relaxed fit. Take a close look and you will see the ties are made with the same constrast stripe used on the skirt and inverted pleat opening. Now, that's a well thought out design.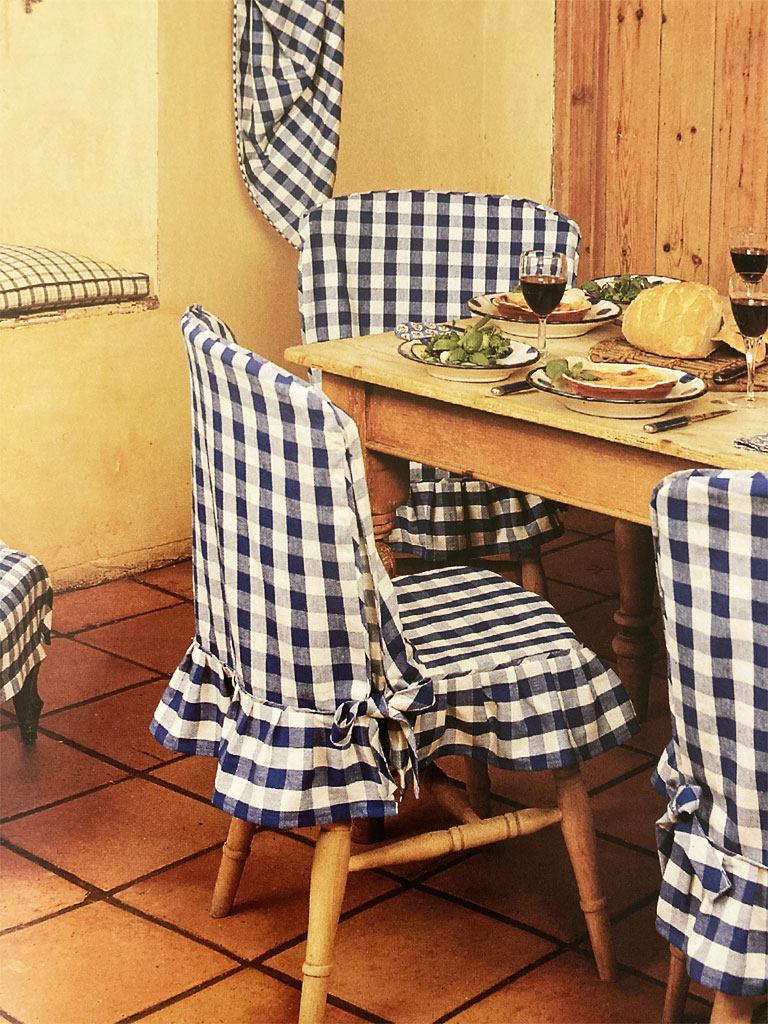 3. Single Tie
You don't have to go crazy with a bunch of ties! Sometimes a single tie attached to a slipcover in just the right place adds the perfect amount of charm and function.
The little gingham covers above are styled with a single floppy bow tie — one at each side opening. Their function is to close the gussett openings and add a sweet detail rather than hold the cover in place.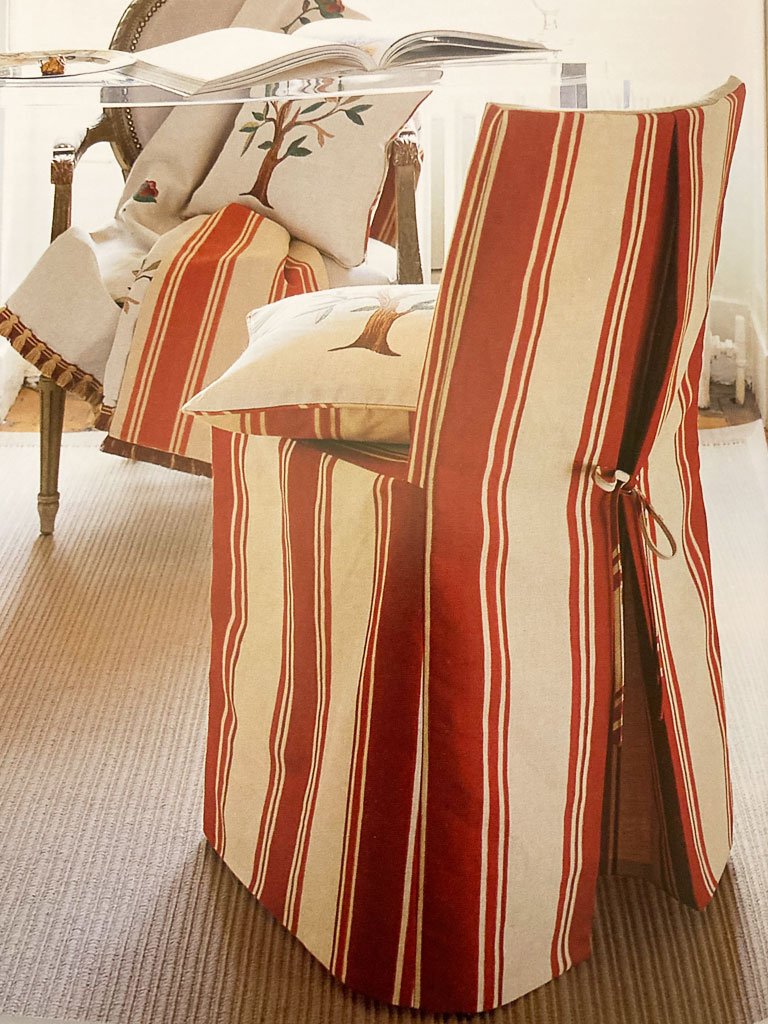 The single, skinny tie with extra long tails on the striped slipcover above cinches a deep inverted box pleat at center back. This type of tie closure gives shape to the cover and lends a tailored look.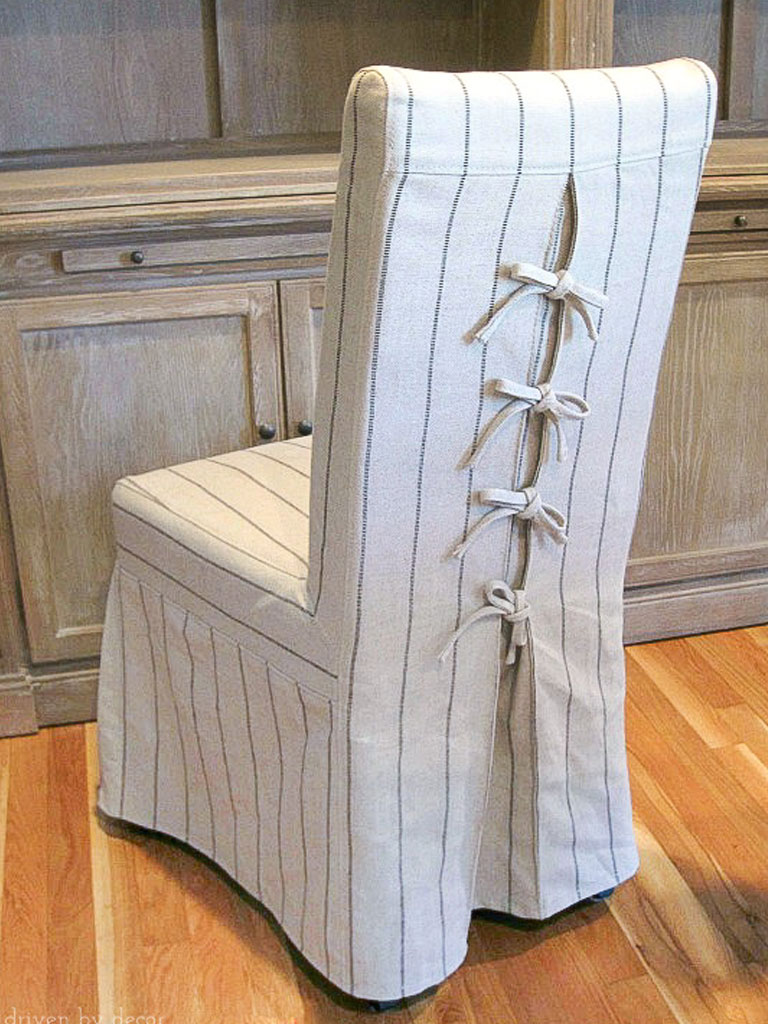 4. Multi Ties
Several tie closures placed in a row at center back or on back corners makes a dramatic design statement on a slipcover. They also do a great job at keeping sections snuggly in place especially on fitted covers.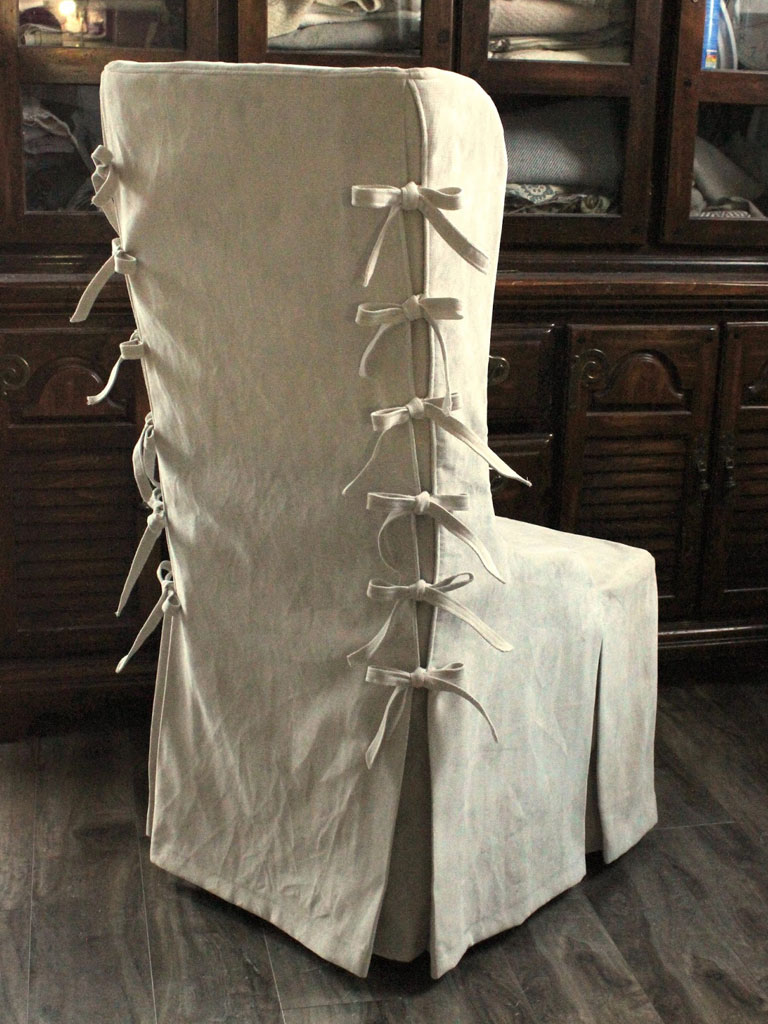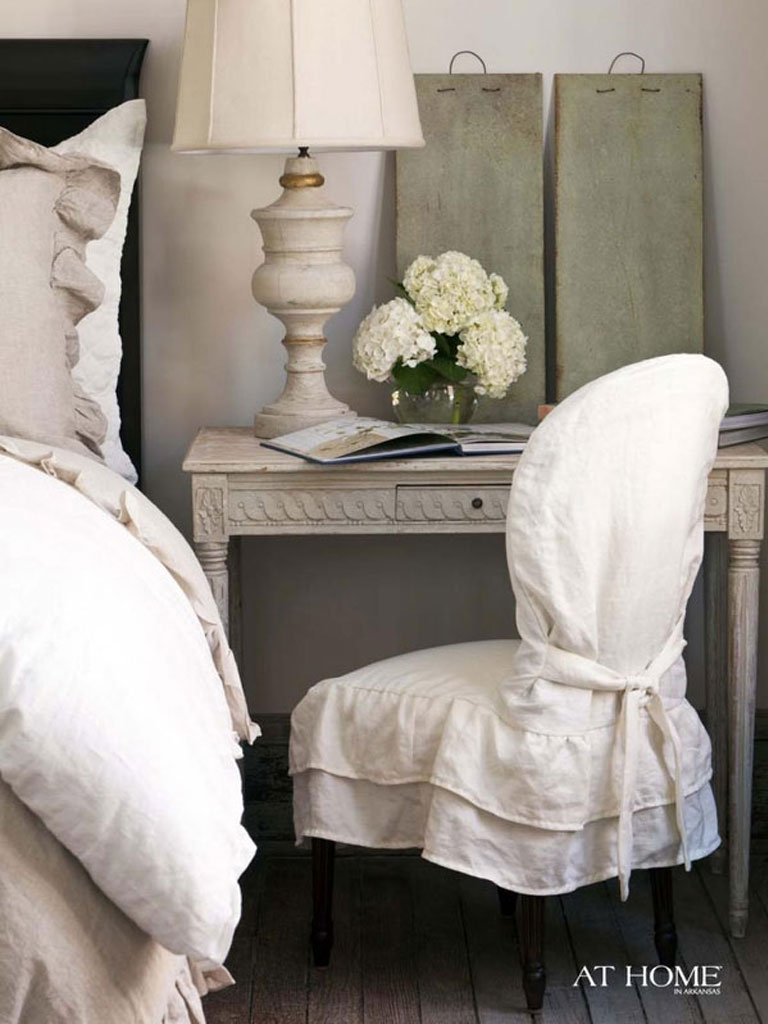 5. Wide Cinched Ties
Wide ties attached in the side seams and tied at the back create a carefree cinched look. They work especially well on loose fitting slipcovers made from light to medium weight fabrics such as washed floppy linen like the slipcover shown above.
A wide tie will also work in other soft fabrics and will give a cinched appearance on fitted slipcovers.
For example, I replicated the pink slipcover shown (above) in washed navy ticking. The tie measured 6 inches at the side seam and tapered to 3 inches. A tie this size often looks better tied in a casual knot than a big, flouncy bow.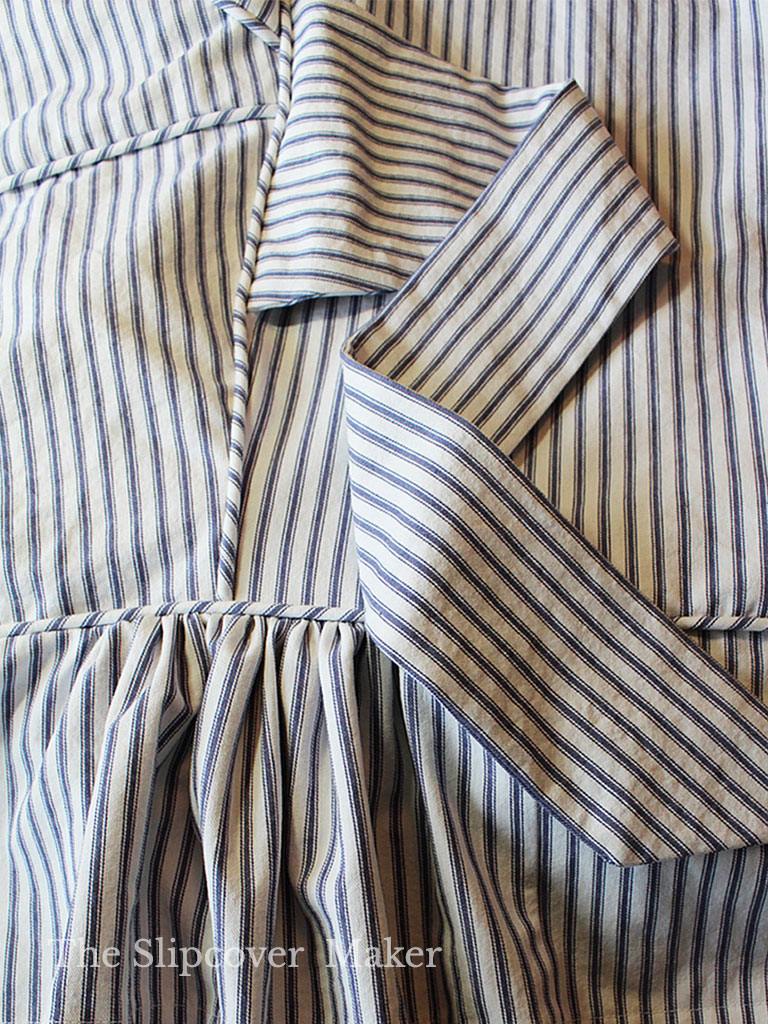 6. French Chair Ties
A tie closure at each post on a French chair is a must in order to get the slipcover on and off. Of course, you can use Velcro or buttons instead. But let's face it, ties and French chairs go hand in hand!
Shelley's white French chair slipcover below features long narrow ties that hold the sides to the back starting just under the upper arm post. She also placed a tie around the base of each arm post, which helps keep skirt panels in place at those points.
Tie placement on this piece is well thought out and balanced. I like!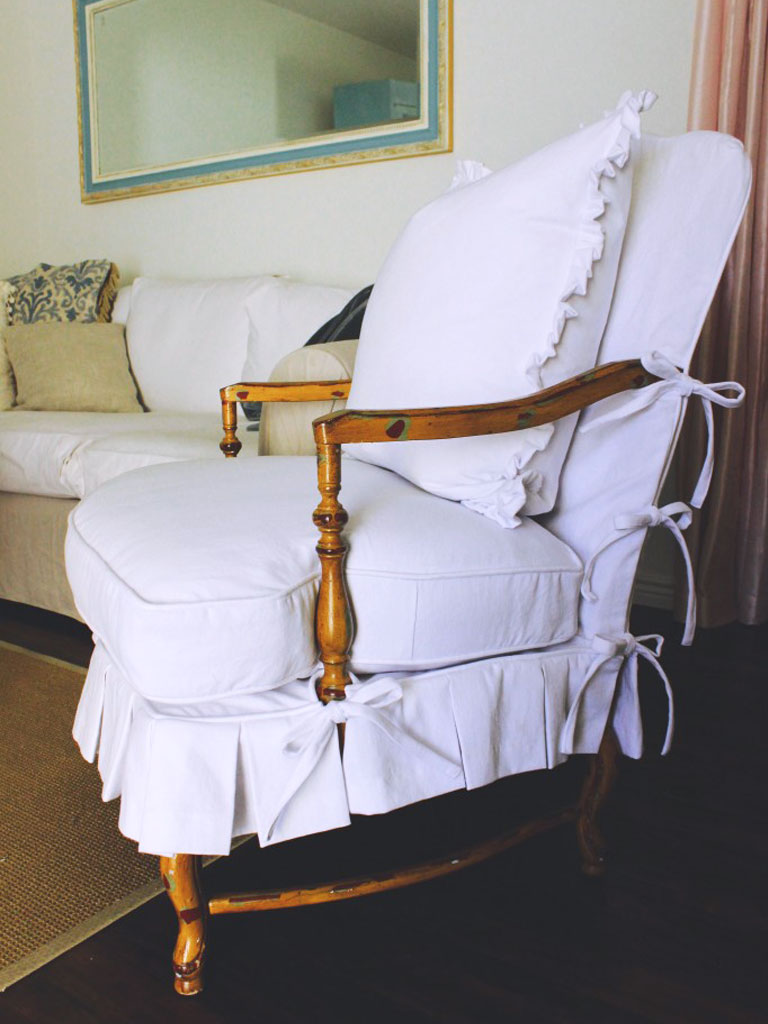 OK, now that you have alot of tie ideas, how about making your own? Here are my DIY instructions for making a basic 5/8 inch wide tie. The number of ties and length are up to you!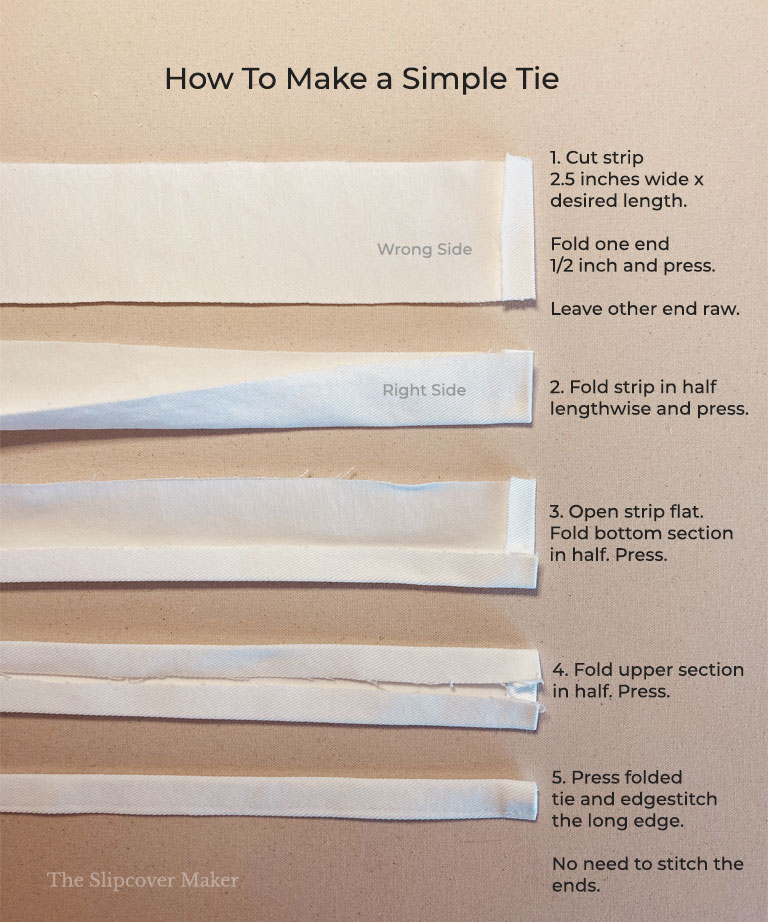 Tip: This tie is 4 layers thick and made in a heavy weight denim. It's bulky and will be difficult to stitch on a home sewing machine. I had to use my industrial Juki.
To make it easier to sew, use a medium weight fabric like this cotton chino twill. It has good body and the weave coordinates well with heavyweight denim and canvas.
As always, thanks very much for reading! If you are new to my blog and want to follow along, subscribe here. —Karen