3 Reasons to Slipcover in Summer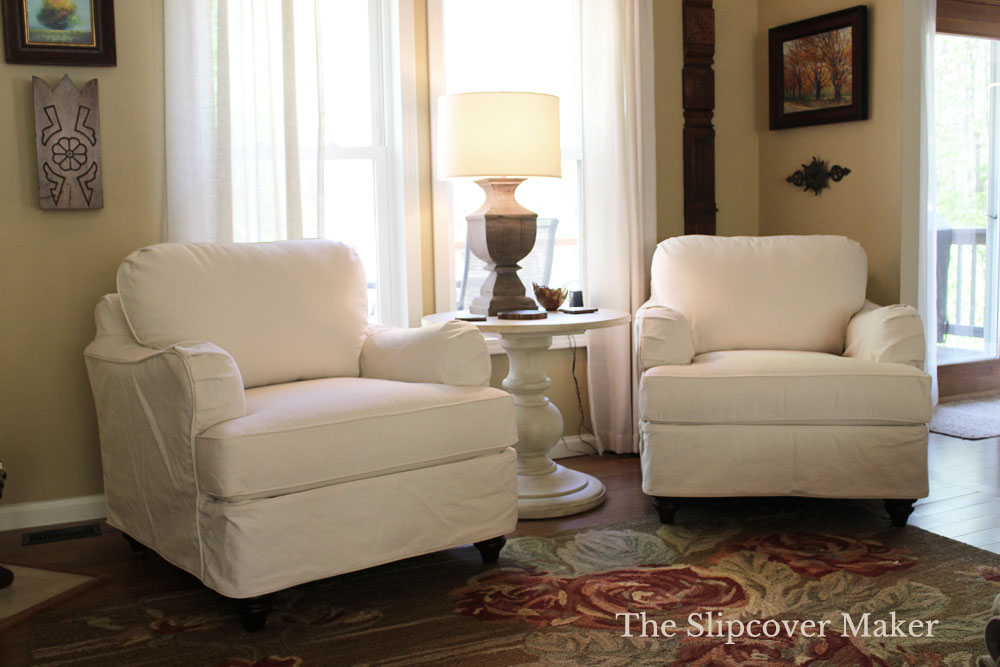 Mary does "summer dress" beautifully.
As soon as warm weather arrives she swaps out her cozy, plush winter decor for fresh, breezy items in a lighter color palette.
Sheer linen curtains replace dark winter drapes. A bouquet of homegrown lilacs take a front and center spot on her mantle. And, her new natural denim slipcovers brighten up her English roll arm chairs.
I got talking to Mary about her seasonal makeover ritual when I was pin fitting at her  home in Lowell, MI. Here are 3 reasons why summer slipcovers suit her lifestyle so well:
1. Instant refresh.  With slipcovers, Mary can create an entirely new look & feel in her living room for the warmer months. Then, when winter returns she can store her summer slips and enjoy the texture and darker colors of her upholstered pieces once again. It's like having two sets of furniture!
2. Protective and practical. Durable, washable slipcovers are the best way to prolong the life of upholstery. Mary's home is busy during the summer, welcoming family, friends and pets. Her slipcovers protect her furniture from harsh sunlight, dirt, sweat, spills and muddy little paws.  Who cares if they get dirty — they're washable!
3. Provides cool comfort.  Cotton denim slipcovers feel cool to the touch, which is ideal for our hot and humid summers here in Michigan. Mary chose a light color and a washed, casual fit for her covers, a comfy combo for laid back summer living.
Want more summer slipcover inspiration? Check out my denim slips in white and natural.