5 Slipcover Tips for Updating a Classic Loveseat
Isn't this loveseat a cutie? I'm not sure if my customer, Tamara, purchased it secondhand or it was already in her family. What I do know is she looked past the outdated features and saw potential in the solid frame, classic design, and comfortable cushions.
The only thing this piece needed was a slipcover makeover with fabric and design details that worked with her farmhouse-style living space.
Here are the five things I updated to give Tamara's loveseat the style boost she envisioned.
Tip #1: Chose a versatile fabric with good coverage.
Tamara chose Boyd Natural for her loveseat slipcover. It's the same grainy oatmeal cotton blend I used to slipcover her swivel rocker. Boyd is a versatile neutral that works great for unifying different styles of furniture in one room.
This medium weight plain weave isn't the most sturdy or tightly woven fabric but it did a good job at keeping the upholstery stripe from showing through.
If you are slipcovering an upholstered piece that has pile or textured upholstery choose a tightly woven heavyweight fabric for best coverage.
Tip #2: Change the skirt design.
I created big boxy pleats to the cover the original tailored skirt. Changing the skirt style gave Tamara's loveseat an instant update and matches her swivel chair slipcover. Very pretty!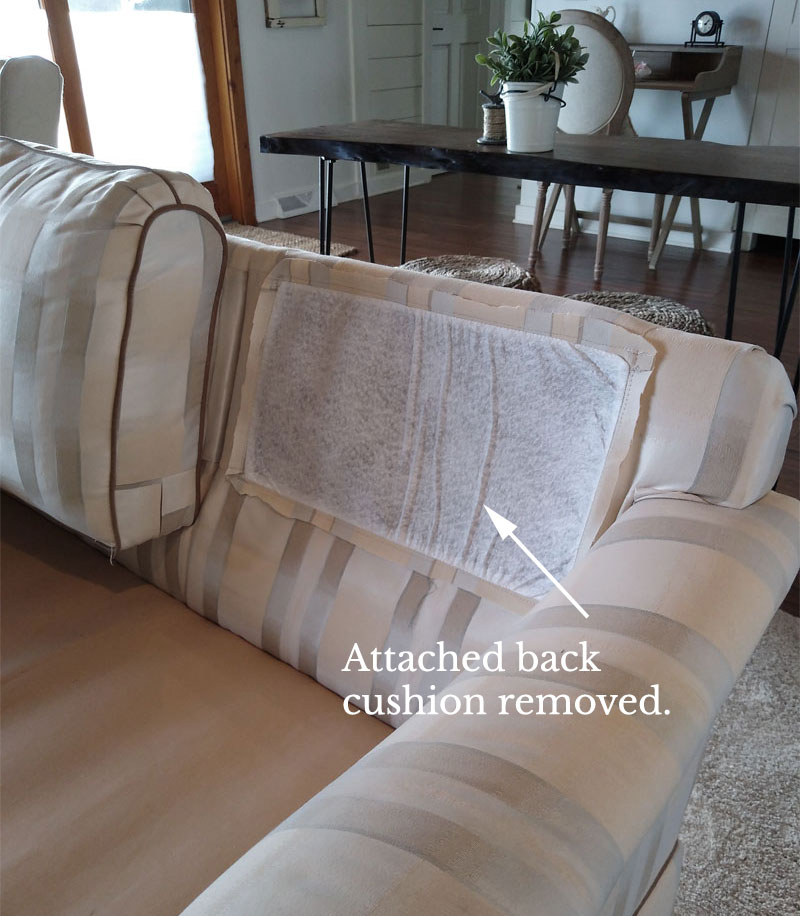 Tip #3: Remove attached back cushions for better slipcover fit and function.
Detaching back cushions and covering them individually is a must if you want a good fitting slipcover on the frame and removable covers for the cushions.
It took me less than 10 minutes to remove the back cushions from the loveseat. To avoid leaving a hole and patching, I cut the cushions off from the back side of the cover. Never cut the fabric on the inner back of the furniture. Check out my step-by-step guide for detaching back cushions.
I took apart one of back cushion covers and used it as pattern to make the new covers. Easy and guaranteed to fit.
Tip #4: Choose trim that compliments the furniture design.
For this piece I trimmed seams with self-fabric welt cord. Oatmeal on oatmeal is a fresh update from the original high-contrast brown welt. The look is classic, just like the loveseat design.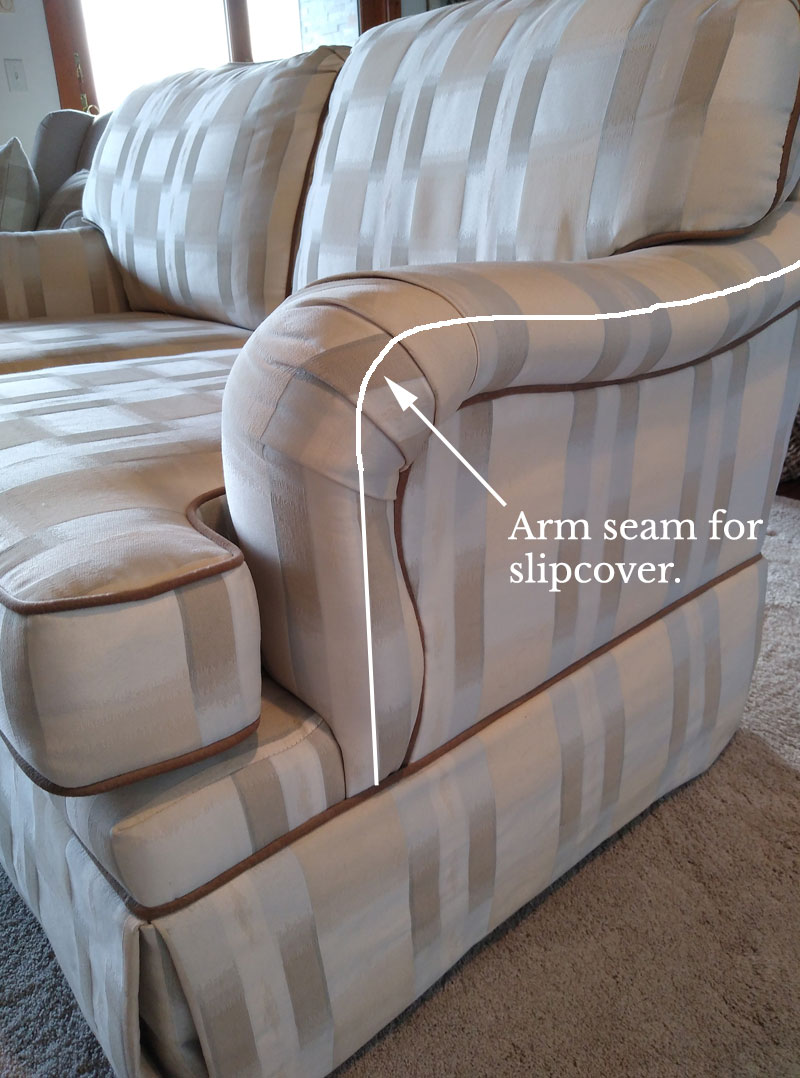 Tip #5: Simplify the construction.
An English rolled arm slipcover always looks best when you DON'T follow the upholstered arm seams. When I pin fit this type of arm design I like to simplify the construction so the outer arm fits smooth and flat as possible. The only pleats or gathers I want to see are on the front arm.
For this piece I raised the outer arm seam to sit on the arm edge right before it rolls over to the outside. I didn't get an after photo so I drew in the new seam line on the photo to give you an idea of the placement.
There you have it! I hope one or all five of my slipcover makeover tips come in handy for your next project.
Thanks for following along! —Karen