Inspiring Natural Denim Slipcovers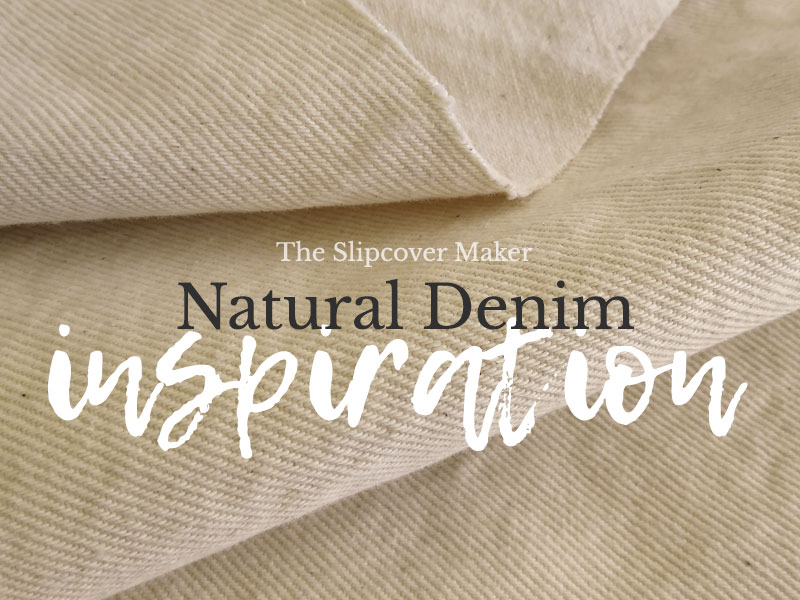 Hello everyone! How are you doing? I've been thinking about all of you here in the U.S., and abroad, and hope you are staying healthy and are in good spirits as you adjust to your new norm.
I've been staying busy with a variety of personal and business projects here at home in Michigan. I'm an idea hamster and need to stay creative!
Since my workroom is temporarily closed I don't have any new slipcover makeovers to share. But I want to inspire you just the same.
I thought it would be fun to look back at custom slipcovers I've created in natural denim. Transforming armchairs and sofas with this classic favorite never grows old. And, the results always make my customers very happy.
I hope these before and after photos bring you a little cheer and spark ideas for refreshing your worn & loved furniture this season. Enjoy!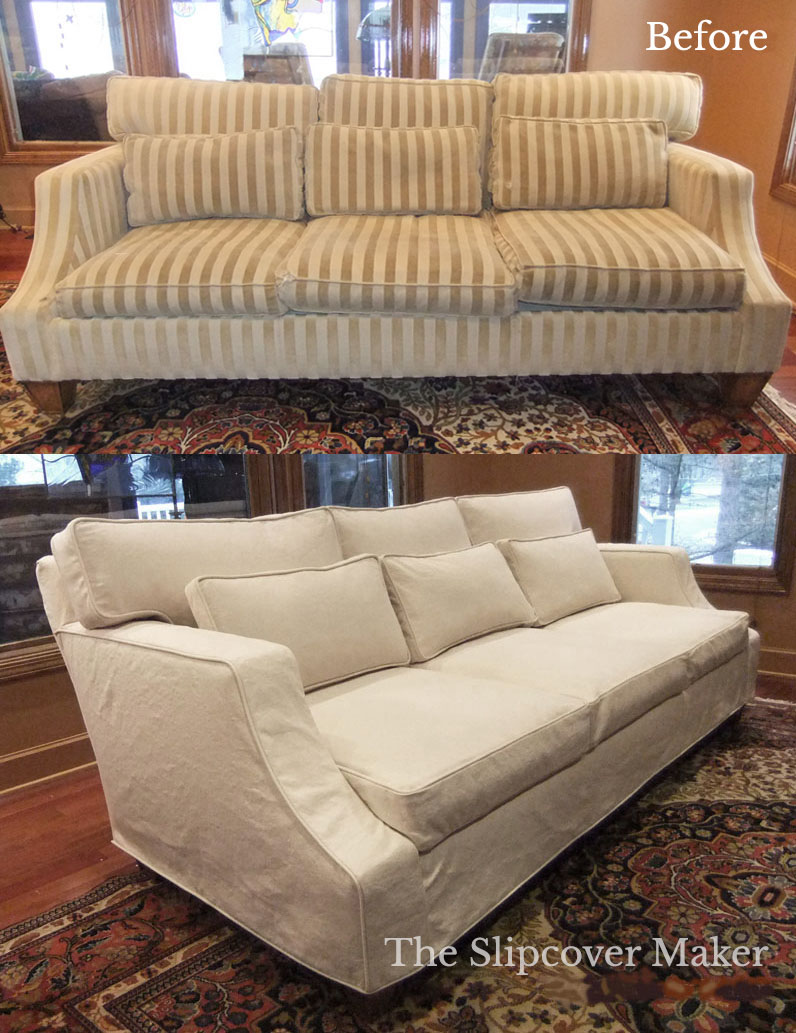 I've made dozens of natural denim slipcovers over the years. It's hard to say which one is my number one favorite. But if I had to choose it would be this sloped track arm sofa.
It was fun to give this this semi-formal piece a more casual look. That doesn't mean I opted for a shapeless slipcover design. This sofa has clean, sharp lines so I focused on creating a tailored fit with welt cord to define the gorgeous arms and three different cushion shapes.
Natural denim made the pin fit process easy. The tightly woven 12 oz. quality I used had just the right weight and body needed to create smooth panels over the plush upholstery.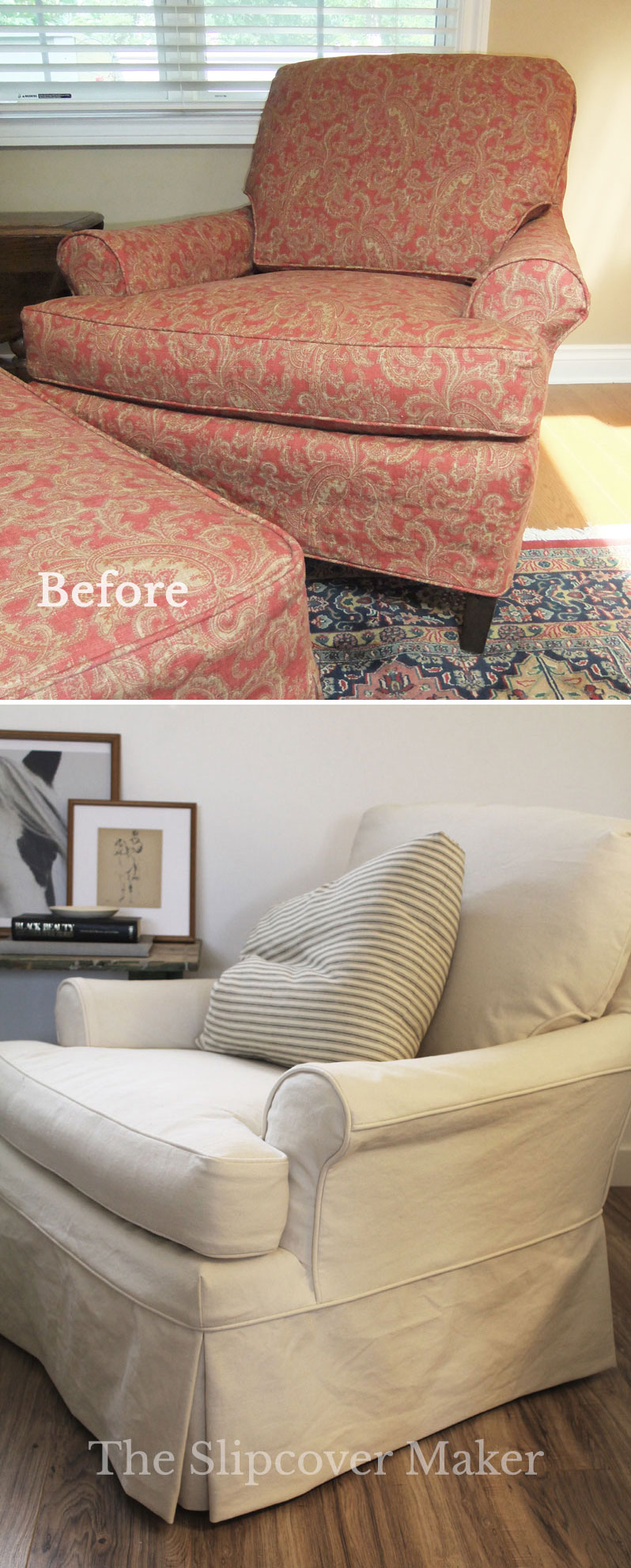 One of the reasons so many of my customers choose natural denim is for it's versatility. You get a lot of bang for your buck with natural denim. It goes with EVERYTHING and it's budget friendly.
The first slipcover I made for Barb's home office chair was in a cotton-linen paisley (above).  I designed it with a simple one-piece arm construction (no outer seam) and no skirt. She wanted the print to be the focal point.
Then, when Barb decided to move her chair to her living room she had me make a second slipcover for it in natural denim with a bit more detail. I added a corded outer arm seam and a tailored skirt to coordinate with her natural denim slipcovered sofa (see below).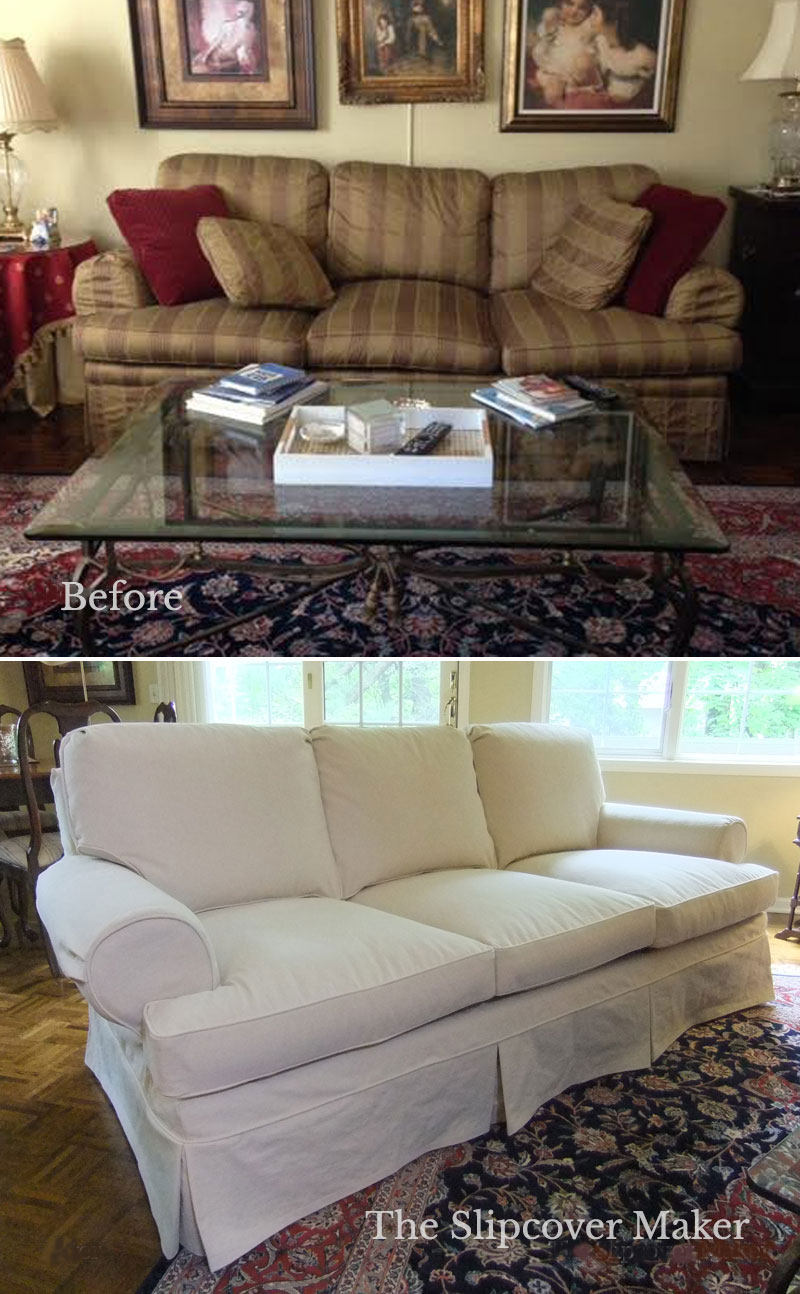 Above is Barb's living room sofa upholstered in a dressy satin-like stripe circa late 1980's. Look past the outdated fabric and you will see a classic design with plump feather wrapped cushions that are in very good shape.
This piece was an excellent candidate for a slipcover makeover. Natural denim transformed it  from stodgy to timeless and I didn't have to change the original design one bit. Amazing!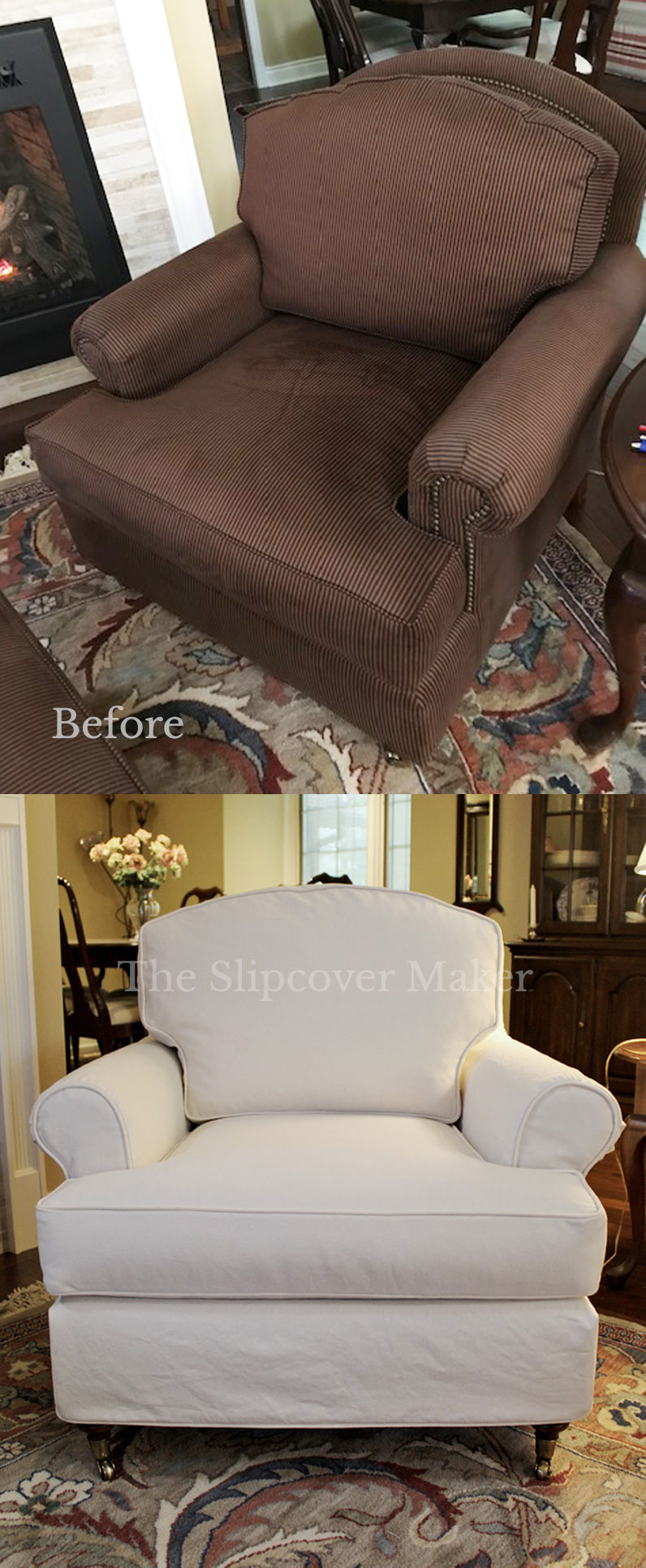 When you first look at this brown chair you might wonder how in the world can natural denim cover such a dark color. Well, guess what? It covered just fine. No grin through!
The key is to choose a natural denim that is tightly woven and substantial in feel.
Keep in mind not all 12 oz. or even 14 oz. natural denim fabrics will cover dark upholstery. Some high contrast patterned upholstery fabrics will show through and appear shadowy. A solid color that is very dark and saturated might show through, too. When that happens you will notice the natural denim takes on a dull tone.
It's important to test natural denim coverage before you commit to yardage. Buy one yard, wash and dry it. Then, throw it over your furniture, and look at it in different light.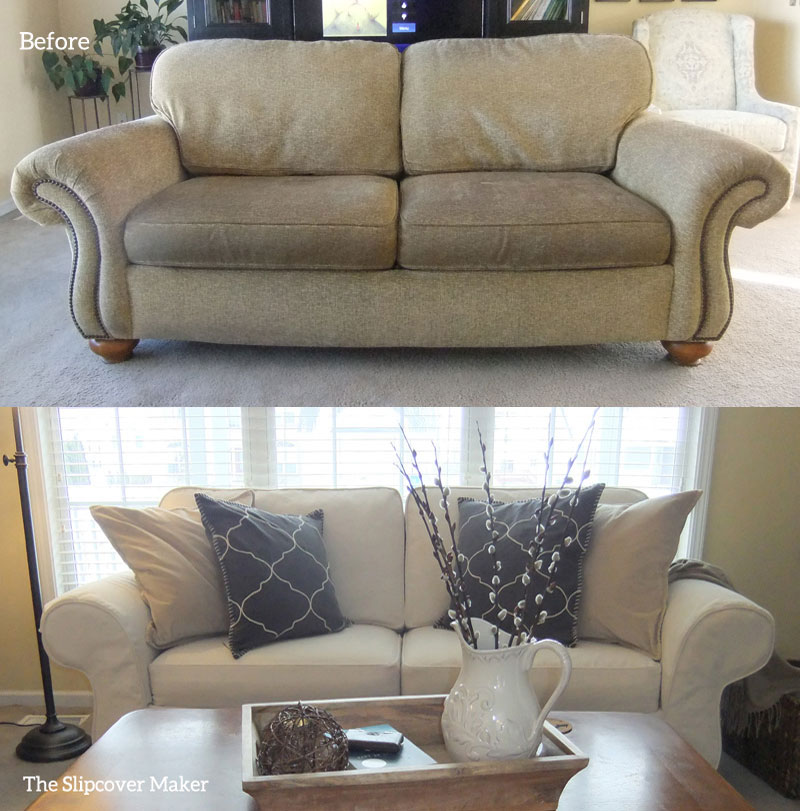 So many of the sofas I slipcover have outdated oversized rolled arms.
Look at the before photo of the Flexsteel sofa above. What catches your eye first? I bet it's the exaggerated curvy arms, busy nailhead trim and puffy pleated rolled edges. Now look at the after photo. The arms are no longer an eyesore!
A natural denim slipcover works like magic to cover up the old and ugly especially when you keep the design simple.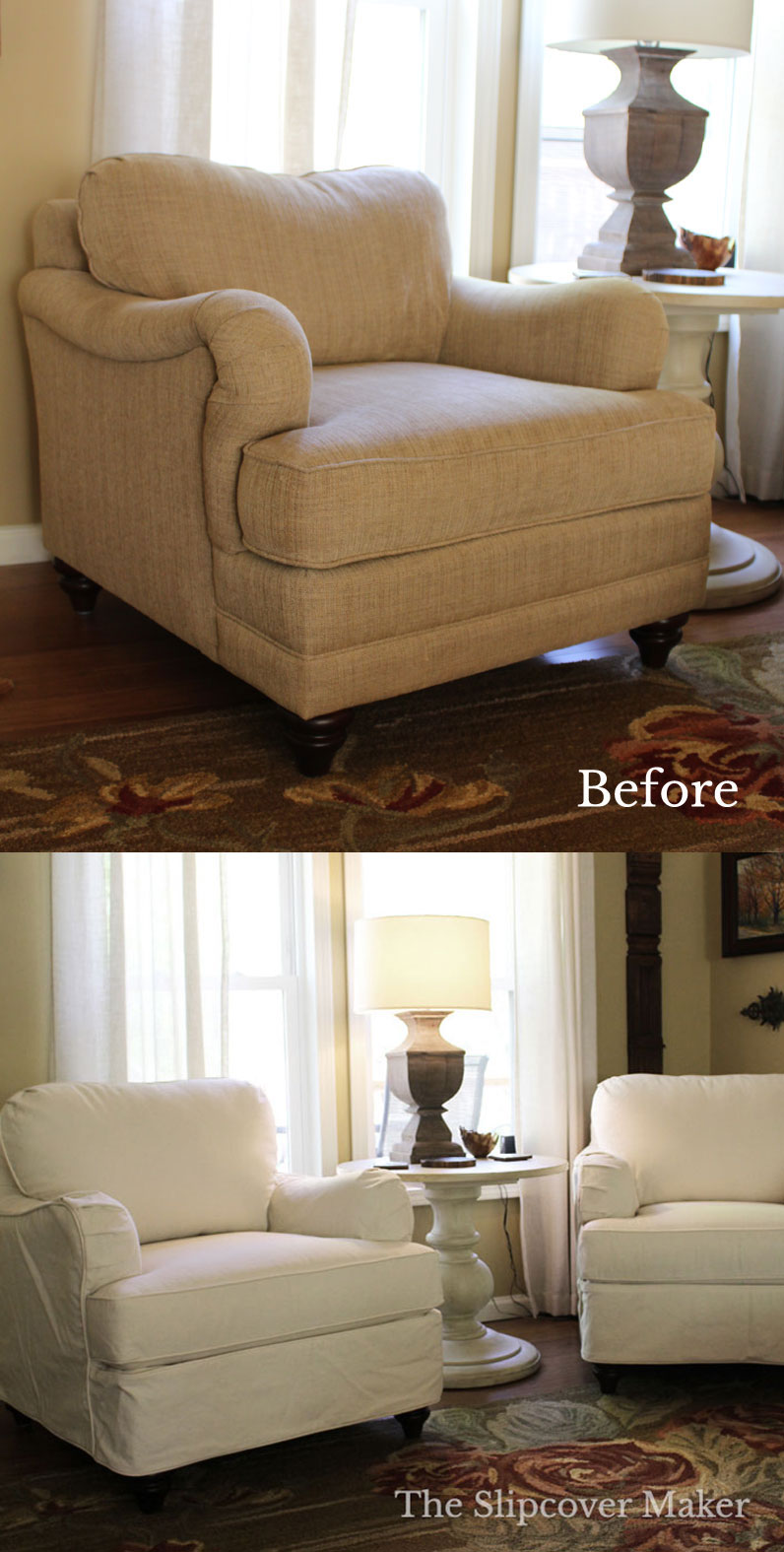 As soon as warm weather arrives Mary puts on her natural denim slipcovers. She uses them to brighten her space and protect her chair's upholstery from dirt, grime and normal wear and tear that comes with an active summer lifestyle.
Natural denim is an undyed, unfinished cotton fabric. That means it's not treated or engineered with chemicals to resist stains, soil, moisture, etc. No problem for Mary!
She machine washes and dries her covers. Sometimes she spot treats them to remove food spills and dirt marks. She tells me they come out of the laundry beautifully every time.
If you want your natural denim slipcover to be washable without shrinking you must preshrink your yardage even if it's labeled PRESHRUNK. Here's why along with my preshrink instructions.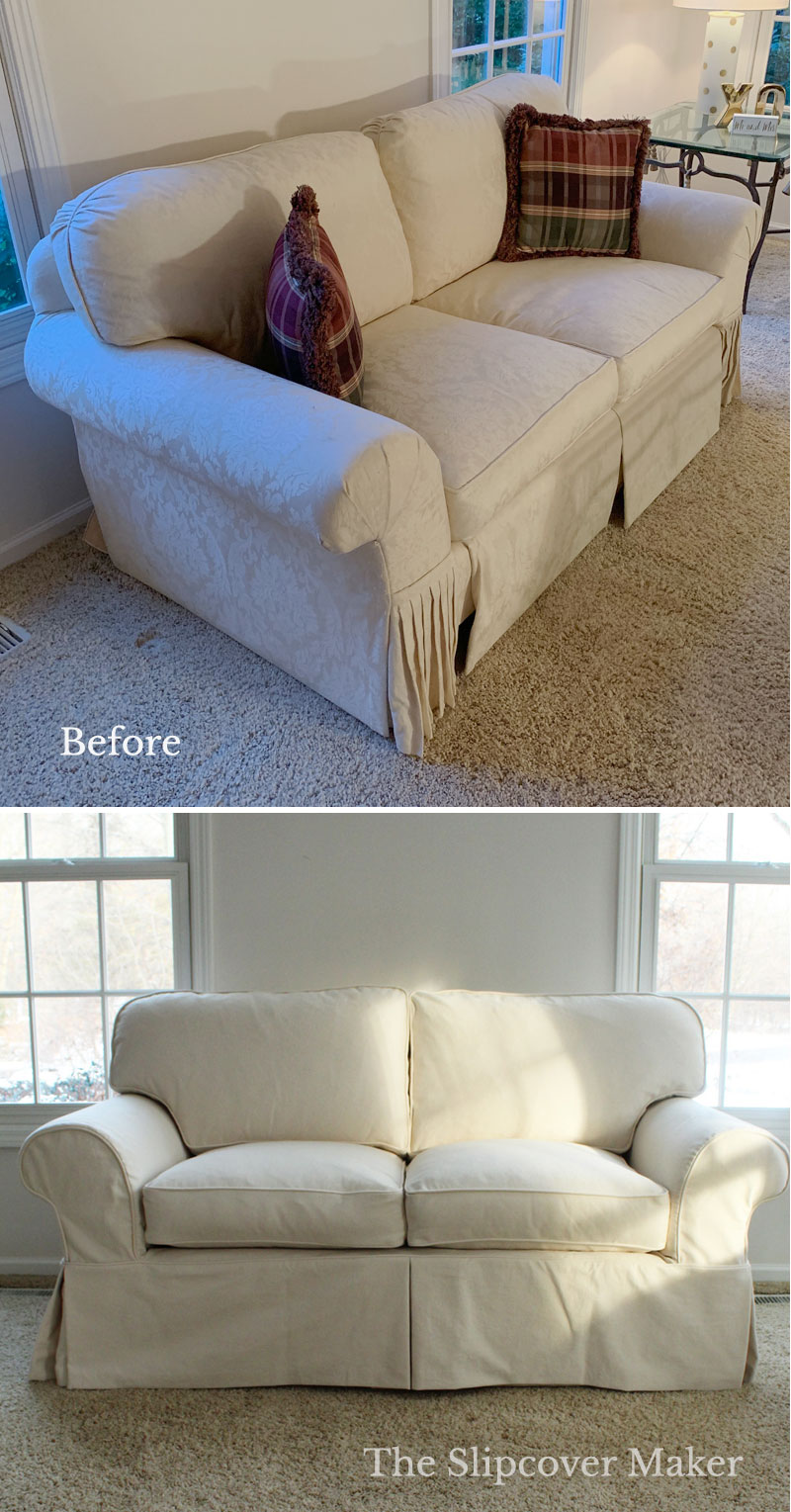 What do you when you inherit an upholstered piece of furniture that's not your style?  Keep it! But only if the frame and springs are sturdy, and the cushion inserts still offer good support.
When you have a classic piece in good condition you can update the look with a natural denim slipcover and keep it in service for several more years.
For example, Malorie inherited this love seat and matching sofa. The damask upholstery, stiff waterfall skirt and that crazy fringe hanging from the pleated arms didn't appeal to her Pottery Barn design aesthetics.
By creating a simple slipcover design in heavy weight natural denim I was able to hide all of the outdated features. Now, Malorie's hand-me down pieces look brand new and reflect her personal style.
Check out the after photo above and the cushion makeover below. Looks just like Pottery Barn, right?
I'd love to know if any of these makeovers inspire ideas for your own slipcover project. And, if you're craving more inspiration take a look at my natural denim board on Pinterest.
Thanks a bunch for following my blog!!