7 Welt Cord Alternatives for Slipcovers
The fun part about making your own chair or sofa slipcover is you can trim it however you like. Welt cord is the most popular seam detail on a slipcover but it's not a must-have. Get creative! Here are seven welt cord alternatives to explore.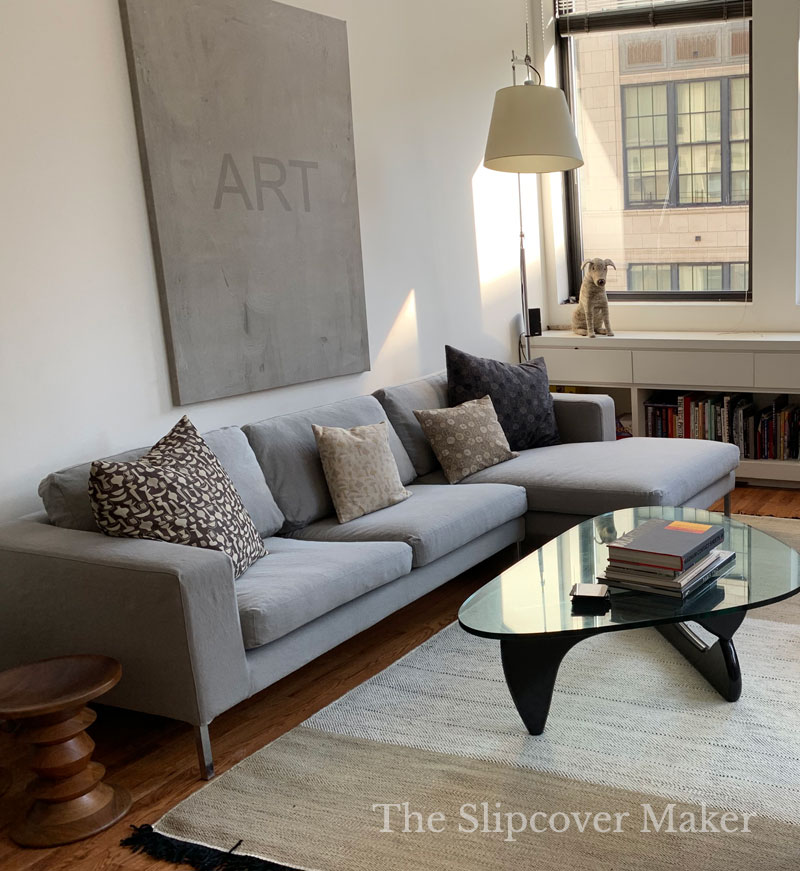 If welt cord isn't your thing, there are several other trim options for giving your slipcover a professional finish.
Before you pin fit your slipcover think through what type of seam detail will look best with your design and fabric. You can't go wrong with any of these welt cord alternatives. Or, no trim at all!
1. Single Needle Topstitch 1/4″
A 1/4 inch topstitch defines the contour of a slipcover, and cushion covers with a clean, flat finish.
To keep your topstitch straight and even, use the the straight stitch presser foot that comes with your home sewing machine. It acts as a 1/4″ gauge.
Use matching or contrast color thread. I like topstitching with the same type of thread I use to sew the seams, which is 100% polyester all-purpose such as Gutermann or Coats & Clark (when I use my home sewing machine).
If you're using an industrial machine I recommend this thread.
2. Edgestitch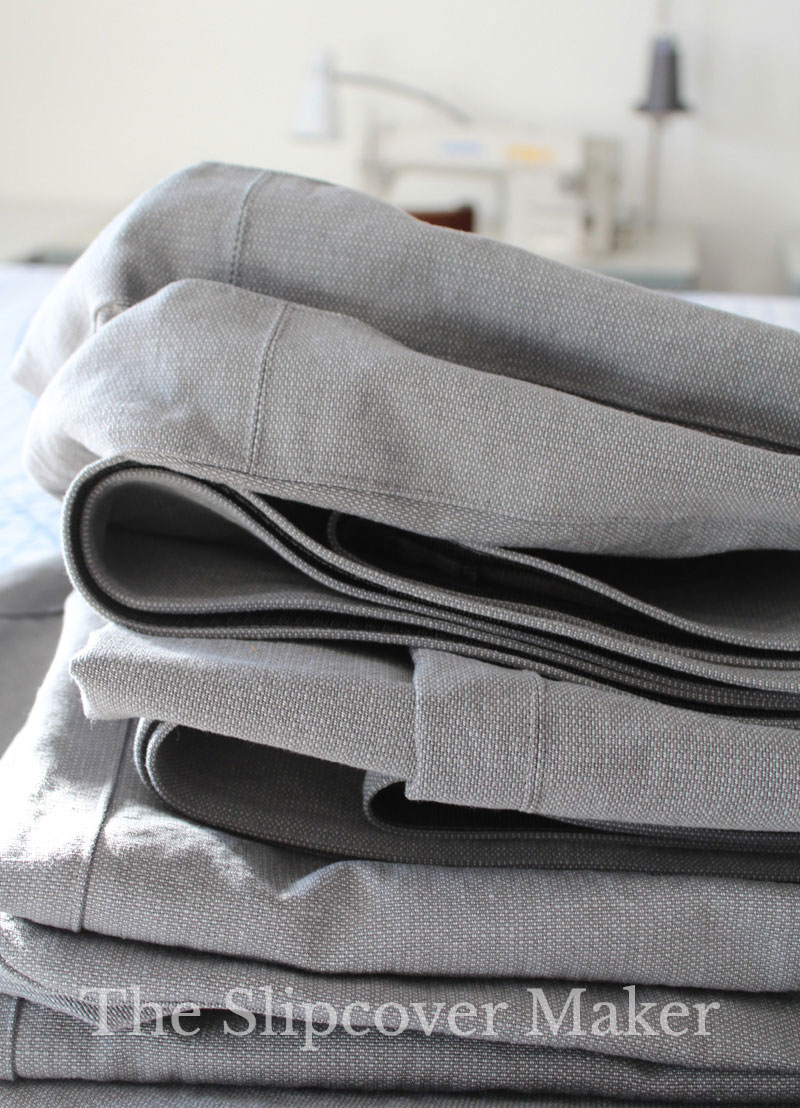 An edgestitch is sewn 1/8 inch from the seam. As you can see from this close up shot, the look is understated. I like using it on clean, modern slipcover designs like this Bensen Neo sectional in cotton-poly canvas.
I have an adjustable needle position on my home sewing machine so I can set it at 1/8″ from the seam edge and use my straight stitch presser foot as the gauge. This topstitch takes a bit more precision sewing than the 1/4″ topstitch.
3. Double Needle Topstitch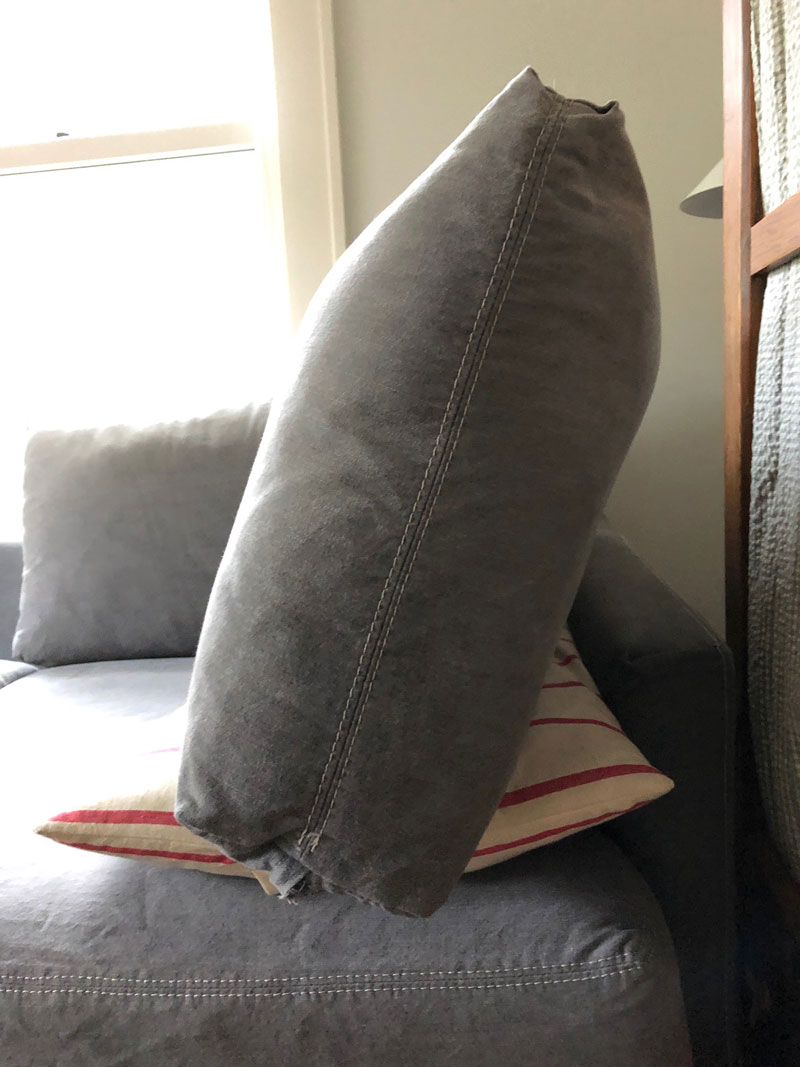 Double needle topstitch is two rows of stitching typically placed 1/4″ from the seam on each side.
The slipcover above was produced in a factory using a special industrial machine that can stitch both rows at the same time with heavy duty thread. I've always loved that look!
You can simulate it with your home sewing machine by stitching one row at at time. Use a contrast color thread and set a long stitch length.
Or, if your machine has a zig zag function, you can use a twin needle to sew both rows of topstitch at the same time. The needle size and spacing will depend on the width of the hole in the throat plate. This article explains how to choose the right twin needle size.
Creating a double needle topstitch works best on medium weight fabrics and few layers when using a home sewing machine. 
4. Empty Welt
Empty welt is a folded continuous bias strip minus the cord. The look is charming and casual.
To bend it around corners you will need to create a small inverted box pleat. This seam finish is best used with soft, washed fabrics like medium weight linen and 10 oz canvas.
5. Exposed French Seam
A French seam encloses the seam allowance. For garments, it's done on the inside of the sewn item. But for slipcovers the French seam is exposed on the outside creating a decorative finish.
This type of seam detail works best for simple, boxy slipcovers with square track arms and knife edge cushions.
Creating an exposed French seam on cushions and pillows is fairly easy because you're working with rectangles or squares and right angles.
But when it comes to the slipcover body I would trace off your sofa or chair instead of pin fitting it. That way you can make a paper or canvas pattern from your tracing and add the extra amount of seam allowance needed to create the French seam. 
6. Combination Trim
There is no rule that says you have to use only one type of seam finish. Go ahead and mix it up! Let your slipcover design and fabric choice dictate what it needs.
Sherry's drop cloth sofa slipcover above is the perfect example of combining seam details. She designed the body and cushions without trim (or perhaps with edgestitch) and then added only a single row of welt cord placed at the skirt seam to anchor the pleats. I love the contrast. 
7. No Trim
Sometimes less is more. A slipcover without welt or topstitch will function just fine. Let the fabric and slipcover design be the focus. That's what I did with this ticking wingback cover. So simple.
For you DIY slipcover makers, this "no trim" look is the easiest welt cord alternative to produce. Plus, it saves a lot of sewing time.
As always, I appreciate you following my blog. Until next time — Karen