Favorite White Fabrics for Slipcovers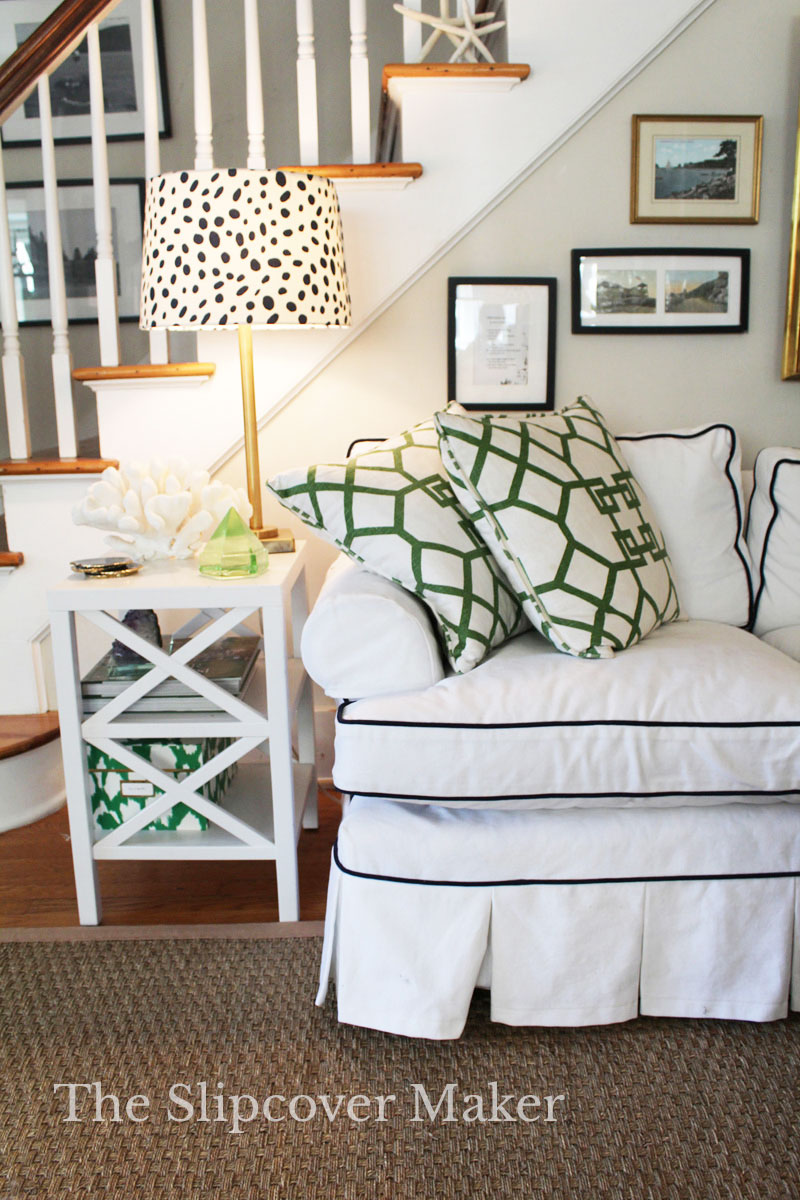 I love the look of white slipcovers. They brighten up a space and are super versatile. I can easily live with them year round.
My customer, Nellie, loves them, too. Every piece of her furniture (including the sofa above) in her living room and family room is covered with white slips. And, she has five kids and a dog!!
I've worked with many different white fabrics over the years and I always return to my favorite denims and canvas. They are heavy weight, densely woven and washable. All of them provide very good coverage over most upholstery colors and textures.
I also found an 8 oz. cotton chino twill in white that I really like for medium weight slipcovers. I share the link further down in this post.
When choosing a white fabric make sure it's durable and has a stable weave so it can be washed on a regular basis (at least 3 times per year) without pilling, developing weak spots or shrinking excessively.
12.5 oz Topsider Cotton Bull Denim —  A heavy weight, tightly woven bull denim that is ideal for everyday slipcovers and up to 6 washes per year. The look is casual and soft after washed.  The white color is not too bright or too creamy. Excellent coverage. Shrinkage: 2″ on a one yard length, 1″ on the width.
12 oz. Big Duck Cotton Bull Denim — this fabric is a long wearing denim. It is slightly lighter weight than Topsider denim and has a softer drape. The look is casual. Easy to machine wash and dry. Shrinkage: 2″ on a one yard length, 1″ on the width.
12 oz Cotton Canvas Duck — I like this substantial, heavyweight duck cloth (canvas) for simple white slipcovers that get a lot of use and frequent washing. It's a good choice when lighter-weight white fabrics are not dense enough to cover dark colored upholstery. Shrinkage: White 3″ on a one yard length, 2″ on the width.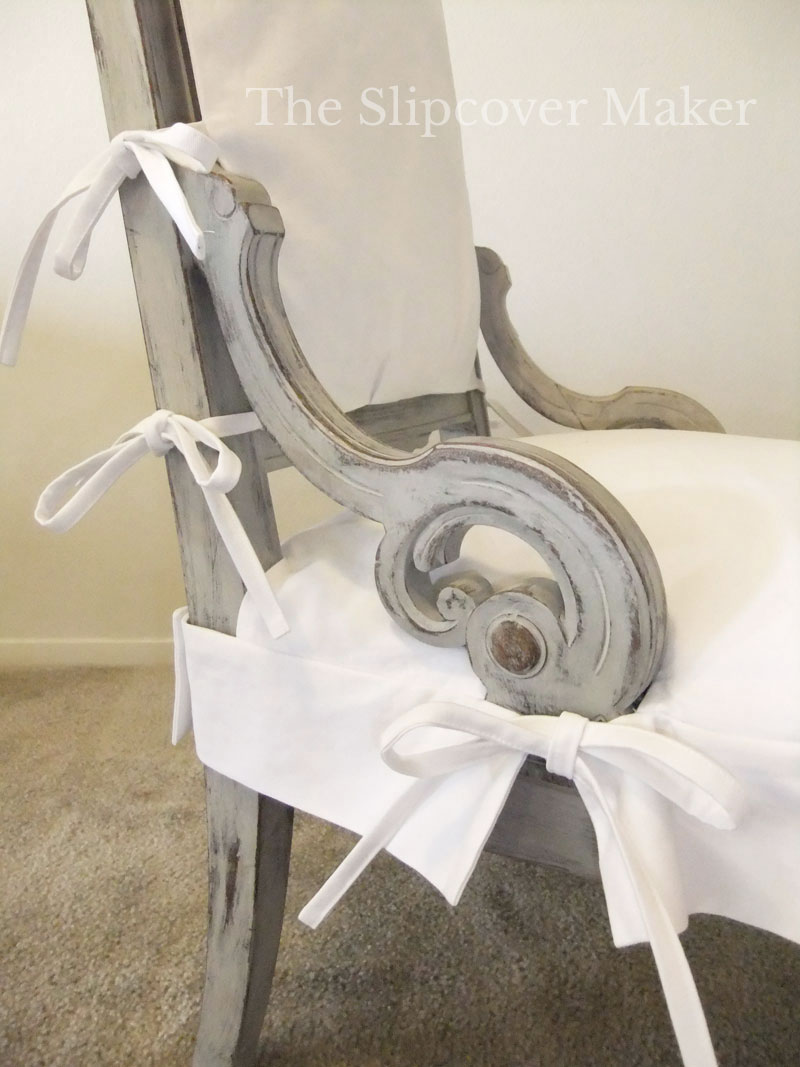 If heavy weights are too thick for your home sewing machine to handle, try this 8 oz white cotton chino twill. It's a tightly woven cloth that makes a terrific medium weight slipcover. This twill is also offered with a brushed finish, which gives it a slightly beefier hand-feel.
All fabrics listed above are machine washable. Be sure to preshrink your yardage before making your slipcover even if the fabric is labeled "pre-shrunk". To avoid deep set wrinkles pre-shrink your yardage per my washing instructions.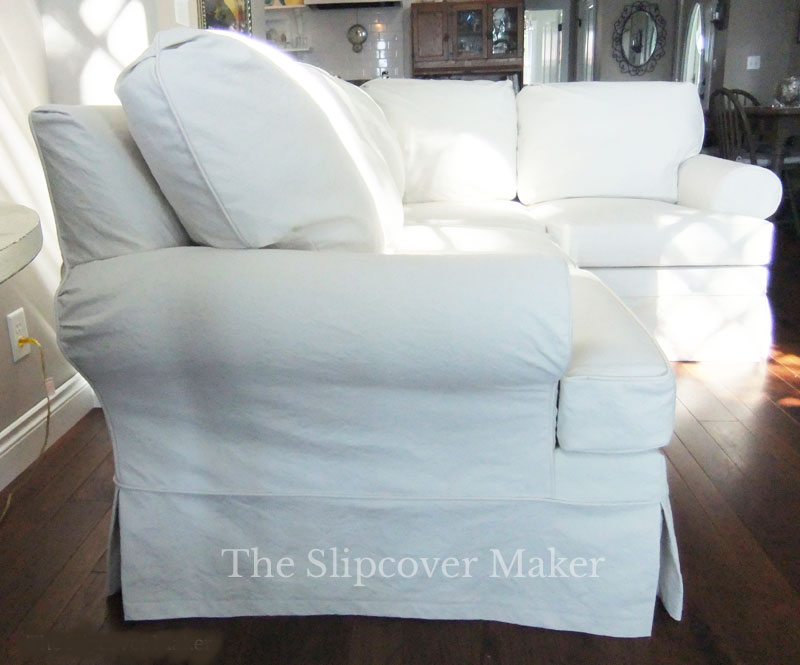 Do you want to bleach your white slipcover? The fabrics above can be bleached but I don't recommend doing it on a regular basis. Chlorine bleach weakens natural fiber over time. It can create thin spots. White cotton slipcovers that are bleached on a regular basis can yellow when they come into contact with bright light for an extended period of time.
To keep your white covers bright I suggest using a non-chlorine whitener like OxyClean. Always test laundry products and stain removers on a large fabric scrap before using them on your new slipcover.
Until next time, have a great week and thanks for reading! — Karen