Canvas, also referred to as duck, is a strong, plain weave fabric. Made from cotton, linen, hemp or blended with polyester, canvas makes a versatile and family-friendly slipcover.
Is it the right choice for your project? Below I answer your most frequently asked questions about one of the most popular slipcover fabrics.
1. How does canvas compare to denim?
Both cotton canvas and cotton denim make a durable, long wearing slipcover when you choose a tight weave and the right weight for the end use.
Each one has its own unique look, feel and function. Canvas is a square weave with a flat surface. Denim is a twill weave with a diagonal ribbed texture.
Consider the look you're going for, your budget and what kind of use your slipcover will get. Buy one yard each of the canvas and denim you like, machine wash and dry them and throw them over your furniture to see which one speaks to you.
2. What is the best weight canvas for a slipcover?
10 and 12 ounce are most common for washable, cotton canvas slipcovers. It's important to match the weight with the function. General rule of thumb: light to medium weights (8 to 10 oz) are best for occasional use and heavy weights (12 to 14 oz) provide more durability for high traffic.
3. Will white or natural canvas cover my dark color upholstered furniture?
Most tightly woven 12 ounce white and natural canvas fabrics as well as this #12 weight natural duck will cover dark colors. A 10 ounce white canvas might work if it's tightly woven. Test a sample to be sure.
4. I have kids and pets. Which canvas should I use for my slipcover?
A heavy weight 12 ounce cotton canvas that is tightly woven and feels dense will hold up well to frequent use and washings. If you need a tougher, more protective slipcover go with this #12 weight cotton duck cloth.
5. Is inexpensive canvas good quality?
Price does not necessarily reflect the fabric's quality. I bought a $5/yard canvas and found the quality to be better than a $24/yard canvas fabric I tried.
I've also purchased inexpensive canvas from a discount fabric retailer and was very disappointed with the amount of flaws and extremely high shrinkage.
You can find out a lot about the canvas quality by doing a wash & dry test on one yard.
6. I bought canvas that is pre-washed. Do I have to pre-shrink it before making my slipcover?
Yes! A fabric labeled "pre-washed" or "pre-shrunk" only means the fabric has been finished in a way that softened the hand-feel and drape. It doesn't mean the majority of shrinkage has been removed. Be sure to pre-shrink your canvas yardage so your slipcover doesn't shrink later on.
7. I want a durable canvas for my slipcover but I don't like wrinkles? What do you recommend?
100% cotton canvas in any weight will wrinkle. Level of wrinkle varies from low to extreme. Some cotton-poly canvas fabrics like this rustic stonewashed canvas wrinkles less then 100% cotton .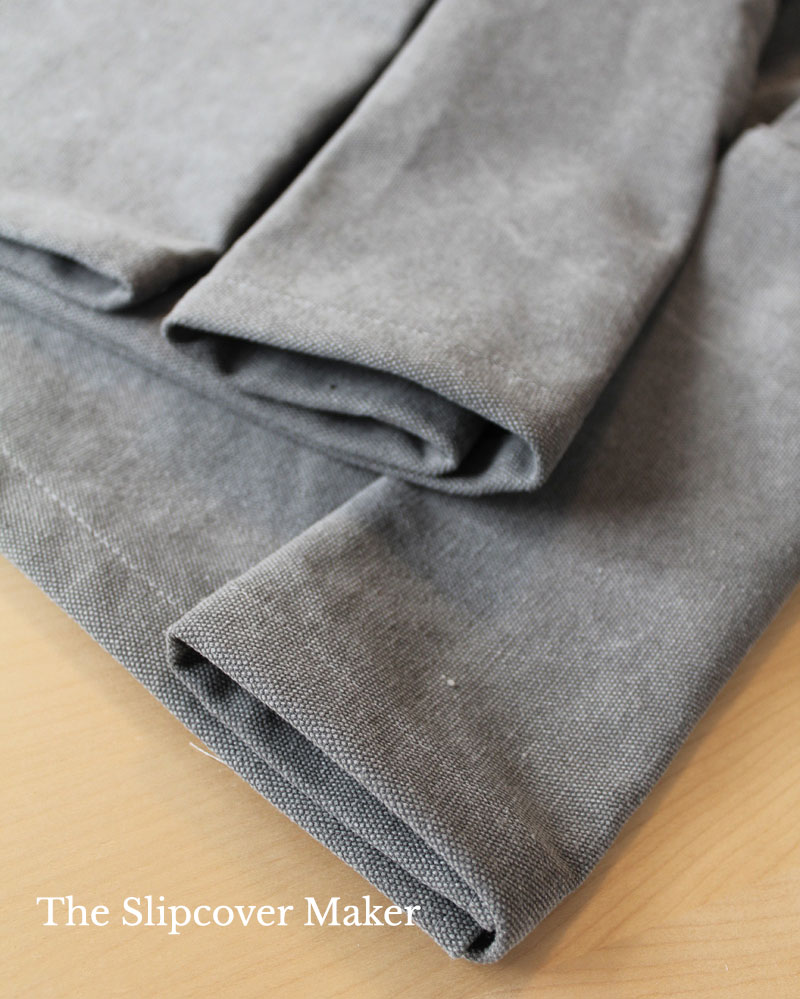 Rugged stonewashed cotton-poly canvas color Moon Dust.
8. I found a cotton canvas I like but its dry clean only. Can it be washed?
The best way to find out is to wash test a yard. I have washed many dry clean only cotton canvas fabrics and most of them turned out great. Sometimes they shrink more or fade easier than a washable canvas so be sure to test a sample before you commit to a lot of yardage.
9. How can I reduce the stiffness and wrinkles in the canvas slipcover I just made?
Frequent wear and washings might soften the hand-feel and wrinkles somewhat overtime. I've tried fabric softeners, vinegar, baking soda and drier sheets. Unfortunately, they don't work.
Now that you know all about canvas get inspired! Take a look at the possibilities on my Pinterest page featuring canvas slipcovers I made for my clients.