Slipcover Fabric Review: Canvas Drop Cloth vs. Canvas Yardage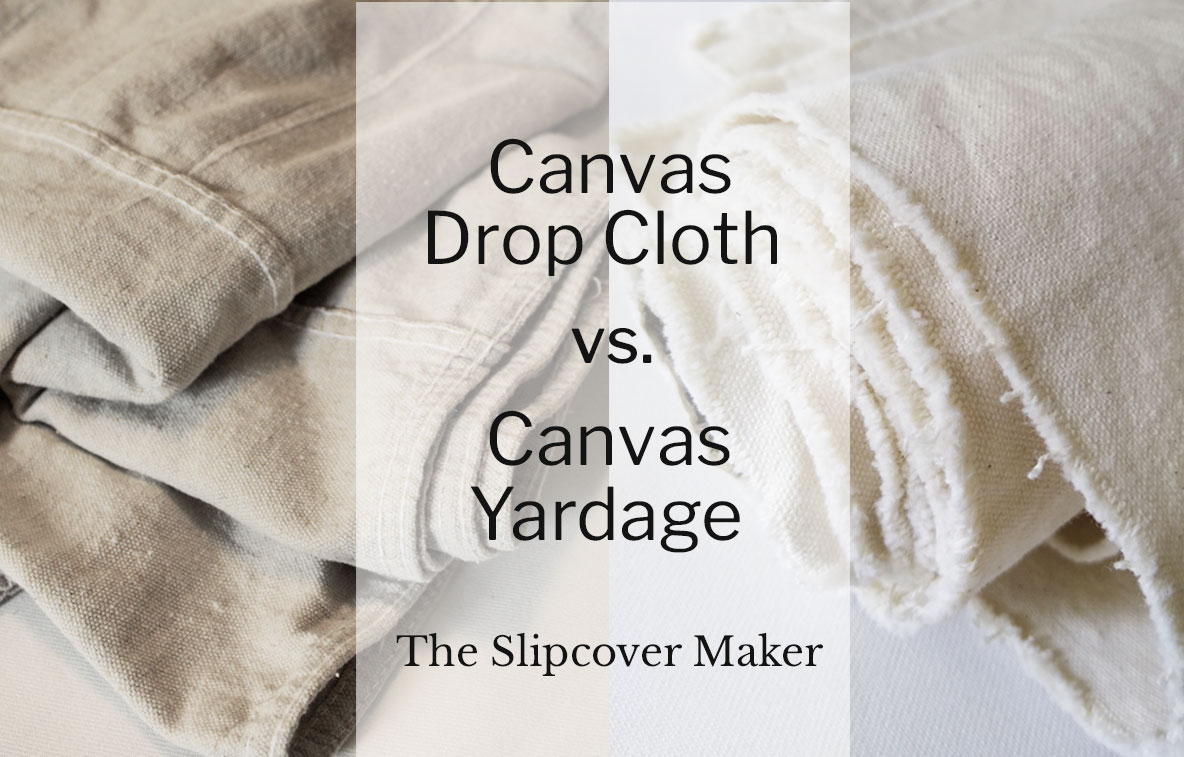 Do you have a tight slipcover budget and need a low-cost fabric?
A canvas drop cloth could be the perfect solution. It seems like a bargain at only $34 for a 12 ft x 15 ft piece of fabric.
On the other hand, canvas at $5 per yard might be a super deal when you factor in ease of use, quality and durability.
Which one offers the most savings?
In this post, I break down what you can expect from a canvas drop cloth vs. canvas yardage for your slipcover. I think you will be surprised at what you really get for your money. Let's dive in!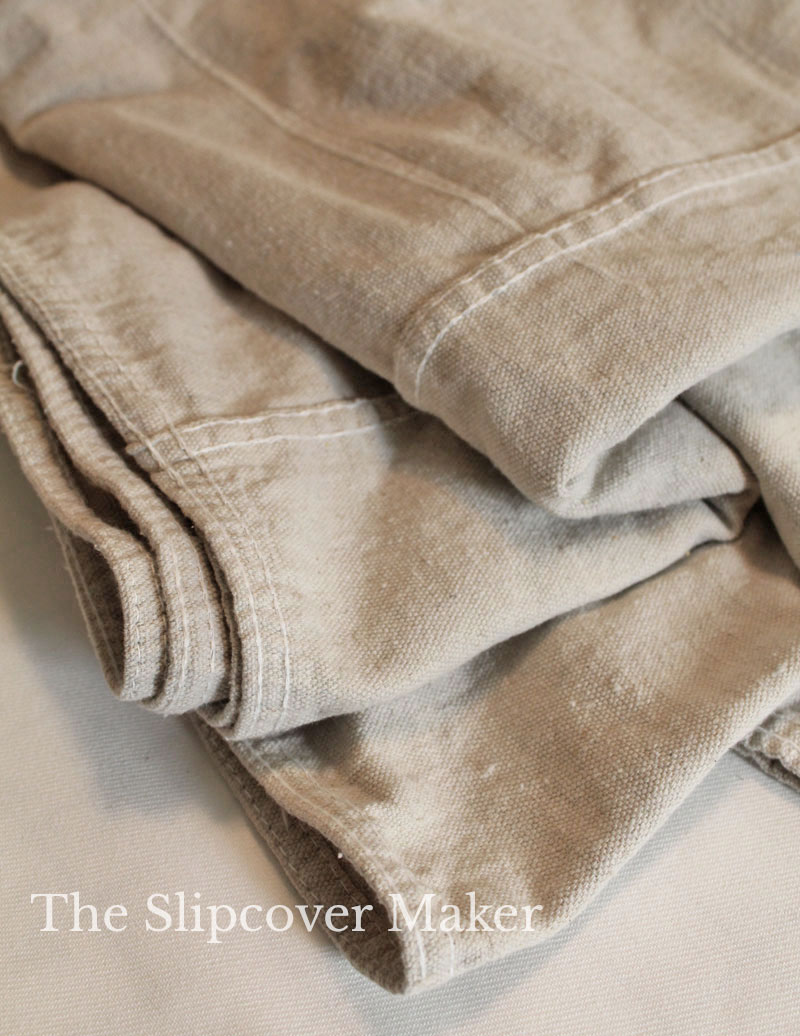 Drop Cloth Characteristics
A cotton canvas drop cloth is what painters use to protect floors and furniture. It's a utility cloth. The fabric is second quality. 
Here's what to expect:
8 oz weight. This is not a heavyweight fabric per the package description. At best it will make a medium weight slipcover with light to moderate durability.

Rolled hem on all edges and double stitched seams run the length in one or two areas.

Unwashed. Feels stiff right out of the package. Gets limp and soft after washed.

Flaws such as thread bare spots, runs, knots, oil stains and dirt marks are common.

Pilling is normal on some drop cloths.

This cloth is thin enough to sew on most home sewing machines.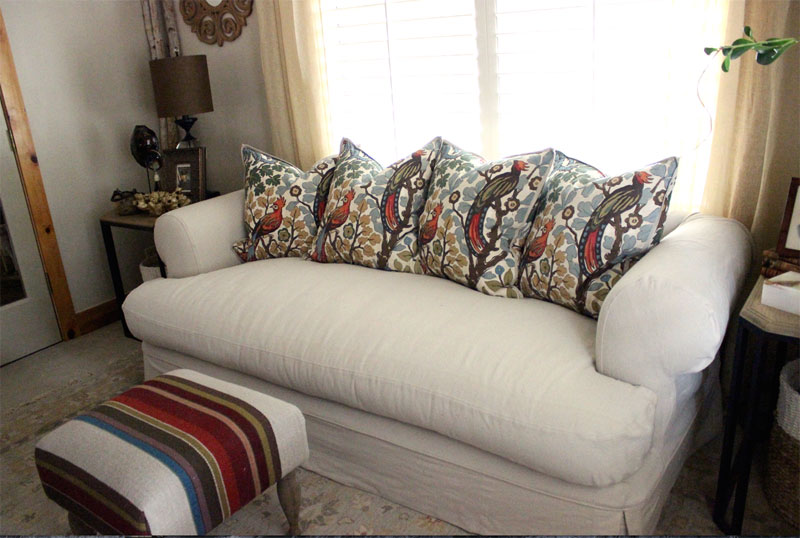 Drop Cloth Look & Feel
The look of a canvas drop cloth is very casual and rustic.  It's grainy and imperfect.  Like any cotton canvas fabric, a drop cloth has a moderate to high level of wrinkle and random creases.
Drop cloths are undyed. The color varies from brand to brand — muddy beige to greyish natural to pale oatmeal.  Some DIY slipcover makers like to lighten the color with bleach.
Just know the bleaching process requires a lot of bleach and it's time consuming. Plan on cutting the cloths in half, or in thirds, depending on the cloth size and where the seams are placed.
You will need to bleach the cut pieces in batches in a top loading washing machine, which can take 4 to 8 hours per batch depending on how white you want them.  After that, you have to wash and dry the pieces.
Joy at Artful Homemaking blog shares her step-by-step bleaching instructions.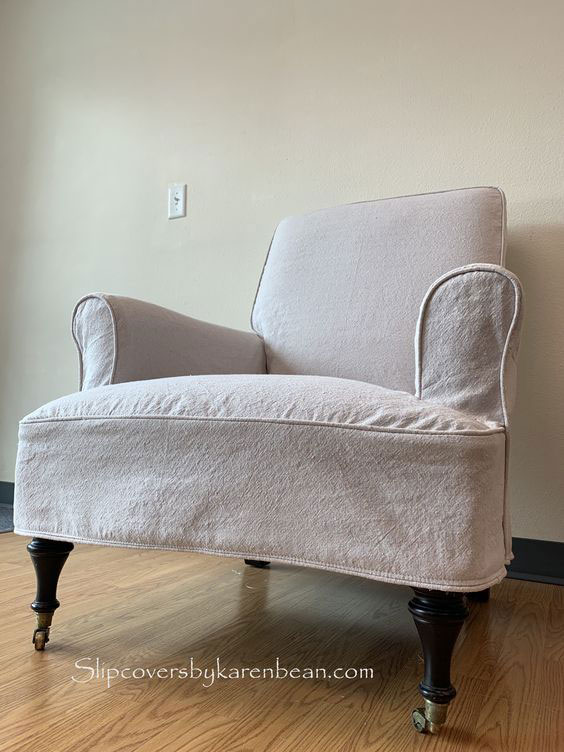 Drop Cloth Size & Yardage Yield
Calculating how many drop cloths and which size(s) you need for your project takes some planning. Remember, you're not dealing with linear yardage, and each cloth has seams and hemmed edges that you will have to work around or incorporate into your slipcover design.
Important: Most drop cloths are listed as cut size. That means the measurements reflect the cloths' dimensions BEFORE it was seamed and hemmed. The finished size (actual size) is smaller than the cut size.  Expect your new drop cloth right out of the package to be 6″ to 9″  smaller per dimension.
You will loose even more inches when you preshrink your drop cloth.
Below are yardage yields (before preshrink) for the two most common drop cloth sizes used for chair and sofa slipcovers:
9 ft x 12 ft drop cloth =  roughly 99″ wide x 135″ long finished size.  It will yield approximately 7.5 yards. (Cut cloth into two lengthwise pieces at 49″ wide x 3.75 yards each.)
12 ft x 15 ft drop cloth =  roughly 135″ wide  x 171″ long finished size. It will yield approximately 9.5 yards. (Cut cloth into two lengthwise pieces at 67.5″ wide x 4.75 yards each.)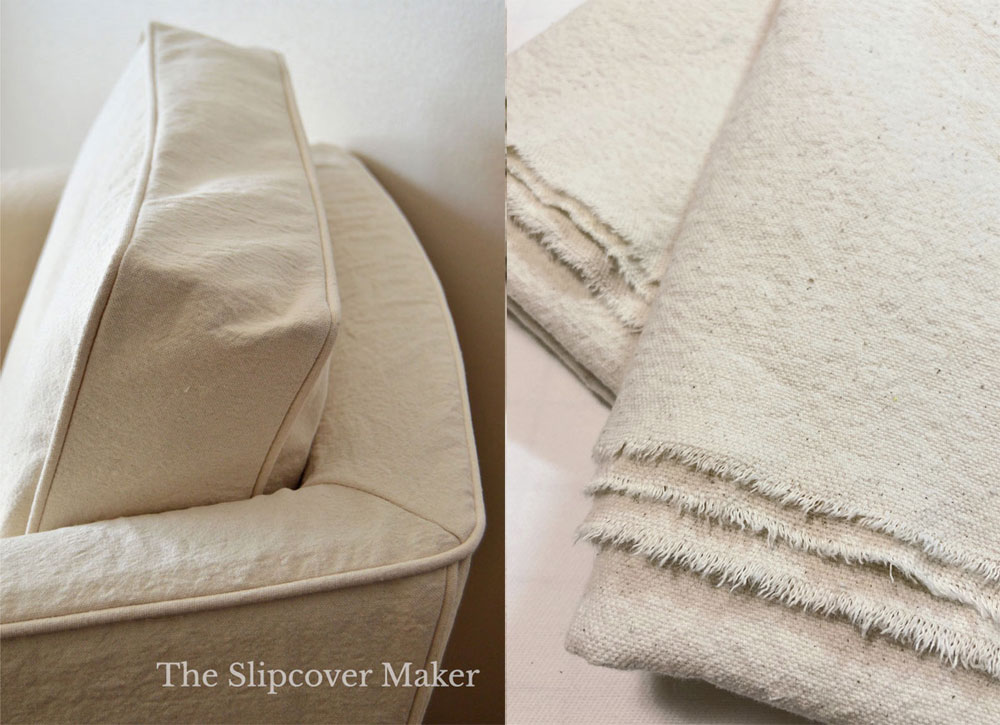 OK, now that you know what to expect from a canvas drop cloth let's look at how it compares to canvas yardage.
Natural Canvas Yardage Characteristics
Natural cotton canvas can be purchased by the yard not only in different widths but also in different weights. Unlike a drop cloth, canvas yardage is first quality fabric unless otherwise noted by the retailer.
Here's what to expect:
10 oz canvas is closest in weight to an 8 oz drop cloth. It makes a medium weight slipcover with moderate durability.

Unwashed. Feels stiff but will soften and relax when you preshrink it.

Flat, continuous yardage. No seams or hems to deal with.

Few imperfections. I rarely find a flaw when I buy first quality canvas yardage.

No pilling.

This fabric is thin enough to sew on most home sewing machines.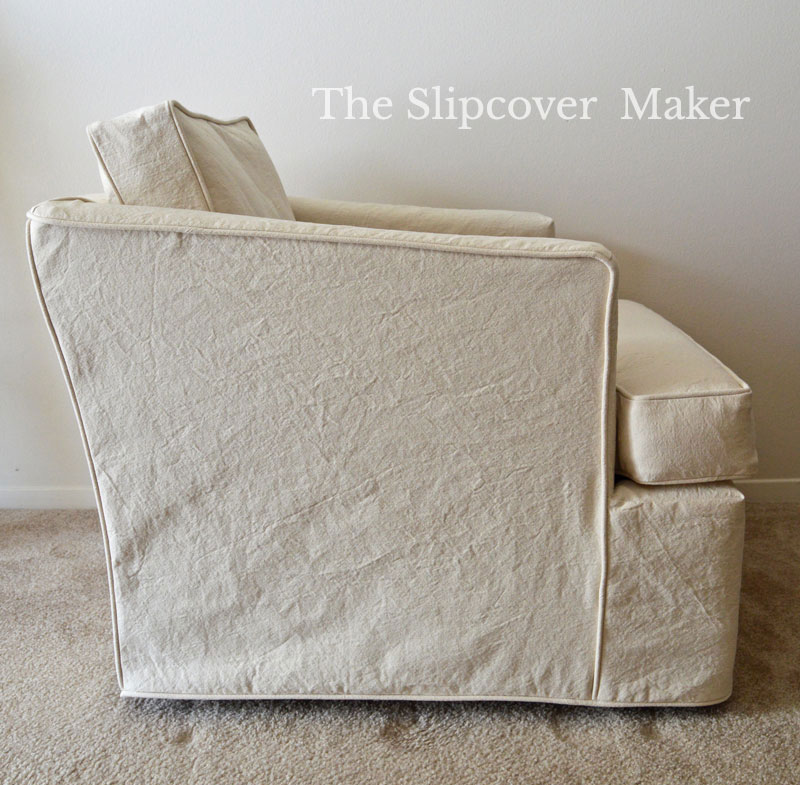 Natural Canvas Yardage Look & Feel
The look of natural cotton canvas is very casual. The texture is grainy. After washed, it has moderate to high level of wrinkle.
Natural canvas is undyed. The color can vary from a dull natural to a creamy natural. The visible brown flecks are bits from the cotton plant.
Can it be bleached a lighter shade of natural? Yes. Follow the same instructions above for bleaching drop cloths.  But if you're aiming for pure white you will save a lot of time by purchasing 10 oz. white canvas yardage. 
Natural Canvas Widths
10 oz. natural canvas by the yard can be found in a variety of widths. The most useful ones for slipcovers are 60″, 65″ and 72″.
When you preshrink canvas yardage expect to loose approximately 4″ per every one yard length and 2″ to 3″ across the width.  For that reason, I like using 65″ or 72″ wide canvas so I have plenty of width to work with after it shrinks.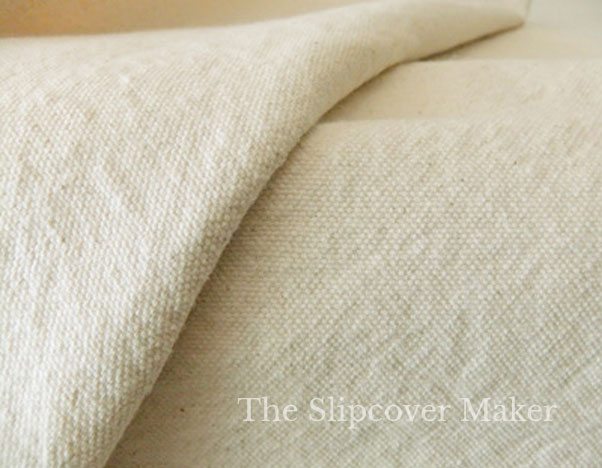 Price Comparison
Now, let's get down to the final comparison — price. 
$34 is the average price for an 8 oz. 12 ft x 15 ft canvas drop cloth. It yields 9.5 yards x 67″ wide depending on how you cut it and before preshrink.
$44 is the average price for 10 oz. canvas by the yard at 72″ wide x 9.5 yards before preshrink.
Add to those prices the shipping cost, or your round trip travel time and gas money to drive to the store.
FYI — 9.5 yards of drop cloth or canvas yardage after preshrink is typically enough to cover a small rolled arm chair with one cushion and no skirt or a small wingback chair.
At first glance it looks like the drop cloth is a better bargain. For a chair slipcover, the price is $10 cheaper for roughly the same amount of fabric as canvas by the yard.  
But is that really a worth while savings?
No, not in the long run especially when:
You spend money and time on bleaching your drop cloths.

You discard part of the cloth to get rid of seams and hems. Or, waste time trying to figure out where to place them in your slipcover design.

You don't get the durability you need.   

You have to replace your drop cloth slipcover sooner than expected because it didn't old up to daily use and regular wash.
Here's how I think about it —  if you're going to put time and effort into making your own slipcover, or hire someone to make it for you, why not pay a little bit extra and get first quality canvas that offers better durability, lasts longer and is easier to work with. You will get much more bang for your buck.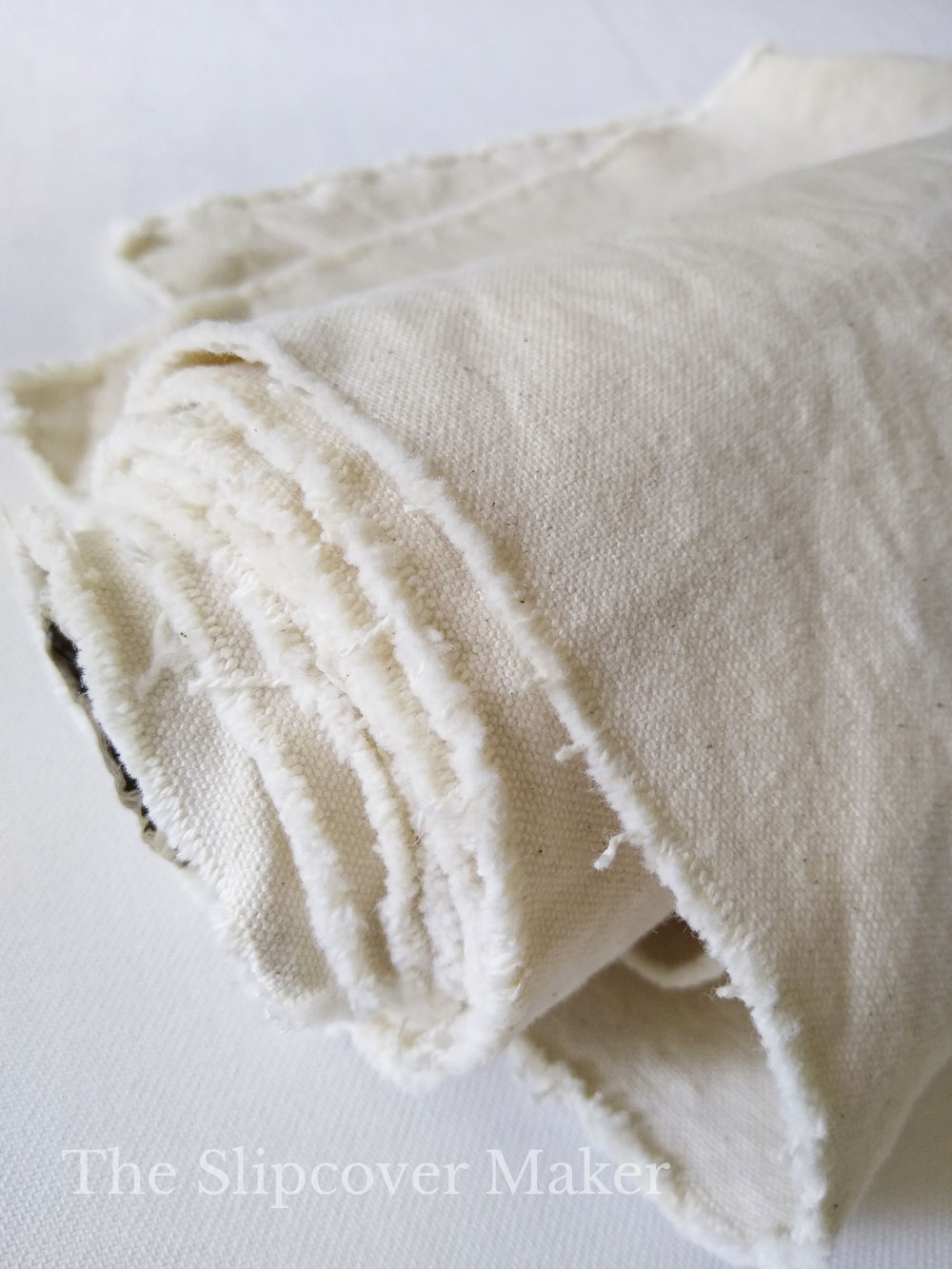 The 10 oz. natural canvas I featured in this post is woven with single-ply yarns, which is standard. The same goes for a canvas drop cloth. Single-ply construction is one of the reasons those fabrics are so economical. 
But what if you could get a two-ply canvas for almost the same price as a single-ply canvas?  As you think about which type of canvas will be best for your project, and budget, I want to throw out another option: #12 weight natural cotton duck.  
At only $5.49 per yard (60″ wide) this canvas offers a ton of value. It's woven with two-ply yarns, which creates a more tightly woven fabric that offers better durability and longevity than a single-ply canvas of any weight.
This is a "tent and tarp" canvas. Oh, but let me tell you, it makes the coolest looking and longest wearing cotton duck slipcover….without spending a fortune!
It has a smoother surface (less grainy) than what you get with a 10 oz or 12 oz natural canvas. I love the look and hand-feel after it's washed. You get the relaxed, rustic vibe of a drop cloth but with more substantial coverage. No need to bleach out the color. It's already a light creamy shade of natural. 
Even though this cloth gets supple and soft after washed it remains densely woven so do a sew test on your home machine to make sure it's not too thick.
Below are a few examples of how the #12 weight natural cotton duck looks in a slipcover.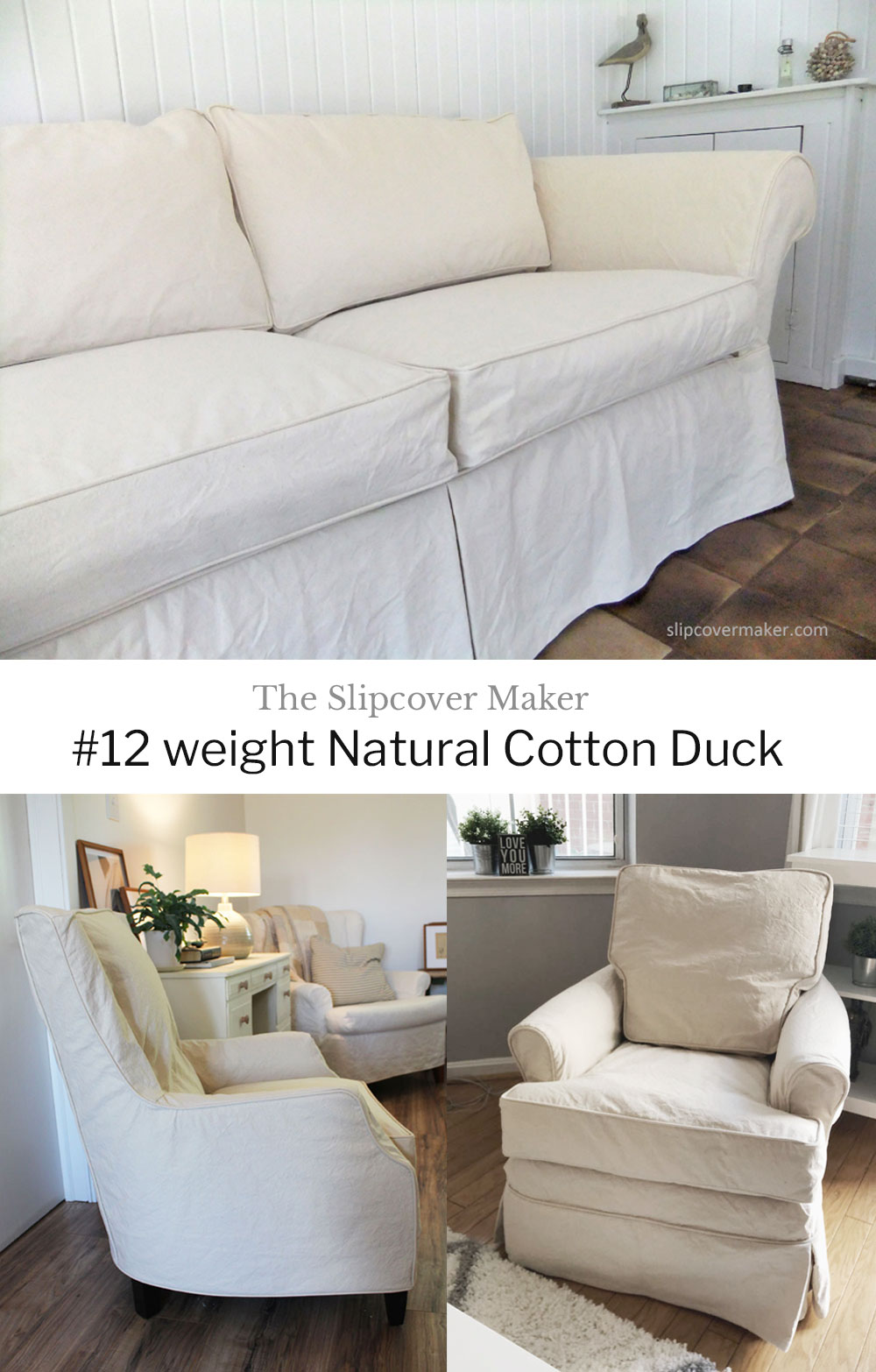 That's it for this week! I hope this post inspires a fabulous canvas slipcover with super savings.
If you still think a drop cloth is the best way to go check out these popular brands who offer an 8 oz. weight in a variety of sizes.
Chicago Canvas Drop Cloth  — this is the one I like best.
Everbilt brand from Home Depot