Ticking Stripe Fabric Reviews
The Slipcover Maker's reviews for cotton ticking stripe home decor fabrics.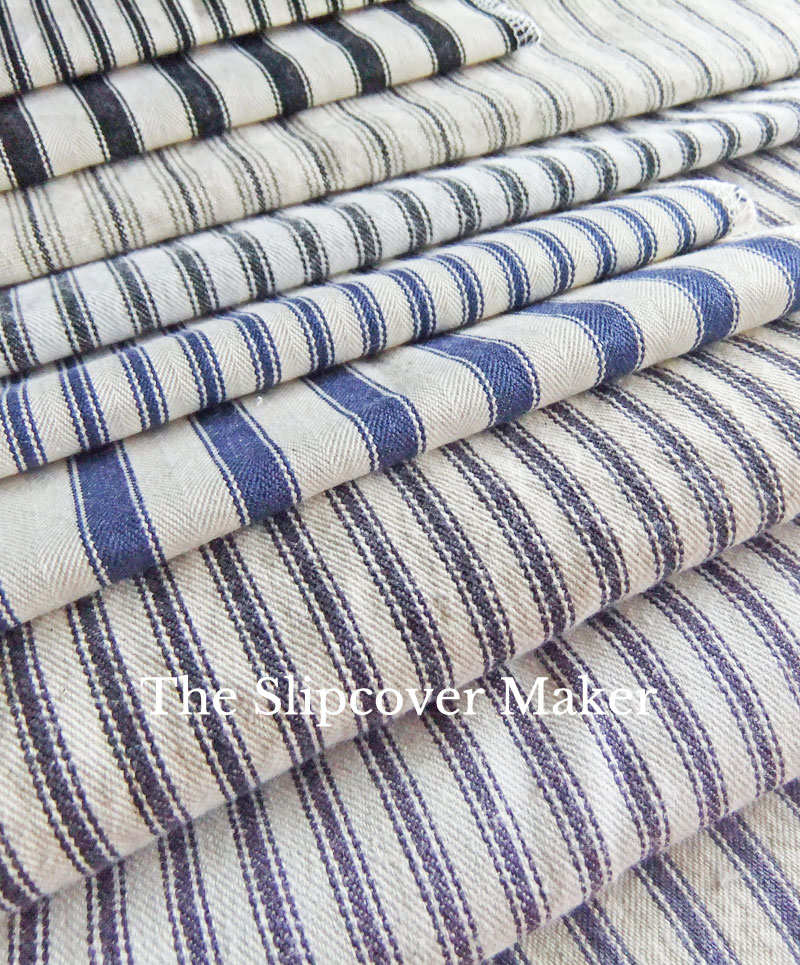 Whatever happened to old-school ticking stripe fabric?
I'm talking about authentic mattress ticking woven in a dense twill or herringbone weave. The type that feels weighty even after it's washed. It's 100% cotton and has no flame retardant coating.
This is the kind of ticking I want for my slipcovers.
I have been searching for classic ticking in a slipcover weight for the past two years. Occasionally, I come across a few yards of gorgeous vintage ticking in exactly the weight I like. And, of course, there's always the lovely, densely woven herringbone ticking made in England but priced out of my reach.
Don't get me wrong. It's very easy to find basic cotton ticking fabric in a wide range of prices and colors. I have sampled and tested many. But none of them are weighty or durable enough for the look & feel I'm going for in my washable slipcovers. Even the ones called "heavy weight mattress ticking" weigh in at a measly 6 to 9 ounces and turn limp after wash.
My search continues. Stay tuned! For now, here are my reviews for some of the ticking I sampled so far:
Ticking Herringbone Weave I love this beautiful cotton herringbone ticking made by Ian Mankin in England. The classic stripe is offered in two different widths in indigo and many other colors. It's a drapery weight but because it's so densely woven it feels heavier. In addition to the fabric price and shipping cost, expect to pay duty on a roll of this fabric sent from England.
Utility Fabric Pillow Ticking Blue This twill fabric has the look of traditional mattress ticking in dark indigo and natural. It feels stiff and somewhat heavy before wash. But after washed it's limp and light weight. It has high shrinkage and is only 32" wide. You will have to piece widths together to cover a sofa or large chair.
ACA Blue Stripe Ticking Soft and limp twill fabric especially after washed. Sold as a 9 ounce but feels more like a 6 ounce, which is very light weight. The indigo color is not as dark and rich as the pillow ticking stripe (above). Usable width is only 42" before wash. This ticking is best for crafts, not everyday slipcovers.
Catalina Stripe, color Black Pearl A variation on a classic ticking. This one is a canvas in a drapery weight. A little too light weight for my taste but it does make a decent slipcover. Expect a lot of wrinkle, which softens somewhat as the slipcover gets used.
Covington Woven Ticking Stripe, color 93 Black Another cotton drapery weight. Too lightweight and unfortunately, the producer changed the finish. Today's version feels like pajama-weight flannel.