3 Slipcover Tips to Add WOW! to Your Wingback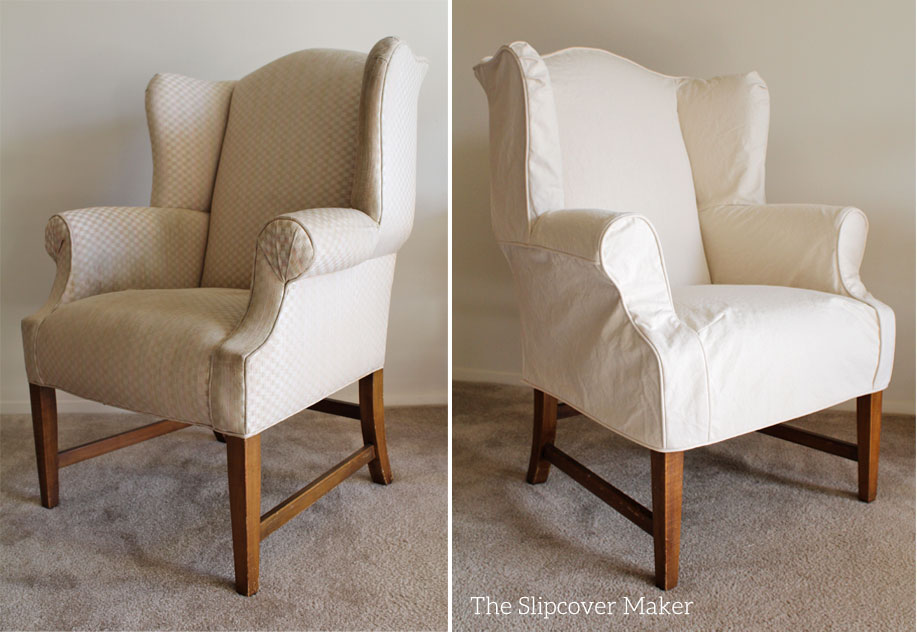 Don't you love the graceful contour of this traditional high-back wing chair? It features all kinds of curvy details: flared wings, arched top, rounded tight back and scrolled arms, just to name a few.
When I created this canvas slipcover for Laura's wingback I made sure to draw attention to the wonderful curves with simple lines and a tailored fit.
Smoothing the fabric over the rounded areas as much as possible was key. Since fabric doesn't naturally fold neatly over curves I had to drape & shape it using a few of my favorite pin-fit techniques:
1. Insert a yoke on the arched top at inner back. To avoid gathers at the seam that joins the inner back to the back, I pin-fit a flat panel (2.5″ wide) over the arch. This does away with excess fabric that would otherwise need to be gathered in the seam.
2. Shape curved darts over the seat. Pinning a 4″ curved dart at both sides of the seat (where the seat rounds to meet the front arms) worked like charm to smooth fabric.
3. Fold soft tucks on the wings. Instead of creating gathers (too messy) or darts (too pointy) I folded the excess fabric around the curved wings with 3 soft tucks. Keeping the placement equal between the tucks makes this treatment look intentional and neat.
Fabric for this project: #12 weight cotton duck color natural from Big Duck Canvas. Read my review for this cloth on my FABRICS page and be sure to follow my pre-shrink instructions.