Beautiful Burlap-Like Fabrics for Rustic Slipcovers
Burlap-like fabrics capture the rustic charm of jute cloth without being scratchy or coarse. They work great for everyday slipcovers and home decor when you want a vintage grain sack look.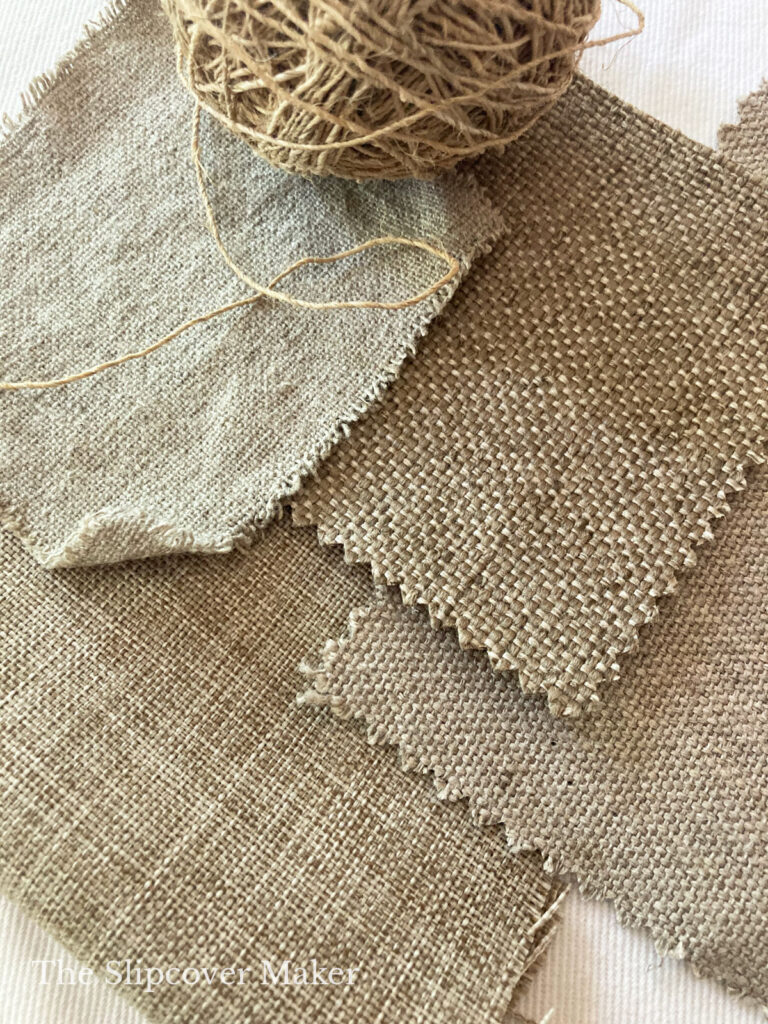 I'm always on the hunt for new fabric resources for slipcovers.
Something a little more textured than my favorite cotton denim and canvas but with a similar feel and function — casual, natural fiber, and washable.
During a recent search, burlap kept coming up. Yes, burlap! The loosely woven, scratchy and hairy 100% jute fabric that sheds like crazy. The same stuff that is popular for craft projects.
I ignored it and kept sourcing.
Until I saw this. A gorgeous burlap pouf on Etsy from LoVintageFinds.
Now, I'm intrigued! The neutral color and grainy texture has the rustic look I've been searching for.
It sure looks good in the pouf!
But I'm still not convinced. The loose weave, coarse hand-feel and the fact burlap isn't exactly wash and wear is a problem when it comes to everyday slipcovers.
Side note: 100% jute burlap can be washed. Ann at On Sutton Place shares instructions for washing, drying and cutting pieces for small home decor projects.
Then, I found this charming, ruffled burlap slipcover from French Country Cottage.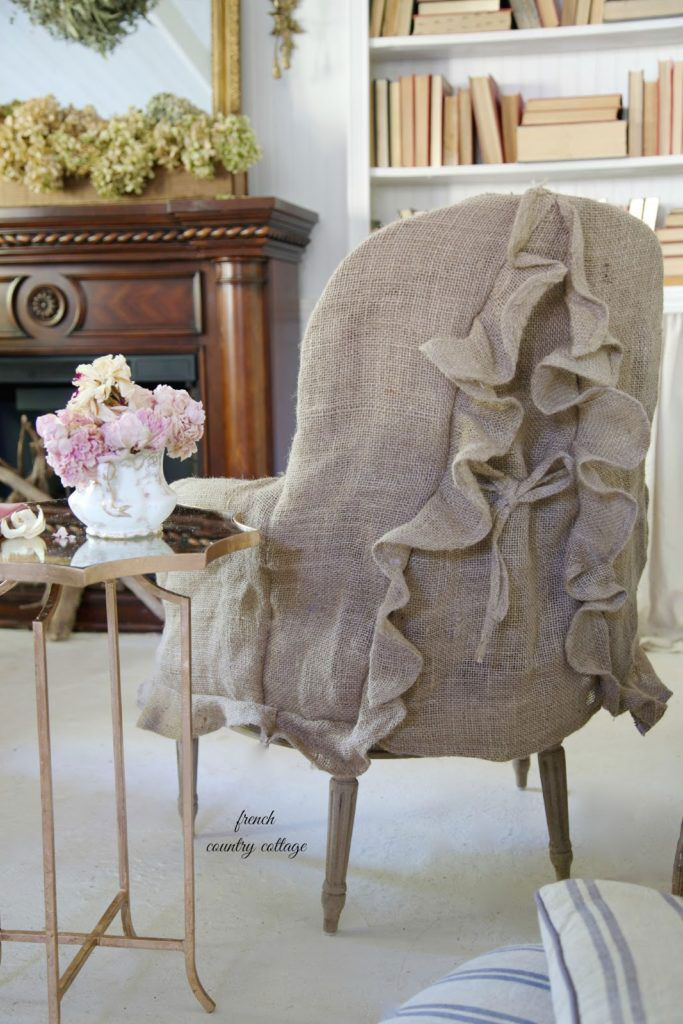 It's so pretty!! Jute burlap with all of it's imperfections combined with a creative design works great for this small chair cover.
The loose weave gives it an open airy feel, almost sheer. And, the crumpled, loose fit with ruffle and tie detail adds a ton of personality. It suites the chair style and the room.
I suspect it's designed as a decorative slipcover and not intended for moderate to heavy traffic or machine wash.
As I continued my search, I also came across this burlap wingback slipcover from The Field House. (No link found.)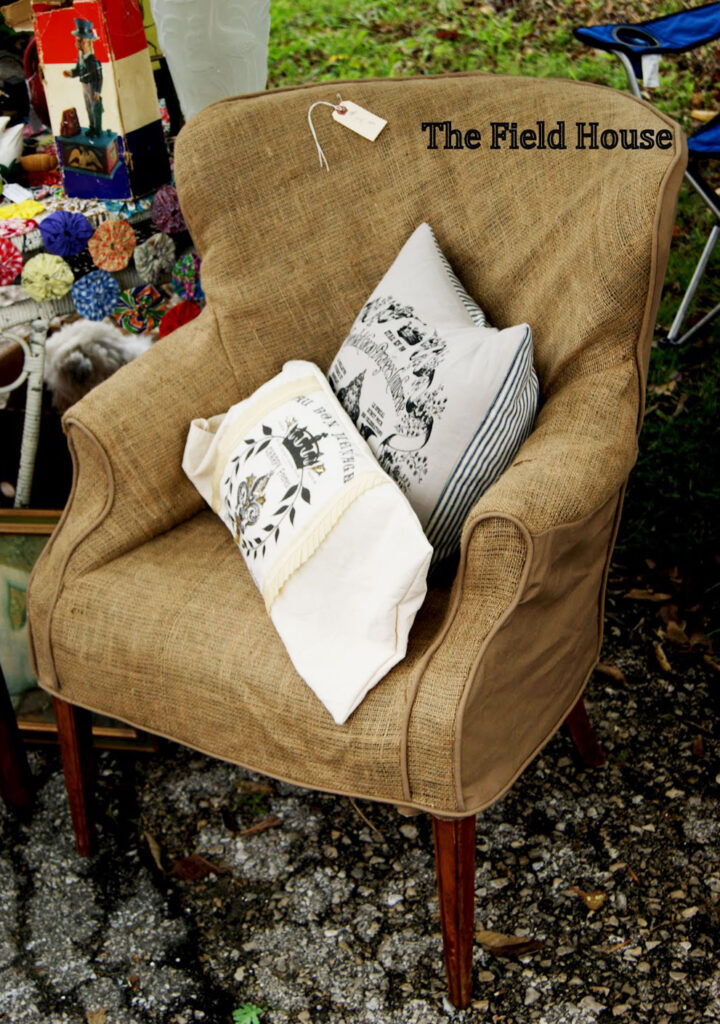 This slipcover is pretty clever. The maker used rustic, unwashed burlap and created a tailored fit for a wing back chair. Check out the bias inner back. Nice!
I love unexpected fabric and design combinations like this!
It's a good example of how inexpensive burlap can be used to update an old chair as a temporary decorative cover or for a special occasion.
As I looked at more inspiring jute covers I wondered if there were burlap-like alternatives out there. I wanted a similar look to jute burlap in a weave, weight and hand-feel suitable for the kind of slipcovers we can use every day.
I steered my fabric search in a new direction. And, surprisingly I found four options that are worth exploring! Let's take a look.
1. Hemp Plain Weave
If you want rustic, go with this 100% hemp fabric!
It has the character of burlap, or an old grain sack, but has a tighter weave and softer hand-feel. And, it's washable.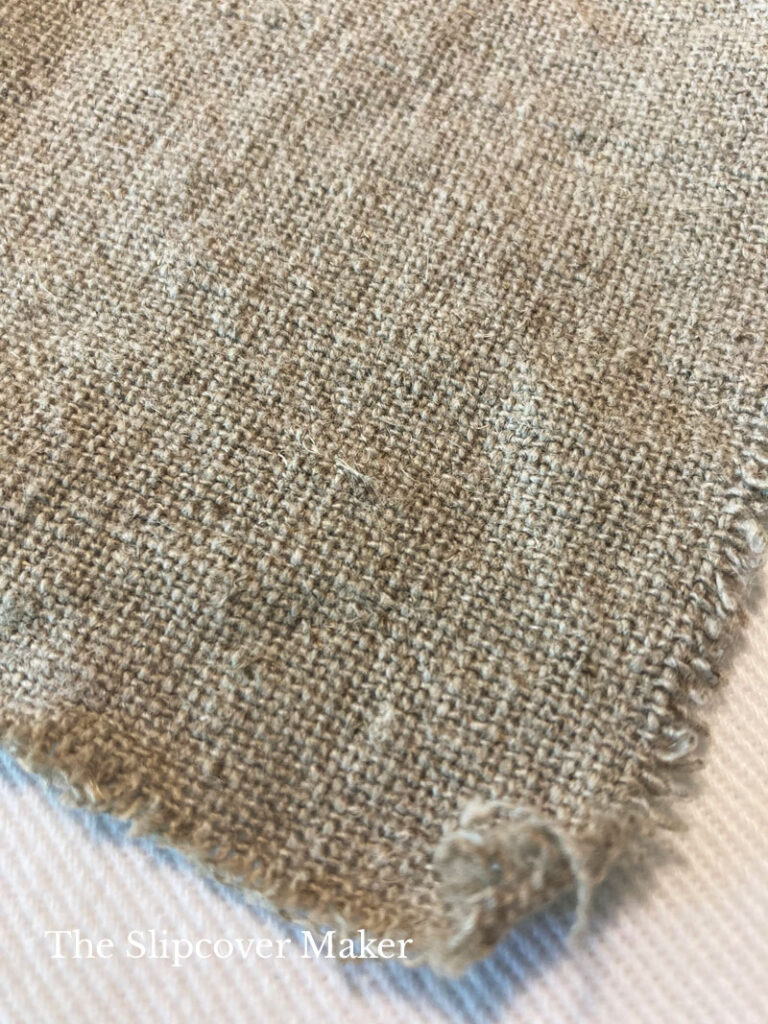 I love the nubs, slubs and thick and thin yarns — all the usual imperfections that come with undyed and minimally processed hemp cloth.
This fabric is a 10 oz. medium weight and doesn't shed so you should have no problem working with it on your home sewing machine. Best for slipcovers that get moderate use and a few washings per year.
2. Linen Canvas
Another natural fiber fabric that resembles burlap is this Brazil 12 oz. linen in color Grey 10. I think of it as an upscale burlap!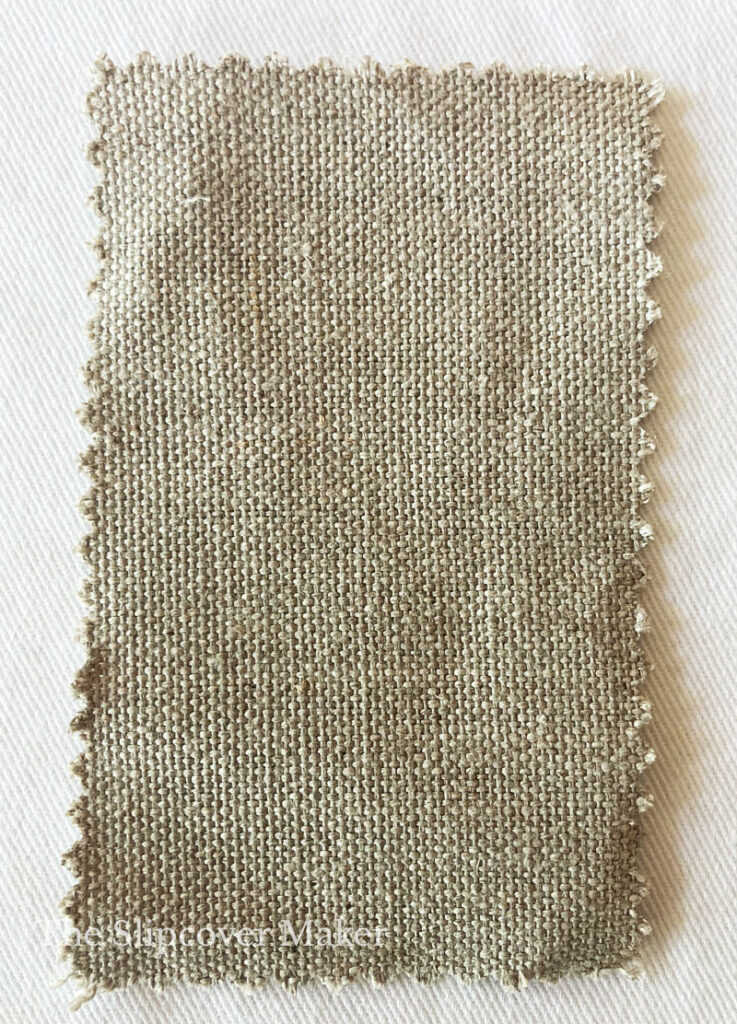 After it's washed, this fabric gets weighty, slubby, floppy and dimpled. That's exactly what a washable slipcover linen should look and feel like.
The weave is tighter than burlap and the hemp cloth above, but it still has all the rustic character. Plus, it gets softer with every wash.
I've used this linen for many slipcovers like Pam's armchair, Shelley's sofa and my wingback. I love the results every time.
3. Hailey Basket Weave
If you've been following my blog for awhile now, you know I use only natural fiber fabrics for slipcovers. I prefer the look and feel over synthetics. And, I'm not able to handle performance fabrics dues to chemical sensitives.
However, I know many of you like the idea of a performance fabric — one that resists stains and can be spot cleaned.
So, when I came across Hailey in color Jute, I thought this would be perfect for those of you who love the look of burlap but want a more modern fabric.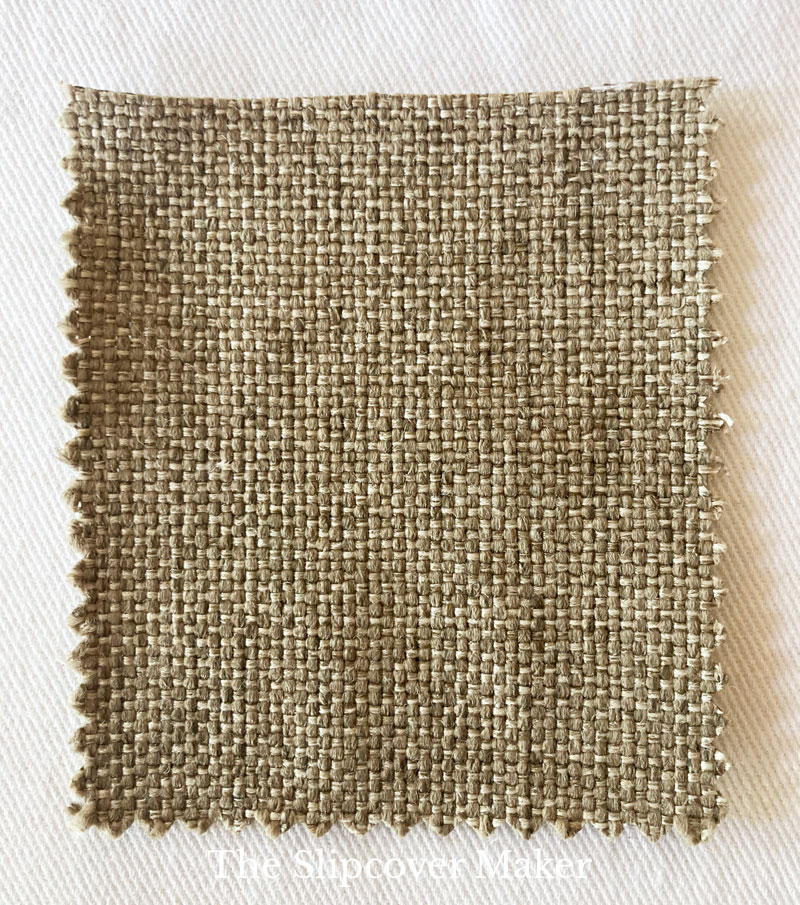 For a synthetic (polypropylene), the grainy weave and color looks very similar to burlap, hemp and linen fabrics. It's tightly woven, doesn't have much give and offers substantial coverage.
Hailey is an upholstery fabric but I've seen it made up in non-washable slipcovers and I have to say it's looks really nice. You can read more about this cloth and get care instructions at Revolution Fabrics.
4. Cosmo Polyester Burlap
If you like the idea of a refined rustic look, Cosmo might be the perfect fabric for your slipcover project.
I will tell you right from the get go, this fabric is airy and light weight.
As I write this, I'm thinking am I out of my mind!? I never recommend light weight fabrics that are somewhat sheer. But this Cosmo Polyester Burlap caught my eye for a couple of reasons.
The variegated jute color is woven in a linen-like weave with smooth, fine yarns. Gorgeous! The look mimics natural burlap but without nubs and slubs.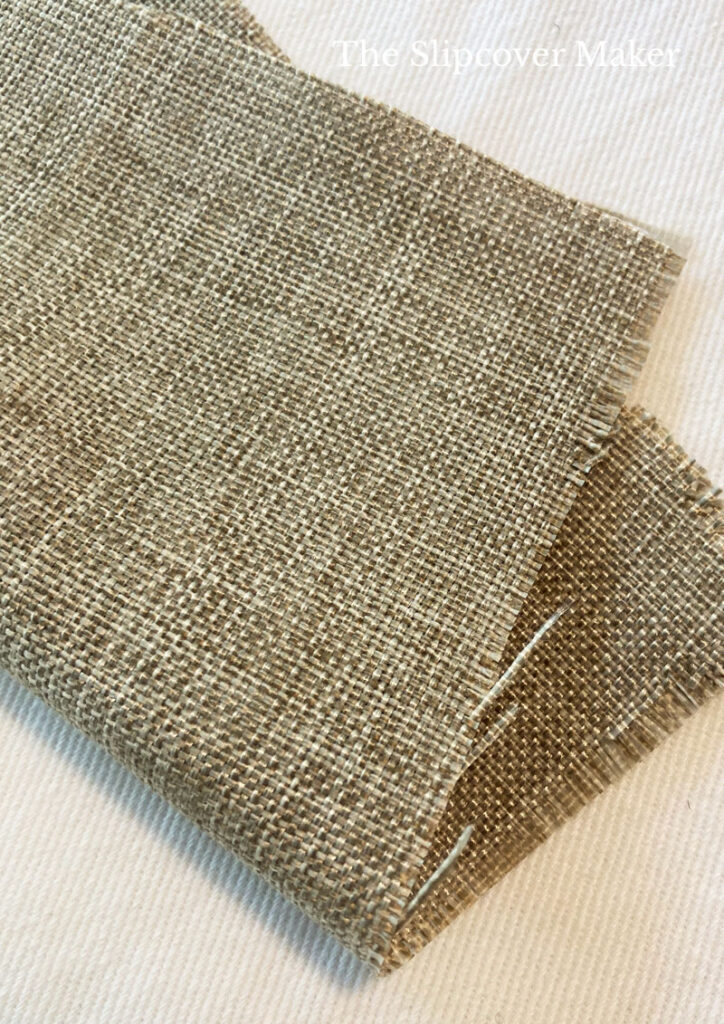 Cosmo is a strong 100% polyester fabric even though the weave is a bit more open than the linen and hemp I shared above. It withstands the 50, 000 Double Rubs.
This fabric would look terrific made up in slipovers for smaller sized furniture such as chairs, chaises and love seats that are upholstered in muslin. The upholstery color is important. It might show through the fabric's semi-open weave.
It's best used for slipcovers that get moderate use. Given that it's polyester, it might be machine washable with very good results. Be sure to do a wash test before you make your cover. And, serge the raw edges — this fabric ravels!
I hope my burlap-like fabric finds spark some ideas for your own slipcover projects! Let me know what you think.
---
Also, a couple quick notes:
If you received 10 emails from me this week, I'm so sorry! I'm in the process of a website redesign. Apparently, those were blog posts from the demo theme. They were released automatically during the installation. Please ignore them.
And, get ready for part 4 of my pin fit tutorial series. It's coming your way next weekend!
Thanks for following! — Karen