Make Your Own Beautiful Slipper Chair Slipcover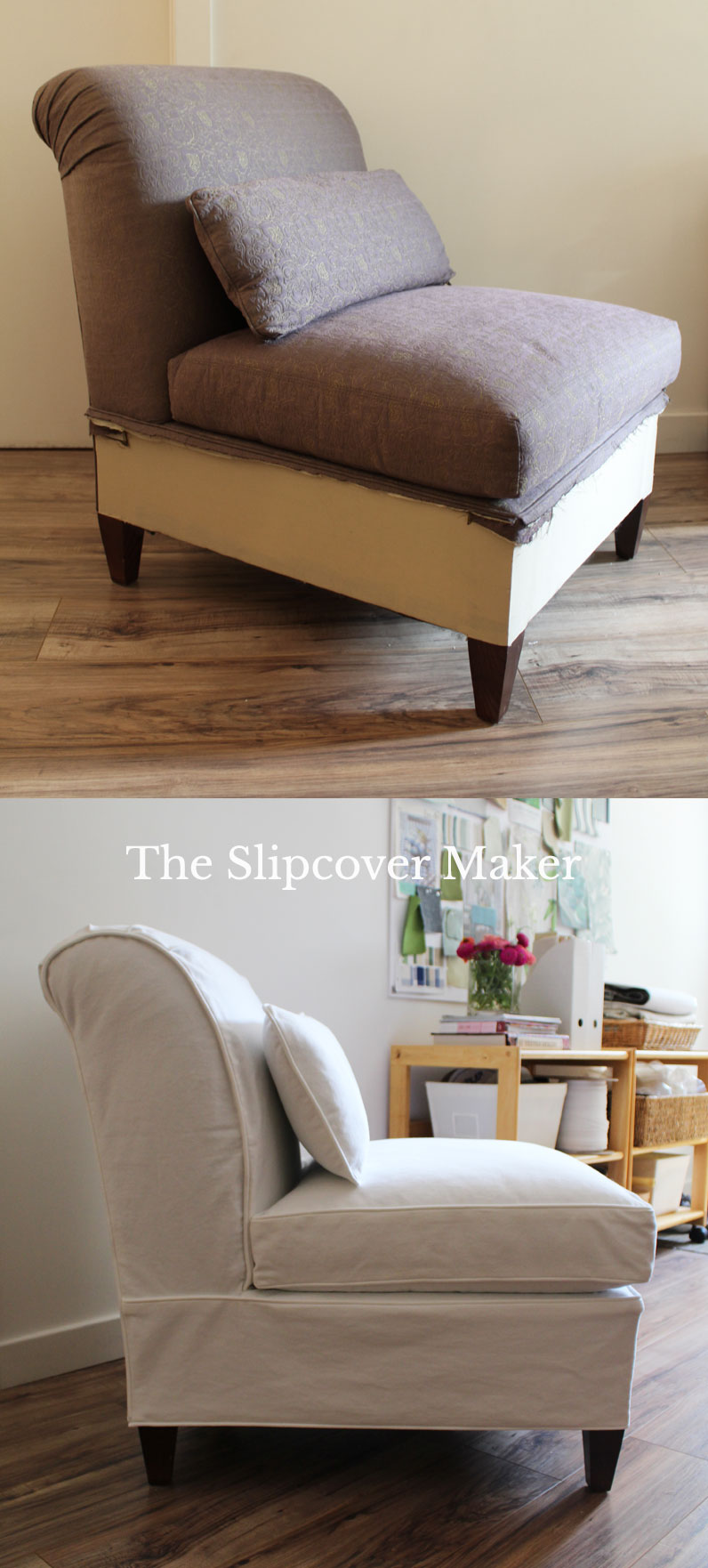 The slipper chair. You might know this little upholstered armless piece as an accent chair. I think of it as the everywhere chair.
Thanks to it's universal design and small footprint the slipper chair has become a favorite for  extra seating in living rooms, bedrooms, reading nooks, guest rooms, hotel lobbies, waiting rooms and offices.
And, for you DIY home decorators, it's one of the easiest chairs to update with a custom slipcover. Yes, you can make it yourself! At the bottom of this post you'll find several helpful tutorials to get you started.
But first, let's take a look at some slipper chair inspiration!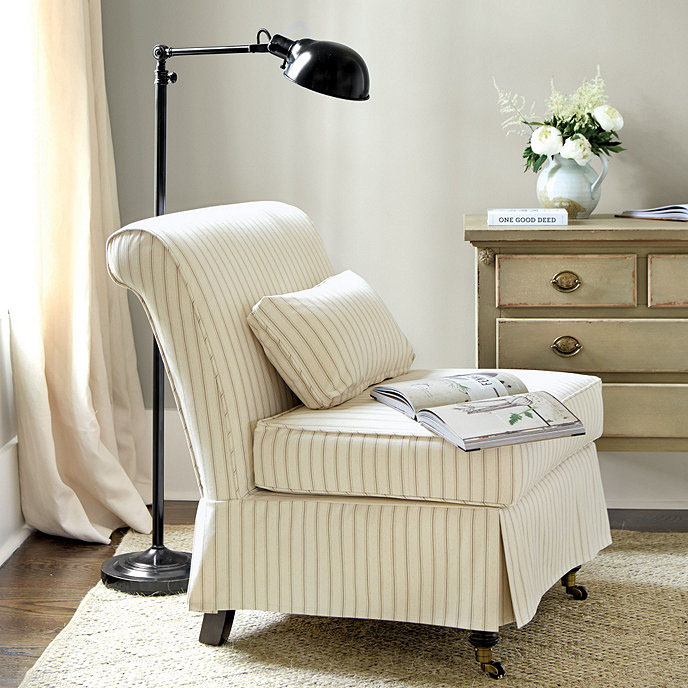 Above is the slipcovered Leyland by Ballard Designs. This is such a lovely example of a classic, skirted slipper chair. If your chair has great looking legs and feet like this one, show them off!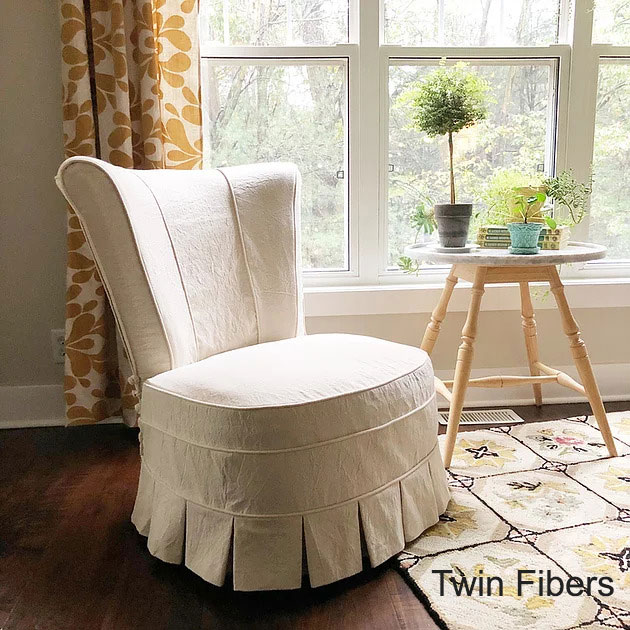 Some slipper chair designs are reminiscent of an era gone by. You have to see the before photo at Twin Fibers to fully appreciate this thoughtful slipcover design (above). Jessica did a fantastic job creating a fit that highlights the chair's unique features. And, she did it all with a drop cloth!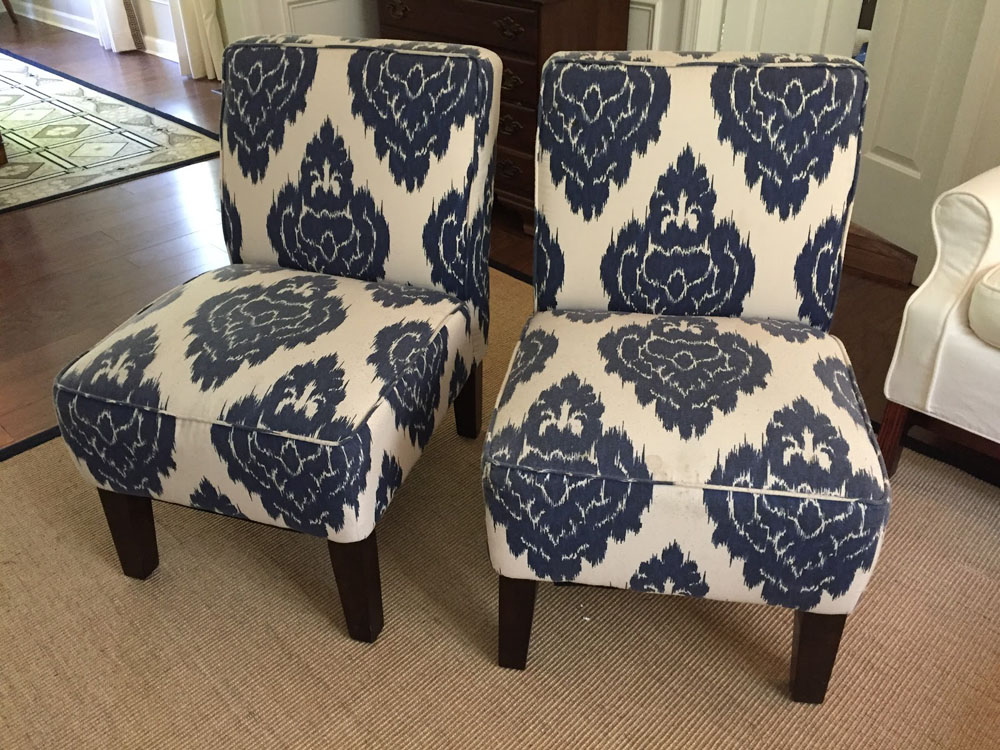 I marvel at Pam Morris's work.  She is a master at creating slipcovers that fit like upholstery. This pair of Ikat covers are no exception.
Think of your boxy, tight seat slipper chair as a blank canvas. Just because the profile is smaller/lower than other chairs doesn't mean you are limited to a solid color or small print. Try a bold, large scale pattern and make a statement.
Visit Pam Morris Sews on Instagram to see more of her gorgeous slipcovers @pammorrissews.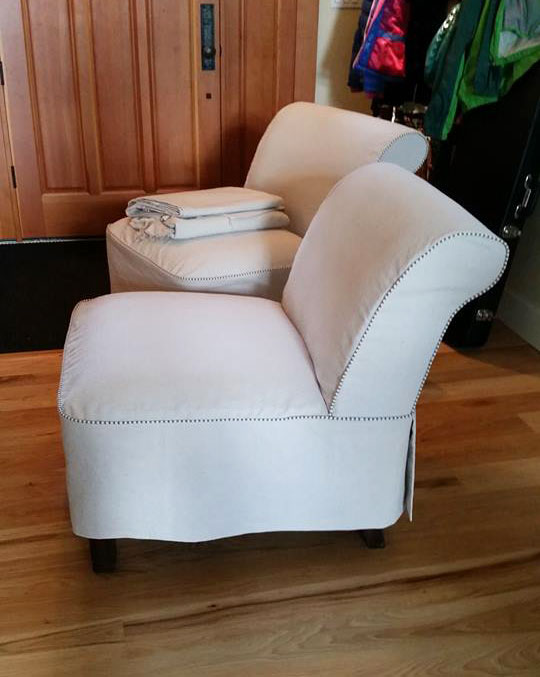 A slipper chair cover can be designed as simple as you like.  Karen at Slipcovers by Karen Bean used a canvas drop cloth for this project (above). She created a relaxed fit with few seams as possible, which put the focus on the graceful lines of the chair.
I love her use of the tiny stripe welt cord and the placement of the back corner pleat openings.  Two small details that have a big impact.  See more of Karen's work here @slipcoversbykarenbean.
OK, now it's your turn to make your slipper chair new again! Below are a few slipcover tutorials I think you will enjoy.
Kim Chagnon, from Kim's Upholstery walks you through how she slipcovers a slipper chair in this DIY video on YouTube.
For you drop cloth fans, here's Andrea's step-by-step slipcover tutorial over at Opulent Cottage.
Learn how Meridith at The Palette Muse transformed her Craigslist slipper chairs with simple covers.
Jen at Tatertots & Jello slipcovered her pair of slipper chairs using curtain panels. Here's how she did it.
Have fun with your project!