A Buyer's Guide to Ready-Made Slipcovers
A ready-made slipcover can be a quick and inexpensive alternative to a custom-made cover. Will the fit and function work for your chair or sofa? Use these helpful buying tips and resources to find out.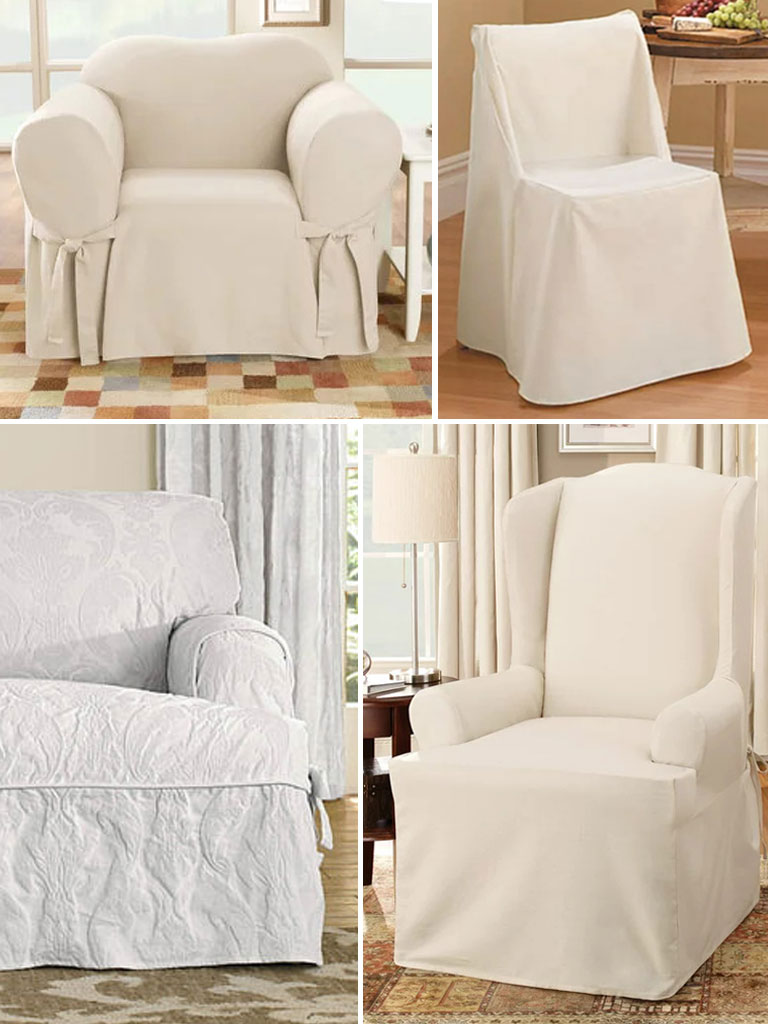 As a custom slipcover maker, I create one-offs. I make slipcovers that are tailored to fit my customer's furniture shape and size. When I pin fit the cover I can tweak the design and customize the details.
Is a ready-made slipcover similar to a custom-made cover? No, not even close!
But that doesn't mean it's not a viable solution. It might be exactly the type of cover you need for updating and protecting your upholstered furniture.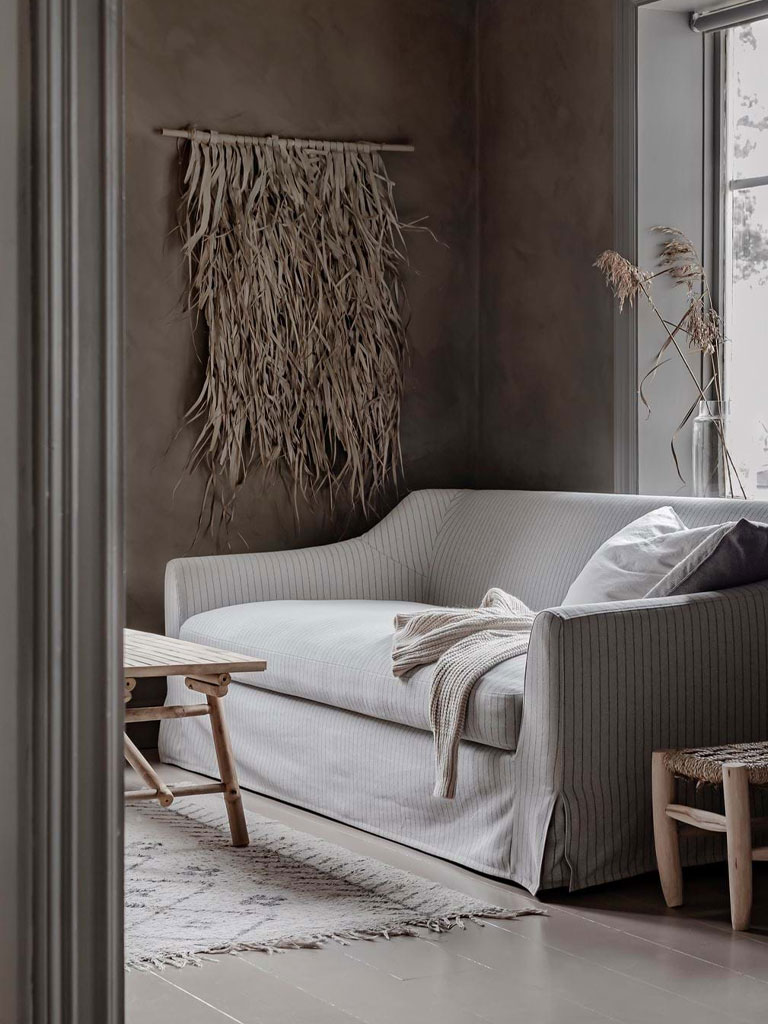 Before we jump into the buyer's guide, I want to give you a quick overview of the two most common types of ready-made slipcovers. This will help you zero in on which option might work best for you.
REady-Made Slipcovers
Mass produced
Manufactured in standardized shapes and sizes
Designed for only a handful of basic furniture models
Super affordable, prices are typically under $100
Limited fabric and color choices
Limited fit options
And, there is also this type:
Ready-Made Slipcover ReplacEments
Factory made
Manufactured for specific models of brand name furniture
Designed to replace your original cover
Better fit than standardized ready-made covers
Wider range of fabrics and colors
Prices are typically lower than a custom made cover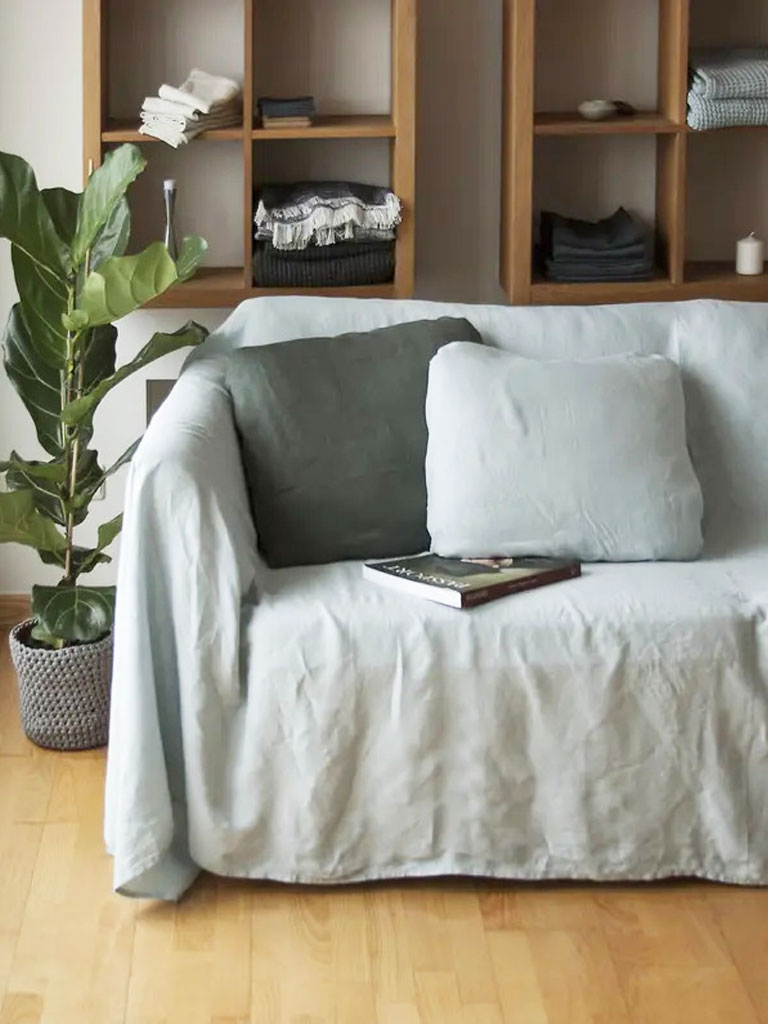 Ok, on with the buyer's guide! Here are 5 things that are worth considering when shopping for a store-bought, ready-made cover:
1. Purpose
A ready-made slipcover is an attractive option because of the low cost and immediate availability. But is it right for your particular needs and end use? Ask yourself these questions:
Why do I want a ready-made cover? Maybe you have little ones and/or pets and need a cheap cover to temporarily protect your beautiful new sofa. Or, perhaps you want to give your worn & loved chair a style update without investing too much money.
How do I want my ready-made cover to function? Most ready-made covers in standardized shapes and sizes have a loose fit. They won't likely match the contour of your furniture exactly. And, they are not preshrunk. These types of features affect a slipcover's function. Will they work for your needs?
For example, a ready-made cover might be able to handle heavy traffic, but you will probably find yourself constantly tucking it in with every use. And, if you plan on washing it frequently, you could end up with a fair amount of shrinkage.
Buying Tip: choose a ready-made slipcover with functionality that matches your end use.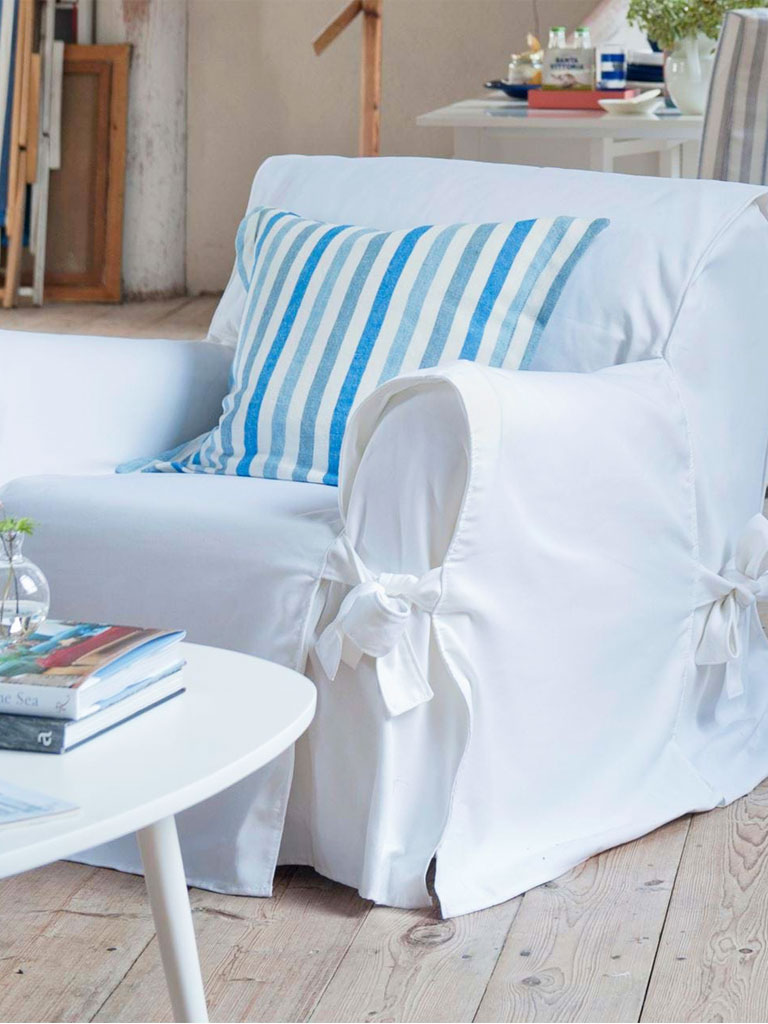 2. Design
As you shop for a ready-made slipcover in a standardized size and shape, you will find one-piece designs and two-piece designs. Each type of design has its own look, feel, and function.
A one-piece design covers the entire sofa or chair with a single piece of fabric that is shaped to moderately fit the furniture curves. Ties are commonly used at the corners to adjust the fullness.
SureFit is a well-known maker of this design in both woven and stretch fabrics. And, one of my readers is using the Bemz Multi Fit (one piece cover) for her sofa. So far, so good! Read about her experience in the comments below.
Another type of one-piece design is simply a big piece of woven fabric that drapes over the furniture. It requires tucking plus corner pins or ties to give the cover a little shape. Simply French Market and Sand Snow Linen specialize in these pretty throw styles.
A two-piece design is a little different. It covers the furniture body and comes with individual cushion covers.
For those of you who are shopping for a ready-made replacement slipcover, you will find the same design as your original cover. That is if it's available through your furniture retailer or, a slipcover service that makes covers for brand-name furniture such as Replacement Slipcover Outlet and Bemz for Ikea models.
Buying Tip: ready-made slipcovers don't allow for customization. Make sure the design look and function suit your furniture style.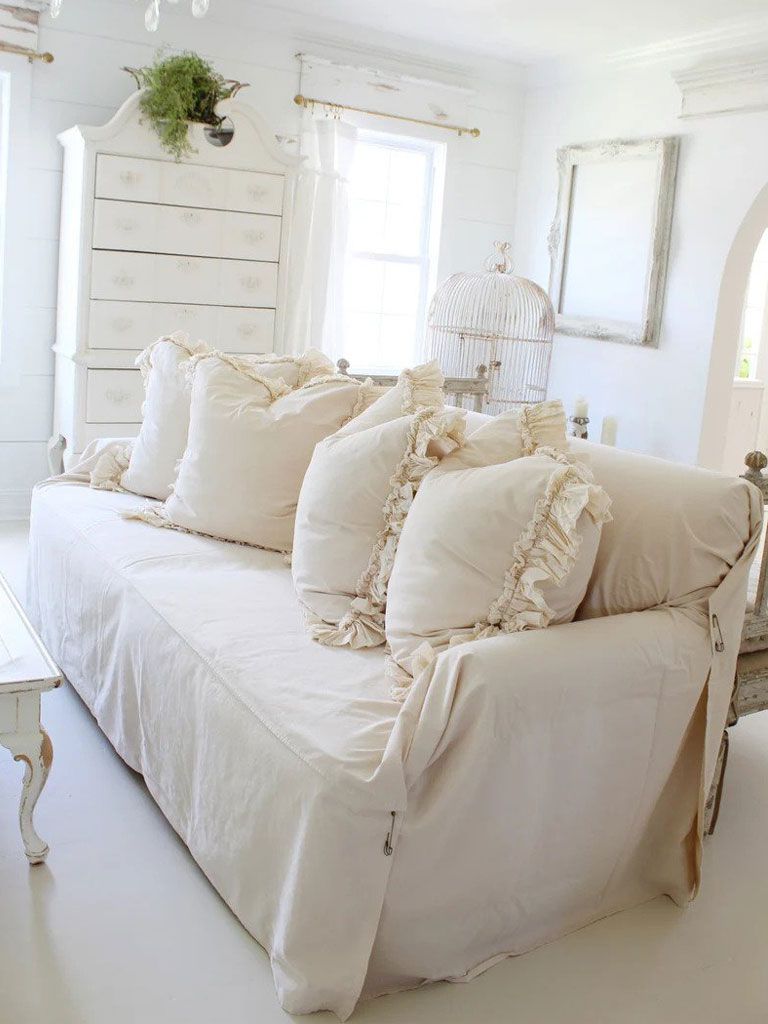 3. Fabric
One of the downsides of a ready-made slipcover is the so-so fabrics. At least it is for me because I'm all about good quality textiles!
You will find limited choices and average quality. However, if fabric quality isn't the most important thing you're looking for in a slipcover then the basic woven fabrics and the stretch knit options might work fine for you.
Most of the standardized one-piece and two-piece covers are offered in a synthetic super stretchy spandex knit in solids and prints. And, I'm seeing more and more woven options such as cotton canvas, cotton twill, indigo denim, and cotton blend prints.
For ready-made slipcover replacements, non-stretch woven fabrics like denim and canvas are the norm. You might find a greater selection of fabrics and colors depending on the brand and maker.
Buying Tip: always order fabric swatches to review quality and color before you buy a ready-made slipcover.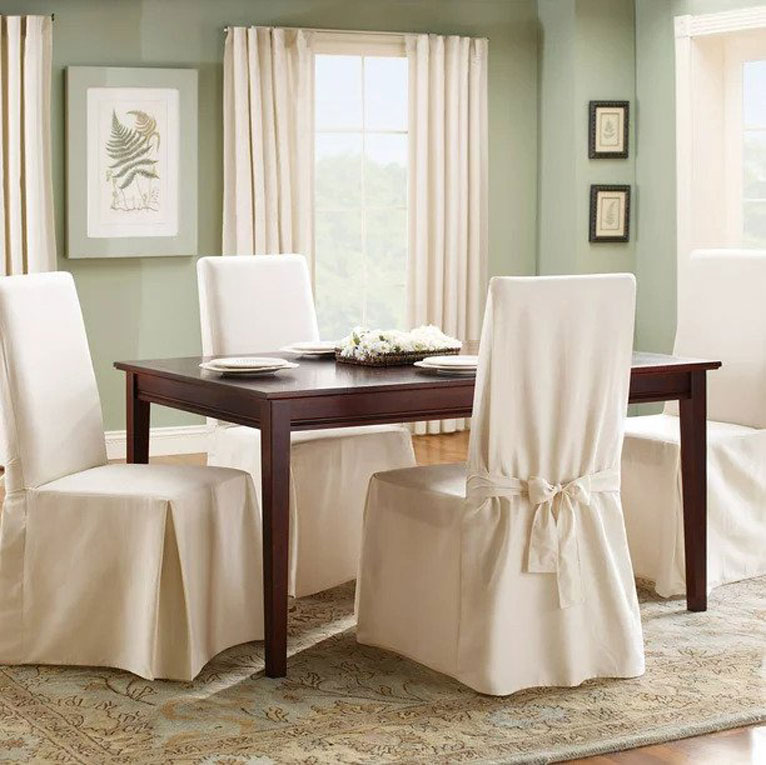 4. Fit
It's no surprise that standardized ready-made slipcovers don't fit every piece of furniture. It's just not possible! Even the super stretchy knit covers are not designed to fit all sofas and chairs.
That's because the covers are sized by furniture type (sofa, chair, love seat, ottoman, etc.) and based on very simple designs. You will most likely find "one size only" for each.
Retailers will often provide "best fit" measurements to give you an idea of the slipcover's smallest and largest size range.
If you can deal with a not-so-perfect fit, a ready-made slipcover could be ideal for you!
Buying Tips:
Choose a design that is similar to the shape of your furniture for best fit results.
Take measurements from your furniture and compare them to the ready-made slipcover measurements.
Make sure the slipcover has fit flexibility built in such as tuck-ins around the seat and extra fullness in the front, back, and side widths.
If you can purchase a ready-made slipcover replacement, the fit should be the same as your original slipcover. However, that doesn't mean the construction will be the same quality as slipcover make can vary from factory to factory.
5. Washability
All of the ready-made slipcovers I've researched are labeled machine washable. Yay!
But that doesn't mean they won't shrink. Why? Because factory-made slipcovers are NOT preshrunk. Neither is the fabric.
Woven cotton slipcovers will shrink anywhere from 2 to 5 inches in the width and/or height. Synthetic knit covers might not shrink at all.
For best results, wash your ready-made slipcovers on cold and line dry. This will minimize the shrinkage on natural woven fiber covers. Synthetic knit covers will probably do fine in a warm wash and warm tumble dry until almost dry.
Buying Tip: ask the retailer for their recommended care instructions and the slipcover shrinkage rate.
Have you tried a ready-made slipcover? Let me know what your experience was like! — Karen