Ikea Karlstad Slipcover Made Simple
In today's post, I take you through my process of replacing my Ikea Karlstad chair slipcover with a simple DIY one-piece design. Plus I share what went wrong with my fabric choice and how to pin fit the deck without tuck-ins.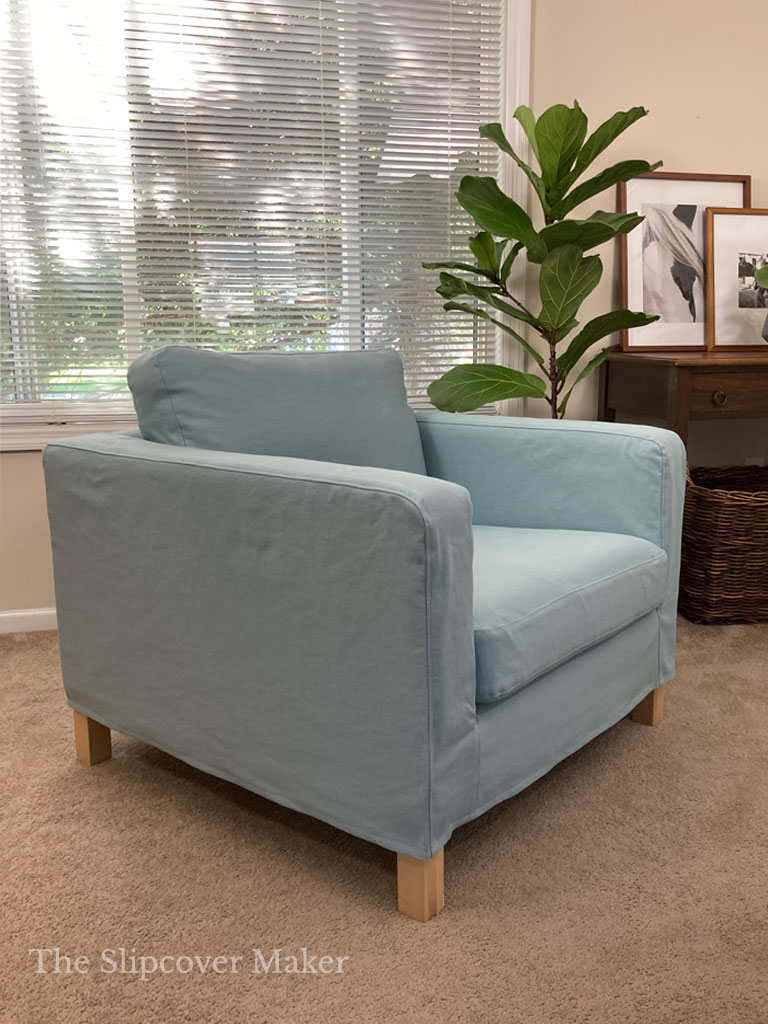 I've been slipcovering furniture for many years but I've never made a custom cover for an Ikea chair.
Most of the pieces I cover are classic rolled armchairs, charming English rolled arm sofas, and curvy wingback chairs.
So, when I found this secondhand Ikea Karlstad chair, I thought why not try something new? The clean lines of the mid-century modern-inspired design should be pretty easy to slipcover.
But as soon as I got it home, I realized this chair was designed for DIY assembly. Uh, oh.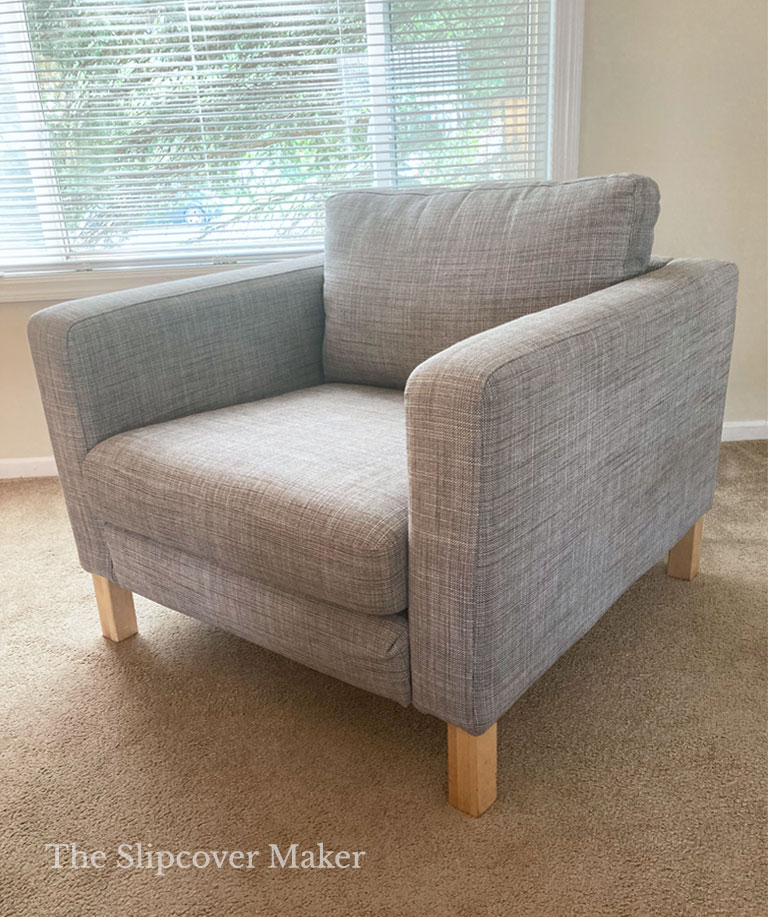 That means the only way to replace the slipcover with a new one of similar look and fit is to disassemble the chair, remove the slipcover, install the new cover, and then put the chair back together again.
The grey upholstery-like slipcover you see here is an Ikea ready-made cover sewn in three pieces — left arm, right arm, and the body.
Each piece is secured with Velcro all around the bottom of the chair. It was installed by the previous owner BEFORE she assembled the chair sections.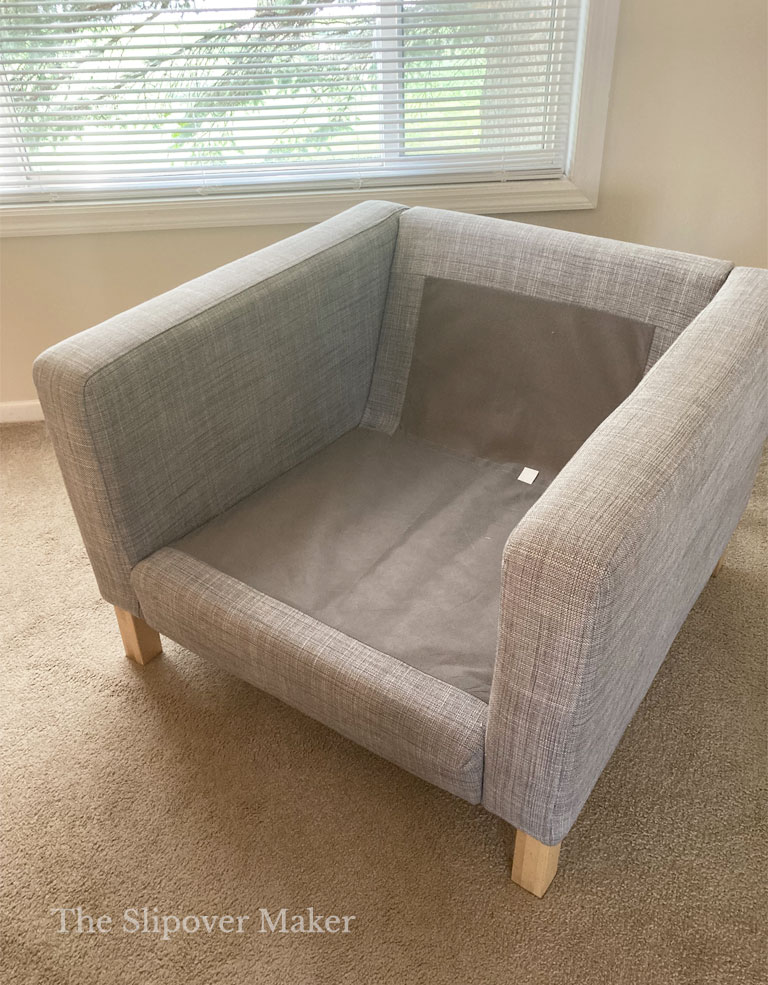 Swapping out the original cover for another ready-made option is certainly doable — if you have the right tools and a lot of patience — but it's not what I had in mind for my first Ikea chair makeover.
I decided to go with a simpler design. I made a one-piece cover instead. No need to take apart the chair!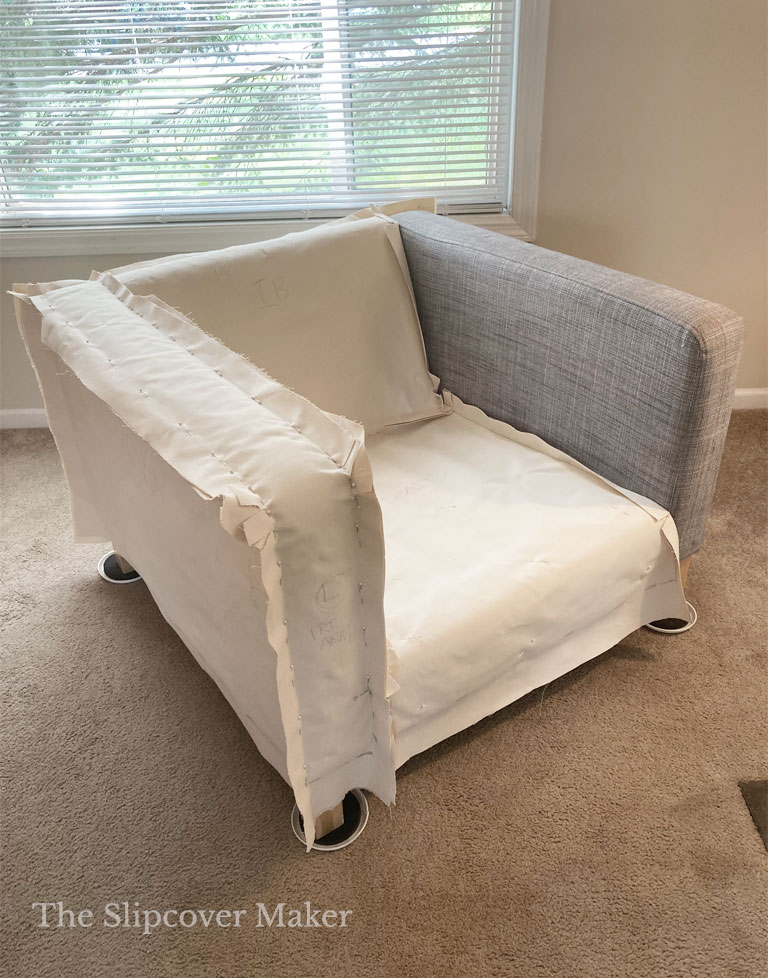 I started by pinning a pattern using natural canvas.
I usually pin the actual slipcover fabric directly to the furniture using the right side out pin method but since I wanted to experiment with fit this first time around I opted to make a reusable pattern.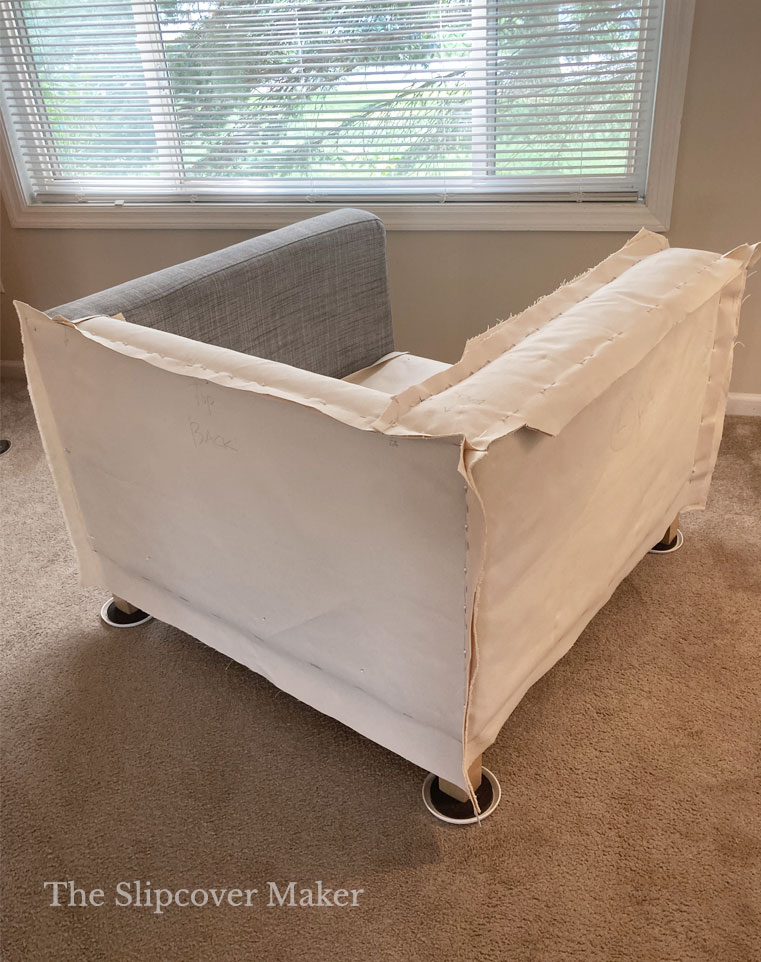 I didn't run into any major fit issues. The boxy shape and straight, clean lines were straightforward to pin.
I followed the original slipcover seams as a guide. Seam placement modification wasn't necessary.
I also kept an eye on the width of the track arms as I pinned the inner and outer arm seams. I wanted to make sure the measurement stayed consistent the entire length of the arms.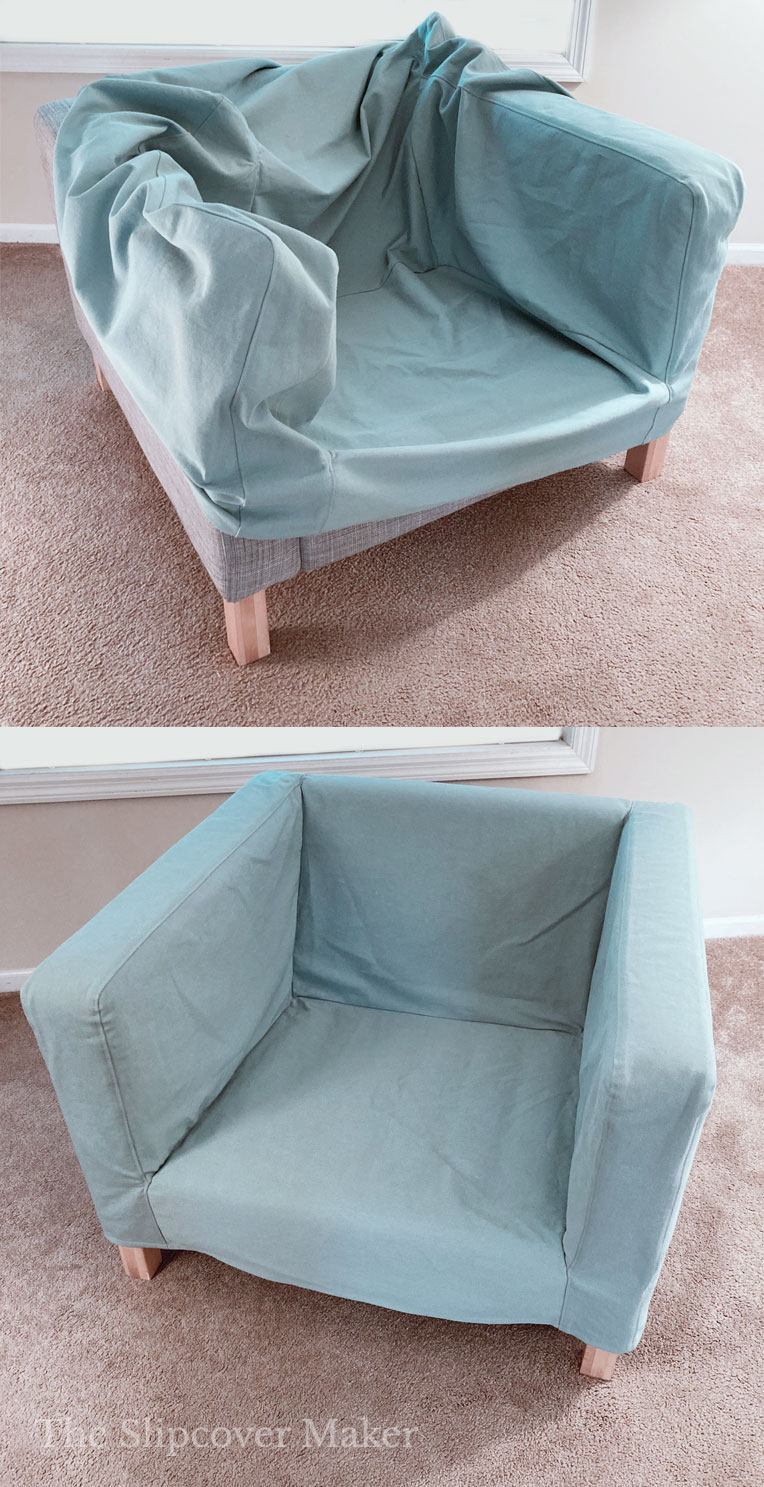 However, there were a couple of surprises along the way.
First, the Karlstad chair does NOT have tuck-ins around the deck at the inner arms and inner back. Tuck-ins help keep the slipcover from sliding around. Without them, the slipcover fabric in those areas can get blousy.
If you run into this on your chair, consider these fit tips:
Make sure your seat cushion fits snugly. It will help hold the deck, inner arms, and inner back in place.
Pin fit the inner arms and inner back smooth and tight as you join them to the deck. I had to take my deck seam in twice to reduce the blousy issue because I pinned the seam too loose.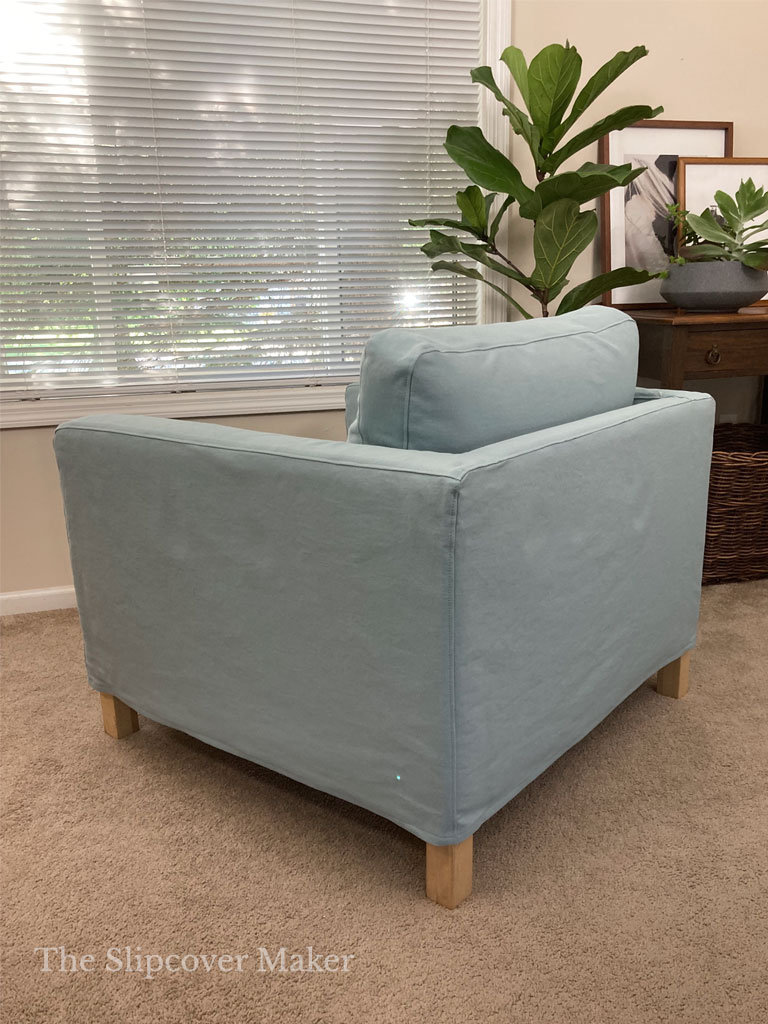 The second thing that surprised me was I ended up not liking my fabric choice!
I cut my pattern out in 12 oz. bull denim. This fabric is one of my favorites for washable, long-wearing slipcovers. I use it frequently for my customers' covers as well as my own. I'm always pleased with the coverage, drape, and hand feel.
But for this project, the look and feel of the denim didn't marry with the chair style. Here's why: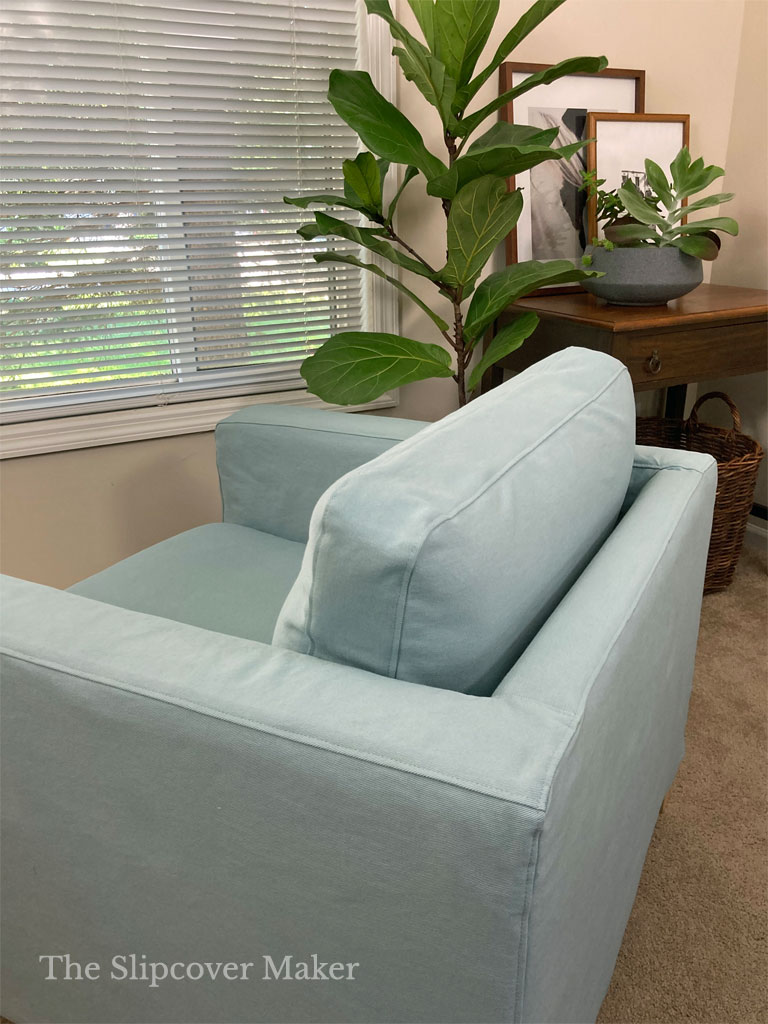 The Karlstad chair frame is created with rectangular flat panels that don't have much padding. There is nothing soft and curvy about this chair other than the cushions!
Even though the cotton bull denim is a thick 12 oz weight, the slipcover appears limp hanging over the flat, boxy silhouette.
What I mean by that is the fabric drape is too soft and somewhat wimpy for this style of chair. It lacks the body and texture that I envisioned for my slipcover.
I love the semi-relaxed fit I created, it's exactly what I was going for. And, I like the one-piece pullover style — so simple and easy. It's my fabric choice that I'm not crazy about.
No problem. I think my sister loves this chair, with or without the slipcover, and will enjoy it more than I will! Haha!
This project was such a good refresher for me! It reminded me that selecting slipcover fabric is a personal choice that must involve performance considerations. When you marry the right fabric to your chair's design and end use, you will love and enjoy your custom cover for years to come.
Want to learn more about choosing slipcover fabric? Check out these helpful posts:
Thanks for reading. Until next time, happy slipcover-making! — Karen